Cleveland Browns:

Billy Cundiff
January, 14, 2014
1/14/14
12:36
PM ET
A mid-January rundown on the
Cleveland Browns
six upcoming unrestricted free agents, with the proviso that much can change in the next six weeks in terms of signing and re-signing players (with 2012 salary cap costs are in parantheses):
RB Willis McGahee ($489,000) -- Age has sadly crept up on McGahee, who gave everything he had but in the final couple games was replaced by Edwin Baker. McGahee is a character who would play well in a lot of cities, but his best days on the field seem behind him.
C Alex Mack ($5.03 million) -- It would seem that replacing a Pro Bowl center is not easy, but Mack is from California and the vibes as the season went on were that he would not be back. The team never made much of a move to re-sign him, and Joe Banner believes in paying certain amounts for certain positions. Center might not be a position where he wants to spend.
G Shawn Lauvao ($1.497 M) -- Lauvao seems like a guy who could be a serviceable guard, but the Browns seemed to sour on him as the year went on. Their machinations indicate Lauvao is not a priority.
G/T Oniel Cousins ($800,000) -- Good guy, interesting guy. Every team needs a guy like this, a guy who can step in and play in several spots. It does not seem Cousins will be filling that role in Cleveland any longer, though.
S T.J. Ward ($1.198 M) -- Ward is an enviable spot. He's a Pro Bowl alternate whose physical style might fit well with several teams. San Francisco jumps out as one, and Ward might enjoy playing where he attended college. Ward does like Cleveland, though, so if the Browns make him a competitive offer he may return. But Joe Banner did not re-sign Brian Dawkins in Philadelphia. Dawkins was older than Ward and had less left, but it might indicate safety is not considered an "expensive" position.
PK Billy Cundiff ($555,000) -- The Browns showed how they value kickers when they let Phil Dawson walk a year ago.
The Browns are projected to have between $35 and $40 million in salary cap space this offseason.
January, 6, 2014
1/06/14
12:27
PM ET
It's almost the ultimate Cleveland tale -- after A Christmas Story of course.
Longtime kicker who works for years in losing and tough seasons leaves and winds up making the game-winning kick in miserable conditions for his new team.
Good for
Phil Dawson
, a guy whose popularity and standing with the fans in Cleveland remains strong despite the fact he left the Browns.
That's what happens when a guy gives 14 years of his professional life to largely losing causes yet never loses his professionalism and approach. Dawson was the most dependable player on the Browns during his 14-year tenure, and yes he hated losing.
At one point when a player complained after a losing season that he'd like to be able to do more when the teams go on the road, Dawson said the only thing he wanted to change was win -- that he'd practice naked if they told him if it meant the team won.
Not a pretty image, but the point was clear. And it came from the same guy who finished a game in Cleveland kicking with a broken arm.
Dawson left the Browns this season and signed with San Francisco, where he had another outstanding season. He made 32-of-36 kicks, including 32 of his last 33 and a franchise-record 27 in a row.
He had the second-most points and field goals in 49ers history and won the playoff game with a 33-yard kick in minus-10 degree wind chill.
"I've waited a long time to win a playoff game," Dawson told the media after the game. "And I finally got to do it and it was worth the wait."
He then credited the rest of the team for giving him a chance to win it. Typical. Dawson is a guy who understands his role, is always ready and never gets too carried away with himself.
Viewers on FOX may have been surprised near the end of the game when a sideline report quoted Dawson saying there was no range, that the conditions made any kick difficult. (Don Cockroft could explain a few things about having to kick in those conditions as well.)
Dawson merely was doing what he always has done: Tell the truth.
The conditions were miserable, and he had to block it out and make the kick. He did -- even putting it between the arms of a diving Packers defender (who was offside).
Dawson is 38, but he seems to get better and stronger the longer he kicks. He made four-of-six from 50 yards or more this season; the last three seasons he's made 18-of-21 from that distance.
The Browns decision to let Dawson go was never fully explained, but in the end he wound up in a great city with a playoff team and the Browns wound up with
Billy Cundiff
, who had a good season.
Dawson still ranks as the Browns career leader in field-goal percentage (minimum 100 kicks) and has more field goals made than anyone in team history. He also ranks second in points in team history, behind Lou Groza, whom Dawson always respected greatly.
Dawson may have left and found his playoff success elsewhere, but at some point he should return to Cleveland.
On the day when the Browns put his name in the team's Ring of Honor.
October, 1, 2013
10/01/13
2:05
PM ET
The
Cleveland Browns
remain in good standing on the injury front.
Quarterback
Brandon Weeden
practiced Tuesday, working with gloves on both hands in the part of practice open to the media.
Hoyer
Weeden
Whether Weeden is the backup or No. 3 Thursday night against Buffalo will be determined by how he looks in practice, said coach Rob Chudzinski. Weeden missed the last two games -- and probably lost his starting job -- to a sprained thumb.
Brian Hoyer
will make his third start, ostensibly because it's a short week but in reality because Hoyer has played too well not to start.
Three players are not expected to play: Outside linebackers
Jabaal Sheard
and
Quentin Groves
and defensive lineman
Billy Winn
. Sheard (sprained knee) and Winn (quad) were not working, and Groves (ankle) was riding the proverbial stationary bike.
Winn's absence will be minimized by the Browns' depth on the defensive front. Sheard's absence against Cincinnati allowed first-round pick
Barkevious Mingo
to open eyes with a very strong first start.
Place-kicker
Billy Cundiff
is dealing with a thigh strain. He missed two field goals in the win over Cincinnati. Chudzinski said he would see how Cundiff kicks in practice before making any decision regarding that position.
September, 30, 2013
9/30/13
12:31
PM ET
A weekly examination of four hot issues from the
Cleveland Browns
' 17-6 win over the
Cincinnati Bengals
:
1. Cameron crazies.
Browns quarterback
Brian Hoyer
may be the feel-good story in Cleveland right now, but he'll be the first to tell you the dream season he's currently experiencing wouldn't be taking shape if it wasn't for his big tight end,
Jordan Cameron
. In the two games Hoyer has started, Cameron has caught 16 passes and four touchdowns. During Hoyer's homecoming Sunday, his first career start in the stadium he attended games as a teenager, Cameron hauled in 10 passes and went up high and brought down a fade in the end zone. As the season continues, still possibly with Hoyer behind center, football fans across the country will learn more about Cameron. In that respect, before you know it, there might be a new kind of Cameron crazies.
[+] Enlarge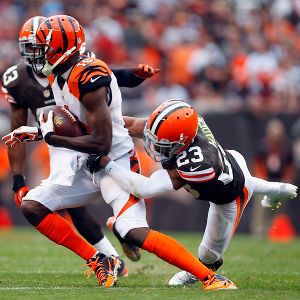 Matt Sullivan/Getty ImagesCleveland's Joe Haden (23) made life difficult Sunday for Cincinnati wide receiver A.J. Green.
2. Some good, some bad.
The middle two quarters
Buster Skrine
played Sunday likely left some Browns fans scratching their heads and screaming at their TVs wondering if and when he might be replaced. In the fourth quarter, though, that all changed when Skrine read the high tip off a mishandled
Andy Dalton
pass and dived to snag the game's only interception. When the defensive back grabbed the ball out of the air with 3:43 remaining in the game, he effectively ended the contest. Even though the Bengals ended up getting the ball back one more time, they would have needed to score on that possession and another with time expiring in order to pull off a comeback. Along with the interception, Skrine had a pair of tackles and broke up three passes, including one that came on a pivotal third-quarter third down. He also had penalties for pass interference and unnecessary roughness that could have cost the Browns. Cincinnati, however, was unable to take advantage of either.
3. Efficient red zone play.
Cleveland had to be encouraged by its play inside the Bengals' 20. Only once in three trips did the Browns not convert a red zone possession into a score. The lone failed red zone conversion came early in the second quarter, when kicker
Billy Cundiff
missed his first of two field goals. The other two drives ended in goal-to-go territory and resulted in passing touchdowns to Cameron and running back
Chris Ogbonnaya
.
4. Haden halts Green.
Browns cornerback
Joe Haden
and Bengals receiver
A.J. Green
have been going against one another since they were in college playing in the SEC at Florida and Georgia, respectively. By now, they know each other's tendencies and nuances. In this latest matchup, though, it was Haden who got the better of Green, locking him down and making it difficult for Dalton to complete passes in Green's direction. When Haden wasn't batting away one of his two passes, he was typically right in Green's face, forcing an overthrow, or hitting him as soon as he caught the ball, limiting Green's yards after the catch. Targeted 14 times, Green caught seven passes for just 51 yards.
September, 5, 2013
9/05/13
8:00
AM ET
A look at what's happening on the Cleveland Browns beat:
September, 4, 2013
9/04/13
8:00
AM ET
Here is what's happening on the Cleveland Browns' beat:
September, 3, 2013
9/03/13
5:00
PM ET
The
Cleveland Browns
are going with
Billy Cundiff
as their kicker, according to
ESPN NFL Insider Adam Schefter
.

The Browns have made several good moves to improve the team this year, but the new regime mishandled their kicking situation.
I didn't understand why the Browns didn't re-sign Pro Bowl kicker
Phil Dawson
in free agency. The two kickers (
Shayne Graham
and
Brandon Bogotay
) that the Browns brought in this offseason, and subsequently cut, were a downgrade from Dawson. And the same goes with Cundiff, who hasn't been the same since that crushing miss in the AFC Championship Game 21 months ago.
The new decision-makers for the Browns have turned a position of strength into one of weakness. The belief is the new regime wanted a fresh start, and Dawson represented one of the faces of the expansion-era Browns. But this team would have more stability with Dawson. The Browns have over $25 million in salary-cap space and only needed to give Dawson a one-year, $2.35 million contract (what he received from the
San Francisco 49ers
) to keep him. And, if the Browns were intent on parting ways with Dawson, they should've invested a draft pick in a young kicker.
What you like about the addition of Cundiff is his familiarity with the tricky weather of the AFC North. He kicked for the Browns for five games in 2009 and played for the
Baltimore Ravens
for 2 1/2 seasons. Cundiff, 33, was a Pro Bowl kicker in 2010 before his career derailed a year later.
After missing nine field goals in the 2011 regular season, Cundiff hooked a 32-yard field goal in the closing seconds that would have tied the AFC Championship Game. Cundiff was cut by the Ravens the next season, and he was released by the
Washington Redskins
in 2012 after missing five of his 12 field goal attempts (58.3 percent success rate). He is now on his fourth team in two seasons.
So, in the end, the Browns have gone from a Pro Bowl kicker in Dawson to a journeyman in Cundiff.
September, 3, 2013
9/03/13
8:00
AM ET
Here is what's happening on the Cleveland Browns beat:
September, 2, 2013
9/02/13
12:53
PM ET
The
Cleveland Browns
will eventually add a kicker to their roster, and it looks like Tuesday will be the day.
Billy Cundiff
and
Dan Carpenter
are among the kickers who will try out for the Browns on Tuesday, according to
The Plain Dealer
. Both were most recently cut by the
New York Jets
, who went with
Nick Folk
.
Cundiff has experience kicking in the AFC North, having previously played for the Ravens and Browns. But he hasn't been the same since missing a field goal in the 2012 AFC Championship Game.
Carpenter spent the past five seasons with the
Miami Dolphins
, making 81.9 percent of his field goals. He's been cut by three teams (Dolphins, Cardinals and Jets) over the past 19 days.
As
ESPN Radio in Cleveland
pointed out, other free-agent kickers include Justin Medlock,
Olindo Mare
and
Neil Rackers
. The Browns have been without a kicker on their roster since cutting
Shayne Graham
and
Brandon Bogotay
on Saturday.