Cleveland Browns:

Brady Quinn
December, 3, 2013
12/03/13
11:55
AM ET
Two cups of half-filled beer sat on the ground outside the parking lot after the
Cleveland Browns
' loss to Jacksonville.
[+] Enlarge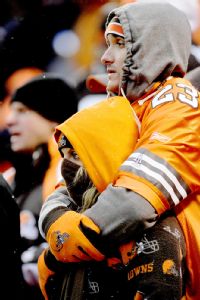 Ken Blaze/USA TODAY SportsIt's difficult to gauge what Browns fans are feeling after 15 seasons filled with false hope and disappointment.
After that loss, after that game, it was a bit surprising nobody had kicked them over. Because there was much for fans to be mad about, so much that encapsulated the way things have gone for this team since 1999.
This is not supposed to be the time of year for anger, but what else can fans feel after these 15 long, long seasons?
Smart people come to Cleveland to run the Browns. They're good people who will help the elderly cross the street. Yet for whatever reason it never works and the smart people leave trying to explain why it didn't. Which of course brings in a new group making old promises in new packaging.
Fans are left over and over asking why. And when.
There's the two winning seasons since 1999. There's the one playoff game, a loss.
There's the way the Browns go through quarterbacks without ever finding one. Injuries happen, but Sunday could be starter number four under center this season and 21 since 1999. In all that time, couldn't the Browns just stumble onto a longterm starter?
There's the way the team sells its product every spring and every training camp, with hope and promise and belief as if Harry Potter has just waved his wand over the previous season's mess and made everything just fine. Yet after gobs of energy and mind-numbing excitement over preseason have ended, it's the same old stuff on the field.
There's the constant change of front office, coach and (most recently) ownership. And every time there's change, there's the new group that undoes what the old group did and sends the team on yet another re-set.
There's the attitude of every front office, whose way is always the best way. Don't believe it? Name the last NFL team to trade two first-round draft picks on the same day the way the Browns did with
Brady Quinn
and
Kamerion Wimbley
.
And the way the former front-office types walk away year after year after year with the team's millions.
There's the new owner who promised transparency and excitement and commitment, but whose company is under federal investigation for seriously troubling crimes.
There's the win total. Soccer teams have an easier time scoring goals than the Browns do winning games. Since 1999, the Browns have averaged five wins per season. They haven't won more than five games since 2007.
There's coaching staffs trying to make do with decks that aren't even half full.
There's the constant reliance on drafts that never come through. The Browns have a bunch of picks in the 2014 draft, so that event in Cleveland will be like New Year's Eve in Times Square. And all the picks will become, by virtue of being drafted, "excellent players with great upside." Check back in three years.
Then there's the fans, who keep coming to the games and then have to wander in a daze around and around and around the exit ramps after depressing loss after depressing loss.
These fans are so starved for good football they were ready to send fireworks from the backyard because the Browns won a game over Baltimore and were one game below .500 at the bye.
How is that even possible?
They buy tickets. They spend their life savings on a beer and a hot dog. And they get dreck like they got against Jacksonville. The frustration list could go on and on, with story after story. You wonder when fans will pull a Howard Beale and say they're just not gonna take it anymore.
Yet Sunday there stood those cups, the remnant of pregame hopes placed gently on the ground.
Guess everyone figured the Browns had already made enough of a mess of things.
October, 23, 2013
10/23/13
4:36
PM ET
The number 20 is special in many circles.
The 20th anniversary means a little more than the 16th, and a young man or woman who turns 20 feels a little more "adult."
[+] Enlarge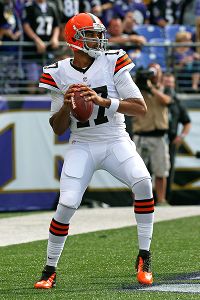 Mitch Stringer/USA TODAY SportsJason Campbell's play at quarterback is a key reason why the Browns are optimistic about making the AFC playoffs.
So when the Browns name their 20th starting quarterback since 1999 -- the year the team returned from a three-year hiatus -- it's worth taking a trip down memory lane (the screams in the background are from Browns fans whose memories are being jogged ... feel free to offer appropriate sympathies).
1999
Ty Detmer -- The plan to have him hold the fort lasted for one blowout loss, in the season opener against Pittsburgh.

Tim Couch -- The original No. 1 choice, had a couple of good years but not enough.
2000
Couch

Spergon Wynn -- Chris Palmer was lobbied to play him by the front office, and he produced two first downs in one game.

Doug Pederson -- Now Kansas City's offensive coordinator, started the Dennis Northcutt/Kevin Johnson quarterback game.
2001
Couch -- The only season when one quarterback started every game.
2002
Couch

Kelly Holcomb -- The year of the Dwayne Rudd helmet-removal game and the blown playoff game in Pittsburgh.
2003
Holcomb -- Incurred the "teeny-tiny break of a non-weight bearing bone in his leg."

Couch -- Late this season, Butch Davis told Couch he was his quarterback for years to come; Couch was released in the offseason.
2004
Jeff Garcia -- He never quite fit in, though he thinks he does now.

Holcomb

Luke McCown -- Interim coach Terry Robiskie admitted when McCown played, it was men against boys.
2005
Trent Dilfer -- Good guy, but chewed up by the Cleveland system always looking for the next guy.

Charlie Frye -- Had moments as a rookie until the Christmas Eve massacre against Pittsburgh.
2006
2007
Frye -- Traded after the Browns lost the season opener.

Anderson -- Had the best season of a Browns QB since 1999, won 10 games, but didn't win the game needed to make the playoffs.
2008
Anderson.

Brady Quinn -- The town was jubliant after Phil Savage traded up to get him and Joe Thomas in the first round.

Ken Dorsey -- At this point hopes were dimmed.

Bruce Gradkowski -- Signed to start the last game when everyone else was hurt.
2009
Quinn and Anderson -- Yo-yoed back and forth by Eric Mangini.
2010
Jake Delhomme -- Mike Holmgren's interim solution.

Seneca Wallace -- Holmgren's backup solution.

Colt McCoy -- Holmgren's drafted solution.
2011
McCoy -- The year he was put back in the game with a concussion in Pittsburgh.

Wallace
2012
2013
Weeden

Brian Hoyer -- Showed promise before unfortunate injury.

Campbell -- Passed over twice, now starting.