Cleveland Browns:

Brian Hoyer named starter
August, 20, 2014
Aug 20
12:45
PM ET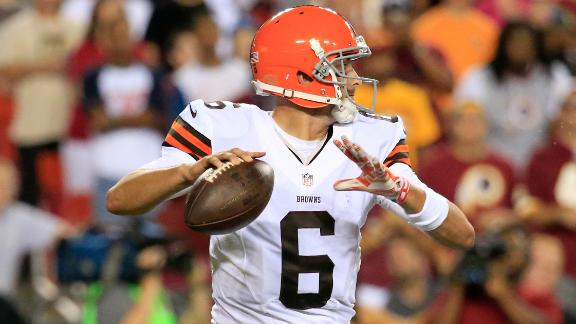 BEREA, Ohio -- This was not exactly a quarterback competition that inspired belief.
But at least it's over. That alone is a positive step for the
Cleveland Browns
.
Naming
Brian Hoyer
the
Browns' starter Wednesday
heading into the regular season fills three large needs:
It allows Hoyer to concentrate on preparing, which is what he does best. He can focus on the regular season, prepare to play and forget the competition.
It allows Johnny Manziel to take a step back, assess where he is and concentrate on learning the nuances and finer points of an NFL offense. Rex Grossman is there to help.
It ends this competition that seemed to be strangling the life out of both players. Coach Mike Pettine had good and logical reasons for doing things the way he did, but in the end, this one was turning south in a hurry. It needed to end.
Naming Hoyer the starter makes sense. He didn't play great in either preseason game, but he did have some good practices when more often than not he seemed better prepared and suited than Manziel to run this offense. That would seem to indicate he was pressing in games.
Freed from the weight of trying to win a job and instead playing just to win a game, Hoyer can relax and -- the Browns hope -- revert to the form he showed last season.
Hoyer's play against Washington was, by his own admission, embarrassing.
He needs to be better, not miss an open receiver in the end zone, not force throws and not rush them. He's at his best when he's prepared, on time and decisive.
It's up to him to live up to the faith and belief Pettine has shown in him. It's up to him to play well.
Manziel brings the hype and the attitude and the did-he-really-do-that college stats. But he was behind in grasping the offense. And it showed in practice, it showed in Washington and -- despite some illogical praise that came his way after the game -- it showed in Detroit.
He's at the point where he makes one read and runs.
If the Browns wanted to run a fast-paced offense like Manziel ran at Texas A&M, he might be ready to play. Instead, the Browns are running a verbiage-heavy, structured system.
Debate all you want whether that takes away Manziel's strengths. It's what the Browns are doing.
Kyle Shanahan repeatedly has said NFL defenses quickly will realize what a quarterback does well and take that away. Shanahan also said Manziel's strength -- his elusiveness -- could become his greatest weakness.
Manziel no doubt finds himself in an uncomfortable spot being the backup. It's understandable. But it also allows him the chance to grow and learn and get better while he waits. It's a chance too many Browns quarterbacks before him didn't have, and they suffered because of it.
Hoyer had done so much right as he came back from his knee injury. He attacked his rehab, begged to be let loose in the offseason and studied the new playbook like mad.
But the drafting of Manziel was a game-changer for him, and he showed he felt the pressure that goes with being the guy who has to hold off the phenom. It's a tough spot, especially for someone trying to lead his hometown team. He didn't exactly thrive in the fishbowl, but he has survived.
Theoretically, the Browns now could have the best of two worlds.
If Hoyer can channel what
Tom Brady
taught him and win one or two or three games before the bye, the outcry for Manziel will cease. The team will be able to just go play, Hoyer will be able to relax, Manziel can soak in knowledge and the team will be winning.
If Hoyer doesn't get things together and the Browns don't win, well, Manziel is there, ready and waiting and, hopefully by the time he plays, able.
The best-case scenario for the Browns? That the 22nd name in the draft isn't added to that quarterback jersey in Tennessee the week after the team's bye.
August, 20, 2014
Aug 20
9:35
AM ET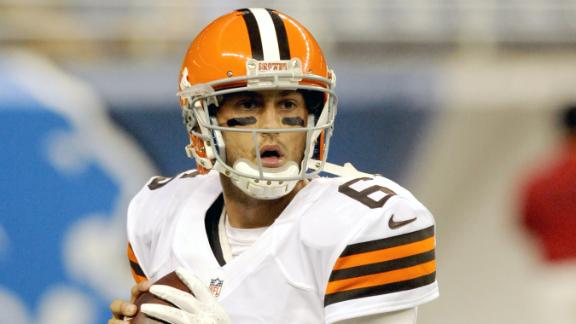 The decision of
Cleveland Browns
coach Mike Pettine to go with veteran
Brian Hoyer
over rookie
Johnny Manziel
as the Week 1 starting quarterback against the
Pittsburgh Steelers
was not surprising. Pettine has said on multiple occasions he prefers experience at the position, particularly against a defensive coordinator as cagey as Pittsburgh's Dick LeBeau.
Manziel moved the offense better than Hoyer in the preseason, but the former Heisman Trophy winner showed a lack of composure on the field (giving the Redskins the middle finger on "Monday Night Football") and didn't appear completely comfortable with the playbook. He's learning new verbiage, is playing under center for the first time and has to adjust to new teammates and a new system.
But the selection of Hoyer shouldn't be viewed as a long-term answer. Hoyer has been abysmal in the preseason, and if he fails to produce over the tough, early portion of the schedule -- at Pittsburgh, home against New Orleans and Baltimore -- Manziel could take over in Week 5 after the bye.
One thing is certain: A starting quarterback may have been chosen, but the drama and suspense aren't over.