Cleveland Browns:

Buster Skrine
February, 28, 2014
Feb 28
9:59
AM ET
The release of
D'Qwell Jackson
leads a wandering mind to wonder: What players will cost the
Cleveland Browns
the most money this season?
[+] Enlarge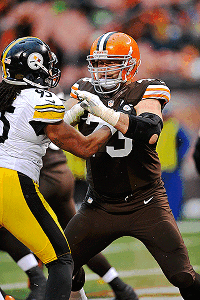 AP Photo/David RichardJoe Thomas' $10.9 million base salary is the highest among offensive linemen in the league.
Here they are, in terms of their cash cost, which equals base salary plus any bonuses.
LT Joe Thomas, $11.1 million (includes $200,000 workout bonus)

LB Paul Kruger, $7 million

CB Joe Haden, $6.878 million ($200,000 workout bonus)

DL Ahtyba Rubin, $6.8 million ($200,000 workout bonus)

QB Jason Campbell, $3.25 million ($325,000 roster bonus)

WR Davone Bess, $3.067 million

DL Desmond Bryant, $3.0 million

OG John Greco, $2.43 million ($1.7 million roster bonus)

DL Phil Taylor, $1.478 million ($728,625 roster bonus)

CB Buster Skrine, $1.389 million

TE Jordan Cameron, $1.389 million

OG Jason Pinkston, $1.389 million
A few thoughts:
Yes, Paul Kruger is indeed the second-highest paid player on the team.
Kruger's base salary is the fourth highest among linebackers in the league, behind only St. Louis'
James Laurinaitis
($10 million), Jacksonville's
Paul Posluszny
($7.45 million) and Pittsburgh's
LaMarr Woodley
($8 million).
Yes, Campbell ranks fifth on the Browns. And Bess sixth.
Sigh.
It will be shocking if either Campbell or Bess is with the team in 2014.
Four of the top seven highest paid were signed in the Joe Banner-Mike Lombardi era: Kruger, Bess, Campbell and Bryant.
Greco's $1.7 million roster bonus is due the fifth day of the league year, which would be March 16.
Thomas has the highest base salary ($10.9 million) among the league's offensive linemen, and his cash cost for 2014 ranks second among linemen to Philadelphia's Jason Peters' $12 million. The contract extension Thomas signed in 2011 included $29.5 million in guaranteed money.
ProFootballTalk.com reported that Rubin could be on the cut list due to his salary. We'll see.
Here are the 10 most expensive Browns as they fall under the salary cap, with prorated signing bonuses included in the calculations:
Thomas, $12.3 million

Haden, $8.9 million

Kruger, $8.2 million

Rubin, $8.175 million

Bryant, $4 million

LB Barkevious Mingo, $3.715 million

Taylor, $2.575 million

Grego, $2.43 million

QB Brandon Weeden, $2.204 million

Campbell, $3.25 million
January, 30, 2014
Jan 30
3:00
PM ET
2014 Free agents:
None.
The good:
The development of starting corners
Joe Haden
and
Buster Skrine
was a big positive in 2013. Haden can become one of the better corners in the league, but he has to dedicate himself this next season the same way he did prior to 2013. His maturity and growth were startling. Skrine improved greatly from the struggles of his previous season. Both players are young and talented. If they keep working they will only get better.
The bad:
Leon McFadden
had a typical rookie season, which is to say he was targeted often. The reason it didn't stop is McFadden never forced teams to stop throwing at him. Many rookies struggle, so it's way too soon to give up on him. But McFadden has a long way to justify his choice in the third round of the draft.
The money:
Nothing major here. Haden's salary cap figure is $8.96 million, but he deserves it. No other player has a cap figure higher than $1 million.
Draft priority:
Adding a third cornerback to challenge McFadden should be a priority. McFadden may improve, but the Browns can't go into 2014 planning on him being the third corner.
December, 29, 2013
12/29/13
3:58
PM ET
PITTSBURGH -- A few thoughts on the
Cleveland Browns
'
20-7 loss
to the
Pittsburgh Steelers
:

What it means:
The Browns set a new standard of futility in a season of futility. For the first time in team history, the Browns lost seven games in a row to end a season. Although there was a lot of chatter about the future of Rob Chudzinski, this kind of season does not reflect well on anyone with the team, from the owner through the CEO to the GM to the coach to the players. Call it a collective flop. And to think there was a point when some thought the Browns might win the division.
Chudzinski chatter:
The way the season ended led to a lot of speculation about unhappiness and dissatisfaction in the front office, which led to gamelong buzz about Chudzinski and whether he might be let go after the season. The Browns initially declined to comment on the rumors but by the fourth quarter put out a statement that said: "Our focus is on the game today. We will not discuss any evaluation of the season until this upcoming week."
Stock watch:
Browns fans can enjoy life again: The talk is again about the draft. The team that has gone six years in a row with at least 11 losses and has averaged four and a half wins per season in those seasons can point its fans to the most exciting time of year. That's the draft, when fans annually regain belief in anything related to an orange helmet.
Josh and the flu:
Josh Gordon
played the season finale with the flu. It showed. After every play, he got up the way Jim Brown used to -- slowly and with discomfort. Chudzinski said after the game that Gordon needed IV fluids before the game. Gordon finished with seven receptions for 80 yards.
Corners out:
The Browns started the game without
Joe Haden
at cornerback. They finished without
Buster Skrine
. With both corners out,
Ben Roethlisberger
and the Steelers' passing game had to contend with
Julian Posey
and rookie
Leon McFadden
. That is a tough challenge for a defense.
December, 16, 2013
12/16/13
5:31
PM ET
A long
Cleveland Browns
season gets longer by the week, and may continue with the team's best defensive player sidelined after getting kneed in the hip.
Joe Haden
hobbled into the team's media room to say he was in a lot of pain after he was inadvertently hit, and that he had "no idea" if he could practice or play this week.
Haden may respond quickly to treatment, but that remains to be seen.
Haden's absence creates a strong ripple effect throughout the defense. He covers the opponent's best receiver.
Chris Owens
, the team's nickel back, is already on injured reserve. W
ithout Haden and Owens, the Browns would have their second, fourth and fifth corners playing in the first, second and third slots against the
New York Jets
.
Buster Skrine
and rookie
Leon McFadden
have been victimized lately, and
Julian Posey
becomes the nickel. Teams find players everywhere, but Posey has been active for just three games this season.
If Haden can't play, it would seem defensive coordinator Ray Horton would have to adjust coverage, perhaps have the corners play sides, or even play more zone.
The good news is rookie quarterback
Geno Smith
hasn't exactly lit the world on fire in New York -- he's completing 55 percent with more than twice as many interceptions (21) as touchdowns (10).
The Browns are left to wonder what happened to a season that had many thinking the playoffs were possible when they started 4-5. In hindsight, the playoff chatter was ludicrous -- not because of the past five losses in a row -- but because they only won one game in the four before the bye. Five losses since the week off make 10 for the season. Again.
Players keep promising things will change. In fact, they vow it will change.
They believe in each other, and in the coaches. They wonder why things aren't going well. Haden said players are having serious, legit discussions with coaches about what to do. He said it's "not the same old Browns," a notion coach Rob Chudzinski seemed to favor.
"We're not going to hope we get better," Chudzinski said about 12 hours after the birth of his fourth child, a boy. "We're going to make good things happen. We're going to be proactive and I've challenged our coaches and players to be part of the solution."
Chudzinski means it, and he cares.
But the problem is the same things have been said over and over the past many years.
The end results eventually are the same: For the sixth season in a row, and for the 11th time in 12 seasons, Cleveland finishes with at least 10 losses.
Which leaves the fans -- like they were Sunday -- standing out in the cold waiting for something good to happen.
December, 15, 2013
12/15/13
6:26
PM ET
CLEVELAND -- The
Cleveland Browns
' defense talks a good game.
The Browns can recite numbers with the best of them to show where they are ranked league-wide, and what they need to do to be ranked high if they're not.
But there is also is this fact: For the third week in a row, the Browns had a fourth-quarter lead and the defense squandered it.
Sunday the
Chicago Bears
scored 21 points in the final 15 minutes en route to a
38-31 win
.
[+] Enlarge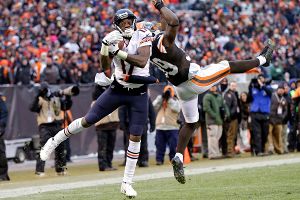 AP Photo/Mark DuncanThe Cleveland Browns had trouble stopping Alshon Jeffery and the Chicago Bears in the fourth quarter.
Which would project to 84 points a game, which is pretty good.
Early, the Browns were buoyed by two defensive touchdowns -- an interception and a fumble return -- that had the defense off to a great start. But late, the defense did not come through when it mattered most. It collapsed, buried under the weight of its mistakes and the Bears' athletic plays.
That makes three games in a row the defense did not stop the other team when it mattered most.
Jacksonville (!) drove 80 yards in the final minute for a game-winning touchdown.
New England had officiating help on its last drive, but the 82-yarder that made that last drive meaningful was against the Browns' defense.
And Chicago saw
Jay Cutler
salivate at the loss of cornerback
Joe Haden
to a hip pointer, then lead the Bears to three scores in the final 10:59.
The first was an athletic catch by
Alshon Jeffery
behind
Tashaun Gipson
, with the help of the wind. That play was set up by an interference call on
Leon McFadden
and a holding call on
Buster Skrine
, the two corners playing with Haden out. (
Julian Posey
wound up covering Jeffery on the touchdown.)
On Chicago's next two possessions, the Bears ran the ball down the vaunted Browns' throats.
Twenty-two of 36 yards came on the ground on the next TD drive, then 74 of 78 on the drive that sealed it.
The Browns played a team that had to go on the road after playing Monday night, a team that had a quarterback starting his first game in a month. The defense gave up 179 yards rushing, 127 to
Matt Forte
, and 265 and three touchdowns passing.
The fourth quarter was the worst.
While the Browns have been giving up 12, 16 and 21 points in the fourth quarter the past three games, they've scored 21 -- seven against the Bears on a late TD when the Browns were already down 14. In fourth quarters all season, the Browns have been outscored 128-66, or just less than 2 to 1.
The last four games the opposition finished with 27, 32, 27 and 38 points, an average of 31 per game. Yes but, some might say. As in, but the offense turned it over, or the defense was tired, or the moon was in the seventh house. Last time anyone checked, the defense was on the field when many of the points were scored.
In 11 of 14 games this season, the other team scored 23 points or more -- 23.5 was the league average heading into the game. In five of them it was 31 or more. Opponents are averaging 26 points per game on a defense that touts itself as quite a bit more special than it is.
Sure, the Bears scored on an interception return, which means they scored 31 on offense. Hoo hoo.
A top defense does not give up this kind of scoring.
A top defense does not finish games this way.
A top defense makes a stand when a stand is needed.
Until that happens, perhaps it's time to put away the numbers and metrics. Just go out and win a stinking game.
September, 30, 2013
9/30/13
12:31
PM ET
A weekly examination of four hot issues from the
Cleveland Browns
' 17-6 win over the
Cincinnati Bengals
:
1. Cameron crazies.
Browns quarterback
Brian Hoyer
may be the feel-good story in Cleveland right now, but he'll be the first to tell you the dream season he's currently experiencing wouldn't be taking shape if it wasn't for his big tight end,
Jordan Cameron
. In the two games Hoyer has started, Cameron has caught 16 passes and four touchdowns. During Hoyer's homecoming Sunday, his first career start in the stadium he attended games as a teenager, Cameron hauled in 10 passes and went up high and brought down a fade in the end zone. As the season continues, still possibly with Hoyer behind center, football fans across the country will learn more about Cameron. In that respect, before you know it, there might be a new kind of Cameron crazies.
[+] Enlarge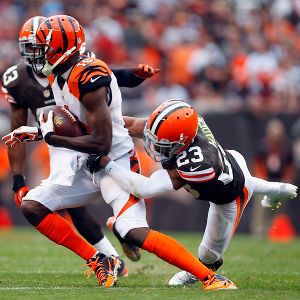 Matt Sullivan/Getty ImagesCleveland's Joe Haden (23) made life difficult Sunday for Cincinnati wide receiver A.J. Green.
2. Some good, some bad.
The middle two quarters
Buster Skrine
played Sunday likely left some Browns fans scratching their heads and screaming at their TVs wondering if and when he might be replaced. In the fourth quarter, though, that all changed when Skrine read the high tip off a mishandled
Andy Dalton
pass and dived to snag the game's only interception. When the defensive back grabbed the ball out of the air with 3:43 remaining in the game, he effectively ended the contest. Even though the Bengals ended up getting the ball back one more time, they would have needed to score on that possession and another with time expiring in order to pull off a comeback. Along with the interception, Skrine had a pair of tackles and broke up three passes, including one that came on a pivotal third-quarter third down. He also had penalties for pass interference and unnecessary roughness that could have cost the Browns. Cincinnati, however, was unable to take advantage of either.
3. Efficient red zone play.
Cleveland had to be encouraged by its play inside the Bengals' 20. Only once in three trips did the Browns not convert a red zone possession into a score. The lone failed red zone conversion came early in the second quarter, when kicker
Billy Cundiff
missed his first of two field goals. The other two drives ended in goal-to-go territory and resulted in passing touchdowns to Cameron and running back
Chris Ogbonnaya
.
4. Haden halts Green.
Browns cornerback
Joe Haden
and Bengals receiver
A.J. Green
have been going against one another since they were in college playing in the SEC at Florida and Georgia, respectively. By now, they know each other's tendencies and nuances. In this latest matchup, though, it was Haden who got the better of Green, locking him down and making it difficult for Dalton to complete passes in Green's direction. When Haden wasn't batting away one of his two passes, he was typically right in Green's face, forcing an overthrow, or hitting him as soon as he caught the ball, limiting Green's yards after the catch. Targeted 14 times, Green caught seven passes for just 51 yards.
September, 27, 2013
9/27/13
8:00
AM ET
A look at what's happening on the Cleveland Browns beat:
September, 8, 2013
9/08/13
4:22
PM ET
My thoughts on the
Cleveland Browns
'
23-10 loss
to the
Miami Dolphins
:


What it means
: New regime, same result. In the first game of the Joe Banner-Rob Chudzinski era, the Browns had a similar look of past teams: a solid defense and a struggling offense, albeit a short-handed one without its No. 1 receiver and a third-string right guard. Cleveland fell to 1-14 in home season openers since rejoining the NFL.
Stock watch
: Rising -- Tight end
Jordan Cameron
. He was the Browns' best offensive weapon with nine catches for 108 yards and the team's only touchdown. He was the only Browns player with a catch longer than 20 yards.
Falling -- CB
Buster Skrine
. He got burned by
Brian Hartline
on a double move for the Dolphins' first touchdown, and he was penalized in the end zone, which led to Miami's second touchdown. Undisciplined play has always been a problem for Skrine, who committed nine penalties last year.
Don't blame Weeden
: It's easy to point the finger at quarterback
Brandon Weeden
, who threw three interceptions in the first half and finished with 23-of-53 passing (49 percent) for 289 yards. But one interception came off a drop by
Greg Little
, and the Dolphins converted only three points off those turnovers. Weeden didn't get much help from his receivers, who dropped a handful of passes, and pass protection (five sacks allowed). Right tackle
Mitchell Schwartz
allowed three sacks, and right guard
Oniel Cousins
struggled mightily, too. Cousins' holding penalty negated a touchdown in the fourth quarter.
Pass defense falters
: The Browns got pressure on
Ryan Tannehill
in the first half, limiting him to 98 yards passing before halftime. But Cleveland gave him too much time in the second half and allowed 174 yards passing. The Browns didn't stop the Dolphins enough on third downs. Free-agent pickup
Desmond Bryant
was a bright spot, stopping two drives with sacks.
Where was Richardson?
Running back
Trent Richardson
is the Browns' best playmaker, and offensive coordinator Norv Turner didn't get him involved enough, especially with No. 1 receiver
Josh Gordon
suspended for the first two games. The Browns abandoned the run too early, and Richardson finished with 47 yards on 13 carries. If Turner didn't think the running game was working, the Browns had to get the ball to Richardson more in the passing game. Richardson had one catch for 18 yards.
What's next
: The Browns (0-1) look to end a 10-game losing streak to the
Baltimore Ravens
(0-1) when they visit Baltimore next week.
September, 6, 2013
9/06/13
8:00
AM ET
A look at what is happening on the Cleveland Browns beat: