Cleveland Browns:

Carlos Hyde
April, 18, 2014
4/18/14
8:00
AM ET
Draft day looms ever closer. As it approaches, it seems appropriate to start your day with a tidbit or two each day on draftable guys -- with an eye toward those the Cleveland Browns might select. All information is courtesy of ESPN Stats and Information.
Ohio State running back
Carlos Hyde
averaged 3.1 yards after contact per carry, one yard more than the average. That's a statistically significant improvement over the pack, and shows Hyde's ability to run through tackles. He gained five yards on 57 percent of his carries, and failed to gain yards on just 12 of his 208 carries. The young man can run with the football.
March, 17, 2014
3/17/14
8:30
AM ET
The
Cleveland Browns
made a significant improvement to their running game Saturday when
Ben Tate
agreed to a two-year deal that reports said could be worth up to $7 million.
Tate
That's a big step for a team that needed a back.
But it will be interesting to see if the Browns stop there. Because they did not pay Tate like a franchise back; his reported $7 million deal and $3.5 million per season is not franchise-back pay.
The average salary is the same that San Diego gave
Donald Brown
and Jacksonville gave
Toby Gerhart
, and less than Detroit pays
Reggie Bush
and Atlanta pays
Steven Jackson
($4 million). Fifteen backs average more than the Browns gave Tate.
Too, while Tate in his career has averaged 4.7 yards per carry -- a significant 4.7 yards per carry -- he has never spent an entire season healthy.
One might reasonably conclude that Tate needs help. Whether that comes from the present roster or in the draft in the mid-to-late-rounds is up to the tam. As for a back like
Carlos Hyde
of Ohio State, the need has decreased but the attraction of adding him hasn't.
Tate might not want another tandem approach, but the combination of him and Hyde would be impressive.
Tate does not believe another back is needed. Which is the way he should feel. The Browns will give him a chance to prove he can be a No. 1 back, and he's eager to prove he deserves it.
There's little to criticize about this move. The Browns haven't had a running back since they traded
Trent Richardson
, and last year's coaching staff suffered because of it.
Willis McGahee
was the team's leading rusher with 377 yards. Tate doubled that total despite missing two games and playing with cracked ribs.
The Browns added to their team and made themselves better.
The only question is whether they add more to the position. It would make sense to do so.
February, 6, 2014
2/06/14
3:00
PM ET
There's agreement on the
Cleveland Browns
' two first-round picks in the second mock drafts of ESPN draft analysts Mel Kiper and Todd McShay.
Both agree the Browns will take a quarterback with the first pick (fourth overall) and a receiver with the second pick (26th overall). They both even agree on the receiver.

All of the picks make sense, and it's tough to argue them -- provided you share the belief the Browns pick a quarterback first. I don't. I'd take Clemson receiver
Sammy Watkins
and at some point I'd take Ohio State running back
Carlos Hyde
, perhaps in the second round. Kiper and McShay disagree.
Kiper has the Browns

taking Louisville quarterback
Teddy Bridgewater
with the fourth overall selection.
Kiper opines that with
Josh Gordon
and
Jordan Cameron
, the Browns have players to help a young quarterback. He calls Bridgewater the guy who "has a lot of traits that translate to early success."
Johnny Manziel
is not available in Kiper's draft when the Browns pick.
He is in McShay's draft
,

but McShay has the Browns taking
Blake Bortles
of Central Florida.
His analysis might not exactly thrill fans, though, as he writes the Browns could wind up with a receiver and could pass on Bortles because he's not the most stout guy. He also has qualifiers about his ability.
"He will not wow scouts with a big-time arm, and, like most young quarterbacks, he can become more consistent with his decision-making," McShay writes. "However, Bortles does have enough arm strength to make all the NFL throws, and unlike many college QBs I study on tape, Bortles sees the entire field, stands strong in the pocket and shows the ability to go through NFL-type progressions."
Kiper and McShay both have the Browns taking Fresno State receiver
Davante Adams
(6-foot-4 and 228 pounds) with the pick they acquired from Indianapolis for
Trent Richardson
.
Kiper calls Adams "a strong receiver who will make plays in traffic and beat defenders for the ball on contested throws." McShay calls Adams "a very good complement to Gordon and a nice weapon for Bortles," whom he has the Browns taking first.
Adams is a redshirt sophomore who declared early. He's big and strong but isn't the fastest.
Physically, he resembles
Greg Little
. But unlike Little, who spent one season at receiver and didn't play his senior year due to NCAA violations, Adams' production in college was impressive. In 2012, he had 102 receptions for 1,312 yards. In 2013, he led the nation in receptions (131), receiving yards (1,719) and touchdowns (24).
Clearly those are some impressive numbers.
January, 31, 2014
1/31/14
9:00
AM ET
The NFL draft is in May.
It's not even February.
Keep that in mind. A lot can and will change between now and then when it comes the annual college selection process. But the name
Carlos Hyde
is a popular one in Ohio, and his draft status seems to have an arrow up.
There is a large segment of the Browns fan base that would love to see Hyde in Cleveland. It makes sense. He's a big, powerful back who can run and catch the ball. Running backs are not in vogue these days, but 240-pound backs with ability should be.
[+] Enlarge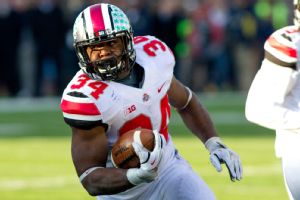 Jason Mowry/Icon SMICarlos Hyde rushed for 1,521 yards and 15 touchdowns during his final season at Ohio State.
What's becoming evident is that if the Browns want to take Hyde they may have to do so in the first round. Too many rankings and ratings have him as a top-32 player, which makes him a first-round pick.
Scouts Inc. on ESPN Insider ranks Hyde 32 in the draft.
Mel Kiper has him 17th, also on ESPN Insider. In his first mock draft, Kiper had the Browns selecting Hyde with their second first-round choice.
CBSports does have Hyde 56th, but that seems to be a shrinking opinion.
Hyde's stock is rising. Which could lead to all sorts of chatter about what the Browns should do with their second first-round pick, 26th overall.
Do they have the gumption to take a running back with the pick they acquired when they traded a first-round running back (
Trent Richardson
)? That would be some serious chutzpah.
But it might make sense. If the Browns decide not to take a quarterback with their first pick, they could load up the offense with
Sammy Watkins
first and Hyde second. Put them with
Josh Gordon
and
Jordan Cameron
and the offense has some young, talented players.
Is it logical?
Hardly. The Browns seem to be one of the team's that does not value running backs. After trading RIchardson, there was a lot of information put out that backs are not valued as high anymore. No running back was taken in the first round a year ago, and Browns left tackle
Joe Thomas
said he'd never take a running back in the first round again.
That position diminishes the position. Pittsburgh and Cincinnati are not going to give back their selections of Gio Bernard and Le'Veon Bell. Both are fine looking young backs.
The draft is a simple proposition that is made way more complicated than it need be: Will this player make this team better?
In the case of Hyde and the Browns the answer would be yes.
It's just a matter of the Browns deciding where he should be drafted. One thing seems sure: Hyde's name will not disappear from Browns chatter for quite a while.
But again ... as a public service ... we remind you ... the draft is in May ... it's not yet February.
January, 25, 2014
1/25/14
2:00
PM ET
The Browns MailBag no longer can address an unresolved coaching search, but that doesn't stop the letters. Here are this week's:


January, 15, 2014
1/15/14
3:00
PM ET
Mel Kiper's
first mock draft

goes chalk for the
Cleveland Browns
' first pick in the first round, and shock for the second.

The first pick, fourth overall, was predictable. Kiper has the Browns taking quarterback
Blake Bortles
of Central Florida. He's a big, strong-armed guy who came out of nowhere this past season to earn first-round status. In Kiper's draft,
Johnny Manziel
is off the board when the Browns pick, but Kiper has the Browns favoring Bortles over
Teddy Bridgewater
of Louisville.
Bortles makes sense because of his size and arm strength, and he can develop while someone else --
Brian Hoyer
? -- plays. That might be a good thing if he is not forced into the lineup too early.
The second first-round pick, which came from the Colts for
Trent Richardson
, is a bit of a shock, but should make the locals happy. Kiper has the Browns taking Ohio State running back
Carlos Hyde
.
This is a shock because the Browns traded a first-round running back to get a first-round pick that Kiper then has them using on a running back.
Maybe it's a Cleveland thing.
Hyde is a big, strong, powerful runner who would seem to be a very good NFL prospect. He would make the Browns a better team.
But the Browns' front office seems to buy into the new thinking that does not favor taking running backs high. Not one running back was selected in the first round of last year's draft.
It will be interesting to see if Kiper's thinking is right.