Cleveland Browns:

Chris Tabor
February, 7, 2014
Feb 7
1:58
PM ET
Chris Tabor admitted he was initially shocked when Rob Chudzinski was fired.
But Tabor was immediately in demand. The
Cleveland Browns
received several requests from other teams to interview the special teams coach. The team did not allow the interviews because Tabor was under contract, and clearly the team did not want him to go anywhere.
"I'm glad that happened," coach Mike Pettine said. "He's a quality coach ... His units are well respected throughout the league."
Tabor initially thought the coaching change might mean change for him as well, but he said he did not want to uproot his family. So when the Browns said no and Pettine kept him, he was pleased.
"I like it here, my family likes it here," he said. "That's another dynamic that a lot of people don't talk about. I grew up in the same house, my mom still lives in the same house, and for myself to give my daughters another opportunity to stay in the same home town, that's important to me."
Tabor has now surived the coaching changes from Pat Shurmur to Chudzinski, and from Chudzinski to Pettine. It almost defies all NFL odds.
"I think," Tabor said, "it says the good Lord is watching over me, to be honest."
February, 6, 2014
Feb 6
1:17
PM ET
The
Cleveland Browns
filled out their staff by announcing the hiring of 11 coaches Thursday. The staff is sprinkled with former coaches from the Ravens, Bills and a few from the Redskins.
All are logical, as coaches bring in folks they know and are comfortable with. Coach Mike Pettine worked in Baltimore and Buffalo before being hired in Cleveland, and offensive coordinator Kyle Shanahan worked in Washington.
Most noteworthy among the hires was Wilbert Montgomery as running backs coach. Montgomery spent the last six seasons as running backs coach with the Ravens. He also played for the
Philadelphia Eagles
when Ron Jaworski was quarterback and Dick Vermeil was coach.
Receivers coach Mike McDaniel joins Shanahan in coming to Cleveland from Washington. McDaniel was the receivers coach with the Redskins last season.
Other hires included (in alphabetical order):
George DeLeone, former Connecticut offensive coordinator and associate head coach, as assistant offensive line coach.
Chris DiSanto and Derik Keyes staying with the Browns as assistant strength coach.
Richard Hightower, last of the Redskins, as offensive quality control coach.
Dowell Loggains, former Tennessee offensive coordinator, as quarterback coach.
Andy Moeller as offensive line coach. Moeller spent the previous six seasons in Baltimore, the last three as offensive line coach.
Paul Ricci, former Jets assistant strength coach, as the head strength coach.
Tony Tuioti, from the University of Hawai, as defensive quality control coach.
Anthony Weaver, last of the Bills, as defensive line coach.
They join previously announced hires Chris Tabor (special teams coach), Jim O'Neil (defensive coordinator), Shanahan, Brian Angelichio (tight ends), Bobby Babich (assistant secondary), Chuck Driesbach (linebackers), Brian Fleury (assistant linebackers), Jeff Hafley (secondary) and Shawn Mennenga (assistant special teams).
Pettine said there could be one or two additions, but the staff is largely complete.
January, 27, 2014
Jan 27
10:09
PM ET
The
Cleveland Browns
confirmed the news broken by
Buffalo Bills
coach Doug Marrone on Monday.
Marrone revealed that three coaches would be joining Mike Pettine in Cleveland, and lo and behold he was right. The three were announced Monday evening.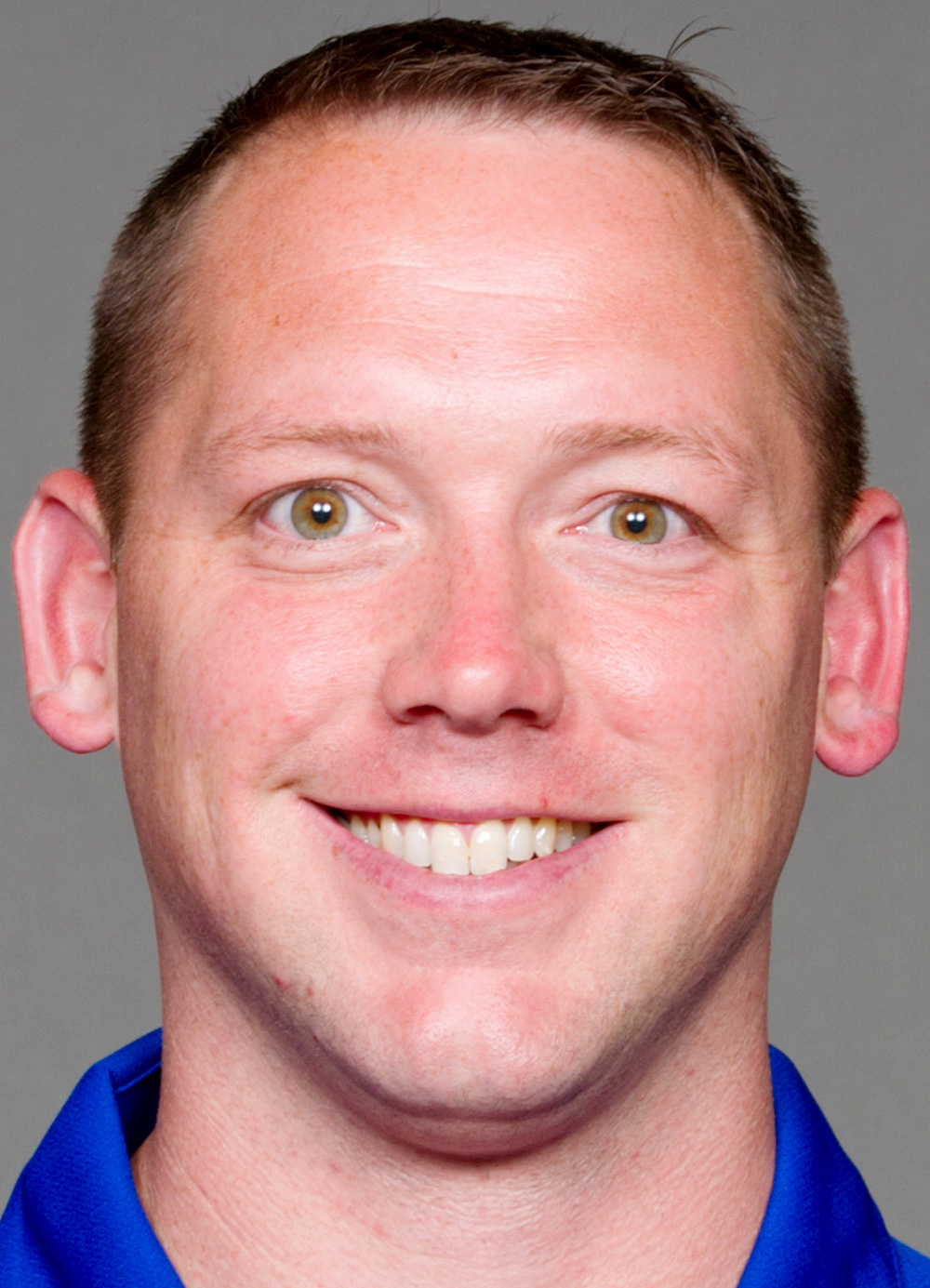 O'Neil
The Browns also announced that Pettine will retain special teams coach Chris Tabor and his assistant Shawn Mennenga.
Jim O'Neil will leave Buffalo to be the Browns' defensive coordinator, with Brian Fleury (assistant linebackers coach) and Jeff Hafley (secondary) also heading West past Erie to join Pettine's staff.
Also on the staff will be Brian Angelichio (tight ends) and Chuck Driesbach (linebackers). Angelichio was with Tampa Bay last season, Driesbach with Buffalo until he was fired Jan. 14. Bobby Babich will be retained as assistant secondary coach.
The two coordinators obviously are key. In O'Neil, Pettine brings in a trusted friend and coach. O'Neil and Pettine worked together in New York (Jets) and Buffalo for five years, but go back farther. O'Neil played for Pettine's father at Central Bucks High School in Doylestown, Pa.
Pettine said last week when he was hired that it was probable he would call defensive plays himself. He said the first year he would tutor the hired coordinator in what he wants while he made calls, then in the next year take the "training wheels" off.
Whether that changes with an associate as close as O'Neil remains to be seen. O'Neil would seem to have as close an understanding of what Pettine wants as anyone.
Tabor will be working for his third Browns coach. He was hired by Pat Shurmur and was on Rob Chudzinski's staff as well.
Early in the season, Tabor was getting good production from
Travis Benjamin
on punt returns. That effort diminished when Benjamin tore a knee ligament.
Special teams big plays and mistakes always stand out, and it's no different with Tabor.
A blocked and tipped punt in one quarter against the Bengals played a huge role in the most important quarter of the season. It's rare for one punt to be blocked in a game, let alone have another one tipped in a single quarter.
In a loss to New England, the Browns also failed to recover a middle-of-the-field onside kick that helped the Patriots win in the final minute.
Pettine's next major hire will be the offensive coordinator. He said he wants a coach who can tailor the system to the talent, and be flexible enough to adapt to different approaches.