Cleveland Browns:

Dowell Loggains
August, 13, 2014
Aug 13
3:00
PM ET
For the first time in several days, there were very few questions about the
Cleveland Browns
' quarterback situation at Mike Pettine's media get-together.
Pettine will decide who starts the second preseason game in Washington on the team's off-day on Thursday, though he was clear that
Johnny Manziel
and
Brian Hoyer
would get the same amount of time with the starters. As the competition continues, with each quarterback getting time with the starters on alternating days in practice, other questions linger. Let's take a stab at some of them:
What does the signing of Rex Grossman mean?
[+] Enlarge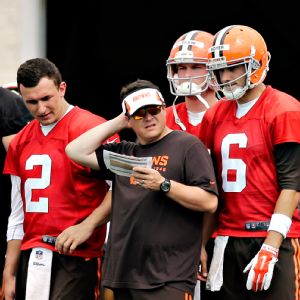 AP Photo/Mark DuncanCleveland Browns quarterbacks coach Dowell Loggains will be part of the group that decides between Brian Hoyer (6) and Johnny Manziel (2).
Grossman stepped into the offense, directed players on where to go, made signals to motion receivers and dropped passes into receivers' arms. He clearly has the advertised knowledge of the system. But Grossman's signing had the bees buzzing locally and national that it's not good for Brian Hoyer, that Grossman isn't needed if Hoyer starts but he is needed if Manziel starts. Hoyer might not be the best mentor if he doesn't start, and Grossman would be, so the thinking goes. This led to wild speculation that the Browns might trade Hoyer to Houston, where Bill O'Brien is a Belichick guy leading the ship. Radio chatter was prevalent, and some stories even appeared. "Stories is a good word for them," coach Mike Pettine said, before adding: "I addressed that yesterday." That is when he said "absolutely not," when asked about Hoyer being expendable with Grossman on the team. One other factor: Grossman was the third quarterback in Washington the last two seasons; he's at the point where he's happy to be on a roster. Maybe Grossman is simply an upgrade over
Tyler Thigpen
.
What if nobody wins the job?
The two quarterbacks presently are in the muck. That means they are mucking around together, with neither seizing the job. Kyle Shanahan said early in camp that he fully expected someone to make the decision easy, but that hasn't happened. They've both had good moments and bad moments. If this continues through Monday's game, the Browns have to decide: Does neither winning the job mean that Hoyer gets it by default, or does it favor Manziel because he's the hot-shot, first-round draft pick?
What if it's a tie?
In baseball, a tie goes to the runner. In basketball a tie (up) is a jump ball. In football, a tie goes to overtime. But there is no overtime possible in this competition if Pettine sticks to his plan to name the starter before the third preseason game. If both Hoyer and Manziel play well Monday and they're both relatively equal the way they were the first game – Hoyer had 92 total yards, Manziel 90 – then does the tie go to the veteran because he's better able to read defenses like Pittsburgh's, or does it go to the rookie because he's the hot-shot, first-round pick.
Does the early schedule matter?
The Browns open at Pittsburgh and at home against New Orleans and Baltimore. It would be tough to find a tougher opening series of games, and Pettine admitted it had to be kept in mind. Would the Browns be reluctant to throw a rookie into that buzzsaw of games?
What about Josh Gordon's situation?
Take the biggest playmaker out of a lineup and the entire offense suffers. When the biggest playmaker is a receiver, the quarterback suffers. When the remaining receivers play the way the Browns remaining receivers have played the past week or two, the ripple effect is very bad. Defenses can stack the box to stop the run and pressure the quarterback because they don't fear a playmaker on the outside. Some would say this favors Hoyer because a veteran would be needed to stabilize what's left of the offense. Other would say Gordon's absence favors Manziel because the Browns will need someone to create plays, which is his skill.
What matters most? Pettine has said it over and over again: Who gives the Browns the best chance to win?The definition of "best chance to win" will be made by quarterbacks coach Dowell Loggains, offensive coordinator Kyle Shanahan and Pettine.
May, 16, 2014
May 16
1:40
PM ET
Dowell Loggains concluded his phone interview Thursday with Bo Mattingly of ESPN Arkansas by saying "No problem."
Have untruer words ever been spoken?
Because Browns quarterback coach Loggains basically blew to smithereens two of the important narratives the team has been trying to make sure people knew since they drafted
Johnny Manziel
. And Loggains did it while saying there was no "cone of secrecy" over the Browns' draft moves as far as he was concerned.
Consider the following set of quotes.
[+] Enlarge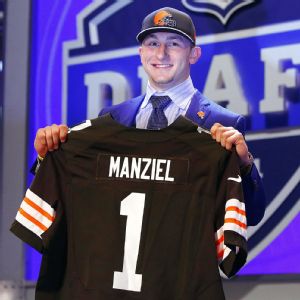 William Perlman/USA TODAY SportsThere seems to be ambiguity over what path the Browns want to take with Johnny Manziel, following quarterbacks coach Dowell Loggains' comments to an Arkansas radio station.
General manager
Ray Farmer
on the draft's final day: "I can tell you with 100 percent certainty that Jimmy Haslam at no point demanded, requested or tried to influence the process in any way."
Loggains after receiving a text from Manziel urging the Browns to draft him so he and the team could "wreck this league" (a classic phrase in its own right): " ... when I got that text, I forwarded it to the owner and to the head coach. I'm like, 'This guy wants to be here. He wants to be part of it.' Soon as that happened, Mr. Haslam said, 'All right, pull the trigger, we're trading up to go get this guy.'"
According to a source inside the draft room who witnessed a lot of things coming together as the Browns tried to acquire the pick that would be Manziel, the text was sent and Haslam's statement was more inspirational and cheerleading than mandate.
No team does months of work, study and assessment and then blows up a draft board based on a draft-night text. To think that happens is preposterous. But Loggains presented his version with absolute certainty, with nary a hint of doubt in his voice.
Then there are these two quotes.
From Haslam, to the lunch crowd at the Pro Football Hall of Fame on Monday: "We were frank [with Manziel] on Friday ... you're the backup quarterback."
From Loggains on the radio, while admitting Manziel has to work on fundamentals: "I think we can throw him out there right now and I think he's going to be one of the most exciting players in the NFL."
The Browns believe the two statements are not incongruous, that anyone enters as a backup, even an exciting player. But there still is quite a disparity.
On the one hand, the Browns have an owner and a GM and a head coach insisting that the owner did not force the selection and the celebrated pick has to earn his way (doesn't the latter notion seem more and more laughable as each day passes?).
Then they have a quarterback coach, a guy well down on the organization and coaching hierarchy, evidently going on an Arkansas (?) radio station on his own and bringing to light a completely different narrative.
This from a team that refused to talk with the local media about whether
Nate Burleson
had broken his arm in the offseason and promised it would not talk about player injuries at all. A team that asks the local media to "request" an assistant coach 24 hours in advance and relay the topic of the story so the assistant coach can be prepared.
Then it has one of its own coaches on the air in Arkansas spilling the entire bucket.
While the Browns try to put a lid on a pressure cooker and keep things contained on the Manziel mania before training camp, one of their own turned the heat up so high under the cooker it blew the lid right through the ceiling. Evidently the best way to get a story out is to go to a state and radio station far, far away.
You want to credit Loggains for telling the truth. If our kids don't tell the truth, well we tend to get angry. The same standard should apply for adults.
Loggains did say other things that were consistent with what had been said. He said Manziel was always at the top of the team's quarterback board; earlier in the week coach Mike Pettine said the team considered Manziel at No. 4, but no other quarterbacks.
[+] Enlarge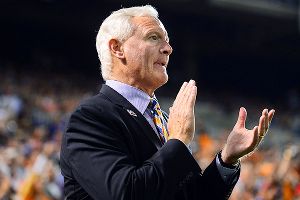 Andrew Weber/USA TODAY SportsThe narrative on Johnny Manziel has become a bit clouded, but Browns owner Jimmy Haslam is certainly entitled to influence decisions. Cleveland fans will only care if their new quarterback is misguided.
Loggains said the Browns tried to trade with Tennessee and Dallas but backed out. Farmer had admitted discussions with Tennessee.
There also was the usual pablum about Manziel "grinding in the meeting rooms" and how Manziel has been "a great teammate." For all of four days.
Loggains even added this about Manziel going through the draft process: "I think he's learned how to say no."
Tack that statement on the next picture from a party at a private New York club and the next TMZ shot at Manziel leaving some club or event in the wee hours. He's allowed to have fun and it's fine, but let's not pretend he's become a saint because he got drafted.
It will be good when all this finally translates to the field. Because then Manziel will either play well or he won't.
But in just a few days since he was drafted the Manziel story has spun like the Tasmanian Devil. Remember what the devil looked like when it stopped? Grunting and panting and just standing there? That's the perception people now have of the Browns. Spinning and stopping. Spinning and stopping.
If Haslam wanted Manziel and liked Manziel -- something else Loggains admitted -- then so be it. The guy paid a billion dollars for his team, and he's entitled to like a guy. He's even entitled to urge his drafting. He's the owner.
The city won't care and the fans won't care if Manziel walks in acting like the starter, nor will they care if Haslam influenced the pick. Browns fans are happy to have him, and they want him to act like he's the guy.
They'll only care if he's mishandled, or if he is lousy on the field.
As for the Browns, it's kind of amazing many thought the storyline in "Draft Day" was preposterous. Maybe it's time for a high-level meeting in a deserted water park.
February, 3, 2014
Feb 3
10:30
AM ET
Given the options and the timing, it would be tough to think of the
Cleveland Browns
doing better than hiring Kyle Shanahan as their offensive coordinator.
Given the guy they had last season, the Browns were better with Norv Turner.
Given the state of the team, it's tough to see Shanahan automatically making the Browns better.
All this is predicated on the fact that the Browns do actually hire Shanahan this week, which seems a fait accompli.
Not with this roster, not with uncertainty at the quarterback (spot) again and not with Shanahan bringing in an entire new system to run and throw the ball.
This is nothing against Shanahan, mind you. His running scheme comes from his father, and it's one of the better run schemes in the league. It involves movement from linemen, trapping and pulling, and is far more than usual mush-push scheme used by a lot of teams.
That system has made many less-heralded backs into stars, from
Terrell Davis
and
Mike Anderson
in Denver with his father to
Alfred Morris
in Washington, a sixth-round pick.
That bodes well for the Browns -- once the players learn and are settled into the scheme.
In the passing game, Shanahan has done well with
Matt Schaub
and
Robert Griffin
III and struggled with
Donovan McNabb
and
Rex Grossman
. As his quarterback goes, so goes Shanahan.
And no matter how easily coaches and players promise it will go, adjusting to new players and a new system takes time.
When the word that Rob Chudzinski might be fired, the thinking was the Browns might promote Norv Turner to maintain some continuity. The Browns chose not to do that and blew everything up. When word broke that Turner had stood up to Jimmy Haslam and Joe Banner at the farewell meeting, it became evident why.
Shanahan is a fine choice. With the options and the timing, his hire brings positives. He's been there, done that, called plays and drawn up game plans. He'll also have Dowell Loggains, a former Titans offensive coordinator, as his quarterback coach.
But an entire new staff means another reset and another restart. With possibly a new quarterback and running back and new interior of the line.
That's a tall challenge for any team, much less one that has won 27 games the last six seasons.