Cleveland Browns:

Haloti Ngata
November, 3, 2013
11/03/13
9:57
PM ET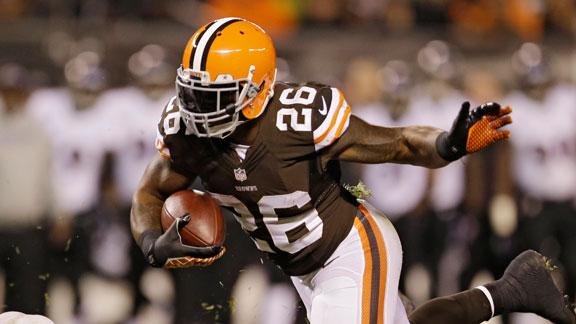 CLEVELAND --
Cleveland Browns
quarterback
Jason Campbell
played in Sunday's
24-18 victory
against the
Baltimore Ravens
in extreme discomfort.
After the game, Campbell had X-rays on his ribs. He judged based on his experience that they were not broken, but results of the X-rays will be announced probably on Monday. The chance he has broken ribs remains.
"I kept telling [the team] to just give me time because my ribs were really bothering and hurting me," Campbell said. "It was bothering me on a couple of throws. I really wanted to cut it loose and it was kind of grabbing me. I couldn't really get what I wanted to put on the ball as far as speed and accuracy sometimes.
"But this league is all about pressing on."
Campbell was hurt in the first quarter when he scrambled for a short gain. At the end of the run, Baltimore's mammoth defensive tackle
Haloti Ngata
tried to jump over a teammate, but tripped and his momentum put his entire 340 pounds on top of Campbell. To make it worse, the ball was between Campbell and the ground, which exaggerated the blow.
"I felt that one," Campbell said. "I'm not even gonna tell you what was in my mind. That one was big."
Though Ngata was penalized, nobody thought the hit was dirty. Campbell said Ngata came to him after the game to apologize. Ngata told the Browns quarterback he jumped so his teammate didn't hit his legs, which caused the hit.
"Haloti is in the air while Jason Campbell is in the air," Ravens coach John Harbaugh said. "Jason's running and because he ends up landing on him it's hard for me to understand why that's called."
"He's not a dirty player," Campbell said of Ngata. "He's a really good, standup football player."
That Campbell had the game he did with the physical problems he had was all the more impressive. He finished 23-for-35 with three touchdowns, no interceptions and 262 yards. He guided the Browns on a 6:30 drive in the fourth quarter that sealed the victory. On the drive, he scrambled for a first down on third down, hit
Chris Ogbonnaya
for 17 yards on second down and found Ogbonnaya again for 14. He also scrambled from the blitz to find a sliding
Davone Bess
for a fourth-and-1 conversion at the Baltimore 40 with just more than two minutes remaining.
That pass was the biggest play of the game.
"I'm not even sure I call the play right," Campbell said with a smile.
But on that play, Campbell was again hit in the ribs as he threw. As he lay on the ground in pain, running back
Willis McGahee
came over."
"We're the old guys on the team," Campbell said. "All I could hear was him, 'Get up! Get up! I'm hurting, you got to get up.' I was like, 'Give me 10 seconds. I can't even breathe here.'"
If Campbell has an injury that lingers, he'll have an extra week to heal because the Browns have a bye. That would be good news to the team, because Campbell has stepped into the quarterback spot and played beyond every expectation.
In two starts, he's thrown for 554 yards with five touchdowns and no interceptions.
More important, his calm demeanor combined with an inner confidence seems to bring something the team needs, and appreciates.
Which is why he'd be missed if he is hurt worse than he thought. Campbell is basing his diagnosis on his experience.
The Browns will hold their breaths on the results of the X-rays.
November, 1, 2013
11/01/13
12:00
PM ET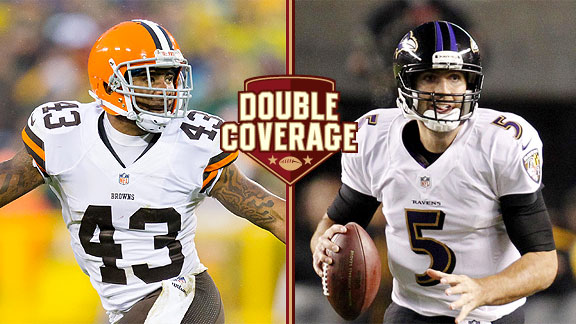 USA Today SportsThe Browns and T.J. Ward will try to snap an 11-game series slide against the Ravens and Joe Flacco.
.
The
Baltimore Ravens
have won 11 games in a row over the
Cleveland Browns
. That number is a measure not only of how good the Ravens have been since 2007 — the last time the Browns won in this series — but also how badly the Browns have struggled.
That 11-game win streak also is the longest current streak of regular-season wins by one team against another, according to the Elias Sports Bureau.
By ending that streak, the Browns would make a statement about themselves and their status in the AFC North. But the Ravens realize they will need to start righting themselves if they wish to have a chance to defend their Super Bowl title. Let's look ahead to the game with ESPN.com Ravens reporter Jamison Hensley and Browns reporter Pat McManamon.
Pat McManamon:
The Ravens won the first game between these teams this season, in Week 2, and since then the Browns have started three different quarterbacks. What about the Ravens has changed since the first time these teams met?
Jamison Hensley:
Pat, the problem for the Ravens is what
hasn't
changed. A big reason Baltimore is sitting at 3-4 is its inability to run the ball. The Ravens averaged 2.8 yards per rush against the Browns in Week 2, and they have averaged a league-worst 2.8 yards per rush for the season.
Ray Rice
injured his hip in the fourth quarter against the Browns, and he really hasn't looked healthy since. But Rice has a great track record when playing in Cleveland. It's like his home turf, based on the results. In five games there, Rice has averaged 127.4 yards rushing. His worst game was 89 yards.
Is there any shot of Rice getting back on track against the Browns?
McManamon:
The Browns are pretty good against the run. They give up 103.6 yards per game, good for 12th in the league. Three opponents have rushed for fewer than 100 yards, and last week they held the Chiefs'
Jamaal Charles
, second in the NFL in rushing yards this season, to 74 yards. That being said, if anyone is going to bust loose against the Browns, it would be Rice. He seems to salivate when he plays the Browns, especially in Cleveland -- where he's had games of 154, 89, 92, 204 and 98 yards in the last five seasons.
Let's flip to the passing game, Jamison. In his first start,
Jason Campbell
was surprisingly effective against the Chiefs' pass rush. He was able to make his reads and get rid of the ball in a hurry. Do you anticipate the Ravens coming up with anything to take advantage of Campbell, who is on his fourth team in eight seasons?
Hensley:
The Ravens were impressed by Campbell, but they were more impressed by the Browns' offensive line, which allowed just one sack against the Chiefs. Baltimore will find out if Cleveland's pass protection will hold up for a second week. The Ravens will likely use the same aggressive game plan that resulted in five sacks of
Brandon Weeden
in the earlier meeting with the Browns.
In addition to
Terrell Suggs
and
Elvis Dumervil
coming off the edges, the Ravens generated pressure by blitzing up the middle. Where the Ravens will really test Campbell is on third down. Baltimore has recorded 10 sacks on third down this season, fifth-most in the NFL. The last time the Ravens faced Campbell as a starter was 2008, but only two Ravens defensive starters from that game (Suggs and defensive tackle
Haloti Ngata
) remain on the team.
The bigger concern for the Ravens has been their inability to protect
Joe Flacco
. Has the Browns' pass rush lived up to expectations so far?
McManamon:
In general, no, but last Sunday, yes. The Browns got six sacks against a pretty mobile quarterback in
Alex Smith
. The catch is that whereas defensive coordinator Ray Horton went after Smith, he dialed back the blitzes the previous two weeks when he faced
Matthew Stafford
and
Aaron Rodgers
. The Browns have guys who can bring pressure in
Jabaal Sheard
,
Phil Taylor
,
Paul Kruger
(even with his low sack total) and rookie
Barkevious Mingo
. But against Green Bay and Detroit, Horton played coverage. Flacco isn't mobile, but he is smart and he's won a Super Bowl. It will be intriguing to see whether the Browns go after him or sit back.
Kruger is one of the departed Ravens from last season's Super Bowl champs. Which of those guys who left -- including the retired
Ray Lewis
-- do they miss the most?
Hensley:
The Ravens haven't really missed Lewis on the field.
Daryl Smith
, who replaced the longtime face of the franchise, has been the defense's top playmaker. The top four players that the Ravens miss the most (in no particular order) are wide receiver
Anquan Boldin
, safety
Ed Reed
, safety
Bernard Pollard
and center
Matt Birk
.
Boldin was a difference-maker on third down and in the red zone, two areas where the offense has struggled this season. Teams would likely take fewer deep shots if Reed were playing center field, and there's less of an intimidation factor on defense without Pollard. The biggest surprise is how much the Ravens have struggled without Birk. In his first season as the starting center,
Gino Gradkowski
is getting pushed back too often.
Speaking of changes, the Ravens didn't have to face wide receiver
Josh Gordon
last month because he was serving his two-game suspension. Can his impact change the Browns' fortunes against the Ravens?
McManamon:
Of course. Gordon is a talent. A big-time talent. At just 22, he's second in the league in yards per catch, and every touchdown pass in his career has been for at least 20 yards. It's no secret that the offense opened up for
Brian Hoyer
, in part because Hoyer played but also because he had Gordon back. That said, not even Gordon can overcome bad quarterbacking. He struggled when Weeden had his second chance because Weeden struggled. Campbell got him back in the offense. Baltimore must respect him.
.
September, 12, 2013
9/12/13
12:00
PM ET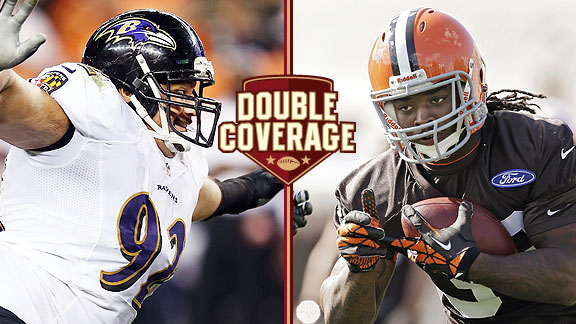 AP PhotoThe Browns need to get Trent Richardson the ball but Haloti Ngata and the Ravens will be waiting.
The
Baltimore Ravens
and
Cleveland Browns
have different levels of expectations for the season, but these two AFC North teams find themselves with the same 0-1 record. In their season-opening losses, the Ravens and Browns had some of the same problems. Their quarterbacks threw multiple interceptions. Their defenses wore down in the second half. Penalties were a problem again. And their commitment to the running game was lacking.
The Ravens are looking to get back on track against a Browns team they have dominated. John Harbaugh and
Joe Flacco
have never lost to Cleveland, beating the Browns 10 straight times. Under first-year coach Rob Chudzinski, the Browns are trying to avoid an 0-2 start for the fifth time in six years.
ESPN.com's Matt Williamson and Ravens team reporter Jamison Hensley discuss whether or not these streaks will continue or end.
Hensley
: The one area of defense where the Ravens excelled in Denver was stopping the run. Baltimore held the Broncos to 2.8 yards per carry and didn't allow a run over 9 yards. But a big storyline in Cleveland right now is how the Browns ignored running back
Trent Richardson
in the season opener. He only received 13 carries and only ran the ball five times in the second half. So, does Richardson get over 20 carries on Sunday in Baltimore?
Williamson
: I am not sure that Richardson gets more than 20 carries against the Ravens, but he certainly should have more than 20 total touches, as he is an excellent dump-off option out of the backfield. It was a crime for Cleveland's coaching staff to give their star runner just 13 carries while asking the struggling
Brandon Weeden
to throw the ball 53 times. That is a losing formula. However, clearly the best way to attack Baltimore's defense right now is through the air, so look for Weeden to target Baltimore's safety corps, specifically with
Jordan Cameron
. The Ravens had all sorts of problems with Denver tight end
Julius Thomas
, and the Browns could be looking to exploit the same weakness with budding star Cameron, a similar athlete and body-type player.
So, along those lines, obviously facing Weeden is a much easier assignment than doing battle with
Peyton Manning
and his extreme wealth of weapons in Denver, but the Ravens coaching staff should be concerned about their second half collapse against Denver's great passing game. Do you see any changes in this department on the horizon for Week 2?
Hensley
: The Ravens acknowledge that it's tough to shut down Manning. The problem the coaching staff had is that the Ravens secondary made it too easy for him. There were miscommunications that left targets wide open in the red zone. There were cornerbacks, namely
Corey Graham
and
Jimmy Smith
, who flat-out got beat. And there were too many missed tackles, especially from safety
Michael Huff
.
I don't see the Ravens making any major changes to personnel for a couple of reasons: They're not going to panic after one game and they don't have many options.
Lardarius Webb
was the only defensive back who played well, and he's 11 months removed from ACL surgery. Graham and Smith are struggling at the other cornerback spot, and the Ravens don't have the confidence in
Chykie Brown
to bench someone. Baltimore will likely stick with Huff and
James Ihedigbo
at safety right now because of their experience, although rookie first-round pick
Matt Elam
will eventually be the starter this year.
What this secondary really needs is a strong pass rush on Weeden. And pass protection is a big storyline for both teams considering the injuries along the offensive line. The Browns have only sacked Joe Flacco 14 times in 10 meetings. Can the Browns get more pressure on Flacco this time?
Williamson
: Mike Lombardi and company made it a huge offseason priority to improve their pass rush. And I think they very much accomplished that goal by signing
Paul Kruger
and
Desmond Bryant
, who was a real force rushing the passer from the interior last week, as well as using a high first round pick on the ultra-talented
Barkevious Mingo
. I expect Flacco to be under duress quite a bit in this contest when the Browns chose to bring just four, but with
Joe Haden
possibly locking down
Torrey Smith
(as he did last week to similar wide receiver in
Mike Wallace
), I could see Cleveland defensive coordinator Ray Horton dialing up a lot of additional blitzes, which goes back to his roots learning from Dick LeBeau in Pittsburgh.
The Browns have an exceptional young offensive line, but the Miami defensive line, led by
Cameron Wake
, dominated this group in all facets last week. The right guard position is particularly weak right now for Cleveland, but that performance against the Dolphins was rather shocking. The Ravens feature a very deep and talented defensive front. Could they wreak the same havoc up front?
Hensley
: The Ravens know all about the Browns' struggling right guard.
Oniel Cousins
was a third-round pick of the Ravens in 2008. Coincidentally, that's the same draft that produced Flacco and
Ray Rice
for Baltimore. Defensive tackle
Haloti Ngata
lined up over the right guard for most of the game in Denver. He's healthy after playing last season all dinged up, and he has more explosion coming off the line. This is the game's biggest mismatch.
As you pointed out, right tackle
Mitchell Schwartz
had a rough time with Wake, and his assignment won't be any easier Sunday. In passing situations,
Elvis Dumervil
will be coming off the Browns' right edge. In his Ravens' debut, Dumervil had one sack and three quarterback hurries. Even with the Browns' No. 1 wide receiver
Josh Gordon
out, the Browns can't let Weeden have too much time in the pocket.
The biggest matchup that favors the Browns is at returner. The Ravens won't have Pro Bowl returner
Jacoby Jones
for another month after he sprained his knee. The Ravens, who have had lapses in their return game, have to contain
Travis Benjamin
. What are your thoughts on the Browns returner? And what other matchup could the Browns exploit?
Williamson
: Benjamin isn't nearly as big or physical with the ball in his hands as
Josh Cribbs
, his predecessor, but Benjamin is flat out fast. He can change the game in a heartbeat and he doesn't need a lot of room to explode through. To me, as alluded to above, the Browns' pass defense against the Ravens' passing offense is what favors Cleveland the most in this contest. The Browns' secondary is very much a work in progress but if Haden eliminates Smith, which I think is quite possible, the Ravens really have very few other options in terms of wide receivers or tight ends to threaten the defense. Also, Baltimore's pass protection could be a liability against this revamped pass rush. Still, this will be an uphill climb against the defending Super Bowl Champions who were embarrassed on national television last week and has an extra long week to prepare.