Cleveland Browns:

Houston Texans
March, 31, 2014
3/31/14
9:00
AM ET
The first five choices in the NFL draft remain up in the air, with three quarterbacks, two linebackers, two offensive tackles and a receiver all considered a possibility for the
Houston Texans
, the
St. Louis Rams
, the
Jacksonville Jaguars
, the
Cleveland Browns
or the
Oakland Raiders
. What will happen? Check back in May.
Until then, the five NFL Nation reporters from each of the top five teams will get together periodically to offer their thoughts on what they would do. Your comments are welcome.
Here's the first look:
1. Texans: Tania Ganguli picks Jadeveon Clowney, DE, South Carolina
. Of all of them, this is the player most worthy of the top pick. His talent is transcendent and the Texans need another pass-rusher. If they aren't sold on Clowney, I'd trade this pick to someone who is.
2. Rams: Nick Wagoner picks Sammy Watkins, WR, Clemson.
I would give strong consideration to one of the top two offensive tackles but this is a rare opportunity to get the No. 1 receiver the Rams have lacked since
Torry Holt
's heyday. Since the Rams also have the 13th pick, I'd look to address the offensive line then. Of course, trading down would also be a possibility.
3. Jaguars: Mike DiRocco picks Khalil Mack, LB, Buffalo.
There's a lot of temptation to take one of the quarterbacks, but general manager
David Caldwell
and coach Gus Bradley don't believe any of them are ready to play right away. Despite adding players to the defense in free agency -- ends
Chris Clemons
and
Red Bryant
and linebacker
Dekoda Watson
-- the Jaguars still need a lot of help. Mack has the versatility to rush the passer and play in coverage. Plus, the defense needs to get faster and Mack fits that bill, too.
4. Browns: Pat McManamon picks Blake Bortles, QB, Central Florida.
The first three picks from the ESPN.com reporters have put the Browns guy in a bind. Their preferred draft order should read Watkins, Mack, Clowney, but all three are gone. (If I'm the Browns and this happens, I might pull a Bill Belichcik, throw a hissy fit, trade out of the pick and take
Craig Powell
, Jr.) The three top guys on my board are gone. Which leaves
Greg Robinson
or a quarterback. Though none of the quarterbacks are exciting, Bortles has the size and arm strength and best potential of the three. I'm picking for the future, a selection that cements
Brian Hoyer
as the starter.
5. Raiders: Paul Gutierrez picks Jake Matthews, OT, Texas A&M.
Well, this is not at all how I thought this would go. The Raiders need a playmaker, a Watkins-type for newly acquired
Matt Schaub
to throw the ball to in this revamped offense. But since he's gone, if I had my druthers, I'd trade down and pick up
Mike Evans
to become Schaub's
Andre Johnson
2.0. But since we're not trading in this particular exercise, I suppose I could just gamble and use the pick on Evans, right? Thing is, those two stud tackles are still there and Matthews could be the best player in the entire draft, regardless of position. You build a team on the lines, so I'm going with Matthews at No. 5 for the Raiders to continue their "reconstruction" … for now.
March, 18, 2014
3/18/14
3:52
PM ET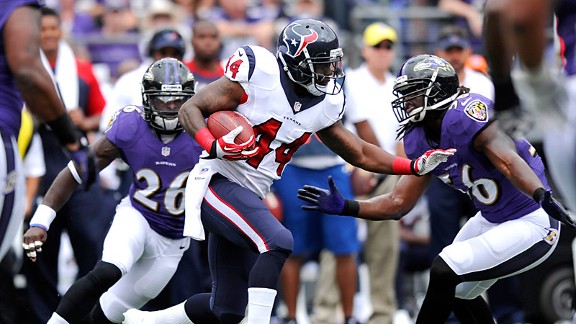 AP Photo/Nick WassNew Cleveland Browns running back Ben Tate rushed for 771 yards last season.
The most significant signing for the
Cleveland Browns
in the first week of free agency was adding running back
Ben Tate
.
In Tate, the Browns add a guy who has averaged 4.7 yards per carry for Houston, but has been often injured. Tate brings talent, fire and the ability to carry an offense late in the game when the team needs to run to win, something the Browns could not do a year ago.
ESPN.com Browns reporter Pat McManamon joins Texans reporter Tania Ganguli to discuss the signing.
McManamon:
Tate had an excellent per-carry average in Houston, but had many injuries. Do you think his physical style of running means injuries will be a constant in his career, or were they bad luck?
Ganguli:
There was certainly some bad luck involved for him in terms of his career overall. Tate was drafted to be the starter, but when he spent his rookie season on injured reserve, this undrafted guy by the name of
Arian Foster
swooped in. The injuries aren't really wear-and-tear injuries, and I think we need more evidence of how he'd handle a bigger workload to connect his injury history to his style of play. He is a very physical runner, but his broken ribs last year came before he became the Texans' primary back.
What are the Browns expecting from him?
McManamon:
To be the Browns' primary back. They didn't have one last year, unless you count Willis McGahee's 377 yards as No. 1 back-worthy. McGahee didn't even average 3 yards per carry, as the former front office left the cupboard bare for the fired coaching staff after the trade of
Trent Richardson
. The Browns want Tate to be productive and durable. Their inability to run the ball last season contributed to their not being able to hold leads late in games.
Tate's contract is worth just $3.1 million per season, and even with incentives won't top $7 million total for two years. Does that seem like a fair price, and at that price why didn't Houston keep him, especially since he signed with a team that has won 29 games total the past six seasons?
Ganguli:
I think his durability was a big question mark for the Texans. They already have a starter who has proven he can be productive for a full season and Tate just hasn't done that. Foster's also more explosive and the Texans have committed a lot to him financially. Part of Tate not having proven himself in that primary role stemmed from him being behind Foster, but another part of that had to do with his injuries. I'm also not sure that, even if the Texans wanted to keep him at that price, he would have wanted to stay. He wants to be a starter.
What kind of system is Tate moving to with the Browns?
McManamon:
The same one Kyle Shanahan ran in Houston. Zone blocking, one cut. It's the main reason the Browns wanted him. They thought he fit what they want to do, and that his downhill running style will work well in the offense. Tate seems like a decisive, aggressive runner, which is exactly what they need.
Based on Twitter, at least, Tate's personality seems pretty effervescent -- like Alka-Seltzer, always bubbling. Is he that kind of person on the team as well, and do you think come December the Browns will be happy they added him?
Ganguli:
Tate is very honest with the media/public about how he feels, which of course will be good for your purposes covering the team. He pays attention to what's being said about him, even if he says he doesn't, and does what he can to improve his situation. I do think the Browns will be happy they signed him come December if he can stay healthy. This is very much a "prove it" contract, and that's exactly the kind of situation Tate needs.
The Texans organization last season was one that allowed some of the players' individual personalities room to show. Will the Browns be OK with Tate speaking his mind?
McManamon:
That's a tough one to answer given the Browns have a new coach in Mike Pettine. He's certainly unafraid of being blunt or direct. Maybe he won't mind his players letting their personalities show. It would be a welcome change in Cleveland, though it would be much more welcome if Tate can help the Browns actually win some games. That is something that is needed more than anything.