Cleveland Browns:

Jadeveon Clowney
April, 29, 2014
Apr 29
8:30
AM ET
Draft day looms ever closer. As it approaches, it seems appropriate to start your day with a tidbit or two each day on draftable guys -- with an eye toward those the Cleveland Browns might select. All information is courtesy of ESPN Stats & Information.
Jadeveon Clowney
might have had 10 fewer sacks in 2013 than 2012, but he was getting to the quarterback almost as often. He averaged 2.2 pressures per game in '14, 2.3 in '13. When it comes to run defense, teams were successful running right at Clowney. When he lined up at right end, teams ran at Clowney on just 28 percent of the offensive plays, but they averaged 5.9 yards per rush as opposed to 4.2 when running away from him. Teams scored a touchdown one in 16 plays running at him, one in 35 plays when running away from him. As for double-teams, Clowney was double-teamed on 26 percent of the opponents' rushes.
February, 26, 2014
Feb 26
3:00
PM ET
Player:
Jadeveon Clowney
(going in alphabetical order)
Position/College:
Defensive end, South Carolina
Combine impression (1-10, 10 the best):
9.8.
Likelihood he's there at Browns fourth pick:
10 percent.
Other teams interested:
What team is not interested?
The skinny:
There is surprisingly little chatter about Clowney and the
Cleveland Browns
.
[+] Enlarge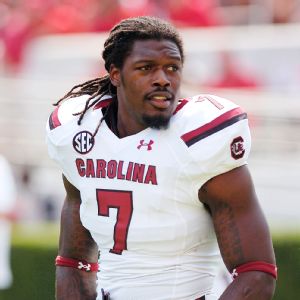 AP Photo/Mike StewartThe Browns, who have the No. 4 overall pick, could have a tough decision to make if South Carolina defensive end Jadeveon Clowney is available.
Perhaps it's because of the team's needs on offense, starting with quarterback and running through receiver and running back. Perhaps it's because few expect Clowney to get past the first two picks. The belief is either Houston takes him first and pairs him with J.J. Watt, or the
Atlanta Falcons
will trade up with St. Louis, from the No. 6 overall pick to No. 2, to take him.
Clowney is some kind of athlete. His 4.53-second 40-yard dash was faster than some receivers, and he's 266 pounds.
The guy is an aggressive, attacking pass-rusher with the bravado of a guy who believes he's worthy of every word written about him.
But -- and there is always a "but" about every draft pick -- Clowney decided not to do some drills, and arrived with the burden of his college coach making an offhand reference to him not being the hardest worker.
He has the reputation for turning it on when he wants to -- the 40 -- and turning it off when he doesn't. The publicity over one hit against Michigan in a 2013 bowl game almost seems to have propelled his career.
Some scouts wonder
how a guy with his ability can have just 3.5 sacks his final season.
"I wasn't worried about my stats really," Clowney said. "A lot of game-changing went on when we played teams. Quick passes, two-on-one, opposite-side runs, but that happens. I wasn't really worried about my stats, I just wanted to win."
And as he pointed out, South Carolina did go 11-2 and finish fourth in the country for the first time in its history.
The biggest question with Clowney might be how he's used, and whether he can play every down in a 3-4 defense. He had his hand on the ground at South Carolina, and in a 3-4 he would probably be light for a defensive end, where his skills would be wasted in a two-gap system that asks linemen to plug the run and let linebackers tackle.
That doesn't mean a clever coordinator couldn't make use of Clowney's skills. It's pretty much why coaches are hired, and Clowney promises he can play standing up (as a linebacker).
Either way, in time it would seem that if he is dedicated, he would grow into a fierce pass-rusher.
If he's there at the fourth pick, it would certainly force the Browns to make an interesting decision between a defensive player like Clowney, a quarterback, and perhaps receiver
Sammy Watkins
.
Clowney used three words to explain why he should be the choice: The Super Bowl.
"Defense won that game, shut them down, shut them out," he said of Seattle's win against Denver. "It takes defense to win championships, hands down. You had a great quarterback in Peyton Manning, hats off to him also, but defense wins the Super Bowl."
February, 26, 2014
Feb 26
8:30
AM ET
Say this about those who vote in
Cleveland Browns
polls: They speak with a united, loud voice.
After
more than 4,400 votes
about the Browns' selection with the fourth overall pick, 57 percent voted for receiver
Sammy Watkins
of Clemson.
That's an enormous result when five realistic options are presented.
Watkins received more votes than the other four combined.
The strength of the result is surprising. Though I've advocated for Watkins, I thought the feelings for the quarterbacks would carry the vote. In the business, this is called "having your finger on the pulse."
Clearly there is fan concern about the top three quarterbacks, and clearly the voters feel much stronger about an offensive weapon than a pass-rusher.
Perhaps it is becoming a passing league.
The positives about Watkins are many. As coach Mike Pettine said, he's a dynamic playmaker who can score any time he touches the ball. Like
Josh Gordon
, he's big and fast. The combination of the two with
Jordan Cameron
at tight end would, in Watkins' words, create nightmares for the defense.
The negatives: He's not a quarterback, and with a draft rich in receivers, the Browns could still wind up with a good receiver later in the first round or early in the second or third if they choose to go with a quarterback first.
One potential negative was scoffed at by Pettine, who said the "last thing" he worries about is keeping everyone happy in an offense that would include Gordon and Watkins.
Clearly those who voted like the potential pairing of the two, a pairing that on paper at least could make any quarterback better.
The votes reflect the public feeling about the top quarterbacks. All have talent; all have questions.
Central Florida's
Blake Bortles
finished second with 14 percent of the vote, even though he may take the longest to be NFL ready. Bortles' size simply cannot be ignored.
He finished just ahead of
Johnny Manziel
(13 percent) and
Teddy Bridgewater
(11). Defensive end
Jadeveon Clowney
-- whose potential seems every bit as great as Watkins' -- received just 5 percent of the vote.
Manziel didn't even carry Texas, where Watkins had 42 percent to Manziel's 19. Watkins carried 45 states and was tied in three others. The only states he didn't carry were the great states of Montana and Delaware, where Bortles and Clowney received the sole vote cast.
The voters turned a deaf ear to the hype about Manziel and Clowney.
After going through the "next greatest thing" deal for so long, maybe Cleveland has become cynical to the chatter.
What it does not seem cynical about is the offensive potential with Watkins and Gordon lining up on the same team.
February, 24, 2014
Feb 24
1:00
PM ET
The numbers are in and the interviews are over at the NFL scouting combine.
Five possible players stand out for the Cleveland Browns when they choose fourth in the draft. Though a surprise is always possible, the top five have emerged. All are talented, two are off-the-chart athletes, and three are quarterbacks.

Considering them in alphabetical order:
Those are the main options -- though a guy like
Khalil Mack
of Buffalo could sneak in the group. For now, those five are the main choices.
I'm not backing down from my choice, though Bortles makes me think.
I'd vote the top five in this order: 1) Watkins, 2) Bortles, 3) Clowney, 4) Manziel, 5) Bridgewater.
Let's hear your vote. Cast it now ... and let the world know the player you believe the Browns should select with the draft's fourth overall pick.