Cleveland Browns:

Jeff Garcia
November, 19, 2013
11/19/13
12:14
PM ET
The
Pittsburgh Steelers
always provide the
Cleveland Browns
a measuring stick.
Roethlisberger
One way to measure is to realize that the Steelers have had
Ben Roethlisberger
starting at quarterback since he was a first-round draft pick in 2004.
How that happened constantly provides the Browns with a nightmare memory of one of those touchstone moments when the entire course of two franchises could have changed based on one decision.
Butch Davis was coach of the Browns then, and the team was coming off a 5-11 season in which
Tim Couch
and
Kelly Holcomb
each started eight games.
Davis started the 2003 season with Holcomb, based mainly on his 400-yard plus playoff performance in Pittsburgh the season before -- a game Couch missed with a broken leg.
But Holcomb broke his leg in '03 on a quarterback sneak in San Francisco -- a break Davis called "a teeny, tiny break in a non-weight bearing bone."
Couch and Holcomb see-sawed back and forth until Holcomb threw a couple of interceptions in a Monday night loss to St. Louis. After that game, Davis called Couch in his office and told him he was his quarterback for years to come.
The Browns had the seventh pick in the first round. The front office wanted tight end
Kellen Winslow
or wide receiver
Roy Williams
. Davis tried to trade up for safety
Sean Taylor
, but after initially saying yes to the deal the Giants changed their mind and instead swapped
Philip Rivers
for
Eli Manning
.
San Diego and New York both found their quarterback.
Davis never really considered Roethlisberger -- even though he had thrown for more than 10,000 yards at Miami of Ohio and even though he grew up in Findlay, Ohio.
Davis privately told people he simply was not a Roethlisberger guy.
The Browns coach favored one of two kinds of players: Guys he recruited and signed to the University of Miami, and guys he tried to recruit.
Winslow and Taylor fit the profile; Roethlisberger was from the MAC and didn't.
The Browns wound up trading up one spot in the draft to get Winslow and gave up a second-round pick to do it.
Roethlisberger went to the Steelers at No. 11. He went on to win Rookie of the Year and take the Steelers to the AFC Championship Game in his first season. He eventually won two Super Bowls.
The Browns signed
Jeff Garcia
, cut Couch (the quarterback for years to come) and went 4-12 in '04 only because Holcomb started the last game and won it.
They are still looking for their quarterback.
In a draft in which three franchises found quarterbacks who are still starting for the teams that drafted or dealt for them on draft day, the Browns got a tight end and traded a second-round pick to move up one spot for him.
Since the Steelers drafted Roethlisberger in 2004, the Browns took two other quarterbacks in the first round (
Brady Quinn
and
Brandon Weeden
) and two in the third round (
Charlie Frye
and
Colt McCoy
). They may take another in 2014.
Since the Manning-Rivers-Roethlisberger draft, the Browns have used 17 starting quarterbacks. And in games Roethlisberger has started against the Browns, the Steelers are 15-1.
October, 23, 2013
10/23/13
4:36
PM ET
The number 20 is special in many circles.
The 20th anniversary means a little more than the 16th, and a young man or woman who turns 20 feels a little more "adult."
[+] Enlarge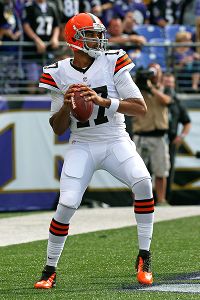 Mitch Stringer/USA TODAY SportsJason Campbell's play at quarterback is a key reason why the Browns are optimistic about making the AFC playoffs.
So when the Browns name their 20th starting quarterback since 1999 -- the year the team returned from a three-year hiatus -- it's worth taking a trip down memory lane (the screams in the background are from Browns fans whose memories are being jogged ... feel free to offer appropriate sympathies).
1999
Ty Detmer -- The plan to have him hold the fort lasted for one blowout loss, in the season opener against Pittsburgh.

Tim Couch -- The original No. 1 choice, had a couple of good years but not enough.
2000
Couch

Spergon Wynn -- Chris Palmer was lobbied to play him by the front office, and he produced two first downs in one game.

Doug Pederson -- Now Kansas City's offensive coordinator, started the Dennis Northcutt/Kevin Johnson quarterback game.
2001
Couch -- The only season when one quarterback started every game.
2002
Couch

Kelly Holcomb -- The year of the Dwayne Rudd helmet-removal game and the blown playoff game in Pittsburgh.
2003
Holcomb -- Incurred the "teeny-tiny break of a non-weight bearing bone in his leg."

Couch -- Late this season, Butch Davis told Couch he was his quarterback for years to come; Couch was released in the offseason.
2004
Jeff Garcia -- He never quite fit in, though he thinks he does now.

Holcomb

Luke McCown -- Interim coach Terry Robiskie admitted when McCown played, it was men against boys.
2005
Trent Dilfer -- Good guy, but chewed up by the Cleveland system always looking for the next guy.

Charlie Frye -- Had moments as a rookie until the Christmas Eve massacre against Pittsburgh.
2006
2007
Frye -- Traded after the Browns lost the season opener.

Anderson -- Had the best season of a Browns QB since 1999, won 10 games, but didn't win the game needed to make the playoffs.
2008
Anderson.

Brady Quinn -- The town was jubliant after Phil Savage traded up to get him and Joe Thomas in the first round.

Ken Dorsey -- At this point hopes were dimmed.

Bruce Gradkowski -- Signed to start the last game when everyone else was hurt.
2009
Quinn and Anderson -- Yo-yoed back and forth by Eric Mangini.
2010
Jake Delhomme -- Mike Holmgren's interim solution.

Seneca Wallace -- Holmgren's backup solution.

Colt McCoy -- Holmgren's drafted solution.
2011
McCoy -- The year he was put back in the game with a concussion in Pittsburgh.

Wallace
2012
2013
Weeden

Brian Hoyer -- Showed promise before unfortunate injury.

Campbell -- Passed over twice, now starting.