Cleveland Browns:

Jim Brown
October, 22, 2013
10/22/13
3:00
PM ET
Proud to announce the return of First and 10, at a new place but old time, each Tuesday, in a slightly abbreviated form from the past:
There seems to be two types of receiver in the NFL. There's the "Jerry Rice Group," the guys who work like mad and never settle for good or better or even great. They want to be the best. Guys like Calvin Johnson, A.J. Green, Andre Johnson, Reggie Wayne. They're elite.
Then there is the group we shall call the "Terrell Owens Group." They're immensely talented, but they sometimes can't get out of their own Diva way. Due to subjectivity, present individuals in this group shall go nameless, though it's not tough to think Braylon Edwards in his Cleveland heyday fit this description.
Then there's Josh Gordon, an immensely talented 22-year-old still learning the position, but a guy with a one-year suspension looming the rest of his career for any misstep in the league's drug program. If the team believes Gordon will eventually fit in the "Jerry Rice Group," it doesn't pay much to heed trade offers. If it feels, though, that the combined risk of him becoming a Diva with the one-year threat makes him too risky, it makes sense to listen to offers.
Clearly, as Adam Schefter's reports indicate, teams around the league feel it's worth calling about Gordon. The Browns owe it to themselves to listen, but they continue to say they don't want to trade him. Expect these rumors to continue right up to the Oct. 29 trade deadline -- or until someone offers the Browns a first-round pick (if any team is daft enough to do so).
Offensive coordinator Norv Turner said last week that the team's running back situation is "unusual." That's one word for it. Let's also call it patchwork. Even in a passing league this will become a problem over the course of the season, especially since no immediate and glaring solution is readily available.
Spent some time pregame at storied Lambeau Field touring the Packers Hall of Fame. It's way impressive with all kinds of interesting information, memorabilia and life-size player casts of the formation with Bart Starr about to sneak in against Dallas in the Ice Bowl. After touring, a kind lady named Kristen Broderick, the Hall's assistant/educational coordinator, said she once gave Jerry Jones a private tour. She concluded by saying to him, "Now Mr. Jones, as one owner to another ... " Yes, she owns a single share of the Packers.
The Packers Hall raises a simple question: Why don't the Browns have something similar? Paul Brown, Otto Graham, Jim Brown, the greatness of the 2000s (OK ... not that one) ... It would be a real draw for fans before and after games. Many teams could learn a thing or two from that community-owned group up north.
If Brandon Weeden starts at quarterback in Kansas City, the Browns will be starting a guy who ranks 32nd in the league in completion percentage, 31st in yards per attempt, 30th in ranking (a woeful 66.5) and is tied for 27th in touchdowns and third in sacks (with two games missed to injury).
As Joe Friday would say, just the facts ma'am.
The Browns' struggles on third down mesh with the struggles on offense. A team that can't get off the field on third down lets the other extend drives, and when the offense can't extend drives it leads to a team that ranks seventh in pass defense and ninth in run defense giving up 24, 31 and 31 points. The Browns' inability to run the ball only feeds a vitamin to this monster.
October, 3, 2013
10/03/13
1:39
PM ET
Those lucky enough to be able to say they saw Jim Brown play have no doubt: He was the greatest NFL player. This statement does not disparage anyone else; it simply recognizes the unique combination of power, speed, grace and vision that Brown possessed.
Nobody has had it since.
Tonight, the
Cleveland Browns
will put Brown's name in the team's Ring of Honor, a gesture that didn't take place last season because Brown and then-president Mike Holmgren were going through a public spat. Brown's principles would not allow him to go along with Holmgren's wishes after Holmgren changed Brown's role with the team.
[+] Enlarge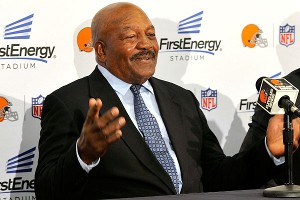 AP Photo/David RichardTonight, the Cleveland Browns will induct Hall of Famer Jim Brown into their Ring of Honor.
Jimmy Haslam brought Brown back and put him back on the payroll, and tonight is his night.
Try to explain Brown's greatness in a few hundred words. There's the old films, some grainy, of Brown bouncing off tacklers, sometimes leaning backward. There's the games in which he accelerated past people as if they were standing still. There's the short-yardage run against Dallas when he ran left and somehow scored despite the entire Cowboys defense having a chance to stop him. The game was different then. Defenders weren't as fast or strong. But Brown's game would translate to any era, any style.
There's the stats. Brown averaged 5.2 yards per carry in his career. He had at least 1,200 yards in seven of his nine seasons. In three of those seven seasons he played 12 games; in the others he played 14 -- and never had fewer than 1,400 yards. He averaged more than 100 yards per game seven times and averaged 104.3 per game for his career. In 1963, he averaged 133.1 yards per game, 6.4 per carry.
No other player in NFL history has averaged more than 100 yards per game in a career. Brown did it starting 118 of his 118 games.
He finished his career with 12,312 yards -- and retired at the age of 30 because of a spat with former owner Art Modell over his return from the filming of "The Dirty Dozen." Those 12,312 yards came in nine seasons, meaning he averaged 1,368 per year.
Brown also starred in lacrosse at Syracuse. To this day, he is considered one of the best lacrosse players ever, if not the best.
He achieved all he did as an African-American playing a sport in a time when "blacks not allowed" signs were posted in cities where he played. Prejudice shaped his attitude -- but on the field, talent and drive shaped his play.
The great journalist
Red Smith once wrote of Brown
: "For mercurial speed, airy nimbleness, and explosive violence in one package of undistilled evil, there is no other like Mr. Brown."
There still has been no other like him. Tonight, he'll have his moment in front of the Cleveland fans.
October, 1, 2013
10/01/13
8:23
AM ET
The greatest football player of all-time will be honored during Thursday night's game, as Jim Brown will be added to the Cleveland Browns Ring of Honor. It's a recognition that didn't happen when the Ring of Honor was established because of a public spat between Brown and Mike Holmgren. Brown now has made up and is back in the fold with owner Jimmy Haslam. The
team's official website
put together a pretty nice video of Brown at the Hall of Fame, with some highlights (featuring the radio voice of Gib Shanley). One of the greatest short-yardage runs in NFL history is at the 2:28 mark.
The Browns have been the league's doormat for so long that when the schedule is released every team in the league mentally checks off the game as "Well, this one should be a win." Cincinnati lost. And the Bengals did not react well, using words like "embarrassing" and "shocking." Clearly, as
Butch Hobson of Bengals.com
points out, some of this fallout was frustration at their play, but some came because it was a game the Bengals no doubt felt they could -- and should -- have won.
Will the Browns have a problem when Brandon Weeden returns ready to play? Or is this a case of being happy a guy wants to play? Or is it much ado about nothing?
Mary Kay Cabot of the Plain Dealer
went to the backup well and talked to Weeden about watching while Brian Hoyer makes his third start, even though Weeden is healthy and practicing. Said Weeden: "I'm treating it like this is still my football team." He did add: "I'd be doing a disservice to myself and doing a disservice to this offense" if he looked at things any other way. So maybe he's just using the old line that he always prepares to start. Whatever.
Yes, Hoyer is mentioned in the same sentence as Otto Graham in the
Canton Repository
. And there's a legitimate reason for doing so. Brian Hoyer, Otto Graham, with some more interesting stuff on the history of Browns quarterbacks. Who'd have imagined it?
Haslam made another of his
unscheduled public statements
about the federal investigation into fraud with his trucking company's rebate program. Haslam has always denied doing anything wrong; seven former Pilot Flying J employees have pled guilty to federal charges. Haslam talked about what he's done to repay folks, and to make sure he and his company are "doing the right thing and making things right." As he always does when he makes these public pronouncements, he took no questions.