Cleveland Browns:

Joel Bitonio
July, 25, 2014
Jul 25
9:00
AM ET
The final two positions where there will be serious competition for a starting role for the
Cleveland Browns
lie on each side of the ball.
At guard, it appears
Joel Bitonio
is penciled in already as the starter on the left side.
"We feel good about Bitonio," coach Mike Pettine said. "The other guard spot is a question. But we have some guys there who are competing."
Bitonio is a rookie the Browns celebrated drafting, a guy the team has the highest of hopes for. That he starts his career lined up between
Joe Thomas
and
Alex Mack
can only help him.
It's on the right side, where
John Greco
and
Garrett Gilkey
line up, that the most significant competition will take place.
Greco would seem to have the inside track, but Gilkey came on as the offseason progressed. He has to show he can get something accomplished fullspeed in pads, though, and he also has to start avoiding the fights he got into during minicamps.
Greco plays better than his publicity would say. He's a veteran with toughness and smarts.
Paul McQuistan
, signed in the offseason, appears to be valuable for versatility and depth.
The final competition (along with quarterback, running back, receiver, cornerback and guard) lies at inside linebacker, where the Browns will have to trust that the scheme will help.
Because at inside linebacker they have one guy who struggled at times in 2013, and another who is a rookie.
The rookie is
Chris Kirksey
, a third-round pick who will be groomed inside and outside. The Browns surprisingly released
Quentin Groves
in the offseason, which meant Kirksey practiced at two spots after the personnel move.
Kirksey has the advantage of being a draft pick of this regime, but
Craig Robertson
has played. He started last season, and though at times he struggled in coverage, he does have game experience.
"I feel good about both those guys," Petine said. "Even if they end up sharing that job together, that makes both of them fulltime special teamers, which [special teams coach Chris] Tabor would be thrilled with."
June, 27, 2014
Jun 27
3:00
PM ET
Assessing the
Cleveland Browns
roster as we head to training camp, with a position-by-position rundown comparing it to when the season ended and now.
Offensive line
Then:
Joe Thomas
,
Shawn Lauvao
,
Alex Mack
,
John Greco
,
Mitchell Schwartz
,
Garrett Gilkey
,
Jason Pinkston
Now:
Thomas,
Joel Bitonio
, Mack, Greco, Schwartz,
Paul McQuistan
, Gilkey, Pinkston
Any group that starts with an excellent left tackle, an excellent center, an underrated right tackle and a highly regarded draft pick has something going for it. That's exactly where the Browns stand on the offensive front. Which is a good start. But then add in the knowledge that the Browns will be running a zone blocking scheme that requires athleticism and the ability to move along with smarts and the Browns up-front unit looks better. If Bitonio comes through as the Browns hope, it would be huge. He could make a large impact as a rookie whose style and attributes bring to mind
Logan Mankins
of the
New England Patriots
. However, he ended the offseason with an ankle injury that forced him to miss minicamp. His health early in camp is worth watching. Some question the right side of the Browns line, but the previous regime felt good enough about Greco to give him a contract extension and about Schwartz to make him an immediate starter. That pairing might be better than folks think. In Gilkey and McQuistan the Browns have depth and flexibility if injuries should affect the line.
The positives:
Thomas is as good as they come. He's so good that one offensive line guru said when evaluating him none of the standard judgments apply because he's that good. Mack is expensive, but very talented, and the line seems to be a good fit for the zone blocking scheme that Kyle Shanahan will run.
The negatives:
Bitonio is a rookie who is unproven. As highly as people think of him, he still has to do it. As encouraging as the signs are about adapting to the new system, the line still has to do it, and it will take some time.
Upgraded, level or downgraded:
Upgraded, especially if Bitonio is all he is touted to be.
Previously:
Quarterback
,
running back/fullback
,
wide receiver
, tight end.
Coming:
Defensive line, linebacker, secondary, coaching staff, front office.
June, 22, 2014
Jun 22
2:41
PM ET
The
Cleveland Browns
are very steadily getting their draft picks signed.
The latest to agree was second-round pick
Joel Bitonio
, the 35th overall selection, the third pick in the second round.
Bitonio is a player the Browns are very high on, and have high hopes for. General Manager Ray Farmer singled him out when asked what players he was most excited to watch from the draft class. He is already penciled in as the starting left guard, between
Joe Thomas
and
Alex Mack
. Bitonio missed the team's minicamp with a sprained ankle, but coach Mike Pettine said he expected him to be back for training camp, which opens July 26.
The Browns now have five of their six draft picks signed, with only cornerback
Justin Gilbert
remaining. There is no reason he should not be signed before camp starts.
June, 11, 2014
Jun 11
8:30
AM ET
Five takeaways from the first day of
Cleveland Browns
minicamp:
Hoyer

Brian Hoyer had another one of those "he's ahead" days. He was quicker in his decisions and more decisive in reads. He simply looked ahead of Johnny Manziel at this point. Now this should still not be a surprise, but clearly Manziel has some work to do between now and training camp. As for Hoyer, who was not made available to the media, Pettine assured the media gaggle that being in "Spartan Mode" on certain team drills does not mean he is losing ground because of fewer reps.
Rookie guard Joel Bitonio will miss the minicamp with what coach Mike Pettine called "an ankle injury." That's a setback, but for linemen a minicamp isn't vital. Bitonio should be full go for training camp in late July, per the team's coach.
Wide receiver Anthony Armstrong had an excellent day, breaking past Buster Skrine for a deep throw from Manziel, and making several other catches. Armstrong's edge is he knows the system from playing for Kyle Shanahan in Washington. His disadvantage is he's 31, though Pettine called Armstrong "the ultimate professional." He's one of 14 wide receivers at the minicamp. Suspension worries, anyone?
The Browns continue to say there is no injury issue, but Miles Austin continues to watch most of the offeason practices. It would be nice to pencil Austin in as the starter -- either opposite Josh Gordon or in place of Gordon when his suspension finally comes down -- but he's barely been on the field since he signed as a free agent.
Jabaal Sheard discussed his role in the new defense, comparing it to the way Mario Williams was used last season in Buffalo. Williams moved around a lot, and spent most of his time rushing the passer. Seems Sheard will as well, as he emphasized he's more defensive end than linebacker these days. That doesn't seem to bother him much; at 270 pounds it's tough to stay with smaller, quicker players.
May, 29, 2014
May 29
4:00
PM ET
Ten takeaways from the second open practice of the
Cleveland Browns
' offseason work, with the caveat that any "concerns" should be minimized because it is May:
Ray Farmer's statement that Brian Hoyer is the best quarterback on the Browns "by a substantial margin" should be taken seriously. Hoyer is better right now. He throws better, looks more confident, throws more accurately and seems more like the guy who has been around longer and in the offense longer. If the opener were in a week, Hoyer would start.
Johnny Manziel makes enough throws to show he has ability. The highlight Tuesday was a 25-yard pass to the sideline that dropped right into the hands of Josh Gordon. The problem is that he doesn't show the ability often enough.
Manziel needs work. One short slant in five-on-five (no rush) would have hit the guard in the back. He also got under a throw that sailed well out of the end zone. Some of his fundamentals are all over the place -- the difference between him and Hoyer at times on footwork is marked.
Manziel can get lost behind the line when dropping back. He also has a low trajectory on his throws, which means the line might have to create throwing lanes. This doesn't mean he can't succeed; Drew Brees can get lost as well. It's just an observation.
Donte Whitner said this about Manziel: "He looked good. Sometimes he stares some things down out there, and that's part of being a young guy. He wants to know where to go with the football. But he's getting better each and every day. He's throwing the ball very, very accurately. He knows where his checkdown is at all times. ... He's learning. He's developing each and every day."
Defensive coordinator Jim O'Neil called Whitner a "follow me or else" leader. "There's not a lot of them anymore," O'Neil said. The best definition of being a professional is that it means doing your best when you feel your worst, and Whitner talked of learning early that a guy has to put in work when he's tired or weary. He's a guy that seems to really "get it."
O'Neil also said he wants Whitner to be a physical presence in the middle of the defense. In fact, he encouraged it. "We want to intimidate people," O'Neil said, adding: "Every great defense in the NFL has an enforcer. So ... he's ours." It's an interesting take in this era of concussions and concussion lawsuits. Because it shows the fine line between football being a fast, physical game and the danger and risks of playing that way.
Whitner did not hide in the least from the "enforcer" role, saying that while teammate Tashaun Gipson is more focused on tackling than big hits, he is more focused on big hits with tackling second. "Thats my game," Whitner said. "That's what I like to do." He added that those who don't like to get hit shouldn't play offense, and he'd "take 15 yards to instill some fear in somebody, but we're going to do it the legal way."
First-round pick Justin Gilbert missed part of the workout with an ice bag on his knee. Coach Mike Pettine said it was "just a bag of ice." Which is kind of like using the term "minor surgery." It's only minor if it's someone else. At any rate, Gilbert tweeted Wednesday that he was fine and would be back on the field for the next practice.
Joel Bitonio seems to be setting up shop at left guard. Bitonio played tackle in college, and now gets to start his career between Joe Thomas and Alex Mack. Bitonio absolutely looks the part of a guard, and could be a welcome addition to the line.
May, 22, 2014
May 22
1:52
PM ET
Catching up on some of the leftovers from the
Cleveland Browns
offseason practice on Wednesday:
• As things stand now,
John Greco
is lining up at right guard, with free-agent signee
Paul McQuistan
and second-round draft pick
Joel Bitonio
at left guard. Bitonio looks the part of a guard. Stout, strong -- and he brings a bit of a 'tude to an offensive line that probably would welcome it. When Ray Farmer was asked by ESPNCleveland.com about the one under-the-radar guy the Browns drafted, a guy he thought fans would really like to see, he mentioned Bitonio. Clearly there are high hopes for him -- and clearly those high hopes are part of the reason the team did not take a receiver in the second round.
•
Brian Hoyer
had some interesting things to say about new wide receiver
Andrew Hawkins
. Hoyer compared Hawkins to
Wes Welker
in the way he runs his routes and finishes them. Hawkins looked very good on the day the practice was open.
• The attention paid to running back spot, something that was missing last season, was evident during one practice in shorts.
Ben Tate
and
Terrance West
both look the part, and Farmer is very high on free agent
Isaiah Crowell
.
• The way
Tyler Thigpen
threw on the day folks could watch him begs the question: What the heck happened to
Vince Young
?
• It was refreshing to hear Farmer say on radio that Hoyer is ahead of
Johnny Manziel
by a substantial margin. Refreshing because it was honest and lacked the games of past regimes of talking around an issue. And it's refreshing because Farmer recognizes it's not in any way a condemnation of Manziel. He should be behind right now; he's been a Cleveland Brown for one stinking week.
• An objective look at the quarterbacks shows this: The No. 1 with three games started for the Browns coming off an ACL reconstruction, a first-round draft pick trying to learn as he goes, a veteran backup trying to revive his career and an undrafted free agent. Yes, it's a good thing it's May.
May, 9, 2014
May 9
7:37
PM ET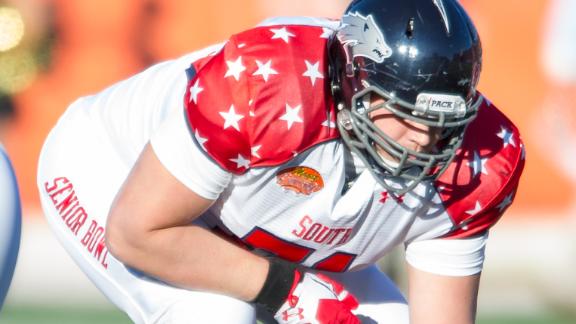 BEREA, Ohio --
The pick
:
Joel Bitonio
, offensive tackle, Nevada
My take:
In Bitonio, the
Cleveland Browns
added a big, mean, nasty offensive lineman who can play guard or tackle. It would figure that the Browns would move Bitonio inside, since they have stood by
Mitchell Schwartz
opposite
Joe Thomas
. Bitonio is highly regarded and should be a good addition to the line, even if he's not a receiver.
Wideouts:
At this point, Browns fans have to be reeling from the news that wide receiver
Josh Gordon
faces a one-year ban for another failed drug test. Adding a nasty tackle might not soothe those feelings, especially since the Browns passed on a number of good receivers at this spot, including
Cody Latimer
of Indiana and
Marqise Lee
of USC. If Gordon is indeed suspended for a calendar year, it leaves the Browns void of playmakers at the spot and of the team's most important player. At some point, the Browns need to find someone to catch passes.
What's next:
The Browns have the seventh pick in the third round, the 71st overall. Doesn't that have to be a wide receiver?