Cleveland Browns:

John Greco
February, 28, 2014
Feb 28
9:59
AM ET
The release of
D'Qwell Jackson
leads a wandering mind to wonder: What players will cost the
Cleveland Browns
the most money this season?
[+] Enlarge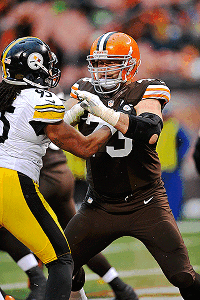 AP Photo/David RichardJoe Thomas' $10.9 million base salary is the highest among offensive linemen in the league.
Here they are, in terms of their cash cost, which equals base salary plus any bonuses.
LT Joe Thomas, $11.1 million (includes $200,000 workout bonus)

LB Paul Kruger, $7 million

CB Joe Haden, $6.878 million ($200,000 workout bonus)

DL Ahtyba Rubin, $6.8 million ($200,000 workout bonus)

QB Jason Campbell, $3.25 million ($325,000 roster bonus)

WR Davone Bess, $3.067 million

DL Desmond Bryant, $3.0 million

OG John Greco, $2.43 million ($1.7 million roster bonus)

DL Phil Taylor, $1.478 million ($728,625 roster bonus)

CB Buster Skrine, $1.389 million

TE Jordan Cameron, $1.389 million

OG Jason Pinkston, $1.389 million
A few thoughts:
Yes, Paul Kruger is indeed the second-highest paid player on the team.
Kruger's base salary is the fourth highest among linebackers in the league, behind only St. Louis'
James Laurinaitis
($10 million), Jacksonville's
Paul Posluszny
($7.45 million) and Pittsburgh's
LaMarr Woodley
($8 million).
Yes, Campbell ranks fifth on the Browns. And Bess sixth.
Sigh.
It will be shocking if either Campbell or Bess is with the team in 2014.
Four of the top seven highest paid were signed in the Joe Banner-Mike Lombardi era: Kruger, Bess, Campbell and Bryant.
Greco's $1.7 million roster bonus is due the fifth day of the league year, which would be March 16.
Thomas has the highest base salary ($10.9 million) among the league's offensive linemen, and his cash cost for 2014 ranks second among linemen to Philadelphia's Jason Peters' $12 million. The contract extension Thomas signed in 2011 included $29.5 million in guaranteed money.
ProFootballTalk.com reported that Rubin could be on the cut list due to his salary. We'll see.
Here are the 10 most expensive Browns as they fall under the salary cap, with prorated signing bonuses included in the calculations:
Thomas, $12.3 million

Haden, $8.9 million

Kruger, $8.2 million

Rubin, $8.175 million

Bryant, $4 million

LB Barkevious Mingo, $3.715 million

Taylor, $2.575 million

Grego, $2.43 million

QB Brandon Weeden, $2.204 million

Campbell, $3.25 million
December, 29, 2013
12/29/13
11:44
AM ET
December, 27, 2013
12/27/13
3:42
PM ET
As the season winds down, it seems a good time to provide some facts about the
Cleveland Browns
' salary cap situation.
-- The Browns used $113.5 million of this season's salary cap.
-- Which means $24 million went unused.

-- The team used $4.17 million of its cap space on quarterbacks, 4.34 percent of the total cap and 59.34 percent below the league average.
-- No running back used more than $775,000 of the cap -- and that was
Chris Ogbonnaya
.
-- The receiver who cost the most under the cap was
Davone Bess
, $2.68 million; he's ninth on the team in cap space.
--
Gary Barnidge
used the most salary cap space among tight ends, $1.4 million.
-- While the Browns were 70.6 percent below the league average in cap spending at running back and 51.1 percent below the league average at wide receiver, they were 25.8 percent above the average on the offensive line.
-- That's partly because they have 11 linemen under contract, and because
Joe Thomas
costs $11.4 million under the cap.
-- The total cap space used for the offense: $39.03 million, 28 percent below the league average.
-- Defensively, the four top players under the cap are
Joe Haden
at $9.09 million,
Paul Kruger
at $8.2 million,
Ahtyba Rubin
at $7.474 million and
Desmond Bryant
at $7.5 million.
-- Signing bonuses have a lot to do with some of those figures. Bryant was given $5 million and Kruger $6 million to sign their contracts.
--
Barkevious Mingo
's salary cap figure is $2.97 million, more than
Jabaal Sheard
,
Phil Taylor
and
T.J. Ward
.
-- The Browns are using more than the league average at every position but safety.
-- Total spending on the defense under the salary cap: $54.825 million, nine percent above the league average.
-- Heading into 2014, the Browns have $95.7 million in cap space committed to players, which means they have $40 million in cap space to use on roster bonuses, draft picks, free agents and restructured deals.
-- The biggest candidates for new deals this offseason: Haden and receiver
Josh Gordon
. The biggest roster bonuses due players: $4 million to
D'Qwell Jackson
, $1.7 million to
John Greco
.
December, 27, 2013
12/27/13
3:14
PM ET
Take a good look at the
Cleveland Browns
' offensive line on Sunday.
It's debatable how many linemen will be back. If it weren't so hard to completely retool, the case could be made that the Browns will have four new starters in 2014 to go with left tackle
Joe Thomas
.
That's a stretch, of course, and a good deal of speculation.
But the Browns haven't seemed enamored with their guards all season, there's been a lot of rumblings about the inconsistencies of right tackle
Mitchell Schwartz
and center
Alex Mack
is slated to be a free agent.
[+] Enlarge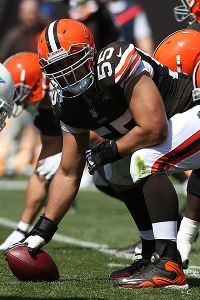 Ron Schwane/USA TODAY SportsAlex Mack said he would "absolutely" give the Browns the chance to match or exceed any offer he receives in free agency.
Nothing is known, of course, and there is a game yet to be played. But Mack's potential departure seems the most significant. With
Maurkice Pouncey
injured, there is a lot of talk that Mack is one of the three or four best centers playing.
"Cleveland's a very easy place to come back to," Mack said. "I like the coach. I like the players. I have a house here. Without a doubt it would be easy to come back."
But Mack, like safety
T.J. Ward
, also has the opportunity to decide where he wants to play, and since he was Eric Mangini's first-round pick the team has gone 23-56. The Browns could place the franchise tag on Mack -- they have the salary-cap room -- but the new CBA calls for him to be paid the average of the top five offensive linemen, not centers. That number will approach $10 million, and Joe Banner's history has not been to overpay.
Thomas feels it's important to keep Mack with the Browns.
"Very few people really understand how many things the center is actually responsible for," Thomas said. "Obviously the quarterback has the ball in his hands and he's the guy who ultimately makes the decisions. But when it comes to setting the protections and setting the blocking in the run game, nobody has more on their plate than the center.
"[Mack is] probably the best that I've seen and has to be one of the best in the NFL at understanding the mental side of the game and getting everybody on the same page blocking wise."
Guard
Shawn Lauvao
was drafted the same year as Mack, and the feeling is the team will let him get to free agency.
"You take it with a grain of salt," Lauvao said. "If they want to bring me back, so be it. If they don't, I feel like [free agency is] a great opportunity."
The Browns do have
John Greco
signed for next season, and he could play center. Schwartz is still playing under his rookie contract. But the team discussed trading for
Eugene Monroe
of Jacksonville during the season.
The team's wild card is
Chris Faulk
, a 6-foot-6 and 323-pound player recovering from a serious knee injury he hurt in his senior season at LSU. The Browns signed him as an undrafted free agent and want to take a long look at him for next season.
December, 24, 2013
12/24/13
1:13
PM ET
Several
Cleveland Browns
missed the first practice in preparation for the season finale in Pittsburgh, but coach Rob Chudzinski would not speculate on their status for Sunday's game.
Offensive guard
Jason Pinkston
, defensive lineman
Phil Taylor
and tight end
Jordan Cameron
are all sidelined by concussions and undergoing NFL mandated testing.
Cornerback
Joe Haden
(hip), defensive lineman
John Hughes
(knee) and linebacker
Paul Kruger
(flu) also did not practice. Guard
John Greco
returned from a sprained knee on a limited basis.
December, 11, 2013
12/11/13
12:21
PM ET
The Browns will be without guard
John Greco
and running back
Willis McGahee
in practice today.
Greco sprained his right medial collateral ligament on the first play of the game in New England when his foot caught in the turf. He tried to stay in the game, but was not effective. The Browns will see how his week goes, but it does not seem likely he will face Chicago on Sunday
Jason Pinkston
replaced Greco in New England and would replace him against the Bears as well.
"We'll see as we go along what his (Greco's) status is," coach Rob Chudzinski said.
McGahee suffered a concussion on a goal-line run in the fourth quarter. He was sent home Wednesday and must pass the NFL concussion protocols before returning. His return for Sunday seems very doubtful. The Browns signed
Edwin Baker
off the Houston practice squad.
Quarterback
Brandon Weeden
, meanhwhile, has been cleared to practice. Weeden has been sidelined since he received a concussion nine days ago against Jacksonville.
Chudzinski would not say whether Weeden or
Alex Tanney
would be the backup quarterback against the Bears.
"There's some things that Brandon has to clear this week," Chudzinski said.
November, 24, 2013
11/24/13
6:47
PM ET
CLEVELAND -- Should it have been a penalty and if it were called would it have mattered?
That's the question the
Cleveland Browns
might be asking after their
27-11 loss
to the
Pittsburgh Steelers
.
It was a loss that seems to make one play meaningless, because Pittsburgh pretty much thrashed the Browns.
[+] Enlarge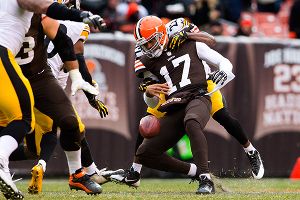 Jason Miller/Getty ImagesWilliam Gay sacked Jason Campbell and forced him to fumble, but the Steelers cornerback may have gotten away with striking Campbell in the head.
Again.
But one key play in the thrashing came midway through the third quarter when Steelers cornerback
William Gay
blitzed free and blindsided
Jason Campbell
at the Browns' 47-yard line. Gay forced Campbell to fumble,
Will Allen
returned it to the 4 and Pittsburgh scored a touchdown on the next play to extend a 13-3 lead to 20-3.
Live and on replay, it seemed clear that Gay hit Campbell in the facemask as he tackled him. The facemask would be the head, which is a no-no in the modern-day NFL.
A week earlier,
Drew Brees
drew a flag when San Francisco linebacker
Ahmad Brooks
tackled Brees in the shoulder and neck.
That was penalized.
The hit to Campbell's facemask was not.
"I talked to the officials about that," Browns coach Rob Chudzinski said. "I felt like he was hit on the head. They didn't feel that way."
Chudzinski said the official told him Campbell was hit in the shoulder. But the replay clearly showed Campbell's head snapping as Gay hit him in the facemask.
What would have changed had the call gone the Browns' way?
Maybe not much. Pittsburgh exerted its will on the Browns from the middle of the second period on, and they had earlier sent Campbell to the sidelines for one play with a rib injury. He returned and had the Browns at the Steelers 39-yard line, down 13-3 with 7:59 left in the quarter.
Gay lined up outside Allen on the defensive right of the formation. Gay stutter-stepped to the line as if he were blitzing, then backed off. As Campbell continued the snap count, Gay lined up alongside Allen -- and looked like he was blitzing.
Browns guard
John Greco
said the protection was focused to the side away from Gay, the Steelers' left.
"It's just the kind of thing where we're working one way and they brought one extra," Greco said. "Just kind of timing. Didn't get it off fast enough."
Which would indicate that in that situation Campbell had to get the ball out quickly to his hot read. He didn't.
Gay and Allen both blitzed, and running back
Chris Ogbonnaya
had to block the guy closest to the quarterback -- Allen.
Gay made Campbell pay. But even in making a good play, Gay hit Campbell in the facemask.
Had the penalty been called, the Browns would have had a first down at the 24, with
Brandon Weeden
at quarterback.
Do they go on to win? Doubtful, considering the way the Steelers played.
Should the play have been flagged? Many less obvious flags have been thrown. It wasn't a vicious hit. It was just a fast play in which Campbell flinched and Gay got his hand up.
But it also sent Campbell to the sidelines for the game with a concussion, which he could have received on the hit or when the back of his head hit the frozen field.
Either way, the no-call cost the the Browns possession, field position and a quarterback they believed in.
Cornerback Joe Haden said the injury deflated the team.
"You saw it," Haden said. "That's what happened."
It also led to a ton of frustration from a team that two weeks ago had hopes of getting into the mix of the AFC North race, but now is back in last place in the division.
"It's how the tide turns, right?" said safety
T.J. Ward
.