Cleveland Browns:

Justin Gilbert
September, 3, 2014
Sep 3
5:52
PM ET
BEREA, Ohio --
Cleveland Browns
cornerback
Buster Skrine
will be in the starting lineup and wear a cast to protect his surgically repaired right thumb in Pittsburgh on Sunday.
Skrine said the cast will not limit him, though.
"I can do everything with it," he said.
Skrine described his injury merely as "a thumb injury," and the defensive lineman said to ask coach Mike Pettine when asked the reason for his wrist surgery.
Desmond Bryant
worked on the side Wednesday in practice, but Skrine took part in practice.
Skrine will start despite missing the last three preseason games after hurting the thumb in practice. It says something about the way he was performing in practice, and about the way rookie first round pick
Justin Gilbert
struggled.
"It feels good to start and that the coaches trust me to start," Skrine said. "I'm just going to capitalize off of every year I've been here, guys have come in and I was competing. Just because I'm starting doesn't mean Justin won't play a lot of corner either. We have certain packages where we're all going to play a lot."
Bryant had tape on his left wrist from the surgical scar. He blamed the issue on "football in general," but said he reported feeling good but then needed the procedure.
"I'm just trying to take it day by day," Bryant said. "It's getting a little better each day and as soon as I can get back out there I will."
July, 23, 2014
Jul 23
4:13
PM ET
The
Cleveland Browns
will not have the last unsigned rookie in the league.
Cornerback
Justin Gilbert
, the eighth overall pick, agreed to terms Wednesday and should be on the field for practice when training camp opens to the public Saturday.
Gilbert
ESPN's Chris Mortensen first reported the contract. Spotrac.com reported the deal is for four years and $12.8 million, with a $7.65 million signing bonus.
Gilbert's presence completes the cornerback group, a postion "where we upgraded the most," Browns coach Mike Pettine said.
Given the additions elsewhere, that's an interesting statement.
Joe Haden
will be one starter. Gilbert and
Buster Skrine
will compete for the other spot.
Isaiah Trufant
and
Aaron Berry
will be in the mix. Pettine sounded intrigued with both -- especially Berry, a veteran who had off-field issues but is trying to resurrect his career.
"You'll enjoy watching him in camp," Pettine said. "If you don't see him, you'll at least hear him. He's got a lot of swagger to him. He'll definitely energize practice for us."
Pettine simply smiled when asked about Trufant and said he's a "good player." His body language and expressions were so positive it seems possible Trufant could be the nickel corner. He is a pure slot cornerback though, so he would compete at that spot.
The Browns have stressed competition, and Pettine is a huge believer that players who push each other make each other better. That's why Pettine is so happy to have Gilbert, and have him signed. Not only does the scheme demand aggressive cover corners, it adds depth and competition.
Skrine and Gilbert will push each other, with Trufant pushing both, and Berry evidently forcing his way into the mix.
July, 2, 2014
Jul 2
3:00
PM ET
Defensive backs
Then:
Joe Haden
,
Buster Skrine
,
T.J. Ward
,
Tashaun Gipson
,
Leon McFadden
,
Jordan Poyer
,
Julian Posey
,
Johnson Bademosi
,
Josh Aubrey
(injured)
Now:
Haden,
Justin Gilbert
, Skrine,
Pierre Desir
, McFadden, Poyer,
Isaiah Trufant
,
Donte Whitner
, Gipson, Bademosi, Aubrey.
The Browns signed Haden to a contract extension, drafted two corners and signed another in free agency. Oh, they also added a veteran safety, which should pretty much indicate what the new coaching staff thought of the old group. Haden is the bedrock of the defense, and if Gilbert can come in and play press-man coverage, Pettine will have his ideal pair. His defense is based on pressure that requires man coverage from corners. Gilbert has a ways to grow in camp, though. In the offseason results were mixed on him. At safety, Whitner takes over for Ward, bringing leadership and attitude. He's hard not to notice. Gipson is one of the more underrated players on the team. He and Whitner should complement each other well.
The positives:
Whitner is a leader and a hitter, Haden should be a perennial Pro Bowler and Gipson is very talented. Add a fourth player and this group should be productive.
The negatives:
The Browns seem to want Skrine to be a nickel back and cover the slot receiver, but that can't happen until Gilbert shows he can handle the starting job. The eighth pick in the draft is a key player on the team.
Previously:
Quarterback, running back/fullback, wide receiver, tight end, offensive line, defensive line, linebacker.
Coming:
Coaching staff, front office.
May, 29, 2014
May 29
4:00
PM ET
Ten takeaways from the second open practice of the
Cleveland Browns
' offseason work, with the caveat that any "concerns" should be minimized because it is May:
Ray Farmer's statement that Brian Hoyer is the best quarterback on the Browns "by a substantial margin" should be taken seriously. Hoyer is better right now. He throws better, looks more confident, throws more accurately and seems more like the guy who has been around longer and in the offense longer. If the opener were in a week, Hoyer would start.
Johnny Manziel makes enough throws to show he has ability. The highlight Tuesday was a 25-yard pass to the sideline that dropped right into the hands of Josh Gordon. The problem is that he doesn't show the ability often enough.
Manziel needs work. One short slant in five-on-five (no rush) would have hit the guard in the back. He also got under a throw that sailed well out of the end zone. Some of his fundamentals are all over the place -- the difference between him and Hoyer at times on footwork is marked.
Manziel can get lost behind the line when dropping back. He also has a low trajectory on his throws, which means the line might have to create throwing lanes. This doesn't mean he can't succeed; Drew Brees can get lost as well. It's just an observation.
Donte Whitner said this about Manziel: "He looked good. Sometimes he stares some things down out there, and that's part of being a young guy. He wants to know where to go with the football. But he's getting better each and every day. He's throwing the ball very, very accurately. He knows where his checkdown is at all times. ... He's learning. He's developing each and every day."
Defensive coordinator Jim O'Neil called Whitner a "follow me or else" leader. "There's not a lot of them anymore," O'Neil said. The best definition of being a professional is that it means doing your best when you feel your worst, and Whitner talked of learning early that a guy has to put in work when he's tired or weary. He's a guy that seems to really "get it."
O'Neil also said he wants Whitner to be a physical presence in the middle of the defense. In fact, he encouraged it. "We want to intimidate people," O'Neil said, adding: "Every great defense in the NFL has an enforcer. So ... he's ours." It's an interesting take in this era of concussions and concussion lawsuits. Because it shows the fine line between football being a fast, physical game and the danger and risks of playing that way.
Whitner did not hide in the least from the "enforcer" role, saying that while teammate Tashaun Gipson is more focused on tackling than big hits, he is more focused on big hits with tackling second. "Thats my game," Whitner said. "That's what I like to do." He added that those who don't like to get hit shouldn't play offense, and he'd "take 15 yards to instill some fear in somebody, but we're going to do it the legal way."
First-round pick Justin Gilbert missed part of the workout with an ice bag on his knee. Coach Mike Pettine said it was "just a bag of ice." Which is kind of like using the term "minor surgery." It's only minor if it's someone else. At any rate, Gilbert tweeted Wednesday that he was fine and would be back on the field for the next practice.
Joel Bitonio seems to be setting up shop at left guard. Bitonio played tackle in college, and now gets to start his career between Joe Thomas and Alex Mack. Bitonio absolutely looks the part of a guard, and could be a welcome addition to the line.
May, 10, 2014
May 10
8:40
PM ET
»
NFC wrap-ups
:
East
|
West
|
North
|
South
»
AFC
:
East
|
West
|
North
|
South
BEREA, Ohio -- A wrap-up of the
Cleveland Browns
draft.
Click here
for a full list of Browns draftees.
[+] Enlarge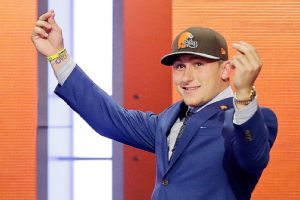 AP Photo/Frank Franklin IIThe Browns didn't just opt for Johnny Manziel but the sideshow that comes with him.
Best move:
The entire manipulation of the first day. The Browns had
Johnny Manziel
on their board as an option at 4, but finagled their way to an extra pick that resulted in the team drafting their highest-rated cornerback (
Justin Gilbert
) and their highest-rated quarterback -- while gaining an extra first-round pick next year. That is a series of events that is hard to top.
Riskiest move:
Dallas Cowboys owner and general manager Jerry Jones called Manziel an atypical backup who is "a celebrity" and "Elvis Presley." The Browns brought all that goes with Manziel -- the TMZ reports, the celebrity status, the incredible attention -- to a team that might not need that kind of scrutiny. And they brought it right to
Brian Hoyer
, who has done everything right since he joined the Browns. If Manziel can play, it would be worth it. If not, well then the circus that affected the Jets with
Tim Tebow
will be repeated in Cleveland.
Most surprising move:
It makes no sense at all that a deep receiver class sends no receivers to Cleveland, which in the vernacular is "really in trouble" at the position -- assuming
Josh Gordon
is indeed banned for a year. Ray Farmer has to have something up his sleeve, because the group the Browns would field right now is hardly scary.
File it away:
Farmer's description of running back
Terrance West
made him sound like an intriguing player. Farmer said West has the physique of a
Maurice Jones-Drew
but the quick feet of a Jerome Bettis. That's an interesting combination of skills that could make West worth following once training camp arrives.
May, 9, 2014
May 9
1:35
PM ET
By
ESPN.com staff
| ESPN.com
May, 9, 2014
May 9
11:41
AM ET
Darkness blanketed the evening as reporters straggled out of the
Cleveland Browns
' facility following the first day of the 2014 NFL draft.
Security lights dotted the building, but there was little activity at 1:35 in the morning.
Manziel
Across the street from the building stood one solitary man. He wore a
Trent Richardson
jersey and held a sign, barely visible in the darkness. It read: "Thank you Browns." The gentleman, later identified by NFL Network as Randall Ravis, said nothing as reporters walked by. Ravis spoke for the vast majority of fans energized by the team's drafting of
Johnny Manziel
.
At this point the Browns might want to extend a thank you as well. From midnight until early morning, the Browns
sold 1,500 season tickets
.
And, according to coach Mike Pettine, Manziel still has to win a job.
The excitement over this selection will rage for some time. "Here's Johnny"
blared the Cleveland Plain Dealer's front page
. ESPN Cleveland signed off Friday by saying "this is ESPN Johnny Cleveland." Cleveland.com came up with
five events Manziel might enjoy in Cleveland
(the Rib Cook-Off was first, Cleveland Auto Show third ... yes those were the events). And the ticket line phones kept ringing.
Manziel and forgotten first-round pick
Justin Gilbert
-- who was, after all, taken ahead of Manziel -- will meet the media today. They will take the field for the first time at a rookie minicamp next weekend. The Browns have closed the minicamp to the media, aside from the first 15 minutes of stretching. Managing the madness will become part of Pettine's job while
Brian Hoyer
-- who has done so much right since he joined the Browns -- will try to fight whatever he's feeling about this body blow to his hopes to lead his hometown team.
In the short term, though, Cleveland wants to celebrate, to gush. Johnny Football will play in Cleveland.
It's a city that deserves to smile, that has earned a smile.
Even if it means being that one guy standing outside the Browns' facility at 2 in the morning.
May, 8, 2014
May 8
10:42
PM ET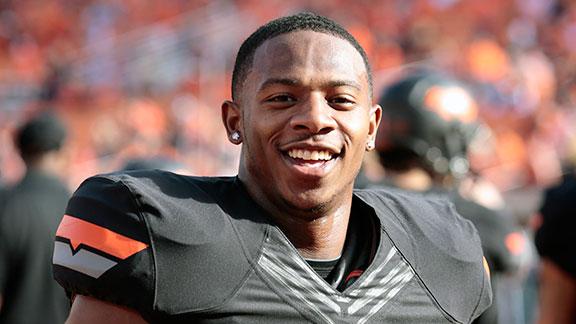 BEREA, Ohio -- Clearly the
Cleveland Browns
targeted cornerback
Justin Gilbert
with their first pick in the draft.
They went through all sort of machinations to get him, trading down five spots and then trading up one. In the end, they gave up a fifth-round pick this year -- "It didn't cost us much," GM
Ray Farmer
said -- to acquire a first-round pick and fourth-round pick from Buffalo in 2015.
Farmer said the end result was the Browns drafted the player "we thought we wanted."
Gilbert
There is risk. There always is risk. In this draft, the Browns bypassed two playmakers on offense in wide receivers
Sammy Watkins
and
Mike Evans
.
Watkins has been my preferred choice since January, but it's tough to argue bypassing him when the Browns acquired a first-round pick in '15 to move down just five spots. Clearly the Browns were not as high on Watkins as the Bills, who made the bold statement that Watkins makes Buffalo a playoff team.
There are teams that annually manipulate the draft to get extra players and maintain a level of talent. The Browns now have another first-round choice and they have an improved secondary, a necessity in the Mike Pettine defense. That system requires aggressive, pressing corners. In
Joe Haden
and Gilbert, the Browns have two like that -- assuming Gilbert is the real deal.
Buster Skrine
moves to nickelback to cover the slot.
"We're excited about having corners that we think can go out, play press, get after people and give us a chance to turn the ball over," Farmer said. "We've improved our defense. We're going to do some other things to make our overall team better, but we definitely like the corner combination that we're going to have. Hopefully, we keep those guys together for a long time."
Farmer has made a lot of logical moves this offseason in free agency. He still needs another wide receiver and a quarterback, but the second pick in the first round and the second round awaits. Clearly the Browns do not feel the depth of players at cornerback is as good as it is at receiver. The Browns took the guy they wanted.
Farmer took a risk bypassing the offensive players, but he did something logical by filling a need. It might not be the most exciting move, but it's tough to argue it.
And it will look even better when the first round of next year's draft rolls around.
May, 8, 2014
May 8
10:36
PM ET
Here is what general manager Ray Farmer had to say about the
Cleveland Browns
' moves with the fourth pick, the trade down and trade back up to get cornerback
Justin Gilbert
. The quotes were distributed by the team:
On the thought process for the first-round trades:
"The thought process was simple. We had an opportunity to move back, pick up some future considerations. We knew where we were in the draft and we felt like it was a good opportunity to continue to improve our team with the number of picks we could get so we made a deal to move back to Buffalo (No. 9). Second trade was another opportunity to get the player we thought we wanted. It didn't cost us much to move back into position when he was on the board. We took that opportunity, and we took the pick with (Oklahoma State CB) Justin Gilbert."
On DB Justin Gilbert as a player:
"Justin Gilbert the player -- He's long. He's fast. He's explosive. He's a playmaker. He plays like a Brown. Number one thing we talk about when we talk about corners is they've got to cover like Browns. He's got great arm length. He's got the speed. He's got the ball skills. I know some people have questioned his tackling. We cover like Browns, tackling was good, but it doesn't necessarily need to be great. We understand exactly who he is, what he is. We think he can make plays for us. He's going to play relentless. He's going to play at the line of scrimmage and press people. He's able to do things we need him to do."
On Gilbert and Browns CB Joe Haden playing together:
"Joe Haden, Justin Gilbert, (Browns S)
Donte Whitner
– I'm getting excited. I probably shouldn't go there. We're excited about having corners that we think can go out, play press, get after people and give us a chance to turn the ball over. We've improved our defense. We're going to do some other things to make our overall team better, but we definitely like the corner combination that we're going to have. Hopefully, we keep those guys together for a long time."
May, 8, 2014
May 8
9:10
PM ET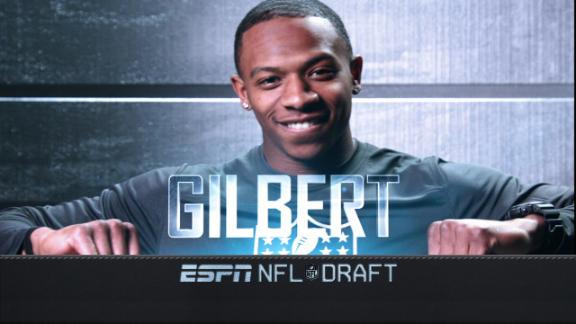 BEREA, Ohio --
The pick
: Cornerback
Justin Gilbert
of Oklahoma State.
My take:
It won't be the most popular pick, because the Browns gave up a chance to draft two playmakers in
Sammy Watkins
and
Mike Evans
. But it's a sound pick -- and by making two trades, the Browns wound up with the guy they clearly wanted, along with an extra first- and fourth-round pick in 2015. That's a good haul from the fourth pick, especially if the team believed Gilbert was the guy it wanted. As draft day approached, more and more murmurs started to filter out that the Browns liked Gilbert. Wednesday, ESPN's Sal Paolantonio reported he had heard from sources about a trade back and the drafting of Gilbert. Clearly, the Browns feel they need a strong press, man-to-man cover corner. Gilbert is considered one. So the Browns got two extra picks in 2015 to swap spots, traded back and still wound up with the cornerback they wanted. There is nothing to dislike about this pick -- or about the way the Browns got it done.
The deal
: The Browns keep showing that things have changed in their front office. For Ray Farmer to acquire a first-round pick from Buffalo in 2015, plus swap picks this year and move down to the only ninth spot is an excellent move. In 2011, the Browns moved from the sixth pick to 26 so Atlanta could get
Julio Jones
. That deal netted the Browns two first-rounders, a two and a four. Farmer got the same extra first-rounder to move down just five spots. It's tough not to like that deal.
What's next:
The Browns will have another first-round pick, the 26th overall. That pick was acquired last season in the deal that sent
Trent Richardson
to Indianapolis.
May, 7, 2014
May 7
2:15
PM ET
The idea of the
Cleveland Browns
trading back in the draft
is gaining momentum
.
If they do, they'd best not do so with one specific player in mind.
That's the advice of Bill Polian, the former builder of the Bills, Panthers and Colts, who said that a team is not wise to expect one specific player to be available if it trades down.
"I always said this as a general manager, I said it to the coach and the personnel director," Polian
said on ESPN Radio on Tuesday
. "'If we make this deal, are you prepared to lose the guy we want down below?'
"Be prepared for that. It's going to happen about 90 percent of the time."
Which are high odds.
And which would indicate that if the Browns really like cornerback
Justin Gilbert
, they need to have other options. Those presumably would include cornerbacks
Kyle Fuller
and
Jason Verrett
, as well as receiver
Mike Evans
. If quarterbacks
Johnny Manziel
and/or
Blake Bortles
were not selected early and were available, they would also have to be in the discussion following a trade down.
Polian emphasized that preparation is essential.
"If you're going back five spots, you need to have four guys that you're happy with at that spot," he said. "If you go back 10 spots, you need to have eight guys you'd be happy with."
May, 7, 2014
May 7
12:43
PM ET
The endless debate about
Johnny Manziel
will end Thursday night.
Just in the past two days, reports from respected national reporters have said the
Cleveland Browns
are leaning toward Manziel if tackle
Greg Robinson
is already gone (he will be), and also that the Browns would not take Manziel.
Manziel
Coach Mike Pettine denied that Manziel has been crossed off any list.
He told ESPN's Sal Palantonio: "Our board is wide open. Everything is in play."
Presumably Manziel would fall under "everything."
In some ways, General Manager Ray Farmer has people right where he wants them, and he's smiling that he does.
He wants folks guessing at the Browns' plans, and boy are they guessing. A team that leaked so much negative and painful information about coach Rob Chudzinski during the team's season finale has turned into the Hoover Dam, with little or no information getting out.
This much is clear: The Browns will take a quarterback high in the draft.
But Palantonio threw an interesting wrinkle into things with his report that other sources had told him the Browns were high on cornerback
Justin Gilbert
.
Combine this with the reality that this Browns regime is a lot more traditional in its approach, and it's very possible the Browns could go with a player like Gilbert if the trade is right, or even an offensive tackle with the fourth spot. Robinson is one of the most intriguing players in the draft, and
Jake Matthews
could be a 10-year starter like his father.
But ... the question for the Browns is the same one that has been asked since the pre-draft hype started months ago: Can they afford to turn away if a quarterback is available at No. 4?
Doing so would take some serious intestinal fortitude.
It's why
I took Manziel fourth overall
with the team's first first-round pick. (Insert cracks about lack of intestinal fortitude for someone who has always favored receiver
Sammy Watkins
here.)
It's difficult to find a quarterback, more difficult to pass on one. And those who do pass on a guy who turns out to be good ... well that can be a career-killing decision.
It's a tough spot for a first-year GM to find himself.
But it's also an exciting spot, because the right picks can do a lot for a team that needs something to go right.
Farmer wanted this job and he's handled what has come his way adeptly to this point.
Now the draft is coming full bore right at him.