Cleveland Browns:

Ken Whisenhunt
January, 14, 2014
Jan 14
9:01
AM ET
Another coach goes by the wayside for the
Cleveland Browns
.
It's impossible to know how seriously Ken Whisenhunt was considering the Browns or how serious a candidate he was in the team's eyes, but the bottom line is he accepted the
Tennessee Titans
job. The Browns either did not offer him the job, he did not take it or he didn't think it was worth waiting to see what happened.
A lot of signs seem to be pointing to the team badly wanting to talk to Denver offensive coordinator Adam Gase. They've interviewed several folks, are putting the word out they will be patient and Gase was the first person they requested permission to interview.
Gase has put off all interview decisions until Denver is out of the playoffs, and the Broncos play in the AFC Championship Game on Sunday. Even then, there's no certainty he'll interview. Gase's stock won't sink as long as he has
Peyton Manning
throwing passes.
Gase is 35 and has spent one year as a coordinator. His hiring is a risk, but at this point any hire would be a risk.
In the Browns coaching search Josh McDaniels has withdrawn from consideration and now Whisenhunt -- the most viable candidate with experience -- has chosen Tennessee. (The ripple effect from Whisenhunt's hiring could be that defensive coordinator Ray Horton joins him in Tennessee, although Whisenhunt could take another run at prying Keith Butler out of Pittsburgh.)
The Browns did interview Mike Munchak on Monday, and he is a take-charge kind of leader. But he had a mediocre record in Tennessee, and if the Browns choose to hire him they'd be hiring the guy Whisenhunt replaced.
Yes, the NFL world turns oddly sometimes.
Nobody has flat out turned the Browns down (that we know of). Gus Malzahn's name won't go away, Bob Stoops chose to stay at Oklahoma. Jim Tressel is sitting in Akron sounding like he'd love a chance.
Where does this leave the Browns as they search for a coach?
Same place they've been since the day the 2013 season ended: Looking.
January, 13, 2014
Jan 13
9:10
AM ET
The
Cleveland Browns
' coaching search goes on.
It's time for you to weigh in.
With the
Denver Broncos
advancing to the AFC Championship Game, the Browns have to decide if they want to wait one more week to interview offensive coordinator Adam Gase -- assuming he will. Gase was the first person the Browns asked to interview the day after Rob Chudzinski was let go, so it would seem logical that if they've waited this long they would wait one more week.

Or they can hire one of the people they've talked to already.
So far, the Browns' search has focused on these types of coaches, and we'd like to hear which you favor:
-- The young "it" coordinator, like Gase. Todd Bowles of Arizona and Dan Quinn of Seattle both fit this category as well.
-- The one experienced coach out there willing to consider the job: Former Cardinals coach Ken Whisenhunt.
-- College guys, like James Franklin (who chose to go to Penn State) and Gus Malzahn of Auburn, though it's not known that either has even interviewed.
-- The one category they haven't gone with is the former Ohio State coach, Jim Tressel. It appears more than unlikely the Browns will talk to Tressel, perhaps put off because he is 61 and he hasn't been coaching for two years.
We'll include the Tressel-type category in the poll anyway, because this is about the type of coach you want to hire, not picking from the guys who were interviewed.
Cast your ballot and we'll catch up with results as the week goes on.
January, 12, 2014
Jan 12
1:42
PM ET
Something should become clearer about the
Cleveland Browns
' coaching search today.
Whether that leads to a coach being hired in the short term is a complete unknown, though. Either Denver or San Diego will lose in the playoffs today when they play each other. That means Chargers offensive coordinator Ken Whisenhunt or Broncos offensive coordinator Adam Gase can be hired by another team.
Whether that team is the Browns remains to be seen. Running down the candidates:
Ken Whisenhunt
-- Clearly the leader in the clubhouse when résumé and fan opinion are taken into account. But he also is considered the runaway favorite to be hired in Detroit, where a talented team, including a quarterback, is in place. Many in the league feel once San Diego loses it's merely a matter of time for Whisenhunt to be hired by the Lions.
Adam Gase
-- At 35 he's the "it" candidate. But he's also been a coordinator for one year, and that was with
Peyton Manning
. Former Vice President Richard Cheney would probably be a good coordinator with Manning at quarterback. Gase has delayed interviews until after the playoffs, which is admirable. But a lot of word is leaking that Gase will think twice about interviewing with the Browns -- or anyone for that matter -- because he is in a good spot, and the fact his name is out now will help him gain a job in the future.
Ben McAdoo
-- The
Green Bay Packers
' quarterbacks coach has the benefit of
Aaron Rodgers
. The "Cheney Rule" above applies to Rodgers. McAdoo's name came from nowhere, much like Andy Reid's did in 1999 in Philadelphia. McAdoo was a virtual unknown when the Browns decided to interview him, and he remains that. It's interesting that the Browns would turn to a young up-and-coming coach after firing a guy they described the same way a year ago. Usually teams go the opposite.
Todd Bowles
-- Arizona's defensive coordinator interviewed early in the process and his name has hardly been mentioned since.
Dan Quinn
-- Seattle's defensive coordinator reportedly is a popular option, but he's now preparing for the NFC Championship Game and the Browns have to wait on him until the Seahawks are out of the playoffs.
Gus Malzahn
-- His name continues to flit about, even though he's happy at Auburn and he agreed to a contract extension in early December.
By the wayside
-- James Franklin was hired by Penn State and Josh McDaniels pulled his name from consideration.
At least the Browns, and their fans, will know something tonight. It may not take them any closer to hiring a coach, but they'll know something.
January, 11, 2014
Jan 11
1:00
PM ET
At the risk of developing a relationship with everyone in the Twitter-sphere -- admit it, it's a scary thought -- today marks the debut of the (drum roll, please) Browns Mailbag, named partly in honor of David Letterman.
Post your Browns questions on Twitter. Just send them to me
@PatMcManamon
with #BrownsMail on the post. I'll sort through and find the best and give as honest an answer as I can, time and space and legalities permitting. Your tweets will be embedded in the post, so please, keep them appropriate.
This wouldn't be me if I were entirely serious, so quirky questions are welcome, provided they pass the personal taste test, standards enacted by Sir Laurence Olivier and me.
On to the first edition of the (drum roll, please) Browns Mailbag.
January, 10, 2014
Jan 10
12:44
PM ET
There were some raised eyebrows among
Cleveland Browns
followers when word broke that Ken Whisenhunt would, for the second year in a row, interview to be the team's coach.
Whisenhunt's résumé is strong. He had an excellent run as the Steelers' offensive coordinator before being hired in Arizona to coach the Cardinals.
In his second season, Arizona went to the Super Bowl, in the third to the playoffs.
Three years with poor teams and struggling quarterbacks followed. The Cardinals never found a replacement for
Kurt Warner
, as
Derek Anderson
went 2-7 and
Kevin Kolb
could never stay healthy.
[+] Enlarge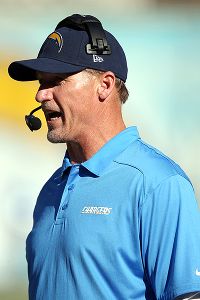 AP Photo/Paul SpinelliChargers offensive coordinator Ken Whisenhunt is scheduled to meet with the Browns on Saturday.
Good coaches can have bad years, though, and that happened to Whisenhunt. If coaches such as Josh McDaniels and Adam Gase earn interviews for their work with
Tom Brady
and
Peyton Manning
, respectively, Whisenhunt earned it with success and on-the-job experience. He's Lovie Smith, except his focus is offense.
A year ago, word was that he backed out of the Browns job when the front office insisted on certain control over coaching hires. That word was never confirmed, but there was a point when Whisenhunt was talking a second time with the Browns when talks stopped.
The other reason it's surprising is Joe Banner said he didn't anticipate interviewing candidates from last year's search (Do other teams even have to say these things?). Banner didn't guarantee that, of course, so he's not locked into it one way or the other.
Whisenhunt also will interview in Detroit and Tennessee.
Let's try to answer some of the common questions about him and this interview:
Why would he interview?
Pretty simple. He wants to be a head coach again. He enjoyed it, thought he did a better job than given credit for and he wants another chance.
Why interview again with the Browns?
See answer above, then consider there are only 32 of these jobs and if you don't at least give yourself a chance the job will go to someone else. Add in that Whisenhunt is 51, and as time goes on these opportunities will not be as prevalent.
What about Detroit?
Some folks in the league believe that job is far more appealing to Whisenhunt than Cleveland. While it might sound appealing to say the new Browns coach has a say in picking the new quarterback, it's still risky. No coach prefers picking someone new and raw when he can coach a guy like Stafford, who should be among the best in the league. Add
Calvin Johnson
to the mix, a defensive line that has immense talent and a high draft pick and the Lions job simply has more to offer.
What are his qualifications?
Pick the cliché. Leader of men. Proven winner. Player's coach. Whatever. The guy did an excellent job in Pittsburgh, then took the Cardinals to the Super Bowl. He's helped
Philip Rivers
have an excellent season. He's been a head coach. Given the pool, his résumé stands out.
Why would he be a positive for the Browns?
First, he may actually bring a little bit of continuity. He and Ray Horton worked together in Arizona and Pittsburgh; it's conceivable he'd keep Horton as defensive coordinator. If he didn't, he's always wanted to hire Steelers linebackers coach Keith Butler. He too would run the Dick LeBeau system. Offensively, Whisenhunt would call the plays, so Norv Turner probably would not stay. But at least Whisenhunt would keep the 3-4 defense and run a similar system to the one the Browns have been dedicated to for a year. Second, he's worked with
Larry Fitzgerald
and
Hines Ward
, which can't hurt
Josh Gordon
. Third, he knows the Steelers as well as anyone, and if you want to beat the Steelers who better to help beat Cleveland's No. 1 tormentor than someone who knows them?
What would it come down to?
Coaches want to work in an environment where the team matters to the community (check) and where they feel comfortable with the people around them. Being in a good working environment is the key to succeeding.
Whether Whisenhunt will feel comfortable about the Browns is the great unanswerable question.
January, 9, 2014
Jan 9
8:49
AM ET
The
Cleveland Browns
' coaching search took an interesting turn Thursday when word broke via ESPN's Adam Schefter that the Browns will interview Ken Whisenhunt on Saturday.
It's interesting on several levels, primarily because Whisenhunt interviewed last year and talks broke off because of differences in how the coaching staff should be hired,
according to a report from CBSSports.com's Jason La Canfora
.
It's also interesting because CEO Joe Banner initially said he did not believe that he would interview anyone this year who also interviewed a year ago. Whether that makes Whisenhunt pause will be interesting.
But mainly it's interesting because Whisenhunt brings credibility and cachet that other coaches have not.
Did Josh McDaniels removing himself from consideration with the Browns change things and re-open the pool?
Did the Browns realize they needed another viable and experienced option because their candidates are all coordinators who have never been coaches, or in the case of one candidate a quarterbacks coach who has never been a coordinator?
Or did the Browns simply realize that Whisenhunt is a viable candidate who deserves another look?
It would be nice to think the latter.
Whisenhunt is a qualified and more-than-capable coach with head-coaching experience who took the
Arizona Cardinals
to the Super Bowl. He coached with the Browns under Chris Palmer, and spent several seasons as offensive coordinator with the Steelers before going to Arizona.
However, he also is interviewing in Detroit and Tennessee, and he could be very attractive to the Lions because he is known as a guy who works effectively with quarterbacks.
Matt Stafford would seem to benefit from Whisenhunt, as would the Lions' offense.
Whatever the reason, if the Browns do have the chance to interview Whisenhunt they'll have the chance to hire a guy with head-coaching experience.
That has happened twice before in team history -- when Art Modell hired Nick Skorich to replace Blanton Collier and when Randy Lerner hired Eric Mangini to replace Romeo Crennel.