Cleveland Browns:

Mike Holmgren
April, 22, 2014
4/22/14
11:27
AM ET
Now Mike Holmgren says he should have just coached the
Cleveland Browns
when he was the team's president.
No kidding.
Of course he should have.
In his previous two stints as a coach, Holmgren took two teams to the Super Bowl (Green Bay and Seattle) and won one, with
Brett Favre
as the quarterback.
[+] Enlarge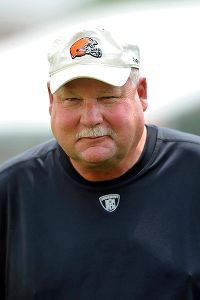 David Richard/USA TODAY SportsThe Browns had a 14-34 record during Mike Holmgren's three seasons as the team's president.
Of course he
should have coached the Browns
. That's his calling, his place. It's a little late to bring it up now, though, as Browns fans wonder about yet another rebuild. And it's a little easy to pin not coaching on former owner Randy Lerner after saying for years he (Holmgren) didn't want to coach.
Holmgren wasn't hired to coach the team. He was hired to be the credible leader and voice of football that the team lacked when Eric Mangini was coach and there was no general manager after the departure of George Kokinis.
The need for a credible football leader led then-owner Randy Lerner to Holmgren, and somehow he wound up as team president instead of the guy in charge of football. Which changed the dynamic of many things, especially the way Holmgren viewed his job.
The time for Holmgren to take over as coach was after the 2010 season, when he fired Mangini. For a football guy to take over the coaching job would have been a simple step. But for the president ... well that would have let down the guy who hired him, and if Lerner didn't want Holmgren to coach (as Holmgren said) then it would have complicated things further.
Holmgren's tenure is not looked on fondly by Browns fans. There is a strong and vocal group that says he didn't put in the work or the hours, a statement Holmgren vehemently refutes. There was his anger over the entire way
Colt McCoy
's concussion and subsequent return to a game against Pittsburgh was handled. And there was the way he left after Jimmy Haslam took over, with great regret.
Holmgren would counter that with former GM Tom Heckert doing the drafting, the team was headed in the right direction. He and Heckert may have had to make a change at coach after the 2012 season, and had they done so their first choice would have been Bruce Arians.
Imagine how the team's fortunes would have changed last season had Arians been the coach with Heckert still doing the drafting.
But that's been the Browns' history since 1999, filled with a bunch of what ifs.
Would the Browns have been better off if Haslam left Holmgren and Heckert in place and not brought in Joe Banner?
Good question.
Just like it's a good question to wonder why the heck Holmgren didn't just coach.
Yes, he'd have had
Seneca Wallace
,
Colt McCoy
and
Brandon Weeden
at quarterback.
But it sure would have been nice to see what happened.
October, 21, 2013
10/21/13
2:00
PM ET
An examination of four hot issues from the
Cleveland Browns
' 31-13
loss
to the
Green Bay Packers
:
[+] Enlarge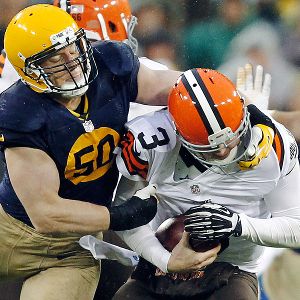 AP Photo/Mike RoemerThe Packers sacked Brandon Weeden three times and he completed just 40.5 percent of his passes.
Offensive offense:
The Browns had some poor offensive numbers in the loss to Green Bay, a natural byproduct of scoring 13 points and not winning.
Brandon Weeden
threw for 149 yards on 42 passes. The Browns as a team ran for 83 yards, 20 of them came on two Weeden scrambles. Their only touchdown drive went 20 yards.
Josh Gordon
was targeted six times and caught just two passes for 21 yards. And the 216 total yards were the fewest by the Browns since the 2012 season opener -- also Weeden's first start. Weeden remains at the center of all concerns, but clearly the offense had many issues at Lambeau Field.
Third-down struggles:
The Browns started the game 29th in the league in defensive third down stops, meaning they'd been letting teams sustain a lot of drives. Defensive coordinator Ray Horton said the third down defense was a focus of last week's practice. What did Green Bay do? Without two of their better receivers? Convert 7-of-13. "Third downs are crucial in this league," safety
Tashaun Gipson
said. "And right now we're not very good at it."
Running on empty:
The Browns put up decent numbers running the ball, but it's worth asking if the team as it's constructed can actually run the ball, and run it consistently and successfully.
Willis McGahee
is aging with bad knees.
Chris Ogbonnaya
is a fullback. And the fans can now say they were there for the start of the Fozzy Whitaker era. The Browns gained 83 yards and averaged 3.6 yards per carry, but called 20 runs compared to 40 passes. Some of that was because they fell behind. But most teams down 14-0, as the Browns were, would not totally abandon the run. The Browns might not believe they can run efficiently.
Eye of the storm:
For the second time this season Gipson finds himself at the center of a hit that caused an injury. Gipson sidelined Buffalo quarterback
EJ Manuel
for a month with a hit to the knee, then drew the ire of the Bills for looking like he celebrated the injury. Against Green Bay, Gipson hit tight end
Jermichael Finley
in the head with his shoulder at fullspeed, and Finley could not move on the field after the hit. "When I'm breaking out of the post and I'm running fullspeed I'm not thinking about settling down," Gipson said. "At the same time I'm thinking about getting the ball on the ground. Not under these circumstances, unfortunately." Gipson said he felt awful about Finley's injury, and would try to get in touch with him.
October, 21, 2013
10/21/13
8:15
AM ET
It probably means little to Cleveland Browns fans, but Mike McCarthy won his 84th game when the Packers beat the Browns 31-13.
That ties for the most career wins in the Packers illustrious history.
The person he's tied with?
Mike Holmgren, who made a cameo in Cleveland for a couple years as team president.
More folks in Cleveland probably are interested in whether coach Rob Chudzinski considered replacing Brandon Weeden in Lambeau Field. Chudzinski said that thought did not enter his mind.
As for the future after Weeden's 42-pass, 149-yard day, Chudzinski merely said he'd play the guys who give the team the best chance to win.
As today's Morning Brownies show, some are ready for a change, and most are angry at a lot of things related to the Browns.
Terry Pluto of the Plain Dealer
says it's time to make a change and give Jason Campbell a shot. "Since the Browns have returned in 1999, Weeden may be the most frustrating quarterback to wear an orange helmet," Pluto wrote. "He has the physical size (6-3, 220) and the arm strength to be an effective NFL quarterback. But there is so much more to the position than being able to throw a football a long way."
Scott Petrak of the Elyria Chronicle-Telegram
didn't call for a change, but he did admit that "the loss is again about Weeden." He added: "He was grossly outplayed by Rodgers, couldn't get in the end zone until 6:09 left and threw another ill-advised pass under duress. So much for rebounding from the scoreless second half last week in the loss to the Lions."
Also writing for the Plain Dealer was
Bud Shaw,
but his target for ire was Josh Gordon, who caught two passes, none before the fourth quarter. "Gordon isn't great," Shaw writes. "He simply has great ability. And he doesn't have the luxury of blending in on an offensively-challenged team."
There were many more targets for
Marla Ridenour
of the Akron Beacon-Journal. She opined that this Browns team has "too many issues on too many fronts to defeat a team quarterbacked by Aaron Rodgers ..." Can't really argue that point.
In Green Bay,
Mike Vandermause of the Press-Gazette
pointed out the Packers were without two of their top receivers in Randall Cobb and James Jones and without three of their four starting linebackers, including Clay Matthews. "How are they surviving when their roster resembles a M*A*S*H unit?" he asks. Simple. They just go out and do it.
October, 6, 2013
10/06/13
6:21
PM ET
There's a three-way tie for the AFC North, and the
Cleveland Browns
are one of the three teams.
No, it's not a misprint.
For the first time since the team returned in 1999, the Browns have a winning record after five weeks, and are tied for first.
Where the heck is Kool and the Gang when you need them?
Another oddity: They're not tied with Pittsburgh, which has owned the division for so long. The Steelers are 0-4 and making in-season trades, a rarity for that organization.
The Browns, Ravens and Bengals are all 3-2.
The last time the Browns were 3-2 after five games was former coach Butch Davis' first season in 2001. The Browns opened with a loss to Seattle, but beat Detroit, Jacksonville and San Diego before losing to Cincinnati.
But they were not in first place.
Pittsubrgh had a Week 4 bye, and after the Steelers won in in Week 5, they were 3-1 -- one-half game in front.
It's hardly worth popping champagne to be in first place after five games, but it leads to the familiar refrain: A team that has won 23 games in five seasons should acknowledge any positive step.