Cleveland Browns:

Nate Burleson
August, 29, 2014
Aug 29
12:44
AM ET
CLEVELAND -- The
Cleveland Browns
needed it.
The quarterbacks needed it.
The offense needed it.
Doesn't matter who it was against, where it was and how it happened. This Browns offense and these quarterbacks finally got some positive things done in the preseason finale, a
33-13 win
over the
Chicago Bears
' third- and fourth-team players.
Brian Hoyer
had one drive and scored one touchdown. He was quick in his decisions and accurate on his throws. That was enough for coach Mike Pettine, who put
Johnny Manziel
in for the rest of the first half and the first drive of the second. Manziel had five drives, scored 13 points and made some nice plays.
It seemed as if both were able to exhale, understand their role and just play, and it seemed to matter. Hoyer got the reps with the starters, prepared with the starters and, unlike last week against the
St. Louis Rams
, was ready to play with the starters, albeit against backups.
Hoyer went 6-for-8 for 69 yards, and, though he lamented missing a touchdown throw to
Jordan Cameron
, he did guide the first-team offense on a touchdown drive on the game's first possession.

Pettine
"Brian was sharp," Pettine said. "He made good decisions, and he threw the ball well."
Manziel finished 6-for-17 and said he didn't throw particularly well. But he did look more comfortable in the pocket, made more decisive reads and did make plays with his feet, running for 55 yards while throwing for 83.
The best play came when he escaped the pocket, jitterbugged to avoid four or five defenders and ran right and found
Nate Burleson
for a short completion that Burleson turned into a 27-yard gain.
"That's who he is," Pettine said. "Somebody said on the sideline, 'There's Johnny being Johnny.' There was one play where it was no, no, no. Yes, yes, yes. It was typical of his playmaking ability that he had a guy open early and didn't get it to him and he ended up making a play with his feet."
The Browns didn't like the word "relief," but there seemed to be a deep exhale after this game.
"We need that," running back
Ben Tate
said. "We've been making so many mistakes the last couple games. … That's what it's supposed to look like."
It matters.
It matters because, had it not gone well, the Browns would have been badgered about negativity and "what's wrong?" questions all week.
It matters that they didn't face any starters, but it matters more that the night went well.
And it matters because, heading into the season opener in Pittsburgh, they can take another deep breath and focus on preparing.
"Whether it was against their backups or whatever it is, momentum is important, and I think our guys will head into next week with a very different mindset," Pettine said. "Just looking back, if it hadn't gone our way tonight, I think it would have been a bit of a shadow cast over us."
August, 26, 2014
Aug 26
7:07
PM ET
BEREA, Ohio -- Quick hitters following practice:
Burleson

Nate Burleson has been around long enough to hear the adage "you can't make the club from the tub." Which of course refers to it being tough to make a team when injured -- the tub being the old whirlpool teams used to use. Burleson has yet to play in a preseason game due to a lingering hamstring issue, but it's possible he could play Thursday against Chicago. "We're optimistic," coach Mike Pettine said. "We'll see just how he responded after today, as well. He got some team reps, so that was a good sign."
Tight end Jordan Cameron was back after his one-day excused absence. Cameron shrugged off the absence, saying it was nothing. Pettine did the same.
There were several questions to Pettine about using a two-quarterback system, with a package of plays that Johnny Manziel could run as a change of pace. Pettine said it's tough for a defensive coordinator to prepare for two, then said this when asked if other teams might be expecting it from the Browns: "You'd have to ask them." Touche.
July, 22, 2014
Jul 22
3:35
PM ET
A look at key Cleveland Browns positions as training camp approaches, starting with wide receivers. And starting with a simple assumption: The quarterback position will be closely watched by everyone.
The Browns receiver spot is jumbled, with or without Josh Gordon.
"There's some talented guys," coach Mike Pettine said during a lengthy interview on Monday. "But there's not much cohesion there as far as guys playing together."
Which is a problem, and it's a problem complicated by the fact every player on the roster is learning a new system, and by the fact the Browns don't know what they can or should expect as far as Gordon is concerned because they don't know if he'll be suspended for the season, part of it or not at all.
It leads to some thorny questions for a coaching staff.
Do the Browns give Gordon the usual time with the starters in the expectation he might play? Or do they rotate in others more because he might not play?
If they give Gordon the usual time, that affects timing with new receivers working with a new quarterback. If he winds up suspended, every receiver is behind.
If the Browns hold back on Gordon's reps and he avoids a ban then his timing is affected -- though it's tempered some by the reality he played with Brian Hoyer last season.
It's a messy situation that creates a balancing act any coach would have wanted settled before camp. But that's not going to happen. Not with Gordon's hearing scheduled in the next two weeks -- with a possible appeal to follow. At least when the hearing is concluded the Browns will some inkling what to expect.
Austin
If Gordon is suspended, the Browns will pick from a crew that includes Miles Austin, Nate Burleson, Charles Johnson, Andrew Hawkins, Travis Benjamin and Anthony Armstrong.
The ripple effect from Gordon is obvious immediately. If he plays, he and Austin would appear to be the starters, with Hawkins the natural choice for the slot/third position.
If Gordon does not play, Hawkins would be next up, except it takes him out of the slot, where he gives the Browns a significant matchup advantage. That could mean elevating Burleson or an unproven guy like Johnson -- because the Browns might want to keep Hawkins at the slot, where he was so effective in the offseason.
Pettine admitted the team was ultra-careful with Austin in OTAs, but he will be "ready to go" in camp.
Johnson has the physique, but nobody has seen him.
Burleson is a veteran good guy, but he has struggled with injuries the past two seasons.
The rest are all from Missouri. The Browns want them to "show me" what they can do.
Teams have found receivers in all shapes and sizes and places. Certainly nobody expected Gordon to have the kind of impact he did a year ago. So even without him the Browns might find players.
The problem is that as camp opens it's a jumbled position with Gordon, and without him it becomes even more jumbled.
"We want to get that settled very quickly," Pettine said.
June, 25, 2014
Jun 25
3:00
PM ET
Assessing the
Cleveland Browns
' roster as we head to training camp, with a position-by-position rundown comparing it to when the season ended and now.
Wide receiver
Then:
Josh Gordon
,
Greg Little
,
Davone Bess
,
Travis Benjamin
(injured),
Brian Tyms
,
Josh Cooper
Now:
Gordon (maybe),
Miles Austin
,
Andrew Hawkins
,
Nate Burleson
, Benjamin,
Anthony Armstrong
,
Charles Johnson
.
Gordon
Thoughts:
This group's fate depends on the fate of Gordon, whose suspension continues to loom
with no clear timeframe for a decision
. If Gordon avoids losing the season, the group is improved and deeper. If he is suspended, the Browns' offense becomes one of the easiest in the league to defend -- because it will be without its playmaker. Defenses will be able to stack the box to stop the run and dare a pedestrian group of receivers to win, and back it up with two deep safeties. With Gordon, the depth and experience added by GM
Ray Farmer
should help -- if Austin and Burleson can stay healthy, and that's a big if. Hawkins was a pleasant surprise in shorts, but the competition increases once training camp starts. Without Gordon, the group would seek an identity, and that would not help its quarterbacks. With Gordon expected to be suspended, this group becomes a large question mark. With Gordon on the field, there are players who can complement and help him.
Positives:
If on the field, Gordon is a dynamic playmaker and a rare talent. The veterans who join him should help as well.
Negatives:
Gordon's suspension would be a devastating blow to the offense, and suddenly the receiving corps would be a bunch of guys struggling to re-establish themselves or make a name for themselves.
Upgraded, level or downgraded:
With Gordon, the group is upgraded. Without him, it's a downgrade.
Previously:
Quarterback
,
running back/fullback
.
Coming:
Tight end, offensive line, defensive line, linebacker, secondary, coaching staff, front office.
June, 11, 2014
Jun 11
4:49
PM ET
Five takeaways from the second day of
Cleveland Browns
minicamp:
Josh Gordon was riding the bike, which is not ideal. Gordon missed Wednesday's practice and will miss Thursday's with what coach Mike Pettine called a "minor ding." That's all he would say about it, but Gordon's absence was noticed. The receiving crew without Gordon is a rather ... well ... interesting ... that's the word ... interesting group. If the Gordon suspension comes down -- the British got to the Falklands faster than this decision has been made -- it could be that the last two times Gordon was with the team for at least a year, he watched and did not practice.
It didn't help that joining Gordon on the sideline were Nate Burleson and Miles Austin. Burleson is recovering from having the pin placed in his arm when he broke it last year refitted, and Austin is out for unknown reasons. Pettine even admitted that the uncertainty about Gordon's status combined with the missing veterans "does put us a little bit behind with the uncertainty of what the lineup is going to look like." He said the team is hoping to find a "diamond in the rough" among the gaggle of young receivers in camp, which would be a good thing but isn't always encouraging.
There was a nasty fight late in practice with guard Garrett Gilkey and defensive tackle Phil Taylor the main participants. This was one serious fight, with Gilkey throwing at least three uppercuts and Taylor twice jumping over a group of players to take some serious and wild swings at Gilkey. At one point Taylor shoved Austin out of the way so he could restart the fracas. It took a few moments for coaches and players to break things up. "I talked to them about it afterward, that we're all wearing the same logo," Pettine said. "I always use the phrase competitive, not combative. That line gets crossed every now and again, but I also think that's a byproduct of what we're trying to build, the mentality. It happens. As a coach you frown on it, but as a coach you understand that might be the price of doing business." Pettine admitted this one went too far. "Especially because Gilkey's hair ... there might have been a hair pull or two at the end," Pettine said. Gilkey summed things up this way after practice:

Well that was fun. #GoBrowns

— Garrett Gilkey (@gagilk73) June 11, 2014

One player who has stood out to everyone is receiver Andrew Hawkins, who is getting a lot of work thanks to the absence of others. Hawkins is exceptionally quick and seems to have the drive to succeed. Brian Hoyer didn't talk Wednesday because he was not made available to the media, but he has said Hawkins attacks routes the same way Wes Welker does. Pettine said one defensive call had Hawkins double covered, but he got open and made the catch, which prompted offensive coordinator Kyle Shanahan to taunt defensive coordinator Jim O'Neil and say: "You have to put three on him." Said Pettine: "[Hawkins] is a guy who can win in the slot." The next step will be continuing to win while wearing pads.
Pettine's father visited his son and spent part of the morning watching film of the team's practice. Mike Pettine Sr. is a legendary high school coach in Pennsylvania, having had great success at Central Bucks High School. Evidently the elder Pettine can be blunt when breaking down tape. "We had a ... I wouldn't call it heated ... we had an Italian conversation this morning before practice," Pettine the younger said. "A lot of times I tell him it's sometimes how you say, how you package it," the Browns coach said. "Usually the content's accurate. But sometimes my defenses go up when he delivers the message the way he delivers it." Which would indicate that Pettine the son's nickname -- Blunt Force Trauma -- did not fall far from the tree. "I learned from the best," he said.
June, 7, 2014
Jun 7
7:00
PM ET
DEARBORN, Mich. -- He spent four seasons with one highly-touted, highly-drafted quarterback, and now
Nate Burleson
might end his career playing for another one.
Stafford
Manziel
After four seasons working with
Matthew Stafford
, the No. 1 pick in the 2009 draft, Burleson is now catching passes from the most well-known player taken in the first round of the 2014 draft, Cleveland quarterback
Johnny Manziel
.
While Burleson joked he's going to stay out of the spotlight of Manziel -- he's too old for that now as he turns 33 in August -- he sees one similarity between Stafford and Manziel, who are otherwise very different quarterbacks in terms of style.
"The one thing they are quite comfortable in is that they are quietly cocky, which is a great characteristic to have at the quarterback position," Burleson said. "You want to walk in the huddle and know that the guy throwing you the ball, you're, like, he's the best.
"Johnny has that. Matt has that. We'll see what happens. But [
Brian] Hoyer
's playing great right now and he's coming off an ACL, not even 100 percent and he's playing at a high level, so we have a great quarterback position. We've got some good things going up in Cleveland."
At least from the outside, Manziel is rarely described as quiet. Has he been described by some as cocky? Sure. Confident? Absolutely. Someone who could end up being Cleveland's starter? Possibly.
But quiet is not something you often hear about Manziel.
"From what I've seen [he is]," Burleson said. "Outside looking in, everybody has their misconceptions about him. He's acting like a rookie should, which is don't say nothing.
"But I know what he's thinking. I know he's like, 'I'm the man.' He's supposed to think that. Now he's not acting like that. He's not walking around with his chest out. Rookies don't do that. He understands the role he's in. But I can tell he knows how good he is, and he should be. He's a talented dude."
From a production standpoint, Cleveland would likely take Stafford's statistics over the past five seasons. In a pass-first offense, Stafford has completed 1,485 of 2,497 passes for 17,457 yards, 109 touchdowns and 73 interceptions.
But as Stafford is a passer who won't look to run very often at all, Manziel has that capability, which makes him a more dangerous quarterback in some ways. But if one thing carries Manziel as it did Stafford, Burleson is correct: That confidence Manziel has will absolutely help.
June, 7, 2014
Jun 7
6:25
PM ET
DEARBORN, Mich. -- Walking in from the distance, slowly creeping closer to his former teammates and still friends for part of this reunion weekend,
Nate Burleson
looked like a giant traffic cone.
This may have been a charity softball game put on by
Detroit Lions
Stephen Tulloch
and
Dominic Raiola
, but the former receiver made sure that even as he visited his old team, he wanted to make sure everyone knew where he went as well.
[+] Enlarge
Andrew Weber/USA TODAY SportsFormer Lions WR Nate Burleson said he's glad to serve as a mentor to his new teammates in Cleveland.
Hence the orange shirt, orange shorts and straw hat with an orange piece of cloth on it. Make no mistake, Burleson is a
Cleveland Browns
wide receiver now. Detroit may feel like his second home, but his job is now a state away.
"I'm enjoying it, man. I'm having a good time," Burleson said before the Tulloch charity softball game Saturday. "We're a young team. We've got a good team. It's good to be a part of a team that's doing something.
"It's similar to the situation when I came here. It wasn't a desirable place, but Cleveland is one of those places where they deserve to have a good season."
Much like he tried to do with the Lions the past few seasons, Burleson is aiming to be a mentor to a young team with stars like
Josh Gordon
and
Johnny Manziel
. Considering Burleson was close to retirement after being released by Detroit in February -- he said he had conversations with a television network for an analyst role this season -- he understands part of his role with the Browns is to teach the young players to become professionals.
Even as he started his time in Cleveland, he wasn't sure how everything would go. He looked around and saw players a decade younger than him. Then he worked through one-on-one drills and everything still felt like it was working out well.
So he knew he made the right decision to return for at least one more season in the NFL. After all, television networks aren't going anywhere even if he was on the move from the Lions.
Burleson had indicated throughout last season he wanted to finish his career in Detroit. He had made plans to do so, but understood he was an injury risk after missing almost half of the 2013 season with a broken forearm suffered in a pizza-related crash on Interstate 696 in Michigan. The season before, he broke his leg on Monday Night Football.
For a team that is focused on winning now, they couldn't take that risk. Burleson played in 15 games the past two seasons, totaling 66 catches for 701 yards and three touchdowns.
"There's no hard feelings, I think mostly because of the injuries," Burleson said. "When I was on the field I was productive. I feel I was a great complement to
Calvin [Johnson
]. Just too many injuries and as an organization, I understand it. It would have been great to have me back for one more year but there's such a big question mark, 'can he stay healthy?' Unfortunately, that's part of the game and I was OK with it."
There wasn't anything wistful for Burleson about his return to Michigan this time. He continued to mesh with his old teammates on offense -- they were Team Raiola in the softball game -- but his next trip back might carry a bit more emotion.
The Lions and Browns play in the preseason opener, meaning the first-ever game for Manziel, the first-ever game for Jim Caldwell as the coach of the Detroit Lions and in a small sidebar, the return of Burleson to a place he outwardly seemed to love.
"Have I thought about it? Are you kidding me? Man, I'm racking my brain figuring out what celebration I'm gonna do because I'm gonna get a fine," Burleson said. "I'm gonna get a fine. Seriously. I'm going to go to my coach and say, 'Hey, look, I'm going to get a fine. I'm going to do something crazy.'
"It's going to be a little bit of an appreciation celebration to the fans and the city of Detroit. It's also going to be kind of a poke in the back saying you should of kept me because I'm still ballin'. Nah, you know me, I'm a prideful individual so I'm going to do something that's representing Cleveland, representing Ohio, and it's going to be fun and classy."
May, 15, 2014
May 15
4:59
PM ET
Ray Farmer
does not rest.
The week after the draft, the
Cleveland Browns
' general manager signed
Joe Haden
to a contract extension and added two receivers.
As the world of folks who must keep track of the Browns turns, the team has almost completely remade its corps of receivers.
Bennett
Austin
Josh Gordon
is facing a season-long suspension after another failed drug test,
this time for marijuana
. Let's assume that he is suspended, which is not a big leap -- especially after the news that
Miles Austin
agreed to terms and
Earl Bennett
signed. The talent of any one player does not approach Gordon's, but the Browns have more than they had at 3 p.m. Thursday. The fact that the Browns added two guys who have been on the market for months probably says all that needs to be said about Gordon's season -- and that is, he won't be with the team.
Austin immediately becomes a starter. Opposite him would be either
Nate Burleson
(if healthy) or Bennett, a productive slot guy who was stuck behind
Brandon Marshall
and
Alshon Jeffery
in Chicago.
Andrew Hawkins
would be the third receiver, with either Burleson or Bennett seeing time as the fourth.
Bennett's situation is dicey. Most view him as a No. 3, though perhaps he's one of the guys Farmer had in mind when he said sometimes players just need a chance.
If -- and it's a gigantic and unlikely
if
-- Gordon can somehow reduce or avoid the suspension, the receiving corps might have more than something.
The problem is this: The hardest thing to do in the NFL is to bring a completely new group of receivers in with a new quarterback and expect it all to jell immediately.
The timing required is too precise, and understanding each other is too important to expect immediate results. Add in the fact that everyone involved is learning a new offense, and the challenge increases.
That reality should not, though, temper the reality that Farmer knew he had a need, and he tried to address it as best he could. He advised fans to be patient, and acted. And there's still time for him to address the position again.
Without Gordon, the Browns lose their best player and their big-play threat. They become a team dependent on defense and a physical running game.
But at least now the team has veteran receivers. Whether they can contribute remains to be seen.
At this point, this something is better than nothing.
May, 10, 2014
May 10
1:18
AM ET
The first day of the
Cleveland Browns
draft ended amid jubilation and celebration.
It turned depressing and mysterious before the first player had even been taken on Day 2.
When word broke via ESPN's Outside the Lines that
Josh Gordon
was facing
a one-year suspension
for failing another drug test, the effect was deflating.
Later in the night, ESPN's Chris Mortensen broke the news that
Nate Burleson
had
a fractured arm
and would miss the offseason but would be back for training camp.
If Gordon does miss a year and assuming Burleson returns, the Browns right now have Burleson,
Greg Little
and
Andrew Hawkins
as their prime receivers.
General Manager Ray Farmer said he was not concerned about the team's depth at receiver, though.
"We play games in September," Farmer said. "Right now there's still plenty of opportunities for us to acquire players and to make things happen."
There's only one draft, though, and the team's decision in hindsight to trade down for cornerback
Justin Gilbert
and not take
Sammy Watkins
or
Mike Evans
looms larger if Gordon is suspended. Gordon is the team's star and playmaker, and the receiving corps would have to depend on guys doing things they haven't done in the past to succeed.
The Browns didn't want to comment on Gordon's situation, and in fairness the league handles the drug-testing program and teams are not supposed to comment on the details.
"Whenever we do have clarity we will express our sentiments then," Farmer said.
He also did not get into whether he knew about Gordon's situation but said he drafts based on the team's draft board and not on need or a player's health situation.
"We organize the players, we rank them, we stack them and we stick to it," Farmer said. "We believe that you do the work for a reason. You take the best players available. You establish your team by going through that process in making sure you draft the best guys in how you had them ordered in who are the best players in college football."
The Browns went through the second day drafting an offensive lineman, a linebacker and a running back, but no receivers. Farmer said that was because of the way the team rated its players.
"We stuck with our board," Farmer said. "As we looked at that board when it was our turn to select, we took the name that was the best name for us at that time."
Thus, the Browns passed on Watkins and Evans because they liked Gilbert better. They passed on receivers on the second day because they liked offensive lineman
Joel Bitonio
, linebacker Christian Kirksey and running back
Terrance West
better.
The decision may come back to haunt them. In a sense it's classic hindsight to look back -- except that Farmer and owner Jimmy Haslam knew of Gordon's situation before the draft started, according to Mortensen and ESPN's Sal Paolantonio.
Farmer simply believes he can still address the situation.
"Whether it's trades, drafting someone the [third] day, players that get cut or we acquire somebody from the street," Farmer said "there's always opportunities to acquire players."
There aren't a lot of Josh Gordons, and if the Browns lose their top playmaker they may be left trying to win games with potentially a rookie quarterback, and a receiving group without its star.
That could leave the team relying on defense and the run game to win.
It can work, but without Gordon, well, the highs from Manziel sure seemed to dissipate in a hurry.
April, 9, 2014
Apr 9
12:43
PM ET
Been on assignment for a week on a longer story related to the NFL, so it's time to catch up with things Browns ...
There's a lot to like about a guy who's honest and isn't afraid to be honest.
[+] Enlarge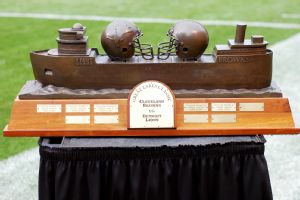 Courtesy of the Cleveland BrownsNew Browns receiver Nate Burleson knows how competitive the competition for "The Barge" trophy can be.
In
Nate Burleson
, the Browns may have signed the most honest and open player in the N-F-of-L. In a conference call this week with the Cleveland media, Burleson opened up in his candid way, saying of himself: "I'm your typical wide receiver diva so I love attention."
But he said it in the context of being accessible and available to address issues. The good thing is when he does it, he seems to do it the right way ... with a fair amount of perspective and balance.
It's always interesting how labels are immediately applied to a player. A year ago, the Browns traded for
Davone Bess
and he suddenly became the "veteran presence" and "veteran leader" for the receivers. Even though nobody knew much about him in Cleveland.
That move obviously did not work out.
Now Burleson is given the title, though in his case it's a title that's been earned by the way he approached things in Detroit the last few years, where he was much appreciated by the team and media for the way he approached his job. He was approachable on any topic, and he spoke his mind without giving away secrets (yes, it can work).
Now Burleson arrives in Cleveland talking about giving back to young players the way
Randy Moss
and
Marcus Robinson
gave to him when he started in Minnesota.
"I'm going to embrace (the role)," Burleson said. "No matter who it is."
And by that he meant starter or undrafted free agent trying to make an impression.
"You give back to the league what's been give you," Burleson said.
All this of course is based on production. If Burleson is productive on the field the words mean a lot more. Last season he missed seven games after breaking his arm, but he was productive when he played, with 39 catches and 461 yards.
He also talked about chemistry with the quarterback, though he does not know who the quarterback will be.
"I don't know much about what decision they're going to make from a coaching or organizational standpoint," he said. "The good thing is I'm putting on a jersey, so I'm not paid to make those decisions."
And he even gave a shoutout to that
Cleveland Browns
tradition: The Great Lakes Classic. Which to the uninitiated is the annual preseason game between the
Detroit Lions
and Cleveland Browns. The game that Carmen Policy commissioned "The Barge" trophy to be presented to the winner.
Burleson called what has come locally to be known as the "GLC" the most competitive preseason game.
In the pantheon of understanding what matters to Browns fans, Burleson hit on a key one.
This seems to be a guy with a few things going for him.
April, 6, 2014
Apr 6
9:49
PM ET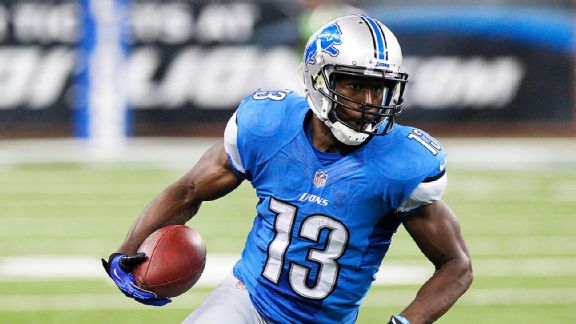 AP Photo/Duane BurlesonNate Burleson's contributions on and off the field could be an asset in Cleveland.
The newest version of the
Cleveland Browns
recognizes the importance of responsible veterans.
The team that used to be one of the youngest in the league added another 30-something player when it agreed to terms on a one-year deal with wide receiver
Nate Burleson
, who last played for Detroit.
In Burleson, the Browns add a respected veteran who has played for three other teams. He can provide a locker room presence, as well as contribute on the field -- provided he stays healthy.
Burleson missed 17 games the past two seasons to a broken leg and arm, but prior to those two seasons, he caught 73, 55 and 63 passes in 2011, 2010 and 2009 in Detroit (two years) and Seattle.
After returning from a broken arm in 2013, Burleson played nine games and caught 39 passes. He clearly still can be productive, and he still can be a leader. But whether he's a full-time player at the age of 33 remains to be seen.
Put him with
Josh Gordon
,
Andrew Hawkins
and perhaps a young receiver taken in the draft and the Browns have upgraded the position considerably since they were throwing to
Brian Tyms
at the end of last season.
Even if Burleson simply fills a role as the third or fourth wideout, his addition could help.