Cleveland Browns:

NFL Nation: 4 Downs
July, 11, 2014
7/11/14
10:00
AM ET
By
ESPN.com.staff
| ESPN.com
This offseason has seen plenty of high-profile additions and departures in the AFC North.
The
Cleveland Browns
and
Baltimore Ravens
brought more excitement to their offenses. The Browns drafted quarterback
Johnny Manziel
in the first round, and the Ravens signed wide receiver
Steve Smith
.
The
Cincinnati Bengals
and the
Pittsburgh Steelers
dealt with some significant losses. Bengals defensive coordinator Mike Zimmer left to become the head coach of the
Minnesota Vikings
, and three starters (
Brett Keisel
,
LaMarr Woodley
and
Ryan Clark
) are gone from the Steelers defense.
How will these changes affect the teams in the division? That's the focus for ESPN's AFC North reporters: Scott Brown in Pittsburgh, Coley Harvey in Cincinnati, Jamison Hensley in Baltimore and Pat McManamon in Cleveland.

Johnny Manziel will be the starting quarterback for the Browns in the season opener in Pittsburgh.
Scott Brown: Fiction. Johnny Football has too much ground to make up to overtake Brian Hoyer as the starter by the time the Browns open the regular season in Pittsburgh. Manziel will start at some point this season, but it won't be Sept. 7 at Heinz Field. Even if it is a toss-up between Hoyer and Manziel leading up to the season opener, the Browns will be wise enough to go with the player who has NFL starting experience over the one who will have a Texas-sized bullseye on his jersey. Steelers defensive coordinator Dick LeBeau generally torments rookie quarterbacks and definitely doesn't take selfies with them. The Browns wouldn't put Manziel in a position in which he has little chance of succeeding ... would they?
Coley Harvey:
Fiction. As bold a prediction as it might be to claim Manziel is Cleveland's Week 1 starter at Pittsburgh, it's simply not happening. For starters, the Browns already said he wasn't going to get the nod. Right now, the organization seems to view the first-string quarterback job as Brian Hoyer's to lose, and judging from the way Hoyer's once-promising year so abruptly ended, I can't imagine he's going to be handing many reps to Manziel if he can help it. While I'd expect Manziel to perform well in the preseason, it just doesn't seem right now that Cleveland feels comfortable putting so much control in his hands to start the season. Manziel probably hasn't helped himself in that regard by going against the reported wishes of management and continuing to put himself in vulnerable situations weekend after weekend. By ignoring their requests to calm the partying, a coach or executive has to feel a little less inclined to trust the young quarterback for now.
Jamison Hensley: Fiction. There are too many factors going against Manziel starting right away. Browns coach Mike Pettine was on the Bills' sideline this past season when he watched EJ Manuel struggle as a rookie. The Browns have a legitimate alternative in Brian Hoyer. And the Browns' first game is against the Steelers, who are known to rough up young quarterbacks. Including the playoffs, the Steelers are a league-best 17-2 vs. rookie quarterbacks since 2004, when coordinator Dick LeBeau re-joined the Steelers as defensive coordinator. Plus, Manziel hasn't done much to prove to the coaching staff that he's mature enough to handle the starting job after becoming Johnny Las Vegas on holiday weekends. It just makes too much sense to sit Manziel as a rookie. Then again, the Browns aren't known for making logical moves
Pat McManamon: Fiction. The Browns simply do not want Manziel to start the opener, and Mike Pettine has made no secret of that. Over and over, he's said that though Manziel can start at some point, he does not believe it's ideal. Given that the first three opponents are the Steelers, Saints and Ravens, it's even more reason not to rush him. Those three opponents have chopped up a lot of veterans, not to mention rookies. If Josh Gordon is not on the team, the quarterback's challenge is even more difficult. The Browns want to take things slowly with Manziel, and right now he admits he's not the best quarterback on the team. The only way he starts in Pittsburgh is if Brian Hoyer is hurt.
@PatMcManamon Fiction, too much to be lost by starting him before his time, plus i think most fans think @bHoyer6 is owed a chance

— Joe Jirgal (@limegreenmonza) July 2, 2014
---

The Bengals have a top-10 defense even without coordinator Mike Zimmer.
Brown: Fact. With all due respect to Zimmer, he didn't make one tackle in the six seasons he coordinated the Bengals' defense. Not to marginalize coordinators, but Dick LeBeau has one of the keenest and most imaginative defensive minds in NFL history, and he somehow forgot how to coach defense this past season, when injuries and age caught up with the Steelers. The Bengals have plenty of talent, assuming defensive tackle Geno Atkins and cornerback Leon Hall make a healthy return from their respective injuries. And the adjustment to new defensive coordinator Paul Guenther should be a relatively smooth one since Guenther coached the Bengals' linebackers before succeeding Zimmer. If the Bengals don't field a top-10 defense this season, it will be because they can't make up for the free-agent loss of defensive end Michael Johnson or their secondary springs too many leaks.
Harvey: Fact. Zimmer was rightfully deified during his time in Cincinnati, but his exit for Minnesota doesn't mean there's now a sudden end to the Bengals' era of defensive dominance. Cincinnati will be bringing back a defense that mostly mirrors the group it had last year. The only absences of note are Michael Johnson, James Harrison and Chris Crocker. Johnson was signed by Tampa Bay in free agency, and Harrison was released. Signed to a one-year deal when he emerged from retirement this past September, Crocker was a free agent this offseason who didn't have his contract renewed. Still, knowing Crocker's track record of signing as a September off-of-the-couch call-up the past two years, you can't fully rule out an appearance from him in Cincinnati at some point this year. Of all the Bengals' defensive departures, Zimmer's was certainly the biggest. The coordinator who helped revolutionize the Bengals' defensive system and turned them into a perennial power implemented unique rotations, lineups and blitz and coverage packages. As the league's No. 3 defense this past season, the Bengals pulled off a franchise feat that hadn't been replicated in more than 30 years. Under new coordinator Paul Guenther, who formulated many of the blitz packages for Zimmer, the Bengals are hoping to be even better than that No. 3 ranking this year. While they probably won't get ranked as high as No. 3, they still will be among the top 10.
Hensley: Fiction. It's true that a defense is only as good as its players on the field. But let's not disregard the impact of Zimmer on the Bengals' defense. In Zimmer's first season in Cincinnati (2008), the Bengals jumped from No. 27 to No. 12 in defense. The Bengals then went on to finish in the top 10 in yards and points allowed in four of the next five seasons under Zimmer. He's a fiery leader who got the most out of his players. Many expect a smooth transition with Paul Guenther being promoted to defensive coordinator, but he's never been in charge of a defense in the NFL. His job won't be made any easier by the fact that defensive end Michael Johnson left in free agency and defensive tackle Geno Atkins is still recovering from an ACL injury. The Bengals secondary is dealing with aging veterans (Terence Newman and Adam Jones), injury (Leon Hall) and unfulfilled potential (Dre Kirkpatrick). Don't be surprised if the Bengals slip out of the top 10 this season.
Pat McManamon: Fact. The Bengals have too many good players and too good a system to falter with Zimmer's departure. He'll be missed, but defenses are as good as the players on the field, and with stalwart Geno Atkins coming back from injury to go with a crew that includes Vontaze Burfict, the Bengals should still be formidable. Also, new coordinator Paul Guenther knows the system, knows the blitzes and worked closely with Zimmer. It always hurts to lose a coordinator like Zimmer, but the Bengals seemed to be as prepared as a team can be. The other thing to remember is that offenses can help defenses by possessing the ball, and new offensive coordinator Hue Jackson will run the ball more than Jay Gruden did.
@ColeyHarvey straight up truth coley!! #BeastMode...#PaulyG

— Who Dey Nation CEO (@BengalsFiend) July 7, 2014
---

Steve Smith will become Joe Flacco's top target this season.
Brown: Fiction. I'm tempted to say fact here because of the trust and rapport that Flacco developed with Anquan Boldin before the Ravens traded the veteran wide receiver to the 49ers this past year. Boldin, however, is bigger and more physical than Smith and doesn't rely as much on speed as the latter still does, even at the age of 35. Look for tight end Dennis Pitta to re-establish himself as a big part of the Ravens' offense after missing all but four games this past season because of a dislocated hip. Pitta caught 61 passes and was targeted 93 times by Flacco in 2012, while Boldin caught just four more passes than Pitta, despite getting targeted 112 times. A healthy Pitta becomes Flacco's go-to receiver again.
Harvey: Fiction. Another Smith will end up being Flacco's top passing target this season. Torrey Smith, the man who saw 139 throws directed his way this past season, will remain the go-to receiver in an offense that hopes for increased production from 2013. During the mostly down year for Baltimore's offense, Torrey Smith caught 65 of the 139 balls thrown his way, leading the team in receptions. While at Carolina last year, Steve Smith caught 64 passes on just 109 targets from Cam Newton. The longtime Panther was one of the stars of an offense that also relied on Newton to make plays with his feet, in addition to spreading the ball to other receivers. The Ravens had difficulty getting any kind of rushing offense going, which made it easy for defenses to sell out on guarding their receivers. If Ray Rice struggles to perform out of the backfield again this year -- or if he ends up missing considerable time due to a possible suspension from commissioner Roger Goodell following his arrest in Atlantic City this offseason for assault on his now-wife -- much the same could happen to the Ravens' receivers in 2014. Even if that happens, Steve Smith's addition ought to help Flacco and the Ravens. Still, don't look for the 35-year-old to take over as the team's dominant receiver. That title ought to remain Torrey Smith's.
Hensley: Fact. There's a chance tight end Dennis Pitta or wide receiver Torrey Smith will end up being Flacco's go-to receiver. In the end, Flacco will spread the ball around to Pitta, Torrey Smith and Steve Smith. But if you're asking who will be Flacco's top target, the best bet is Steve Smith. All you needed to do was watch one practice this offseason, and you'd see the chemistry building between Flacco and Smith. Many have compared Steve Smith to Anquan Boldin because both are tough receivers. Smith, though, stacks up more favorably to Derrick Mason, who averaged 71 receptions in three seasons with Flacco. Like Mason, Smith can get open on the comeback route as well as slants. A prideful player such as Smith will also do everything in his power to show the Carolina Panthers he can still play. The Ravens will get the best out of Smith this year.
Pat McManamon: Fiction. The Ravens still have this guy Torrey Smith, right? He's a little younger than the 35-year-old Steve Smith. A little bigger too. And he should be ready to be the No. 1 receiver on the team. This is not to say Steve Smith won't help. He will. He brings a veteran presence the Ravens lacked -- though it's curious they gave away Anquan Boldin before last year and signed another aging guy who fits the "crafty veteran mold" a year later. Ozzie Newsome said Smith is not the "typical aging player," which is good, because he'll catch a lot of passes and open up the field more to provide opportunities for Torrey Smith and tight end Dennis Pitta. The Ravens also seem to be a team well-suited to getting the most from veterans. But if Baltimore brought Steve Smith in to be the top guy, it's a problem. That role and responsibility belongs to Torrey Smith.
@jamisonhensley Fiction. Now that Pitta is healthy, the bromance will reignite this year. I see @dennispitta having a big year. #ravens

— Jordan Ours (@JO___14) July 7, 2014
---

The retooled defense is enough to get the Steelers back to the playoffs.
Brown: Fact: The Steelers got younger and faster and will be better on that side of the ball if their outside linebackers provide some semblance of a pass rush. The Steelers don't need dramatic improvement from their defense if their offense builds on its strong finish in 2013. The Steelers averaged just under 28 points in their final eight games this past season, and they only lost one starter (wide receiver Emmanuel Sanders) on offense. Pro Bowl center Maurkice Pouncey returns from a torn ACL to lead an offensive line that allowed just seven sacks in the final seven games last year. And the Steelers have enough talent at the skill positions for Ben Roethlisberger and the offense to carry the defense.
Harvey:
Fact. I've gone on record in recent days saying I believe the Steelers will pose a legitimate threat to the Bengals' chances at defending their division title, so I won't waver now. Pittsburgh's culture will be the real difference-maker in getting the Steelers back to the playoffs. You're simply not going to see coach Mike Tomlin or quarterback Ben Roethlisberger tolerating the type of year the team had in 2013. By the way, we can't forget how close Pittsburgh was by the end of the season, after imploding near the start primarily because of a lacking offensive line that caused a poor running game and offensive imbalance. When it comes to the retooled defense, offseason moves such as drafting outside linebacker
Ryan Shazier
and defensive end
Stephon Tuitt
ought to help. The addition of
Cam Thomas
on the line also should help counter the interior rushing attack teams like to employ in the physical AFC North. While I still see the Bengals making the playoffs too, the Steelers ought to get there again, thanks to their improved defense.
Hensley: Fact. The Steelers got younger and quicker with their first two draft picks this year, linebacker Ryan Shazier and defensive end Stephon Tuitt. Cam Thomas, a free-agent addition, will be a space-eater on the interior of the line. What will help this retooled defense become even better are the moves made on offense. The Steelers stockpiled their backfield by signing free agent LeGarrette Blount and drafting Dri Archer in the third round. Plus, Le'Veon Bell was beginning to hit his stride at the end of his rookie season. This commitment to the run will control the clock and take pressure off a defense adjusting to its new parts.
McManamon: Fact. There is no team in the league that finds personnel to fit its system better than the Steelers. With three new starters defensively, Pittsburgh continues its transition from the James Harrison-James Farrior-Casey Hampton-Brett Keisel days. Kevin Colbert's drafting is usually logical and sound, and in Ryan Shazier the Steelers believe they found an immediate starter. One thing will be true about Pittsburgh this season: They will be faster on the field and they will not start slow. Pittsburgh will build on the momentum of an 8-4 finish in 2013 (after an 0-4 start), and as they build the defense will grow.
@ScottBrown_ESPN Fact. They are faster and younger. It will be a sad year for @WarrenSapp. #AFCN4Downs

— Kat Harry (@katharry33) July 2, 2014
.
May, 15, 2014
5/15/14
10:00
AM ET
By
ESPN.com staff
| ESPN.com
This year's NFL draft brought drama and defense to the AFC North.
Most of the buzz centered on Cleveland, where the Browns selected
Johnny Manziel
with No. 22 overall pick. There is no debate that Johnny Football will bring excitement to the long-struggling Browns. Whether he's their answer at quarterback is another question.
The
Cincinnati Bengals
created a stir at quarterback as well when they drafted
AJ McCarron
in the fifth round. McCarron quarterbacked Alabama to two national titles, and it's widely known that
Andy Dalton
has yet to win a playoff game for the Bengals. Can McCarron be ready to compete for the starting job in 2015?
The
Baltimore Ravens
and
Pittsburgh Steelers
continued their old-school ways by going heavy on defense in this draft. By doing so, did the Ravens give enough help to quarterback
Joe Flacco
? And will speedy first-round pick
Ryan Shazier
end up being the top rookie defensive player in this division?
These issues are addressed by ESPN's quartet of AFC North reporters: Scott Brown in Pittsburgh, Coley Harvey in Cincinnati, Jamison Hensley in Baltimore and Pat McManamon in Cleveland.

Johnny Manziel will end the Browns' quarterback drought and become a franchise quarterback.
Scott Brown: Fact. I think it is all or nothing for Johnny Football, as it is hard to imagine him just having an average to above-average NFL career. You worry about his size, the distractions that follow him to Cleveland and the reality that he will have a Texas-sized bull's-eye on his jersey from the moment he steps onto the field. As many questions that come with Manziel, he dominated in the SEC and twice carved up an Alabama defense that was loaded with future NFL players. Cleveland, your long quarterback nightmare is over.
Coley Harvey:
Fiction. The optimist inside would love to come out and say that Manziel will be the triumphant hero many in Cleveland are seeking. I would love to say that the now infamous No. 2 Browns jersey -- you know, the one with the seemingly endless stream of crossed out ex-Browns quarterback names that goes all the way down its back -- will have its final nameplate thanks to Manziel. I would love to say that in 20 years they'll be retiring Manziel's jersey and erecting a statue in his honor outside FirstEnergy Stadium. Yes, a part of the dude in Cincinnati feels bad for the city of Cleveland and its decades-long misery. But the fact of the matter is, these are the Browns we're talking about, and not even Johnny Freakin' Football will be able to end the team's exhaustive playoff drought.
Jamison Hensley: Fiction. Let's stop with the comparisons to Russell Wilson. Manziel doesn't have the same maturity, which is ultimately going to be his downfall. He is more like Brett Favre -- without the cannon for an arm. Where Manziel is at his best is running around, which has become a recipe for disaster in the NFL. Michael Vick has played only one full season, and Robert Griffin III couldn't make it one season without getting hurt. It's a given that Manziel brings much-needed electricity to Cleveland. He just won't be bringing stability to the quarterback position.
Pat McManamon: Fact. The question, though, is when this happens. Manziel's learning curve is large, and he will do it amidst hoopla worthy of the Palace of Versailles. Manziel seems to be up to the challenge of the hype, but the Browns took a good first step with him by telling him Cleveland isn't Hollywood. A couple of his teammates said they were glad to have him, but it was "time to go to work." How soon Manziel simply concentrates on work and professionalism will tell how soon he turns the corner with the Browns.
@PatMcManamon #AFCN4downs No way, total fiction, too many risks based on lifestyle, type of play and lack of discipline.

- Ray (@Kov65Ray) May 13, 2014
---

AJ McCarron will be the Bengals' starting quarterback in 2015.
Brown: Fiction. He fell to the fifth round of the draft for a reason, and McCarron's drop reinforced the notion that his success at Alabama had a lot to do with the elite talent that surrounded him in Tuscaloosa. That doesn't diminish what he accomplished at Alabama, as McCarron ranks as one of the best quarterbacks in college football history. But plenty of quarterbacks who excelled in college did not translate into successful NFL quarterbacks, and I don't see McCarron as more than a backup at the next level. If Andy Dalton falls out of favor in Cincinnati, the Bengals will look elsewhere for his replacement.
Harvey:
Fiction. He won't be the starting quarterback next season because Andy Dalton will. The Bengals and Dalton's representatives have been working on a contract extension that could give the fourth-year quarterback a long-term deal that could help him earn a salary that would compete with the game's highest earners. He's hoping for an extension that could pay him nearly $20 million per year. The Bengals would like that number to be closer to $15 million. The two sides could soon find some common ground. Still, the fact McCarron is on the roster is telling. It's a sign the Bengals want Dalton to realize that they are serious about backing him up with a quarterback who they feel they could groom in future seasons. It's a fact that some years down the line McCarron could be Cincinnati's starter. But he won't be in 2015.
Hensley: Fiction. This is a tough one. The Bengals need to put more pressure on Andy Dalton, but McCarron isn't the one to do it. The best move would've been for the Bengals to take Teddy Bridgewater in the first round. If that had been the case, the answer would've been fact. Instead, the Bengals are left with the anti-Flacco. Dalton plays well in the regular season and chokes in the postseason. He hasn't just struggled. It's been meltdowns. McCarron has the championship pedigree, but his ceiling is backup quarterback. Dalton is going to be the starter in 2015, by default.
McManamon: Fiction. The Bengals were wise to draft McCarron. Andy Dalton needs competition and needs to be pressed. But the anti-Dalton hysteria is overblown and overdone. Dalton has taken the Bengals to the playoffs every year he's been in the league. He has 80 touchdowns compared to 49 interceptions. In his first three seasons. Only in this day and age of impatience and instant expectations is that not considered a very good start to a career. He needs to win a playoff game, yes, but so do the Bengals as a team. He is one of 53. Guys arrive at different times. Dalton will take care of things in his time, and the Bengals have handled him well. McCarron will push Dalton, which is good, but the job will be Dalton's.
@ColeyHarvey fact. Dalton will want more $$ than mike brown is willing to pay, and McCarron will prove to b adequate replacement

- Brett Stanko (@brettstanko23) May 12, 2014
---

The Ravens didn't do enough to help Joe Flacco after drafting defensive players with their first three picks.
Brown: Fiction: The Ravens did enough before the draft to help their franchise quarterback by re-signing left tackle Eugene Monroe and signing free-agent wide receiver Steve Smith, as well as tight end Owen Daniels. The Ravens essentially add a huge piece to their offense with the return of tight end Dennis Pitta, who missed most of last season with a hip injury, and Daniels will provide a nice complement to him. Smith is no longer an elite wide receiver but he can still play. He should help Torrey Smith and restore some of the swagger to the Ravens' offense. I also expect a bounce-back season from Ray Rice, who will be plenty motivated to prove he is still a featured back.
Harvey:
Fact. But this comes with a caveat. I don't think the Ravens should be admonished because they didn't make any offensive picks in those first three rounds. Why? Because their defense, which ranked 12th last season, still needed help as a result of having so many aging veterans. Good defense is, after all, what the Ravens are known most for having. Before joining the Bengals' beat, I covered two of the Ravens' picks, defensive tackle
Timmy Jernigan
and safety
Terrence Brooks
, while on the Florida State beat. Jernigan had some real questions during the pre-draft process, just like he did early his first season at FSU. Once he gets over the fact he's one of the young guys in Baltimore's locker room and takes on the persona of a leader, he should be just fine. Brooks was one of the best defensive backs in the draft and could be quite the option for the Ravens up top.
C.J. Mosley
also addresses a critical need at linebacker, and brings with him experience playing for championship-caliber teams. So these picks shouldn't be blasted because the Ravens got three good players. That said, by not taking a running back early or an offensive lineman to help address their protection issues, the Ravens put their quarterback in a real bind going into the season. Ray Rice's future both on- and off-field is still rather cloudy. Even if his legal matters clear up, will we see the Rice of old or the Rice of 2013 next season? (Rice of old was much better.) Baltimore ranked 29th in offense last season. The Ravens should have done more to address that early in the draft.
Hensley: Fact. The Ravens finished with the NFL's fourth-worst offense last season, and they came out of the draft with a blocking tight end, a small-school running back, a developmental guard and a seventh-round slot receiver. Ideally, the Ravens would've drafted a starting right tackle, a highly rated running back and a big target from the deepest wide receiver class in years. It's just difficult to bash the Ravens' front office. If they had gone offense with any of their first three picks, they would've been reaching. That's never a formula for success. In one way, you can say the Ravens did help out Flacco. By upgrading a defense that allowed the most fourth-quarter points in history, Flacco won't have to play catch-up as much late in games.
McManamon: Fact. The curious thing is the Ravens are relying on aged veteran Steve Smith and Ray Rice, whose off-field troubles are well documented. Ozzie Newsome is a very wise and sage team-builder, so it's borderline silly to question him. But Flacco is not Tom Brady. He needs talent around him to win. Because while he's paid like he's a superstar, he's not at the level of a Peyton Manning, a Drew Brees and a Brady. In a year or two, he won't even be on the level of an Andrew Luck. He's a very, very good quarterback, but he can't carry a team on his own. He needs a few more weapons around him.
@jamisonhensley Ravens addressed O in free agency period. I'd rather they do that, since Ozzie can draft D players better than O players.

- Bmore (@GoinRaven) May 12, 2014
---

Ryan Shazier will be the top defensive rookie in the AFC North.
Brown: Fact: Shazier has an opportunity to start right away, and he should at least play extensively in the Steelers' sub packages if he is able to learn Dick LeBeau's complex defense. LeBeau himself said the Steelers don't have the luxury of bringing along highly touted rookies such as Shazier slowly, so he should log plenty of snaps and crack the starting lineup sooner rather than later. Shazier has excellent speed, and he was highly productive at Ohio State, where he became just the 10th player in school history to lead the team in tackles in consecutive seasons. He provides the Steelers with a much-needed defensive playmaker and his skill set translates well to an NFL game that is becoming more wide open. This kid has future Pro Bowler written all over him.
Harvey:
Fiction. I only say "fiction" because I believe it's tough to say he'll truly be better than any other rookie in the division. After all, we're talking about a division that just gained the likes of Mosley, Jernigan and Brooks in Baltimore,
Darqueze Dennard
in Cincinnati and
Justin Gilbert
in Cleveland. There was a lot of elite defensive talent in the draft and Shazier was certainly a part of it. Perhaps because he has one of the best chances of playing regularly of all the rookies just drafted, an argument could be made that he will indeed be the top defensive first-year player in the AFC North. But for the sake of this exercise, I'm going fiction.
Hensley: Fiction. It was only a year ago when Jarvis Jones arrived with all of the hype. He ended up getting benched. This isn't unusual. Over the past nine years, only one Steelers rookie has started a full season -- center Maurkice Pouncey. So, this isn't a knock on Shazier. He has a lot of speed and a lot of potential. He should be a Pro Bowl player down the road. It just takes time to learn the nuances of a Dick LeBeau defense. History says Shazier won't make an immediate impact. The pick here for best rookie in the division is Ravens inside linebacker C.J. Mosley.
McManamon: Fiction. Ah, that Steelers optimism. There's nothing not to like about Shazier, or the Steelers, who draft well and play hard. But to automatically assume Shazier is the best defensive rookie in the AFC North ignores the fact that the other division teams took immediate defensive starters: Cleveland with cornerback Justin Gilbert, Cincinnati with cornerback Darqueze Denard and Baltimore with linebacker C.J. Mosely. All are expected to be immediate starters. All are extremely good players. What in the world makes it more likely that Shazier will be the best rookie other than he wears black and gold?
@ScottBrown_ESPN Kid can fly. Best A-B gap blitzer in draft. Also has some edge rush ability in sub. If they use him as a chess piece, YES

- Ed Coutu (@Ed_Coutu) May 12, 2014
March, 20, 2014
3/20/14
10:00
AM ET
By
ESPN.com staff
| ESPN.com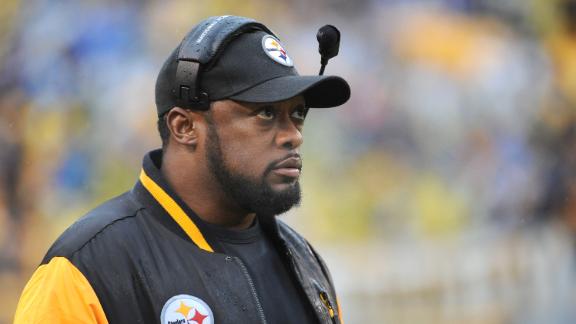 The AFC North has seen some changes this offseason with a new coaching staff and GM in Cleveland, where free agency and multiple first-round draft picks are conspiring to inspire some hope in Browns fans. Is it warranted?
And will there be change in Pittsburgh if the Steelers go three straight years without a playoff berth?
What about in Baltimore, where running back
Ray Rice
followed up a disastrous 2013 season with a highly publicized offseason arrest? Will his slide continue next season?
And the one and only question in Cincinnati remains: Can the Bengals win a playoff game with
Andy Dalton
at the helm?
These issues are addressed by ESPN's quartet of AFC North reporters: Scott Brown in Pittsburgh, Coley Harvey in Cincinnati, Jamison Hensley in Baltimore and Pat McManamon in Cleveland.

This will be Mike Tomlin's last season if the Steelers don't make the playoffs.
Scott Brown: Fiction. The Steelers have had just three head coaches since 1969, and patience with their field bosses has been one of the organization's hallmarks. The Steelers missed the playoffs three consecutive seasons from 1998 to 2000, and Bill Cowher rewarded the Steelers' patience with him by going 55-24-1 over the next five seasons and winning a Super Bowl. The Steelers have yet to experience a losing season under Tomlin, and he still commands his players' respect and attention. It is way too early to start speculating about his future in Pittsburgh.
Coley Harvey:
Fact. If NFL history has taught us one thing about the Steelers, it's this: Mediocrity doesn't last long in Pittsburgh. After two consecutive postseason-less winters, the city that boasts the NFL's most Super Bowl victories won't bear going through a third. Tomlin might be lucky just to make it to the Monday after the regular season if the Steelers post another 8-8 record or worse this fall. Pittsburgh's ground game was an issue last season, and the club's success this season could hinge on it, too. As long as Tomlin's team can showcase some of its old multidimensional play this season, the Steelers ought to make the playoffs, sparing him a firing.
Jamison Hensley: Fact. History is obviously against me on this one. The Steelers have been the picture of stability when it comes to head coaches, and they stuck with Bill Cowher when he went three seasons without making it to the playoffs. But the landscape of the division has changed. The Cincinnati Bengals are going to be the favorite to win a second straight AFC North title. The Baltimore Ravens, the Steelers' biggest rivals, won a Super Bowl 13 months ago. Tomlin hasn't guided the Steelers to the playoffs since 2011, and he hasn't won a postseason game since beating the New York Jets in the 2010 AFC Championship Game. If Tomlin can't get the Steelers back in the playoffs, the Rooneys need to find someone who can make this team relevant again.
Pat McManamon: Fiction. Tomlin's consecutive 8-8 seasons are disappointing in Pittsburgh, but the Rooneys will not knee-jerk a guy who has yet to have a losing season. Tomlin is wading through a major roster transition, but he's never lost his team the way some coaches do. That matters to the Rooneys, who value continuity more than anyone. Bill Cowher went 7-9 and 6-10 in 1998 and '99 and stayed seven more seasons. Belief in a system is what makes Pittsburgh successful.
@ScottBrown_ESPN Fiction: Chuck Noll & Bill Cowher had down years. He is gone only if team falls apart ala Houston Texans. #AFCN4Downs

- Scott Cromer (@wolfpac4ever) March 17, 2014
---

The Browns will be much improved with their front-office moves, free-agent acquisitions and position in the draft.
Brown: Fiction. The Browns will be better in 2014, but there is too much uncertainty at quarterback to say improvement will come in leaps and bounds rather than in increments. Brian Hoyer is an upgrade over what the Browns have had at quarterback, but is he the long-term answer there? The top-rated quarterbacks in the draft, meanwhile, all come with different question marks and risks. There is not an Andrew Luck among the group, and until the Browns find the answer at quarterback, they will not challenge for the AFC North title.
Harvey:
Fiction. While I'm inclined to say "fact," it's the "much improved" portion of the question that has me a little troubled. Do I think the various personnel changes the Browns made this offseason will help them improve and make them a better organization overall? Absolutely. Do I believe their improvements will be so immediately noticed that they go from 4-12 last year to 12-4 and win the division this year? I don't think so. In time, though, I'm willing to bet on the Browns. The new front office seems to have provided some measure of stability. Some of the free-agency decisions the group has already made have been smart ones. And with two first-round draft picks, it's hard to believe the Browns will end up missing on them both. Maybe the Browns' recent history has me balking on them a bit here, but I think it might be a year or two before we start really seeing how much this offseason's changes have improved them.
Hensley: Fiction. I agree the Browns are going to be improved, but not much improved. The moves made on defense were lateral ones. The addition of running back Ben Tate will help, if he can stay healthy. Let's be honest, it always comes down to quarterback for the Browns. Cleveland is either going with Brian Hoyer, a journeyman who generated unrealistic expectations after two good games last season, or a promising yet inexperienced rookie. This is too bad, because the Browns have the other pieces in place to be an exciting passing attack. At this point, because of the annual question mark at quarterback, the Browns are a six- or seven-win team at best.
McManamon: Fiction: It has to happen on the field, and until it does, the Browns have everyone in Missouri, where it's a matter of showing me. With six double-digit-loss seasons in a row and some uncertainty at quarterback, the Browns have to prove to their fans they can do it. However, it must be said that a lot of logical moves have been made, and the Browns are better now than they were when free agency began. With so many high draft picks, the Browns have the chance to bring in more good players. The potential for improvement is real, but labeling it a sure thing is premature with this team.
@PatMcManamon: I honestly feel something I never felt with this new start. Actually trust Ray Farmers evaluations and thoughts #AFCN4Downs

- Mark W (@unruinable) March 17, 2014
---

The Bengals will never get further than the first round of the playoffs with Andy Dalton at quarterback.
Brown: Fact. You could give Dalton the benefit of the doubt after he and the Bengals fell short in his first two playoffs games. But there can be no excuses after Dalton's subpar play in January doomed the Bengals to a home loss against a Chargers team that sneaked into the playoffs. Credit Dalton for making the Bengals a perennial playoff team, but nothing in his postseason play suggests that he is the quarterback who can turn Cincinnati into a legitimate Super Bowl contender.
Harvey:
Fiction. Dalton's first-round struggles have been exhaustively noted. The Bengals' first-round struggles have been, too. (They haven't won a playoff game since the 1990 season.) If there is ever a year that Cincinnati could finally get out of the first round and onto a deeper postseason run, this could be it. OK, we said that last year, too. Here's the thing, though. The 2014 Bengals have something the 2013 team didn't: Hue Jackson in charge of the offense. Cincinnati has seen two trends develop in its three first-round playoff losses with Dalton as the quarterback. It has committed too many turnovers -- Dalton has one lost fumble and six interceptions in the three games -- and it has avoided running the ball. Jackson will ensure better balance comes to this offense, easing the pressure on Dalton. Eventually, that first playoff win is going to come for him.
Hensley: Fiction, although I'm not going to go as far as to say Dalton will be the reason why the Bengals win a playoff game. Marvin Lewis' young team is just too talented to be one-and-done every season. There will be a time when the Bengals win because either the defense dominates a playoff game or running back Giovani Bernard breaks loose. If you're asking me whether the Bengals will make a Super Bowl with Dalton, I would bet against it. He has been awful in his three playoff games. Dalton is the anti-Flacco. He produces great numbers in the regular season but falls apart in the playoffs.
McManamon: Fiction. Many teams would like to have Dalton. Many. Last season's first-round loss to San Diego was a large disappointment, but Dalton is going through the traditional growing pains of a quarterback. For a quarterback to be asked to throw 51 times in a playoff game is ludicrous. That was asking way too much. The switch in offensive coordinator to Hue Jackson will help because he will run the ball more, and run the ball more consistently. Dalton has averaged almost 3,800 yards and just short of 27 touchdowns his first three seasons, and people want to question his future? Absurd.
@ColeyHarvey Fact. Best predictor of future performance is past performance #AFCN4Downs

- AndyKerman (@LotionDolphin) March 17, 2014
---

Ray Rice's decline in production will continue next season while his reputation also slides after his arrest.
Brown: Fiction. This guy has too good of a résumé to think he just fell off a cliff during his sixth NFL season (and took many a fantasy football team with him). Yes, NFL running backs have a short shelf life, and Rice has a lot of wear on his tread. But the Ravens should be better up front next season, and if anything, Rice's arrest should make him as motivated as ever to show that last season was an aberration.
Harvey:
Fact. But it's not Rice's reputation that will contribute to his statistical slide. The running back has simply started moving beyond the prime of his career. His legs have been beaten up so far in his six-year career, and it doesn't appear they will be coming back anytime soon. When he was at his best, Rice was averaging well over 250 carries a season. He had 254 during his breakout second year in 2009, when he rushed for 1,339 yards. He had 307 carries for 1,220 yards the next year, then 291 for 1,364 yards and 12 rushing touchdowns in 2011. After having 257 carries in 2012, he had only 214 in one fewer game in 2013. Overuse has led to Rice's decline, not a changing reputation.
Hensley: Fiction, but let me explain. I honestly don't know how Rice's play could be worse than it was last season. He averaged 3.1 yards per carry, and he was held below 60 yards rushing in 12 of 15 games. Injuries were a factor, but you have to wonder whether the wear and tear has caught up to him. In what is likely a make-or-break year for him, Rice has reportedly lost weight this offseason to regain some explosion. That would be a good sign if he were the sole problem. The Ravens haven't done anything yet to improve their offensive line from last season. If the line can't open any running lanes, it doesn't matter what kind of condition Rice is in.
Pat McManamon: Fact. When a running back loses it, it goes fast. Rice showed all the signs of losing it last season, when his per-carry average dropped to a woeful 3.1. Rice is 27, the age at which a running back's production is at its peak. ESPN Stats and Information shows a steady and severe decline starting after a back is 27, a decline that continues every season. Add in Rice's troubling offseason behavior with his fiancée and that disturbing security video and it seems his career -- and perhaps personal -- path is headed in the wrong direction.
@jamisonhensley FACT: Rice's age combined w/ heavy usage in college/NFL has caused his body to wear down. RBs don't last in NFL #AFCN4Downs

- Tacowrecker (@tacowrecker) March 17, 2014
.