Cleveland Browns:

Paul Brown
July, 7, 2014
Jul 7
10:00
AM ET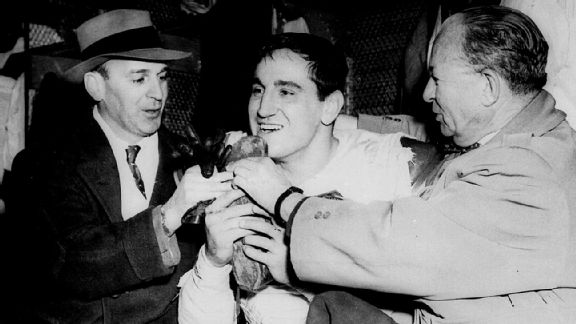 AP Photo
»
VOTE HERE
»
NFC Plays:
East
|
West
|
North
|
South
»
AFC:
East
|
West
|
North
|
South
This is one of three nominations for the most memorable play in
Cleveland Browns
history. In the next two days, we'll feature Gary Collins' touchdown reception from Frank Ryan in the 1964 championship game win against Baltimore and "The Fumble"(enough said). Please vote for your choice as the Browns' most memorable play.
Score:
Cleveland 30, Los Angeles 28
Date:
Dec. 24, 1950
Site:
Cleveland Municipal Stadium

It might surprise some, but Browns history goes back earlier than the Bernie Kosar days. Those who remember Kosar probably also remember the Kardiac Kids. But the team's true history, the tradition that became the Browns, was established by the greatest NFL coach in the '50s -- when Paul Brown and Otto Graham controlled the league. While there have certainly been many negative plays in team history that were more than memorable, there have also been some positive ones.
In 1950, the Browns were the object of smirks and derision when they entered the National Football League. Paul Brown's teams had done well in the All-America Football Conference, but it was, well, the AAFC, not the NFL. Never mind that Brown had perhaps his finest team in 1950 with Hall of Famers all over the field -- including Graham, Marion Motley, Dante Lavelli and Lou "The Toe" Groza. The Browns were not supposed to just walk in and own the league.
But they did just that, going 10-2 and reaching the title game against the Los Angeles Rams, who coincidentally started as the Cleveland Rams before moving West in 1945 (the AAFC started play in '46). Playing in hallowed old Municipal Stadium (moment of silence, please), the Browns were down eight heading into the fourth quarter, but Graham threw a touchdown pass and Groza made the extra point to cut the deficit to one. Graham moved the ball inside the Rams' 30 but fumbled with minutes left -- a turnover that seemed to doom the Browns.
Graham did not give up. The Browns got the ball back and moved to the 9, where Groza -- perhaps the greatest straight-on kicker in NFL history -- started a Cleveland celebration by making the 16-yard kick with less than 28 seconds left. Fans stormed the field and carried the goalposts out of the stadium. Even Brown was emotional, with tears in his eyes as he discussed the win.
In 1950, at least there was justice -- the Browns won the NFL title in their first year in the league by beating the team that had abandoned Cleveland five years before.
And Groza was the guy who provided the winning points.
@PatMcManamon One of the all-time best Browns player in his career defining kick. It's a memorable moment that crosses generations.

— Anthony Y (@hunkura) July 2, 2014
June, 17, 2014
Jun 17
11:08
AM ET
Chuck Noll is identified with Pittsburgh, but he's every bit a part of Cleveland -- and Cleveland is part of him.
Noll grew up on Cleveland's East Side. He learned from Paul Brown. His principles and beliefs and outlook were forged from Cleveland and Brown, and one of his first coaching jobs in the NFL was with Don Shula, who grew up and went to college outside Cleveland.
Noll was a coach's coach.
A leader, a teacher, the perfect combination of humility and aggressiveness. Like Brown, his story and his actions and his approach could serve as an example to every coach at every level.
He epitomized preparation and balance. He worked hard and worked well, but ate dinner every night with his wife and family. He would probably look at today's generation of sleep-in-the-office guys and smirk, if he were to smirk. Noll wouldn't judge, he would just do it his way. Successfully.
Noll grew up on the East side, worked his way through Benedictine High School by earning 55 cents an hour at a Cleveland meat market after school. He knew what it meant to get an education. He never forgot Benedictine as he advanced, sending notes to legendary coach Augie Bossu and reaching out whenever he could.
Terry Pluto of the Plain Dealer
relates a story of Noll visiting Joe Rufus, his former high school coach, in the hospital the morning of a Browns-Steelers game in Cleveland. Rufus asked what he was doing there the day of a game, and Noll told him he had already done his work.
Preparation was his hallmark.
Noll played for Brown, was one of Brown's messenger guards. Brown said he didn't even have to tell Noll the plays; he knew them ahead of time. Preparation.
Brown's style and approach rubbed off on Noll, who coached with the same attention to principle and discipline as Brown. He prided himself on being a teacher.
He was a great coach.
He was a father.
He was a husband.
He went to the opera and enjoyed fine wine.
His teams were aggressive and nasty. They pushed the envelope. But they were also a part of a city's culture and part of a city's fiber. He cemented a relationship between team and city that exists today.
San Antonio Spurs coach Greg Popovich has been oft-quoted as saying he only drafts guys who have "gotten over themselves."
Noll never had to get over himself. He understood himself, his team and life before he ever coached a game.
He belongs among the NFL elite when coaches are discussed, and he gained his foundation in Cleveland, from Brown, the greatest of them all.
November, 15, 2013
11/15/13
2:12
PM ET
The Cleveland Browns lost a member of their Hall of Fame family Friday when Mike McCormack died at the age of 83.
McCormack's most recent history was in the front office of the
Carolina Panthers
, but Browns followers remember him as a stalwart of the offensive line for Paul Brown's standout teams of the '50s and '60s.
Brown actually called McCormack the finest offensive lineman he ever coached. Brown also respected McCormack's professionalism and leadership; McCormack was captain of Brown's teams from 1956 through the end of his career in 1962.
[+] Enlarge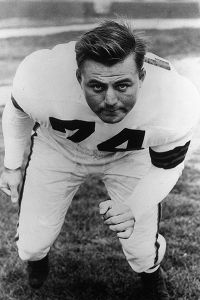 AP Photo/NFL PhotosMike McCormack was a six-time Pro Bowler and was enshrined in the Hall of Fame in 1984.
McCormack was the main piece in a 15-player trade Brown made with the Baltimore Colts in 1953. Among the players the Browns sent to Baltimore was Don Shula, a Cleveland-area native who would go on to coach the Colts and
Miami Dolphins
. McCormack spent his rookie season with the New York Yanks, then was in the Army for two years before the trade, which is tied for the second-largest in NFL history.
McCormack initially was tabbed to replace Hall of Famer Bill Willis at middle guard on defense, and he stepped right in. In the 1954 Championship Game he set the tone for an easy win over Detroit by stealing the ball from Bobby Layne.
"I'll never forget the play," quarterback Otto Graham told longtime Browns writer Chuck Heaton for the book "Browns Scrapbook: A Fond Look Back at Five Decades of Football." "Quarterback Bobby Layne was dropping back to throw a quick slant. Mike just reached across and took the ball right out of Layne's hands."
McCormack then moved to right tackle, where he made five more Pro Bowls and blocked for Otto Graham. Strong, tough as nails and durable, McCormack was the prototype Paul Brown tackle, and played on the side opposite Lou Groza.
"We could have played Mike at middle linebacker or on the offensive line," Paul Brown said, according to
the Hall of Fame
. "But his number one niche was offensive right tackle. He was an excellent pass protector but he could also blow people out of there. He was stabilizing factor throughout the period that he played for us."
McCormack also blocked for Jim Brown. Twice with McCormack at tackle, Brown ran for 237 yards in a game.
"His contributions to game as a player for the great Browns teams of the 1950s and early '60s are etched in history with his place in the Hall of Fame," Hall of Fame president and director Steve Perry said in a statement of the 1984 inductee.
Photos of him playing with a single bar on his facemask bring back a different era in pro football, an era that was probably the greatest in Browns history.
October, 22, 2013
10/22/13
3:00
PM ET
Proud to announce the return of First and 10, at a new place but old time, each Tuesday, in a slightly abbreviated form from the past:
There seems to be two types of receiver in the NFL. There's the "Jerry Rice Group," the guys who work like mad and never settle for good or better or even great. They want to be the best. Guys like Calvin Johnson, A.J. Green, Andre Johnson, Reggie Wayne. They're elite.
Then there is the group we shall call the "Terrell Owens Group." They're immensely talented, but they sometimes can't get out of their own Diva way. Due to subjectivity, present individuals in this group shall go nameless, though it's not tough to think Braylon Edwards in his Cleveland heyday fit this description.
Then there's Josh Gordon, an immensely talented 22-year-old still learning the position, but a guy with a one-year suspension looming the rest of his career for any misstep in the league's drug program. If the team believes Gordon will eventually fit in the "Jerry Rice Group," it doesn't pay much to heed trade offers. If it feels, though, that the combined risk of him becoming a Diva with the one-year threat makes him too risky, it makes sense to listen to offers.
Clearly, as Adam Schefter's reports indicate, teams around the league feel it's worth calling about Gordon. The Browns owe it to themselves to listen, but they continue to say they don't want to trade him. Expect these rumors to continue right up to the Oct. 29 trade deadline -- or until someone offers the Browns a first-round pick (if any team is daft enough to do so).
Offensive coordinator Norv Turner said last week that the team's running back situation is "unusual." That's one word for it. Let's also call it patchwork. Even in a passing league this will become a problem over the course of the season, especially since no immediate and glaring solution is readily available.
Spent some time pregame at storied Lambeau Field touring the Packers Hall of Fame. It's way impressive with all kinds of interesting information, memorabilia and life-size player casts of the formation with Bart Starr about to sneak in against Dallas in the Ice Bowl. After touring, a kind lady named Kristen Broderick, the Hall's assistant/educational coordinator, said she once gave Jerry Jones a private tour. She concluded by saying to him, "Now Mr. Jones, as one owner to another ... " Yes, she owns a single share of the Packers.
The Packers Hall raises a simple question: Why don't the Browns have something similar? Paul Brown, Otto Graham, Jim Brown, the greatness of the 2000s (OK ... not that one) ... It would be a real draw for fans before and after games. Many teams could learn a thing or two from that community-owned group up north.
If Brandon Weeden starts at quarterback in Kansas City, the Browns will be starting a guy who ranks 32nd in the league in completion percentage, 31st in yards per attempt, 30th in ranking (a woeful 66.5) and is tied for 27th in touchdowns and third in sacks (with two games missed to injury).
As Joe Friday would say, just the facts ma'am.
The Browns' struggles on third down mesh with the struggles on offense. A team that can't get off the field on third down lets the other extend drives, and when the offense can't extend drives it leads to a team that ranks seventh in pass defense and ninth in run defense giving up 24, 31 and 31 points. The Browns' inability to run the ball only feeds a vitamin to this monster.