Cleveland Browns:

Pittsburgh Steelers
April, 10, 2014
Apr 10
8:00
AM ET
ESPN's AFC North team reporters -- Jamison Hensley (Ravens), Coley Harvey (Bengals), Pat McManamon (Browns) and Scott Brown (Steelers) -- take a look at the remaining free agents in the division:
BALTIMORE RAVENS
TE Dallas Clark
: He looked like a tight end playing in his final season, catching 31 passes for the Ravens (his fewest in a season since 2006). It wouldn't be a surprise if Clark retired. He turns 35 in June.
TE Ed Dickson
: The signing of
Owen Daniels
rules out a return for Dickson. He'll be playing in the NFL in 2014, and it will likely be for about the league minimum. Dickson needs a fresh start elsewhere, and he's visiting the Carolina Panthers.
RB Bernard Scott
: The Ravens opted to sign
Justin Forsett
instead of Scott to be their third running back. Scott could have trouble catching on with another team. This offseason, Scott turned 30, which is not a kind number for running backs.
WR Brandon Stokley
: He said after the season that he plans to retire after suffering another concussion. Stokley was the last active player from the Ravens' 2000 Super Bowl championship team.
CINCINNATI BENGALS
LB Michael Boley
: Signed to a one-year deal early last season, Boley has been seen as little more than a stop-gap for last season's team. His return is unlikely.
DB Chris Crocker
:
Danieal Manning
's signing last week might have been enough to prevent the Bengals from re-signing Crocker. The two play similar positions and serve similar purposes as older players. Crocker still hasn't announced -- for a third time -- if he's retiring.
P Zoltan Mesko
: Much like Boley, Mesko was a stop-gap solution while punter
Kevin Huber
was out injured. When OTAs and minicamps resume, Huber is expected to be near full health from a broken jaw.
OT Dennis Roland
: Though the Bengals signed former Packers tackle
Marshall Newhouse
this offseason, they still could re-sign Roland for depth, and to give them a tackle who can be a good short-yardage edge blocker.
TE Alex Smith
: There is still a chance the Bengals could bring Smith back, considering H-back
Orson Charles
was
arrested and charged with wanton endangerment
March 31 in Richmond, Ky., the result of what police believe was a road rage incident involving a handgun.
CLEVELAND BROWNS
C Alex Mack
: His only visit has been to Jacksonville, where the Jaguars are expected to sign him to an offer sheet. The Browns then will have five days to decide if they want to match the offer.
RB Willis McGahee
: Not surprising there has been so little interest. His age and the poor running back market make him a tough sign.
PITTSBURGH STEELERS
OT Levi Brown
: Suffered a season-ending triceps injury before playing a down for the Steelers last season; would have to accept a non-guaranteed contract to return and try to make the team in 2014.
WR Plaxico Burress
: Wants to play in 2014, but is 36 and coming off a shoulder injury that sidelined him all of last season; does not appear to be in Steelers' plans.
RB Felix Jones
: Didn't show enough last season as a change-of-pace back or a kickoff returner to warrant serious consideration for the Steelers to bring him back.
DE Brett Keisel
: Re-signing the 12th-year veteran is still an option for the Steelers, who are thin along the defensive line, though nothing will happen until after the draft.
P Mat McBriar
: McBriar did OK after the Steelers signed him in October, but it looks like they will go with a younger leg at the position in 2014.
C/G David Snow
: Didn't dress in final four games after signing with Pittsburgh last December, and the Steelers have added depth to their offensive line.
RB LaRod Stephens-Howling:
Another player coming off an injury (torn ACL) the Steelers might consider re-signing once he is healthy or close to full strength.
LB Stevenson Sylvester
: Is a core special teams player and a depth guy the Steelers would probably have interest in bringing back at the right price.
C Fernando Velasco
: The Steelers are likely to re-sign one of their most unsung players in 2013 once he has fully recovered from the ruptured Achilles tendon he suffered in November.
LB Jamaal Westerman
: Played in the regular-season finale after signing with the Steelers last December, but is not not in the team's plans.
March, 20, 2014
Mar 20
10:00
AM ET
By
ESPN.com staff
| ESPN.com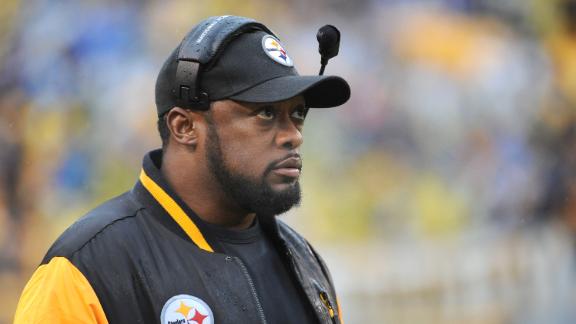 The AFC North has seen some changes this offseason with a new coaching staff and GM in Cleveland, where free agency and multiple first-round draft picks are conspiring to inspire some hope in Browns fans. Is it warranted?
And will there be change in Pittsburgh if the Steelers go three straight years without a playoff berth?
What about in Baltimore, where running back
Ray Rice
followed up a disastrous 2013 season with a highly publicized offseason arrest? Will his slide continue next season?
And the one and only question in Cincinnati remains: Can the Bengals win a playoff game with
Andy Dalton
at the helm?
These issues are addressed by ESPN's quartet of AFC North reporters: Scott Brown in Pittsburgh, Coley Harvey in Cincinnati, Jamison Hensley in Baltimore and Pat McManamon in Cleveland.

This will be Mike Tomlin's last season if the Steelers don't make the playoffs.
Scott Brown: Fiction. The Steelers have had just three head coaches since 1969, and patience with their field bosses has been one of the organization's hallmarks. The Steelers missed the playoffs three consecutive seasons from 1998 to 2000, and Bill Cowher rewarded the Steelers' patience with him by going 55-24-1 over the next five seasons and winning a Super Bowl. The Steelers have yet to experience a losing season under Tomlin, and he still commands his players' respect and attention. It is way too early to start speculating about his future in Pittsburgh.
Coley Harvey:
Fact. If NFL history has taught us one thing about the Steelers, it's this: Mediocrity doesn't last long in Pittsburgh. After two consecutive postseason-less winters, the city that boasts the NFL's most Super Bowl victories won't bear going through a third. Tomlin might be lucky just to make it to the Monday after the regular season if the Steelers post another 8-8 record or worse this fall. Pittsburgh's ground game was an issue last season, and the club's success this season could hinge on it, too. As long as Tomlin's team can showcase some of its old multidimensional play this season, the Steelers ought to make the playoffs, sparing him a firing.
Jamison Hensley: Fact. History is obviously against me on this one. The Steelers have been the picture of stability when it comes to head coaches, and they stuck with Bill Cowher when he went three seasons without making it to the playoffs. But the landscape of the division has changed. The Cincinnati Bengals are going to be the favorite to win a second straight AFC North title. The Baltimore Ravens, the Steelers' biggest rivals, won a Super Bowl 13 months ago. Tomlin hasn't guided the Steelers to the playoffs since 2011, and he hasn't won a postseason game since beating the New York Jets in the 2010 AFC Championship Game. If Tomlin can't get the Steelers back in the playoffs, the Rooneys need to find someone who can make this team relevant again.
Pat McManamon: Fiction. Tomlin's consecutive 8-8 seasons are disappointing in Pittsburgh, but the Rooneys will not knee-jerk a guy who has yet to have a losing season. Tomlin is wading through a major roster transition, but he's never lost his team the way some coaches do. That matters to the Rooneys, who value continuity more than anyone. Bill Cowher went 7-9 and 6-10 in 1998 and '99 and stayed seven more seasons. Belief in a system is what makes Pittsburgh successful.
@ScottBrown_ESPN Fiction: Chuck Noll & Bill Cowher had down years. He is gone only if team falls apart ala Houston Texans. #AFCN4Downs

- Scott Cromer (@wolfpac4ever) March 17, 2014
---

The Browns will be much improved with their front-office moves, free-agent acquisitions and position in the draft.
Brown: Fiction. The Browns will be better in 2014, but there is too much uncertainty at quarterback to say improvement will come in leaps and bounds rather than in increments. Brian Hoyer is an upgrade over what the Browns have had at quarterback, but is he the long-term answer there? The top-rated quarterbacks in the draft, meanwhile, all come with different question marks and risks. There is not an Andrew Luck among the group, and until the Browns find the answer at quarterback, they will not challenge for the AFC North title.
Harvey:
Fiction. While I'm inclined to say "fact," it's the "much improved" portion of the question that has me a little troubled. Do I think the various personnel changes the Browns made this offseason will help them improve and make them a better organization overall? Absolutely. Do I believe their improvements will be so immediately noticed that they go from 4-12 last year to 12-4 and win the division this year? I don't think so. In time, though, I'm willing to bet on the Browns. The new front office seems to have provided some measure of stability. Some of the free-agency decisions the group has already made have been smart ones. And with two first-round draft picks, it's hard to believe the Browns will end up missing on them both. Maybe the Browns' recent history has me balking on them a bit here, but I think it might be a year or two before we start really seeing how much this offseason's changes have improved them.
Hensley: Fiction. I agree the Browns are going to be improved, but not much improved. The moves made on defense were lateral ones. The addition of running back Ben Tate will help, if he can stay healthy. Let's be honest, it always comes down to quarterback for the Browns. Cleveland is either going with Brian Hoyer, a journeyman who generated unrealistic expectations after two good games last season, or a promising yet inexperienced rookie. This is too bad, because the Browns have the other pieces in place to be an exciting passing attack. At this point, because of the annual question mark at quarterback, the Browns are a six- or seven-win team at best.
McManamon: Fiction: It has to happen on the field, and until it does, the Browns have everyone in Missouri, where it's a matter of showing me. With six double-digit-loss seasons in a row and some uncertainty at quarterback, the Browns have to prove to their fans they can do it. However, it must be said that a lot of logical moves have been made, and the Browns are better now than they were when free agency began. With so many high draft picks, the Browns have the chance to bring in more good players. The potential for improvement is real, but labeling it a sure thing is premature with this team.
@PatMcManamon: I honestly feel something I never felt with this new start. Actually trust Ray Farmers evaluations and thoughts #AFCN4Downs

- Mark W (@unruinable) March 17, 2014
---

The Bengals will never get further than the first round of the playoffs with Andy Dalton at quarterback.
Brown: Fact. You could give Dalton the benefit of the doubt after he and the Bengals fell short in his first two playoffs games. But there can be no excuses after Dalton's subpar play in January doomed the Bengals to a home loss against a Chargers team that sneaked into the playoffs. Credit Dalton for making the Bengals a perennial playoff team, but nothing in his postseason play suggests that he is the quarterback who can turn Cincinnati into a legitimate Super Bowl contender.
Harvey:
Fiction. Dalton's first-round struggles have been exhaustively noted. The Bengals' first-round struggles have been, too. (They haven't won a playoff game since the 1990 season.) If there is ever a year that Cincinnati could finally get out of the first round and onto a deeper postseason run, this could be it. OK, we said that last year, too. Here's the thing, though. The 2014 Bengals have something the 2013 team didn't: Hue Jackson in charge of the offense. Cincinnati has seen two trends develop in its three first-round playoff losses with Dalton as the quarterback. It has committed too many turnovers -- Dalton has one lost fumble and six interceptions in the three games -- and it has avoided running the ball. Jackson will ensure better balance comes to this offense, easing the pressure on Dalton. Eventually, that first playoff win is going to come for him.
Hensley: Fiction, although I'm not going to go as far as to say Dalton will be the reason why the Bengals win a playoff game. Marvin Lewis' young team is just too talented to be one-and-done every season. There will be a time when the Bengals win because either the defense dominates a playoff game or running back Giovani Bernard breaks loose. If you're asking me whether the Bengals will make a Super Bowl with Dalton, I would bet against it. He has been awful in his three playoff games. Dalton is the anti-Flacco. He produces great numbers in the regular season but falls apart in the playoffs.
McManamon: Fiction. Many teams would like to have Dalton. Many. Last season's first-round loss to San Diego was a large disappointment, but Dalton is going through the traditional growing pains of a quarterback. For a quarterback to be asked to throw 51 times in a playoff game is ludicrous. That was asking way too much. The switch in offensive coordinator to Hue Jackson will help because he will run the ball more, and run the ball more consistently. Dalton has averaged almost 3,800 yards and just short of 27 touchdowns his first three seasons, and people want to question his future? Absurd.
@ColeyHarvey Fact. Best predictor of future performance is past performance #AFCN4Downs

- AndyKerman (@LotionDolphin) March 17, 2014
---

Ray Rice's decline in production will continue next season while his reputation also slides after his arrest.
Brown: Fiction. This guy has too good of a résumé to think he just fell off a cliff during his sixth NFL season (and took many a fantasy football team with him). Yes, NFL running backs have a short shelf life, and Rice has a lot of wear on his tread. But the Ravens should be better up front next season, and if anything, Rice's arrest should make him as motivated as ever to show that last season was an aberration.
Harvey:
Fact. But it's not Rice's reputation that will contribute to his statistical slide. The running back has simply started moving beyond the prime of his career. His legs have been beaten up so far in his six-year career, and it doesn't appear they will be coming back anytime soon. When he was at his best, Rice was averaging well over 250 carries a season. He had 254 during his breakout second year in 2009, when he rushed for 1,339 yards. He had 307 carries for 1,220 yards the next year, then 291 for 1,364 yards and 12 rushing touchdowns in 2011. After having 257 carries in 2012, he had only 214 in one fewer game in 2013. Overuse has led to Rice's decline, not a changing reputation.
Hensley: Fiction, but let me explain. I honestly don't know how Rice's play could be worse than it was last season. He averaged 3.1 yards per carry, and he was held below 60 yards rushing in 12 of 15 games. Injuries were a factor, but you have to wonder whether the wear and tear has caught up to him. In what is likely a make-or-break year for him, Rice has reportedly lost weight this offseason to regain some explosion. That would be a good sign if he were the sole problem. The Ravens haven't done anything yet to improve their offensive line from last season. If the line can't open any running lanes, it doesn't matter what kind of condition Rice is in.
Pat McManamon: Fact. When a running back loses it, it goes fast. Rice showed all the signs of losing it last season, when his per-carry average dropped to a woeful 3.1. Rice is 27, the age at which a running back's production is at its peak. ESPN Stats and Information shows a steady and severe decline starting after a back is 27, a decline that continues every season. Add in Rice's troubling offseason behavior with his fiancée and that disturbing security video and it seems his career -- and perhaps personal -- path is headed in the wrong direction.
@jamisonhensley FACT: Rice's age combined w/ heavy usage in college/NFL has caused his body to wear down. RBs don't last in NFL #AFCN4Downs

- Tacowrecker (@tacowrecker) March 17, 2014
.
March, 10, 2014
Mar 10
10:00
AM ET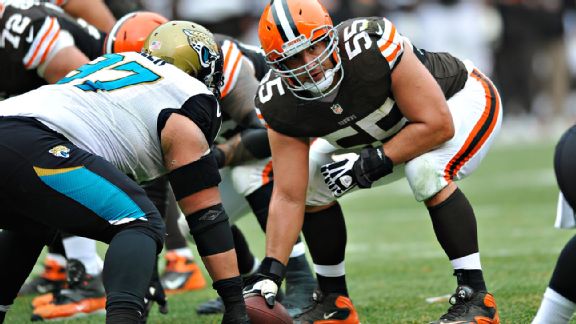 AP Photo/David RichardCleveland Browns center Alex Mack is the top free agent in the AFC North.
It's not a particularly strong free-agent class in the AFC North, although the top ones rank among the best in the NFL.
The free-agent group in the division took a hit when tight end
Dennis Pitta
, outside linebacker
Jason Worilds
and linebacker
D'Qwell Jackson
all signed before the official start of free agency.
So who's left? ESPN's four team reporters in the division -- Scott Brown, Coley Harvey, Jamison Hensley and Pat McManamon -- compiled a list of the top 15 free agents in the AFC North.
The
Baltimore Ravens
have the most free agents on this list with eight players. The
Cleveland Browns
have two of the top three free agents in the division, and the
Cincinnati Bengals
have two of the top five. The
Pittsburgh Steelers
placed one free agent in the top 10.
Here are the top 15 free agents in the AFC North:
1. Alex Mack, Browns center:
At 28, the two-time Pro Bowler is in the prime of his career. Mack was so coveted by the Browns that they placed a $10 million transition tag on him. It will be interesting whether another team can pry him away from Cleveland.
2. Michael Johnson, Bengals defensive end:
He was better in 2012 (11.5 sacks) than he was in 2013 (3.5 sacks). Still, his size, athleticism and age (27) will make him one of the most coveted pass-rushers this offseason.
3. T.J. Ward, Browns safety:
Considered one of the top 10 safeties in the NFL, Ward will draw interest from teams looking to get more physical in the secondary. He makes an impact on run defense and has improved in coverage.
4. Eugene Monroe, Ravens offensive tackle:
Some believe Monroe is the top offensive tackle in free agency, but ESPN's Bill Polian has five tackles ranked ahead of him. His athleticism and upside will command a big-money contract even though he's never been to a Pro Bowl.
5. Anthony Collins, Bengals offensive tackle:
He is an underrated left tackle who didn't allow a sack last season. The question mark with Collins is how he'll play as a full-time starter. He made seven starts last season and has 25 starts in six seasons in Cincinnati.
6. Jacoby Jones, Ravens receiver-returner:
He was one of the top playmakers in the Ravens' 2012 Super Bowl run, and he ranked among the top five returners in the league last season. Jones is inconsistent and one-dimensional as a wide receiver, but he made a lot of clutch plays for the Ravens in two seasons.
7. Art Jones, Ravens defensive end:
His impact as a run defender and interior pass-rusher makes him one of the top defensive tackles available. Teams, though, have to wonder whether he'll be the same type of player without
Haloti Ngata
drawing double-teams next to him.
8. Daryl Smith, Ravens linebacker:
He was quietly one of the NFL's top comeback stories. In his first season with the Ravens, Smith led the team with 123 tackles and finished with five sacks, three interceptions, 19 passes defensed and two forced fumbles. His age (32 this month) could be a drawback.
9. Michael Oher, Ravens offensive tackle:
His play never reached the expectations placed on a first-round pick. Oher is a throwback type of player whose strengths are durability and toughness. The biggest knocks against him are mental mistakes and pass protection.
10. Emmanuel Sanders, Steelers wide receiver:
He is almost 27, brings a lot of quickness and is coming off a season where he dropped just two passes (according to ESPN Stats & Information). What works against Sanders is the fact that he's never had more than 740 yards receiving in a season and averaged a career-low 11 yards per catch last season.
11. Jameel McClain, Ravens inside linebacker:
He isn't among the most talented linebackers, but he prides himself on outworking others. Even though he came back from a spinal cord contusion last season, some teams will be wary of a player who had such a serious injury.
12. James Ihedigbo, Ravens safety:
Known more for his special-teams play, Ihedigbo finished as the team's second-leading tackler. He'll try to find a team that will give him an opportunity to play defense now that the Ravens moved
Matt Elam
to his strong safety spot.
13. Ziggy Hood, Steelers defensive lineman:
He never became the difference-maker the Steelers envisioned when they drafted him in the first round, but it would be unfair to call him a bust. One of the strongest players on the team, Hood lost his starting job to
Cameron Heyward
last season.
14. Corey Graham, Ravens cornerback:
He was a starter on the Ravens' 2012 Super Bowl team and led Baltimore with four interceptions last season. Graham has proved to be a dependable nickelback, but he doesn't have the size or speed to be a full-time starter.
15. Brett Keisel, Steelers defensive lineman:
He had four sacks last season and 26 quarterback pressures, third most on the Steelers, despite missing four games and playing sparingly in another because of a nagging foot injury. His age (35) will scare away a lot of teams.
August, 27, 2013
8/27/13
3:00
PM ET
ESPN.com is continuing to reveal its list of the top 100 NFL players. Here are the players from the division that landed in spots 31-40 for
offense
and
defense
:
OFFENSE
40. Joe Flacco
,
Baltimore Ravens
quarterback: He's never thrown for over 4,000 yards or 25 touchdowns. But, since 2008, Flacco has won 63 games (including playoffs), which is six more than anyone else in the league.
DEFENSE
33. Troy Polamalu
,
Pittsburgh Steelers
safety: Injuries have forced him to miss 22 games over the past four seasons. He does, however, look like his old self this preseason.
34. Joe Haden
,
Cleveland Browns
cornerback: He's the highest-ranked cornerback in the AFC North, and he deserves to be. He has broken up 37 passes in his first two seasons and has held his own against some of the best receivers in the NFL, from Larry Fitzgerald to Brandon Marshall. His biggest challenge has been
A.J. Green
.
35. LaMarr Woodley
, Steelers linebacker: He looked like the NFL Defensive Player of the Year in the first half of the 2011 season. But a hamstring injury derailed him. Woodley has four sacks in the past 13 games that he's played.
Here's a review of the AFC North players who have already made the ESPN.com list:
OFFENSE
53. Marshal Yanda, Ravens guard
54. Maurkice Pouncey, Steelers center
63. Torrey Smith, Ravens wide receiver
84. Trent Richardson, Browns running back
90. Andrew Whitworth, Cincinnati Bengals offensive tackle
91. Heath Miller, Steelers tight end
95. Antonio Brown, Steelers wide receiver
DEFENSE
50. Lardarius Webb, Ravens cornerback
54. Ryan Clark, Steelers safety
62. Lawrence Timmons, Steelers linebacker
66. Michael Johnson, Bengals defensive end
69. Paul Kruger, Browns linebacker
83. Ike Taylor, Steelers cornerback
84. Leon Hall, Bengals cornerback
89. Carlos Dunlap, Bengals defensive end
99. James Harrison, Bengals linebacker
August, 27, 2013
8/27/13
10:10
AM ET
Coming into the preseason, everyone would agree that the
Cleveland Browns
'
Brandon Weeden
needed to receive the most work of any AFC North quarterback. Not only did he have to prove he's the starter, but he's also in his second season and would benefit from the experience.
Three weeks into the preseason, Weeden ranks fifth among projected starters with 88 snaps this preseason. It will likely surprise you that he doesn't lead the division in that category. The
Baltimore Ravens
'
Joe Flacco
is third with 95. Only
Ryan Tannehill
and
Jake Locker
have played more than Flacco this preseason.
Flacco's snap counts are skewed. He logged a league-high 59 plays in Week 3 because the
Carolina Panthers
scored off three returns (punt, interception and fumble), which gave the ball right back to Flacco and the Ravens' offense. Flacco ranked 19th in snaps through two preseason games and played the least amount of snaps of any AFC North starting quarterback in Week 2.
Steelers quarterback
Ben Roethlisberger
sits in the middle of the pack. He has played 76 snaps, which is the 14th-most among projected starters.
Bengals quarterback
Andy Dalton
has the least amount of snaps among AFC North quarterbacks, ranking 23rd in the league with 63. He played the fewest among division quarterbacks in Week 1 (11 snaps) and Week 3 (28 snaps). If you take out the projected starters who missed a preseason game, there are only six who have played fewer snaps than Dalton this preseason.
Thanks to ESPN's Mike Sando for keeping the updated quarterback snap counts.
August, 27, 2013
8/27/13
8:00
AM ET
The AFC North blog is going to keep the Steelers morning links in the wake-up call for one more day. Who says camaraderie is gone in this division? Here's what is happening around the AFC North ...
RAVENS
: Ed Dickson had another strong day of practice with the Ravens on Monday, and all indications point toward the starting tight end being ready to go for the season opener at Denver, according to
Comcast SportsNet
. He missed time this preseason with a hamstring injury. "He's running well. He's catching the ball well," offensive coordinator Jim Caldwell said. "He looks just as explosive as he did a few weeks ago before he was injured, so that's coming along well."
BENGALS
: Defensive coordinator
Mike Zimmer
came to the defense of struggling cornerback
Dre Kirkpatrick
, who allowed a touchdown to Cowboys wide receiver
Dez Bryant
, committed two pass interference penalties, missed three tackles and gave up nine receptions. "Everybody is all nervous about Kirkpatrick," Zimmer said, via
The Cincinnati Enquirer
. "He got beat up pretty good by Dez Bryant and a couple of the other guys. If it is a real game, we are doing things differently. He'll be fine. I want him to go out there and compete against guys. This is how you learn. You don't learn nothing by going out and shutting a guy down every time."
STEELERS
: Outside linebacker
LaMarr Woodley
hopes increasing his sack total will decrease the talk about his weight. "People have got to find excuses for you, or say things about you, when your numbers drop," Woodley told the
Pittsburgh Tribune-Review
. "But it's all about how you handle it at the end of the day, and coming back this year and bouncing back and trying to get back to the Super Bowl." Woodley had nine sacks in the first eight games of the 2011 season before recording just four in the past 13 games that he's played.
BROWNS
: Quarterback
Brandon Weeden
said there is "no reason to push the panic button like everybody wants to" on the Browns' offense. Weeden believes the rough outing against the Colts, which included 12-of-25 passing -- will serve as a lesson for an offense that had little trouble scoring in the first two preseason games. "Sometimes you need that," Weeden said, via
The Plain Dealer
. "You need a little slap in the face to say 'listen, you've got to keep continuing to grind.' It's human nature to get a little ahead of yourself, but what better timing? It doesn't count in the win-loss record for the regular season. We knew it wasn't going to be perfect all the time. It's just impossible to play 20 perfect games. It's just not going to happen. We'd been pretty good the first two games. Now it's just, 'how do we deal with that adversity? How do we move on?' And it'll be a big step for us." ... Also, the Browns have placed backup running back
Dion Lewis
on season-ending injured reserve with a surgically repaired fractured fibula.