Cleveland Browns:

Shawn Lauvao
June, 30, 2014
Jun 30
9:00
AM ET
In the final in a series of post-1999 draft assessments, we present a starting 22 for the
Cleveland Browns
from players taken in the draft since the team returned in '99 (which is actually a starting 23 because there were three-four and four-three defenses, which means we have to include two DTs, two DEs and two ILBs).
In some ways, the starting 11 on offense and (12) on defense shows why the Browns have struggled so badly, with one playoff appearance, one playoff game, two winning seasons and 12 double-digit loss seasons in the last 15. The talent level is not exactly overwhelming.
Since 1999, by unofficial count the Browns have drafted eight quarterbacks, 11 running backs, two fullbacks, 17 wide receivers, seven tight ends, five offensive tackles, nine guards, four centers (including a long snapper), seven defensive ends, eight defensive tackles, 16 outside linebackers, six inside linebackers, 19 cornerbacks and 10 safeties.
Here's the starting 11/12 for each side of the ball, with the 2014 draft excluded:
OFFENSE:
Quarterback:
Tim Couch
Also considered:
Charlie Frye
,
Brady Quinn
,
Colt McCoy
,
Brandon Weeden
,
Luke McCown
,
Spergon Wynn
.
I can hear the cackles, but among those drafted Couch had the most wins (22), touchdowns (64), and most yards (11,131). Check the list of other quarterbacks drafted. Find any better than Couch there?
Running back:
William Green
Also considered:
Lee Suggs
,
Jerome Harrison
Green edges out the other two, though an argument could be made for any. Not that any of them were sterling. Green lasted four seasons and in the last one that knife jumped out of the box and landed in his back. His 2,109 yards are the most by any drafted Browns back since '99.
FB:
Lawrence Vickers
Also considered:
Owen Marecic
Vickers was a Romeo Crennel favorite from Day 1 and has gone on to have a solid pro career. We could have done without the fullback option passes, though.
WR:
Kevin Johnson
,
Josh Gordon
.
Also considered:
Braylon Edwards
Gordon
Edwards should have dominated this position with his ability, but he could never get out of his own way. Johnson had flaws, but he finished with more receiving yards and games played than Edwards, though Edwards had more TDs (28 to 23). Gordon makes it based on his spectacular 2013 season, and on the fact that the Browns snagged him in the supplemental draft. However, it's become evident why many teams were wary of him.
TE:
Jordan Cameron
Also considered:
Kellen Winslow
Winslow could have been spectacular if not for his motorcycle accident. As it was he was pretty good, but he ended his time in Cleveland as a headache. Cameron does a lot right, has improved every year and could be on the verge of stardom.
OT:
Joe Thomas
and
Mitchell Schwartz
Also considered:
Nobody
Thomas
Thomas is the only no-brainer on the list. Schwartz should be fine in the long run.
OG:
Jason Pinkston
,
Shawn Lauvao
Also considered:
Nobody
Tough position because teams don't draft guards high. Most starters are guys like
John Greco
or
Jim Pyne
who work hard and don't say much. Those guys did not come via the draft, though. Pinkston and Lauvao are two who did.
C:
Alex Mack
Also considered:
Jeff Faine
Mack and Faine are two similar players. Smart, aggressive, tough, able to move. But Faine's career was short-circuited by trade after the Browns signed
LeCharles Bentley
. Mack's career as a Brown is entering its prime years.
DEFENSE
DE:
Courtney Brown
,
Jabaal Sheard
Also considered:
Nobody.
How tough is it to find a defensive end who can rush the passer? Ask the Browns. Brown's career was short-circuited by injury, and Sheard is listed as an end because that's where he'll be this season and where he's spent most of his time since he was drafted.
DT:
Ahtyba Rubin
, Phil Taylor
Also considered:
Gerard Warren
Rubin and Taylor are the real deal, unlike Warren, who was a lot of bluster in Cleveland and wouldn't have been with the Browns were it not for the fact that Butch Davis overruled his scouts and chose "Big Money" over
Richard Seymour
.
OLB:
Kamerion Wimbley
,
Chaun Thompson
Also considered:
Rahim Abdullah
,
Ben Taylor
Like at end, there's not a plethora of overwhelming choices. After Wimbley it's pretty much a roll of the dice. To this day, it's hard to comprehend why the Browns ever traded Wimbley.
ILB:
Andra Davis
,
D'Qwell Jackson
Also considered:
Nobody
Two very good players who contributed for several years. Neither were great, but both were good for the team on and off the field.
CB:
Daylon McCutcheon
,
Joe Haden
Also considered:
Anthony Henry
,
Eric Wright
Haden
McCutcheon and Haden have contrasting styles, but both were effective. McCutcheon was a small but physical guy who got the job done with smarts and savvy. Haden is bigger, faster and more athletic; he's more of a pure cover corner.
S:
T.J. Ward
,
Brodney Pool
Also considered:
Sean Jones
,
Chris Crocker
Ward is the better of the big hitter types, Pool the better of the rangy guys.
March, 7, 2014
Mar 7
11:00
AM ET
»
AFC Free-Agency Primer
:
East
|
West
|
North
|
South
»
NFC
:
East
|
West
|
North
|
South
Key free agents:
C
Alex Mack
(transition), S
T.J. Ward
, G
Shawn Lauvao

Where they stand:
The
Cleveland Browns
have a ton of salary-cap space and a ton of needs. The team hopes the transition tag keeps suitors from signing Mack, but they could have ensured he'd stay in Cleveland by simply paying another $1.6 million and making him the franchise player. If he leaves, that means the Browns have added another need to others that include safety, guard, inside linebacker, running back and receiver. They could go in any direction they choose in free agency, but given the strength of the draft at receiver, that is probably one area they will bypass.
What to expect:
The Browns should be active on the free agent market. They have cap room, they have needs and they have an owner in Jimmy Haslam who has made no secret he feels this offseason is critical to the team's future. Guessing what positions the Browns focus on might be foolish, but clearly they need help at safety, and they could go after Buffalo's
Jairus Byrd
. They also need help at linebacker after the release of
D'Qwell Jackson
, and they need help at guard. The biggest splash might just come at running back, though, where a guy like Houston's
Ben Tate
might appeal to Mike Pettine's physical approach. As for the much-needed and discussed quarterback spot, look for the Browns to bypass free agency and look to the draft.
Cast your vote on your top priority
for the Browns in free agency.
January, 14, 2014
Jan 14
12:36
PM ET
A mid-January rundown on the
Cleveland Browns
six upcoming unrestricted free agents, with the proviso that much can change in the next six weeks in terms of signing and re-signing players (with 2012 salary cap costs are in parantheses):
RB Willis McGahee ($489,000) -- Age has sadly crept up on McGahee, who gave everything he had but in the final couple games was replaced by Edwin Baker. McGahee is a character who would play well in a lot of cities, but his best days on the field seem behind him.
C Alex Mack ($5.03 million) -- It would seem that replacing a Pro Bowl center is not easy, but Mack is from California and the vibes as the season went on were that he would not be back. The team never made much of a move to re-sign him, and Joe Banner believes in paying certain amounts for certain positions. Center might not be a position where he wants to spend.
G Shawn Lauvao ($1.497 M) -- Lauvao seems like a guy who could be a serviceable guard, but the Browns seemed to sour on him as the year went on. Their machinations indicate Lauvao is not a priority.
G/T Oniel Cousins ($800,000) -- Good guy, interesting guy. Every team needs a guy like this, a guy who can step in and play in several spots. It does not seem Cousins will be filling that role in Cleveland any longer, though.
S T.J. Ward ($1.198 M) -- Ward is an enviable spot. He's a Pro Bowl alternate whose physical style might fit well with several teams. San Francisco jumps out as one, and Ward might enjoy playing where he attended college. Ward does like Cleveland, though, so if the Browns make him a competitive offer he may return. But Joe Banner did not re-sign Brian Dawkins in Philadelphia. Dawkins was older than Ward and had less left, but it might indicate safety is not considered an "expensive" position.
PK Billy Cundiff ($555,000) -- The Browns showed how they value kickers when they let Phil Dawson walk a year ago.
The Browns are projected to have between $35 and $40 million in salary cap space this offseason.
December, 29, 2013
12/29/13
11:44
AM ET
December, 27, 2013
12/27/13
3:14
PM ET
Take a good look at the
Cleveland Browns
' offensive line on Sunday.
It's debatable how many linemen will be back. If it weren't so hard to completely retool, the case could be made that the Browns will have four new starters in 2014 to go with left tackle
Joe Thomas
.
That's a stretch, of course, and a good deal of speculation.
But the Browns haven't seemed enamored with their guards all season, there's been a lot of rumblings about the inconsistencies of right tackle
Mitchell Schwartz
and center
Alex Mack
is slated to be a free agent.
[+] Enlarge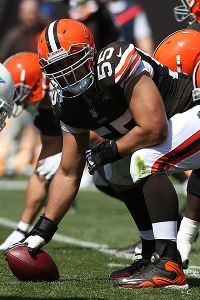 Ron Schwane/USA TODAY SportsThe Browns have the salary-cap space to match likely any offer for standout center Alex Mack.
Nothing is known, of course, and there is a game yet to be played. But Mack's potential departure seems the most significant. With
Maurkice Pouncey
injured, there is a lot of talk that Mack is one of the three or four best centers playing.
"Cleveland's a very easy place to come back to," Mack said. "I like the coach. I like the players. I have a house here. Without a doubt it would be easy to come back."
But Mack, like safety
T.J. Ward
, also has the opportunity to decide where he wants to play, and since he was Eric Mangini's first-round pick the team has gone 23-56. The Browns could place the franchise tag on Mack -- they have the salary-cap room -- but the new CBA calls for him to be paid the average of the top five offensive linemen, not centers. That number will approach $10 million, and Joe Banner's history has not been to overpay.
Thomas feels it's important to keep Mack with the Browns.
"Very few people really understand how many things the center is actually responsible for," Thomas said. "Obviously the quarterback has the ball in his hands and he's the guy who ultimately makes the decisions. But when it comes to setting the protections and setting the blocking in the run game, nobody has more on their plate than the center.
"[Mack is] probably the best that I've seen and has to be one of the best in the NFL at understanding the mental side of the game and getting everybody on the same page blocking wise."
Guard
Shawn Lauvao
was drafted the same year as Mack, and the feeling is the team will let him get to free agency.
"You take it with a grain of salt," Lauvao said. "If they want to bring me back, so be it. If they don't, I feel like [free agency is] a great opportunity."
The Browns do have
John Greco
signed for next season, and he could play center. Schwartz is still playing under his rookie contract. But the team discussed trading for
Eugene Monroe
of Jacksonville during the season.
The team's wild card is
Chris Faulk
, a 6-foot-6 and 323-pound player recovering from a serious knee injury he hurt in his senior season at LSU. The Browns signed him as an undrafted free agent and want to take a long look at him for next season.
December, 25, 2013
12/25/13
2:00
PM ET
T.J. Ward
is well aware Sunday could be the last game he'll play as a Cleveland Brown.
Ward, center
Alex Mack
and guard
Shawn Lauvao
all will be unrestricted free agents after the season, and the Browns have made little move to sign any of them.
[+] Enlarge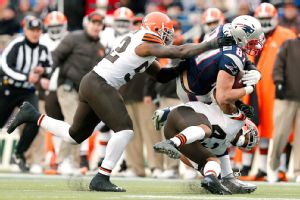 Winslow Townson/USA TODAY SportsBrowns strong safety T.J. Ward tackles Patriots QB Tom Brady in their Week 14 game.
Ward and Mack have had solid seasons -- Ward said he thinks he's had a Pro Bowl type season -- and Lauvao fought back from a preseason ankle injury to start the past 11 games. Ward said it's impossible to block out the fact his future is uncertain after the game.
"I've spent four years here and I've given a lot to this team, the city and they've given a lot to me," Ward said. "You can't completely block it out."
None of the four have played for a team that has won. In every season they've been with the Browns, the team has lost at least 11 games.
Yet Ward said he'd love to stay.
"I think we have the pieces here to win and that's what I'm looking forward to," he said.
At the same time, free agency allows a player to maximize his earnings, and even have a say in where he plays.
"It's an opportunity," Ward said. "An opportunity I haven't had. It's exciting, kind of, but who knows."
If past is precedent, the Browns may not make a great effort after the season to sign any of the three. Joe Banner let
Brian Dawkins
leave for Philadelphia, and he's never seemed inclined to pay a lot of money for players at the positions these three play.
It's interesting. The Browns have a lot of needs to fill, and if they don't sign Ward and/or Mack (Lauvao seems more or less gone) they'll have created other holes.
"I want to play in the playoffs here, I want to bring this city a championship," Ward said. "I've been doing everything in my power to help this team win so I definitely want to see that through."
There's no doubt Ward means it.
But if players can do anything quickly, it's turn the page.
It happens every offseason.
October, 3, 2013
10/03/13
7:31
PM ET
Brandon Weeden
will be the backup quarterback for the
Cleveland Browns
, and running back
C.J. Spiller
is active and will play tonight for the
Buffalo Bills
. That's the fallout from the team's inactives list, which were just released.


Browns inactives include quarterback
Jason Campbell
, which makes Weeden the backup to
Brian Hoyer
. Also inactive are injured linebackers
Quentin Groves
(ankle) and
Jabaal Sheard
(knee) as well as defensive lineman
Billy Winn
. Newly-acquired running
Fozzy Whittaker
will not play, nor will offensive linemen
Martin Wallace
and
Patrick Lewis
.
Shawn Lauvao
is active, and likely will start at right guard. Lauvao has not played since injuring an ankle in training camp, and his replacement,
Oniel Cousins
, had mixed results, especially in pass protection. Lauvao's return means the Browns have their first-team offensive line in place for the first time this season.
Buffalo will not have safety
Jairus Byrd
active. He practiced the past two days, but his foot injury will sideline him. Other inactives include cornerback
Stephon Gilmore
, kicker
Dustin Hopkins
, cornerback
Ron Brooks
, offensive lineman
Sam Young
, receiver
Marquise Goodwin
and tight end
Chris Gragg
. Both Spiller and running back
Fred Jackson
will play through pain, Jackson with a knee and Spiller with an ankle. It's likely the Bills will give
Tashard Choice
more carries than any back.
September, 17, 2013
9/17/13
8:00
AM ET
A look at what's happening on the Cleveland Browns' beat:
September, 5, 2013
9/05/13
8:00
AM ET
A look at what's happening on the Cleveland Browns beat: