Cleveland Browns:

Travis Benjamin
March, 22, 2014
Mar 22
2:00
PM ET
October, 28, 2013
10/28/13
3:42
PM ET
Davone Bess
did not back down from accountability for a bad day in Kansas City.
"Just got to make the necessary plays, man," Bess said today of his three-drop, one-fumble day in the Browns loss to the Chiefs. "That's what it comes down to. Focus. Being a professional. Being accountable and bailing my teammates out."
Bess knew that his dropped passes hurt the Browns, but he knew that his fumble on a punt return was especially damaging.
The Browns trailed by three in the fourth quarter when Bess fielded a short punt on the run at midfield. He caught it, but when he went to run, the ball wriggled free. He thought he was headed to a big return, but Kansas City recovered, which cost the Browns excellent field position that would have given them a chance to at least tie the game.
It also cost the Browns three minutes in game time, 35-to-40 yards in field position and two timeouts they used when the Chiefs had the ball. Bess said he thought he had caught the ball cleanly.
"It's just discipline," he said. "I got to look the ball all the way in."
Bess was fielding the punt because regular returner
Travis Benjamin
had left the game with a knee injury. It turns out that Benjamin tore the ACL in his right knee and Bess now will be the team's primary returner.
"Travis is a big playmaker," Bess said. "It's unfortunate for the injury, but … I got to step up. That's as simple as it gets. There's nothing to boast about, to talk about, to be down about. It's just go get it."
Losing Benjamin means losing a significant weapon. He had returns of 79 and 57 yards against Buffalo, one that scored a touchdown, the other that set up a TD. Benjamin also was a threat to break a return anytime he fielded a punt.
Bess has averaged 10 yards on his 121 career punt returns, but he did not field the most important punt he caught in Kansas City.
"Those plays right there can be game-changing plays," Bess said. "Momentum, especially in that situation. It was just an opportunity I saw and I swung."
Bess is one of the more respected players in the locker room. He has worked his way out of one of Oakland's tougher neighborhoods, and overcome spending 15 months in a juvenile detention center after being implicated when friends put stolen goods in his car (he said he didn't know what was in his friends' bags).
His Bess Route Foundation is one of the NFL's more respected charitable organizations.
"I've been through a lot tougher things in my life," he said "A lot. It's just another bump in the road."
But he's also had a tough start to his Browns career. The ESPN Stats and Information reports Bess has six dropped passes, which ties St. Louis' Tavon Austin and Kansas City's Jamaal Charles for most in the NFL.
Bess has never had more than six drops in a season in his career (six in 2009) and the past two seasons combined he had two drops.
But he's dropped the first pass thrown to him in each of the last three games.
"A lot of that is in my control and it'll get fixed," Bess said. "Just gotta keep working."
October, 10, 2013
10/10/13
9:11
AM ET
Like many players before him and many who will follow,
Travis Benjamin
has speed and ability borne from the muck and sugar fields near his home on the south shore of Lake Okeechobee.
Belle Glade is in the western end of Palm Beach County, in Florida, some 44 miles from Palm Beach itself. But Belle Glade and Pahokee, the tiny city next to it, are as far from the glitz and wealth of Worth Avenue as life can be.
The Glades, as the area is known, is home to sugar-cane fields and poverty. At one time the area was known as the AIDS capital of the country. At other times, it has been home to migrants who work in the fields during harvest time.
[+] Enlarge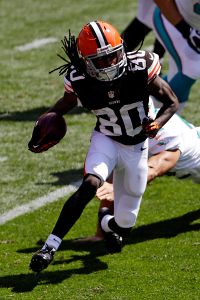 AP Photo/Tony DejakTravis Benjamin developed his speed by chasing rabbits in his Florida hometown.
In the late fall, the cane stalks are burned, and smoke fills the sky. That's when the locals head to the fields and partake in a right of passage that goes back decades. As the fields burn, the rabbits flee the fire and smoke, and young men chase the rabbits that escape from the burning fields. There they hone the speed, quickness and agility that are the hallmarks of future NFL players.
It sounds corny, but it happens. And the list of NFL players from the Glades is long -- and will continue to be as long as sports is a way out for so many in the area. Those who get out succeed. Those who don't can be led to the same self-defeating cycle of drugs and crime that capture so many.
"It's very important," Benjamin said of the long-held practice of chasing rabbits. "It's a great tradition."
Benjamin remembers chasing the way the rabbits ran … stopping, starting, darting back and forth, all at rapid-fire pace. Benjamin says he caught 20 in one day, and he's seen another gentleman catch 60 or 70.
"It's nothing to it," Benjamin said. "And once you go out there and you know the tendencies of what the rabbit's gonna do, and you know when they're gonna come out, it's a great feeling."
It sounds as if he studied video the way the
Cleveland Browns
study opponents, but Benjamin studied something more important -- those who came before him.
"You catch 'em and sell 'em or catch 'em and eat 'em," Benjamin said. "They kind of taste like pork chops to me."
There's something in the dark muck that produces the sugar cane, because it produces a number of football players greatly out of proportion to the combined populations of around 24,000. Among them are
Fred Taylor
,
Santonio Holmes
,
Anquan Boldin
and
Andre Waters
. When Inside Sports magazine was founded, one of the stories in one of the first issues was written by Gary Smith and detailed
Rickey Jackson
and Remuise Johnson, two Belle Glade stars, one of whom made it in the NFL, the other who went on to become a minister in Boynton Beach.
"Playing ball is a high priority for us," Benjamin said.
Benjamin now has a nickname that takes him back to the Glades. The Browns have had a Flea, an Ice Cube, a Turkey and some Dawgs.
Now they have Travis Benjamin, the Rabbit.
October, 6, 2013
10/06/13
3:08
PM ET
One of the best returners in Cleveland Browns history left the team in the offseason.
As it turns out, the Browns may be using a faster, more elusive punt returner -- and in the end he may turn out to be just as good and maybe better than
Josh Cribbs
.
Travis Benjamin
has more quickness and pure speed than Cribbs, and when he gets any room to maneuver he is a threat.
Benjamin only returns punts -- he's too frail to return kickoffs -- but Thursday night in the win over Buffalo he had a 79-yard return for a touchdown and a 57-yard return. Total, he set a team record with 179 yards in returns (the previous record was held by Eric Metcalf, who returned two punts for TDs in a win over Pittsburgh in October 1993).
"Fabulous," coach Rob Chudzinski said after the game.
[+] Enlarge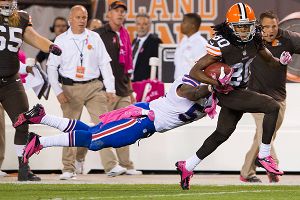 Jason Miller/Getty ImagesTravis Benjamin is trying to make Browns fans forget about Josh Cribbs.
"Fastest man on the field," tight end
Jordan Cameron
said.
All he needs is room to get going. And Bills punter
Shawn Powell
gave Benjamin room plenty of times. His kicks were long -- 45.5 yards -- but they were low, and he kept outkicking the coverage (sort of like I did with my wife). To the point that Buffalo released Powell the day after the game.
"It's only a matter of time in this league before you get exposed," Bills coach Doug Marrone said.
Benjamin has room to grow. He goes through games where he has trouble catching the ball, or does little on returns. He's also so small that there is a constant risk of being injured.
Too, on the 59-yard return he let Powell shove him out of bounds. The cardinal sin for a returner is being stopped by the punter. Benjamin let it happen on the first, but on the second he ran through the tackle.
The key to any success is consistency, and Benjamin had a strong preseason but averaged just 7.7 yards per return in the first four games.
He provides hope with this game.
Letting Cribbs go was the right decision by the new Browns regime -- even though it was disappointing for the fans, it was time.
Counting on Benjamin was a risk. A year ago he looked small and injury prone and too inconsistent to play on offense. There's a lot of guys who try to rely on pure speed who don't succeed in football.
But Benjamin made a statement about his value against the Bills.
He just needs to continue what he started.
October, 3, 2013
10/03/13
11:42
PM ET
CLEVELAND -- A few thoughts on the
Cleveland Browns
' 37-24
win
over the
Buffalo Bills
at FirstEnergy Stadium:
What it means:
Brandon Weeden
regained the Browns' quarterback job in the worst possible way -- through an injury to
Brian Hoyer
. Hoyer was injured just more than three minutes into Thursday's victory over the Bills when both his knees caught awkwardly under him as he was attempting to slide at the end of a run. The initial diagnosis was a right-knee injury, and NFL.com reported during the game Hoyer would need an MRI. That put Weeden back in the game. The carousel that has been the Browns quarterback situation since 1999 keeps right on turning, and right now it appears Weeden will be riding the lead pony.

Stock watch:
The Browns moved over .500 for the first time since the third game of the 2011 season. That has to help a team trying to find itself. If anyone benefitted from the night, it was Weeden, who missed two games with a thumb injury and seemed to have lost his job. He finished with a quarterback rating of 95.3 and took steps toward re-establishing himself.
Private Benjamin:
Browns punt returner
Travis Benjamin
had as much to do with the result as any player. Benjamin set up Cleveland's first score,
Billy Cundiff
's 30-yard field goal, with a 57-yard return, then scored its second touchdown with a 79-yard return. By game's end, Benjamin had broken Eric Metcalf's team record (166 yards in 1993) for punt return yards in a game, finishing with 179. Benjamin is too small to contribute regularly on offense, but his quickness and speed are extremely dangerous in the return game.
Defense does it:
With an assist from
Jeff Tuel
. One thing that can be said is that the Browns' backup quarterback is better than Buffalo's. Once Tuel got in the game, the Bills got little done. In the final two minutes, the Browns secured the win when
T.J. Ward
intercepted a Tuel pass and returned it 44 yards for a touchdown.
What's next:
The Browns get a 10-day break before finishing the last of three games in a row at home, with the
Detroit Lions
visiting Cleveland. The stakes get a little higher, as the Browns go from Tuel with no
Stevie Johnson
to
Matthew Stafford
and
Calvin Johnson
.
September, 6, 2013
9/06/13
8:00
AM ET
A look at what is happening on the Cleveland Browns beat: