January, 29, 2015
Jan 29
9:30
AM ET
The list below features 10 teams that could make deep runs in March. Some of these squads might even reach the Final Four in Indianapolis.
There is no denying their respective talent, potential and capability.
But there's also something about each of them that makes it difficult to assume they'll ever reach their ceiling this season. On paper is one thing. On the court? Well, that's a bit more complicated with the following programs. They're the kind of squads that induce moments of beauty and heartbreak, sometimes in the same game.
Can't trust them … yet.
Agree? Disagree? Tell us on Twitter by using
#Top10Thursday
.
1.
Maryland Terrapins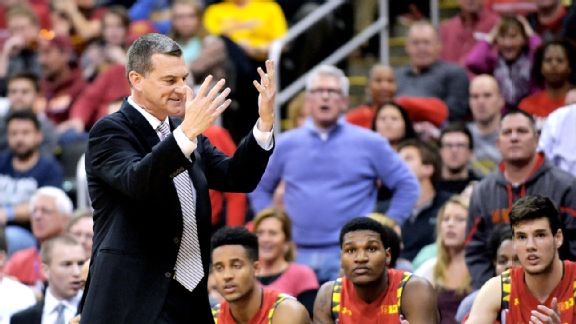 Denny Medley/USA TODAY Sports
There's so much to love about Mark Turgeon's program.
Melo Trimble
and
Jake Layman
are pros. The Terrapins might be the only team with the goods to dethrone
Wisconsin
in the Big Ten, and they have a favorable matchup in their only meeting of the season with the Badgers toward the end of the conference schedule in College Park, Maryland. But
Dez Wells
(36 percent clip in the past four games), a
19-point loss at Indiana
and a tight
home victory over Northwestern
that demanded a miracle in the final seconds should concern supporters of a team that has gone 10-13 in February under Turgeon.
2.
Louisville Cardinals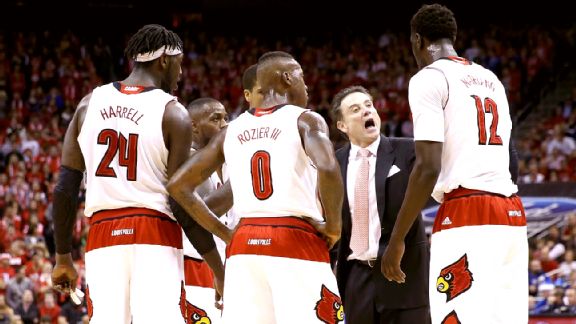 Andy Lyons/Getty Images
There isn't one bad loss on the Cardinals' résumé (
Kentucky
,
Duke
,
at North Carolina
). Their defense is holding teams to just .89 points per possession, a mark topped by only a handful of schools. But Louisville's challenges on offense (48th in adjusted offensive efficiency, per Ken Pomeroy) could prove to be a hindrance in the coming months. The Cardinals are shooting just 30.7 percent from the 3-point line.
Chris Jones
and
Wayne Blackshear
are both shooting less than 40 percent from the field. Again, this defense will keep Louisville alive against any future opponent, but can the team close the show if it can't find the rim?
3.
Indiana Hoosiers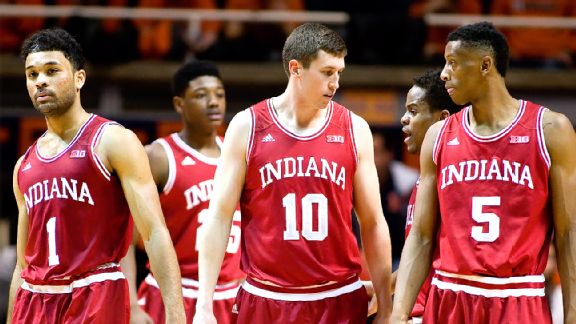 Mike Granse/USA TODAY Sports
First, Tom Crean deserves credit for everything he's achieved thus far following a turbulent start that appeared to be the beginning of the end for him. Indiana is a top-five team in the Big Ten. After all of that early drama? Wow.
Yogi Ferrell
leads a high-powered, top-10 offensive attack that produced 89 points against Maryland. But can the Hoosiers stop anyone? They couldn't stop (gulp)
Purdue
in
a 16-point loss
to their rival on Wednesday. They're ranked 227th in adjusted defensive efficiency. They've given up an average of 85 points per game in their six losses. So, Indiana can score 90. But it can also surrender 95. That's what makes the Hoosiers both fascinating and impossible to trust right now.
4.
Oklahoma Sooners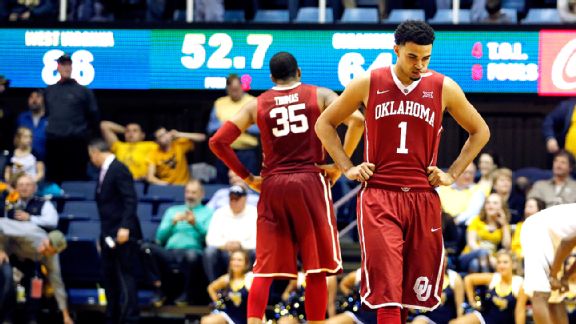 Justin K. Aller/Getty Images
After Lon Kruger added big man
TaShawn Thomas
, it was clear the Sooners had a shot to battle for the Big 12 title. Early victories
over Butler
and
UCLA
only strengthened that notion. But you can't take this team outside Norman, Oklahoma, and expect much. Oklahoma is 2-5 in true road games. The Sooners are 4-6 overall in neutral and road games. Also, Kruger's squad has lost four of its past five. Yeah, the Big 12 is tough, but you're not getting a bid on Selection Sunday simply because you're a member or because of a
45-point win against Texas Tech
on Wednesday night. You must earn it, and right now, Oklahoma is doing plenty to squander a solid seed in the NCAA tournament field.
5.
Baylor Bears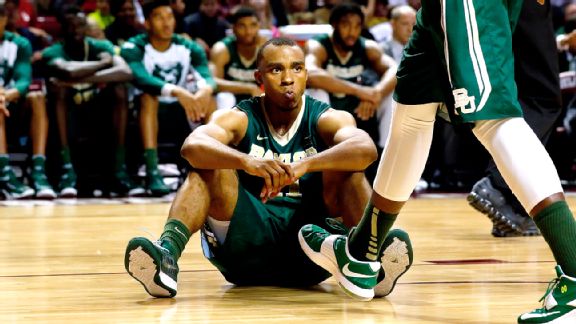 Ray Carlin/USA TODAY Sports
The program's supporters will come at you with Scott Drew's postseason success, and it is impressive: two trips to the Elite Eight and a Sweet 16 appearance since 2010. That's the shield used to defend the program against critics who point to the perennial in-season inconsistency. Want to bet on Baylor? Fine. But the Bears are 3-4 in the Big 12. They faced just two top-100
BPI
teams during the six-game winning streak that preceded conference play. Sure, sure. It's a stacked league. But those blown leads against
Kansas State
and
Iowa State,
that overtime thriller against
TCU
, that 66.4 percent clip from the charity stripe? All problems. Will Baylor be a nonfactor in the final month of Big 12 play and a one-and-done in the NCAA tournament? We'll see.
6.
Iowa State Cyclones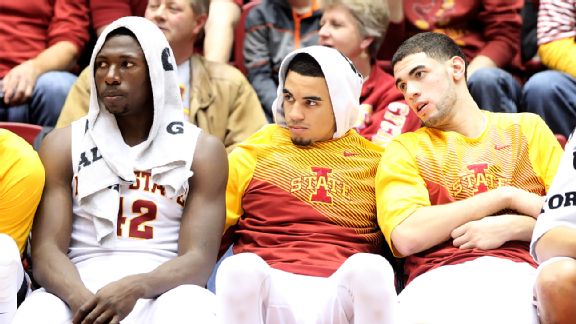 Reese Strickland/USA TODAY Sports
Yep, Fred Hoiberg might have his best squad yet, and that was probably true before
Jameel McKay
arrived to dunk on the world, collect transition buckets and swat shots. He's a game-changer for the Cyclones. Forget the 3-ball (34.8 percent overall). Iowa State connects on 57.3 percent of its 2s (fourth in the nation). Its
victory over Kansas
in Ames, Iowa, showed the world the Cyclones could win the league. That weekend
loss at Texas Tech
? Well, that just magnified the program's challenges with slow starts, especially on the road. It's almost like you gotta give the whole roster smelling salts before games or something. The big matchups? Iowa State will be ready. The rest (
South Carolina
, at Texas Tech, at Baylor)? Not always. Time for the Cyclones to decide if they want a ring or not.
7.
LSU Tigers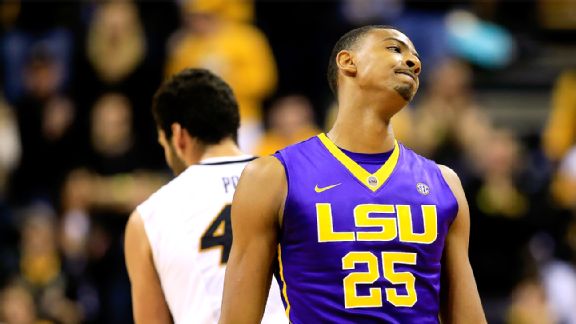 Jamie Squire/Getty Images
There were certainly concerns about Johnny Jones' program early. The Tigers lost to
Old Dominion
,
Clemson
and
Missouri
. Yes, they secured a great road win over
West Virginia
. But it still wasn't clear if a team with a pair of NBA prospects named
Jarell Martin
and
Jordan Mickey
would manage to fall short of expectations again entering conference play. They're off to a solid 4-2 start in the SEC. That's a good thing. Doesn't guarantee much, though. In all, the Tigers have played four overtime games. They're 2-1 in games decided by three points or fewer. The Tigers are 92nd in adjusted offensive efficiency. They're committing turnovers on 21.4 percent of their possessions (282nd nationally). That unreliable offense could lead to problems in the final stretch of the season and beyond. They've been walking a tightrope all season.
8.
Texas Longhorns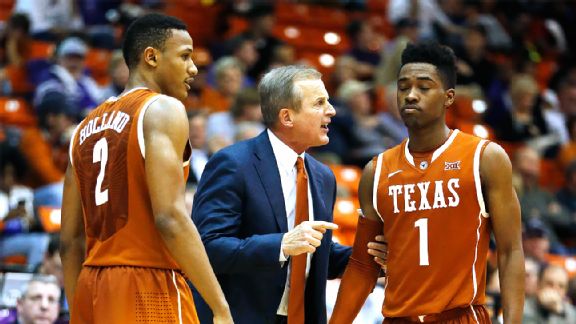 Tim Heitman/USA TODAY Sports
Rick Barnes has everything he needs in Austin. He's blessed with more size than 95 percent of the teams in the country.
Prince Ibeh
,
Cameron Ridley
and
Myles Turner
are three of the reasons that opponents are shooting just 38.1 percent (fourth nationally) against the Longhorns inside the arc. But their offense is a mess, in part because, midway through the season, they're still struggling with roles, inconsistency at the charity stripe and shot selection. Turner, a 7-footer, is shooting just 28.8 percent on shots at the rim (hoop-math.com). He has to call for the ball and post up more often. Fifty-three percent of
Javan Felix
's shots are 3-pointers. Ridley gets nearly three free throw attempts for every four shots he takes, but he's only making 63.6 percent of his free throws. Texas has to play big and execute on offense, and neither has been the norm thus far.
9.
Ohio State Buckeyes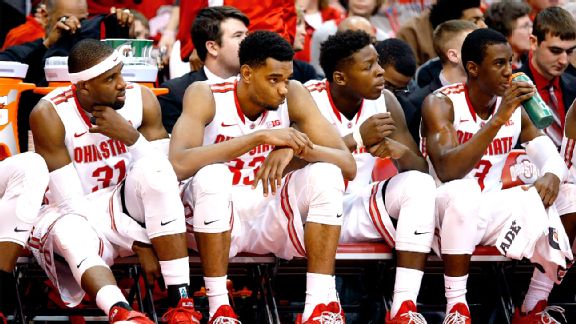 Joe Maiorana/USA TODAY Sports
The Buckeyes have found an abundance of success under Thad Matta. One thing they're not searching for this season is a star.
D'Angelo Russell
(19.4 points per game, 5.2 rebounds per game, 5.1 assists per game) has accepted that role and the NBA buzz that often accompanies those numbers. The Buckeyes are 5-3 in the Big Ten with a significant matchup against Maryland on Thursday. Are the Buckeyes contenders? Stay tuned. It's just odd to see an Ohio State team struggle on the defensive end. Ohio State is giving up 0.96 points per possession, according to Ken Pomeroy, their highest mark since since the 2008-09 season, which ended with a 22-11 record and a first-round loss to
Siena
in the Big Dance. The team held opponents below 0.90 points per possession three of the four seasons of the Aaron Craft era. Though they are connecting on 38.6 percent of their 3s, they are not much of a threat in the paint via their bigs. Does Ohio State have the talent to surge in the Big Ten? Of course. The balance? TBD.
10.
Miami Hurricanes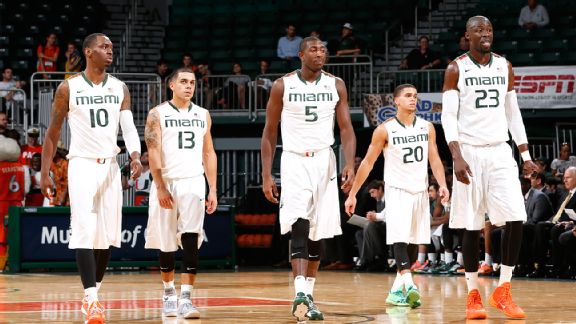 Joel Auerbach/Getty Images
Angel Rodriguez
and
Sheldon McClellan
practiced together last season as transfers from Kansas State and Texas, respectively. Both guys decided they needed a new opportunity, and their decisions have turned Miami into an NCAA tournament team again. The Hurricanes
beat Duke
by 16 points. At Cameron Indoor Stadium. That's the game they'll tell their grandchildren about. They won't mention losses to
Green Bay
,
Providence
and
Eastern Kentucky
. Perhaps Miami was a different team then. You can't deny the Hurricanes' 4-3 start in ACC play or Rodriguez's leadership. His team follows him. That has been a challenge at times. He went 2-for-15 with three turnovers in that loss to Green Bay, 0-for-6 in a loss to Eastern Kentucky and 1-for-10 in that
loss at Notre Dame
. Wednesday night? He went 0-for-8 in a
20-point home loss
to …
Georgia Tech
?!? Rodriguez is one of the best players in the country, but will Miami be able to recover on his off nights? That has been the issue.