March, 28, 2015
Mar 28
11:06
PM ET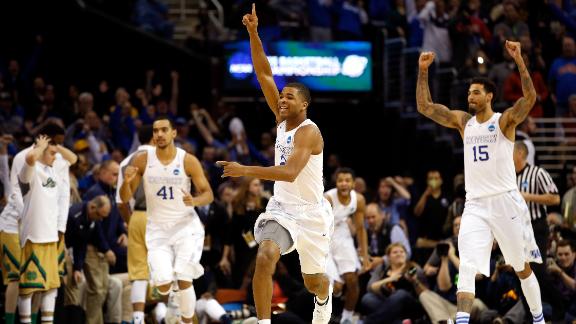 CLEVELAND -- We would say we don't have any words to describe the Kentucky Wildcats' immediately legendary 68-66 win Saturday over the Notre Dame Fighing Irish in the Midwest Regional final, and we would be right, but let's give it a shot anyway. Five observations:
You just watched a bonafide NCAA tournament classic: On one side, a 37-0 steamroller coming off an epochal domination of its Sweet 16 opponent; on the other, a team that lost 17 games a season ago but blitzed the ACC with great offense that maximized its strengths and minimized its weaknesses, and that entered Saturday night genuinely believing -- rightfully so -- that it was absolutely capable of beating the unbeatable. It was only the final seconds that proved otherwise, when Andrew Harrison's two free throws, and Willie Cauley-Stein's perfect hounding of guard Jerian Grant's last-ditch attempt, gave the Wildcats their decisive two-point advantage.
Irish executed about as well as possible in first half: They weren't perfect, of course -- there were six turnovers, some of them sloppy, and Notre Dame shot just 1-of-5 from 3. If, before the game, you had told Mike Brey that both of those things would be true at halftime, but that his team would be tied 31-31, he'd have probably laughed. But the Irish did everything else right. They spread Kentucky's defense and attacked the gaps; Zach Auguste crashed the offensive glass; the Irish used their trademark back-cut out of penetration to find easy buckets against a disconnected Kentucky defense; and Pat Connaughton did yeoman's work keeping the much taller UK frontcourt off the glass. Notre Dame went 12-of-22 from 2-point range in the first half while holding the Wildcats to 10-of-27 shooting -- the combined product of just plain bad shooting and intelligent defense. There were 13 lead changes in the first half, and the game -- a real, genuine, oh-man-UK-might-actually-lose-this game -- was on.
Kentucky's second-half strategy simple: Give ball to Towns: Karl-Anthony Towns is unstoppable no matter who's attempting the stopping, but his brutish size was especially unguardable for that undersized ND interior. John Calipari clearly mentioned as much to his team at halftime. The start of the second half was a parade of Towns touches on the block. Four of UK's first six second-half buckets came from Towns, and usually in totally straightforward fashion. When Devin Booker hit a 3 early in the second to put UK up by five, it looked like that inevitable Wildcats run might bury the Irish then and there. But ND kept finding buckets on the other end, too; Towns was whistled for his third foul with 11:15 to play; and the game stayed on. When he returned, with just over seven minutes to play, he immediately got another easy bucket over August -- and then, a possession later, having been switched on Connaughton, got another. The Irish began doubling Towns on the block. The first time, it worked, leading to a steal and a trailing Steve Vasturia 3. The second time, it gave Tyler Ulis an open corner 3. But then, with 5:22 to play, Auguste caught at the elbow and finished a layup through contact, Towns' fourth foul. He returned with less than five minutes left and immediately got a bucket and foul to give Auguste his fourth, cutting Notre Dame's lead from four points to just one. Calipari wisely subbed Towns in and out from there, and there was scarcely a big Kentucky basket that didn't directly involve Towns the rest of the way.
Auguste, Connaughton, Vasturia play game of their lives: Auguste attacked the rim with fearless gusto, feasting on Notre Dame's masterfully angled cuts and offensive rebounds left when the Wildcats' help side went chasing blocks. He finished with 20 points, all of them in the paint, an utter rarity against the best 2-point defense in recent college basketball history. Connaughton was a man possessed on the glass, fending off the comically larger Willie Cauley-Stein to the tune of nine rebounds. Vasturia, who spent much of March emerging as yet another offensive threat in Notre Dame's already considerable arsenal, was as good as he's ever been -- his back-to-back buckets kept Notre Dame in the lead midway through the second half. If Auguste was the MVP of Notre Dame's effort, it was only barely -- everyone, top-to-bottom, contributed some of the best basketball of their careers. Consider this: Until its shot-clock violation in the final minute, Notre Dame went 28:44 without a turnover.
And it still wasn't enough: Such is the greatness of Kentucky, the formation of which is still very much in progress. Several teams have tested UK this season and come up short, because not only is Kentucky great for most of pretty much every game it plays, it always finds another gear, another stratosphere, when everything is on the line. It was Saturday night; the Wildcats were on the ropes; Notre Dame touched something close to perfection. And Kentucky is still unbeaten, still chasing immortality, and relocating the final leg of that chase to Indianapolis, with a second-straight trip to Final Four. Crazy.