November, 22, 2014
Nov 22
6:50
PM ET
CHARLOTTE, N.C. -- North Carolina center
Kennedy Meeks
' previous appearance in Time Warner Cable Arena was as a 12-year-old brought out for the Charlotte Bobcats' (now-Hornets) halftime entertainment scrimmaging with the rest of his little league teammates.
Saturday against Davidson, the Charlotte native was the Tar Heels' main attraction, recording a team-high 19 points with a game-high 12 rebounds in their
90-72
win.
It seems as the sophomore's waistline shrinks, his game continues to grow. And it's a concept he's still getting used to.
[+] Enlarge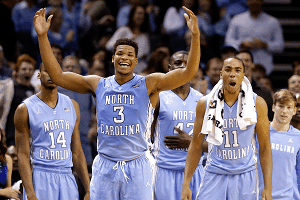 AP Photo/Chuck BurtonKennedy Meeks was all smiles after recording a double-double in North Carolina's win on Saturday.
"Kennedy was huge inside," said UNC coach Roy Williams, no pun intended. "He's got to get his mind correct that he does have a different body, that it can do certain things."
Meeks flashed the raised fist to Williams to signal he needed a break with just under four minutes left in the game. Before Williams could replace him, Meeks denied a pass and came up with a steal at halfcourt that he took in for a dunk.
"I guess I wasn't as tired as I thought I was," Meeks said.
He finished off some buckets with a flex for the cameras. He blocked two shots, had two steals and three assists in playing a season-high 31 minutes.
Meeks showed flashes of this potential last season, but couldn't consistently pull off such performances in part because of his conditioning. It's not so much a problem this season.
His new diet includes drinking more water with fewer carbonated and sugary drinks. He's eliminated pizza, too. It's helped him get down to about 270 pounds from 319 when he arrived on campus last year from West Charlotte High School.
He was so eager for a good showing in front of the block of 15 friends and family members in attendance that he started off the game flat.
Sophomore guard
Nate Britt
said the bounce in Meeks' step was obvious as early as his pregame dance routine when the team gathers in a circle before taking the floor.
"You could tell that we were in Charlotte and he was happy to be home," Britt said.
But early on Meeks appeared headed for the dreaded homecoming dud performance.
Three minutes into the game, after two blown defensive assignments, Meeks found himself being benched.
"I was like, 'Aw, man, this isn't going to be good,'" Meeks said. "I was holding my head down but I have great teammates.They kept encouraging me to just post hard and stuff will fall through, and it did."
The Wildcats tried double-teams on the post that for the most part Meeks either bullied through or passed out of without problems. In other words, he didn't become, what the character-limited scoreboard overhead displayed, "Kennedy Meek."
"Coach [Steve] Robinson always tells me every day, be aggressive and good stuff will happen for you," said Meeks, who is the only Tar Heels player to score in double figures in each of their first three games.
It wasn't just his scoring that helped the Heels. With the pace of the game more to Davidson's liking early, Meeks helped get the Heels out running with his ability to turn a rebound into a quick outlet pass. Williams said he's the best at doing that than anyone he's ever coached and it helped the Heels get transition baskets they would not have scored otherwise.
"We know that his outlet passes are some of the best in the country," freshman forward
Justin Jackson
said. "If the bigs get the ball, then we just get out."
Even that was an adjustment. Meeks said his teammates haven't always run out after rebounds, so he didn't have the option of making a quick throw down the floor.
"Now they know I'm looking every single time, no matter who is in front of them or who is behind them," Meeks said. "I think they've prepared themselves more for that."
The Heels head to the Battle 4 Atlantis in the Bahamas next week, where the competition level will increase and they could potentially face two ranked teams, including No. 3 Wisconsin. The Heels will need Meeks to continue to be a strong post presence and it seems he's prepared to deliver.