College Basketball Nation:

Alabama Crimson Tide
April, 29, 2014
Apr 29
10:00
AM ET
Somehow, the SEC was the nation's most disappointing and successful conference in 2013-14. After a mad dash to Selection Sunday, LSU, Arkansas, Ole Miss and Missouri failed to earn invites to the NCAA tournament.
The three SEC programs that did, however, thrived. Tennessee began in the First Four and made a run to the Sweet 16. Florida, the top team in the country for a chunk of the season, was the favorite to win the national championship but fell to Connecticut in the Final Four. Kentucky, after a turbulent season, rode a postseason burst all the way to the national title game.
Only three of the league's 14 members secured NCAA tourney bids and all three were fabulous.
What about the other 11, though?
That's the challenge here. The NCAA tournament is the ultimate chapter of each college basketball season. Because the bulk of the attention the game attracts each season arrives in March, its postseason is largely viewed separately from the regular season. The latter means little to most because so many squads -- 19 percent of the 351 Division I teams -- have a chance to win it all.
If that's true, then the SEC had a banner year. But it's also not that simple.
[+] Enlarge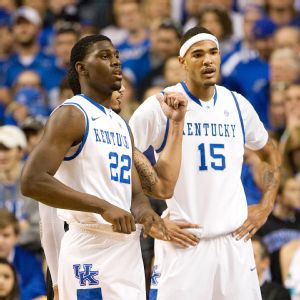 Mark Zerof/USA TODAY SportsAlex Poythress and Willie Cauley-Stein are returning to Kentucky.
Those three highlights didn't erase the overall mediocrity that defined SEC basketball. Or that Tennessee and Kentucky fell short of expectations prior to Selection Sunday. The only thing buoying the season for the majority of the season was a Florida team that maintained the top slot in the polls and won every game it played between a Dec. 2 loss to Connecticut and another loss to the Huskies in the Final Four.
The late-season highs were impressive. But the overall SEC picture was rarely pretty.
What we saw this season
: Everything about the SEC was connected to Kentucky before the season began. John Calipari signed six McDonald's All Americans. Kentucky was ranked No. 1 in the preseason polls, but the Wildcats didn't live up to the hype until the NCAA tournament began. They faced multiple Top-25 teams in the nonconference season but beat only rival Louisville.
Their finish, however, was remarkable. Somehow, this young Kentucky team defeated Kansas State, undefeated Wichita State, Louisville, Michigan and Wisconsin to reach the national championship matchup. Yes, the Wildcats lost. But they recorded one of the season's most impressive finishes in college basketball.
Florida, the first 18-0 team in SEC history, didn't experience those struggles. The Gators were unstoppable once they got healthy. They dealt with injuries and suspensions at the start of the season, but won 30 consecutive games as a mostly complete unit, even though McDonald's All American freshman
Chris Walker
didn't play most of the season. They didn't capture the crown but Billy Donovan's fourth Final Four appearance is worthy of kudos. For most of the year, Florida was the only program that made SEC basketball worth watching.
Georgia matched Kentucky's 12-6 SEC record, a year after Kentavious Caldwell-Pope left the scene and Mark Fox made an argument for coach of the year.
It all got worse from there, though.
Tennessee's conclusion belied its overall season. Cuonzo Martin returned most of the standouts from a 2012-13 team that missed the NCAA tourney, but
Jarnell Stokes
,
Jordan McRae
and a healthy
Jeronne Maymon
weren't supposed to stumble into the NCAA tournament through a First Four matchup with Iowa. That's what happened, though.
Stumble was the theme of SEC basketball in 2013-14.
In all, four squads cracked the RPI's final top 50. Seven finished in the 90s or higher. Auburn (165) and Mississippi State (243) were at the bottom.
Every league has a basement. But the SEC's was difficult to identify because of the heap of seemingly average squads in the conference.
Missouri, with
Jabari Brown
leading the way, had some talented players, but a late 2-5 stretch that included road losses to Alabama and Georgia helped knock them off the bubble. Arkansas swept Kentucky but couldn't manage any other impressive road wins.
Johnny O'Bryant III
led a talented LSU frontcourt, but the Tigers couldn't play their way into the tourney either. Same for
Marshall Henderson
(19.0 PPG) and Ole Miss.
The rest of the league -- Vanderbilt, Mississippi State, Alabama, Texas A&M, Auburn, South Carolina -- all finished with sub-.500 records in conference play.
Kentucky, Florida and Tennessee definitely helped the league, but they were anomalies in a subpar conference.
What we expect to see next season
: Things could be similar next year.
Andrew Harrison
and
Aaron Harrison
are back for Kentucky. They'll join
Dakari Johnson
,
Alex Poythress
and
Willie Cauley-Stein
along with another elite recruiting class (see
Trey Lyles
,
Karl Towns
).
[+] Enlarge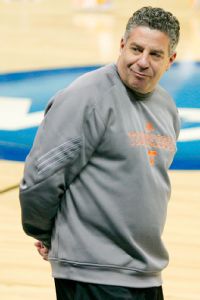 Andrew Synowiez/USA TODAY Bruce Pearl returns to the SEC, but has some work ahead at Auburn.
The Wildcats certainly aren't alone at the top, but coming off a run to the title game, they appear to have the pieces to win Kentucky's ninth national championship. Life in Lexington is good.
Florida could also be a national title contender if
Kasey Hill
and Walker continue to develop.
Michael Frazier II
and
Dorian Finney-Smith
are back, too. But
Patric Young
,
Casey Prather
,
Will Yeguete
and
Scottie Wilbekin
are not. That's a major blow. But five-star recruit
Devin Robinson
is the anchor of another strong recruiting class in Gainesville.
The rest of the league is filled with question marks.
Things are fluid at Tennessee, Missouri and Auburn. All three programs have new coaches who have to persuade current players to stay on board and find ways to boost their talent pools for next year in the ninth hour.
Tennessee lost its entire recruiting class -- all four prospects requested and received their releases -- after Martin left for Cal and Southern Miss' Donnie Tyndall replaced him. Bruce Pearl is working the phones now that he's back in the game at Auburn. It's too early to know how the hiring of former Central Missouri head coach Kim Anderson on Monday will affect Missouri's future, but he won't have Brown or
Jordan Clarkson
, who both declared for the NBA draft.
Jarell Martin
and
Jordan Mickey
return for LSU. That duo along with 6-foot-11 incoming freshman
Elbert Robinson
will lead one of the league's top frontcourts. The Tigers should make a push for an NCAA tourney slot. Anthony Grant lost
Trevor Releford
, who will be hard to replace at Alabama, but
Levi Randolph
returns.
Bobby Portis
and
Michael Qualls
helped Arkansas beat Kentucky twice last season and could help Mike Anderson's program earn an NCAA tourney bid next year.
Georgia's
Charles Mann
& Co. will give Fox the same talents he had on a 12-6 SEC squad last year. If his youngsters grow, the Bulldogs could finish near the top of the conference again.
The return of Kedren Johnson from a year-long suspension would help Kevin Stallings' cause at Vandy. Billy Kennedy has a solid nucleus at Texas A&M. The Marshall Henderson Era is over at Ole Miss. And South Carolina and Mississippi State will try to turn the corner. Again.
Still, Kentucky and Florida will be the teams to watch in the SEC. The rest of the conference? As always, it's difficult to say.
March, 11, 2014
Mar 11
11:20
AM ET
This season started with talk about a special group of classmates in this league, one so talented and exceptional that it just might go undefeated.
Which is exactly what happened, only not with the team or the group anyone expected.
Kentucky
and its ubertalented freshmen grabbed the headlines in the preseason, a squad so once-in-a-generation special it spawned silly talk of a 40-0 season. The Wildcats instead endured the reality of growing pains, and they have yet to realize their potential.
[+] Enlarge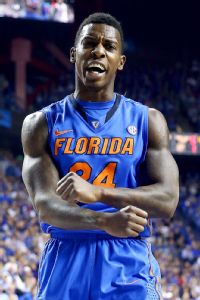 Andy Lyons/Getty ImagesSenior Casey Prather leads the No. 1 Gators in scoring with 14.6 points per game.
In the meantime,
Florida
, with its ubertalented seniors, finished the SEC regular season undefeated, the first in the conference to go 18-0 and only the fourth team from a major conference to finish a league slate unscathed in the past 15 seasons.
Were it not for a certain
team in Wichita, Kan.
, we might be singing more loudly the praises of Florida and its consistency. This college basketball season has been anything but stable, marked by strange upsets, wild rants and teams that, for one reason or another, could never find their footing.
Florida, with its own set of issues, hardly faltered. Despite problems both accidental (injuries) and self-inflicted (suspensions), the Gators lost only two games this season, finishing the regular season with 23 straight wins. Within the SEC, their average margin of victory was a gaudy 13 points per game.
It is worth noting, as well as impossible to ignore, that, in a year and a sport dominated by freshmen, Florida succeeded with and because of seniors.
Scottie Wilbekin
,
Casey Prather
,
Will Yeguete
and
Patric Young
already have racked up 113 wins in their career, with two tournaments left to break the school record (117).
"When you invest four years like these guys have invested, it means something to them," Florida coach Billy Donovan said after his team's season-finale win against Kentucky.
What's at stake?
Conference pride.
The SEC
has a legitimate national title contender in Florida, but other than that, it has a lot of "meh." No team outside the Gators has done much all season to distinguish itself, with more teams trying, it would seem, to stay on the bubble than get off it.
The SEC needs three teams especially to prove their worth --
Arkansas
,
Tennessee
and
Missouri
. The Razorbacks, seeded fifth, lost a dismal
regular-season finale against Alabama
to put them back in the bubble conversation.
Meanwhile, in a pick 'em NCAA game, Tennessee did everything right and Missouri everything horrifically wrong in a
72-45 Vols win
.
All three have been woefully inconsistent this season, putting together questionable résumés that have made for that uncomfortable bubble perch. Arkansas managed to sweep Kentucky but lose to both
Alabama
and
Texas A&M
. Tennessee, the least guilty of the three culprits, has no real notable wins but some bad losses (A&M,
Vanderbilt
). Missouri beat UCLA way back when and lost to Vandy,
Georgia
(twice) and Alabama.
To avoid an uncomfortable viewing party on Sunday, all three need to make sure they don't have any more awful losses, not just for themselves but for the sake of their league.
The football kingpin SEC continues to promise an improved product on the hardwood but, season after season, coach after coach, struggles to make it happen. It's time the teams helped the league office out.
Team with the most to gain
Kentucky. Yes, the Wildcats are firmly in the NCAA tournament, but if there is a team that can use a dose of feel-good medicine, it is the Wildcats. Kentucky ended the regular season with a 19-point loss to Florida, the disheartening exclamation point on a season that never quite became what anyone expected.
The Wildcats, the preseason No. 1 team in the nation, needed a tiebreaker to beat out Georgia for the No. 2 seed in the SEC tournament.
But nothing cures the November-December-January-February blues quite like a good month of March. Kentucky is one good run from becoming a very dangerous team, and a hot start at the SEC tournament could be the spark.
This is a team that needs to believe in itself as much as anything. The only way for the Wildcats to do that is to start stringing together wins.
December, 27, 2013
12/27/13
12:00
PM ET
Well,
I went 3-2 again last weekend.
I missed Michigan State-Texas, obviously. I thought the Longhorns would thrive on the comforts of its home floor and their growing confidence following a win over North Carolina the previous week. But sometimes, it's as simple as talent. And
Adreian Payne
and
Gary Harris
were just too much for a young Texas team.
I also had no idea that UMass standouts
Sampson Carter
and
Chaz Williams
would go 6-for-26 combined in the Minutemen's loss to Florida State.
Let's see what happens with this post-Christmas slate.
Last week: 3-2
Overall: 10-5
Saturday


No. 8 Villanova at No. 2 Syracuse, 2 p.m. ET, CBS:
Get your popcorn ready for this one. Two of the best teams in the country. A pair of former (old) Big East contenders. Both undefeated. Even though Kentucky and Louisville will face off on Saturday, this is the day's must-see matchup.
JayVaughn Pinkston
and Co. have already knocked off Iowa and Kansas at neutral sites. But this will be Villanova's first true road game of the year outside the city of Philadelphia (the Wildcats secured a 98-68 win at Saint Joseph's on Dec. 7). The Carrier Dome won't be its biggest issue. Syracuse's ability to force turnovers (third in defensive turnover percentage according to Ken Pomeroy) could stall Villanova's potent offense (82.5 ppg).
Prediction: Villanova 76, Syracuse 75


No. 6 Louisville at No. 18 Kentucky, 4 p.m. ET, CBS:
Well, Kentucky isn't the Kentucky we thought it would be before the season began. John Calipari doesn't have as many NBA-ready players on his roster as the early hype suggested. But the Wildcats are still one of the most talented teams in America. Louisville, however, is another complete and thorough opponent for the young program. The emergence of
Montrezl Harrell
on Rick Pitino's roster has allowed the Cardinals to implement various lineups and showcase their depth. They're top-five in adjusted offensive and defensive efficiency. But they've accrued those numbers with a schedule that has featured squads that lack a fraction of Kentucky's talent. The Wildcats couldn't top Baylor or North Carolina or Michigan State. But they've played some of the best in the country. Will that help on Saturday?
Prediction: Louisville 72, Kentucky 68


No. 25 Missouri at North Carolina State, 8 p.m. ET, ESPN2:
North Carolina State lost every significant player from a 2012-13 squad that failed to meet its potential except
T.J. Warren
. Expectations are much lower this year with a young Wolfpack squad. Warren (23.6 ppg) has led his team to seven consecutive wins. North Carolina State has been solid in recent weeks. And this is a home game. But
Jabari Brown
,
Jordan Clarkson
and
Earnest Ross
comprise one of the top backcourts in the country. The Tigers average 14.0 turnovers per game. But ballhandling issues won't stop them from earning a win in their first road game of the season.
Prediction: Missouri 82, North Carolina State 74


Alabama at UCLA, 10 p.m. ET, ESPN2:
Alabama lost some of its best players as the result of offseason turmoil. A potential NCAA tourney squad before the drama is now 5-6 entering the final stretch of the nonconference season. But
Trevor Releford
(17.0 ppg) has kept Bama alive in multiple games throughout his career. He's carrying as much weight as any player in the country. The Bruins are nearly top-25 good. They have NBA-level talent in
Zach LaVine
and
Kyle Anderson
. But this might be interesting. Although Alabama has lost more games than it has won this season, four of its losses were by five or less. Bama has pushed multiple opponents to the brink. Will it finally finish a game against UCLA?
Prediction: UCLA 78, Alabama 75


Providence at No. 23 Massachusetts, 6 p.m. ET, ESPNU:
Last week, UMass suffered its first loss of the year when it was outplayed in a sloppy outing against Florida State. The Minutemen were ultimately doomed by their 17 turnovers. The latter have been an issue all year for the speedy group. They're averaging 15.0 a game. Providence has endured injuries, suspensions and drama all year. The Friars have won 10 games against a fairly weak schedule, excluding Kentucky. They have to slow Derek Kellogg's offense and not only force turnovers but capitalize on them. And if this is a close game, Providence will rely on its 81.6 percent clip from the free throw line. That could be a factor. But UMass has been humbled. And it really can't play much worse than it did last week in a game that it still had a chance to win.
Prediction: UMass 77, Providence 70
December, 27, 2013
12/27/13
9:30
AM ET
Alabama had the makings of an NCAA tournament team after a 23-win season in 2012-13. The Crimson Tide, however, failed to secure an NCAA tourney bid. But with his top seven scorers returning and a few talented incoming freshmen on the way, Anthony Grant had the tools for a solid SEC squad with postseason potential in 2013-14.
And then, it all fell apart.

Trevor Lacey
transferred to NC State. Devonta Pollard left the team following a bizarre kidnapping case.
Grant also lost big man
Moussa Gueye
.
And now
Trevor Releford
, a senior, is left to carry a greater burden.
He's handling it well as his team prepares to face UCLA on Saturday in Los Angeles. And he's not doing it alone.
Levi Randolph
and
Nick Jacobs
have been vital, too. Sophomore
Retin Obasohan
has been a bright spot for the program.
But Alabama could have excelled with Lacey, Gueye and Pollard, a former McDonald's All American, in the mix. Instead, Grant's program is 5-6. Four of those losses were by five points or less. One or two players could have made a difference.
Alabama is just one example of a program that has been damaged by unfortunate circumstances. And the team is also an example of the fragility within college basketball.
One injury (see the shoulder surgery that sidelined Providence standout Kris Dunn for the season), one transfer (ask Texas), one off-court issue (Notre Dame recently lost Jerian Grant due to academic problems), one decision to turn pro (Maryland misses Alex Len) and everything can change.
The most difficult component to maintain in college basketball is continuity. And that principle encompasses more than the exaggerated transfer epidemic. So many mishaps can shatter stability that coaches and players attempt to build.
And that's when challenges, such as the one that Alabama is facing this season, arise.
A few months ago, Bama was a program with a chance to elevate its national profile.
That might happen in the coming weeks. Grant has veterans and some young talent that continues to mature.
But the team's ceiling is lower now, proof that things at this level can change quickly.