October, 16, 2014
Oct 16
3:30
PM ET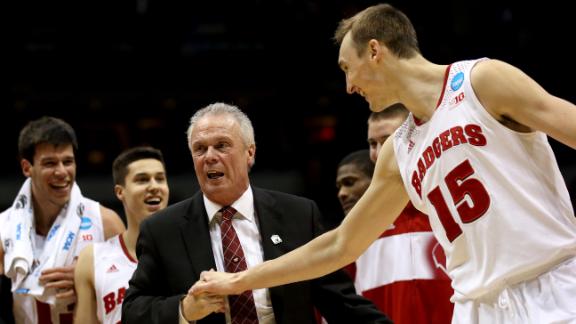 ROSEMONT, Ill. -- Big Ten coaches and players gathered again for the league's annual media day on Thursday.
Here are my five takeaways from the event:
[+] Enlarge

AP Photo/Morry GashBo Ryan has four starters returning from last year's team that made a Final Four run.

Same ol' Wisconsin. The Badgers, who were picked to win the league for the first time under Bo Ryan, didn't arrive by chariot. Sam Dekker wasn't wearing sunglasses and a gold chain, either. If all the hype and buzz that followed last year's Final Four run has changed Wisconsin, the program is doing a great job of hiding it. "Well, it really doesn't affect when we're doing; our transition defensive drills, I don't think my guys are thinking about that," Ryan said. "Our guys live in the moment, or at least we're trying to -- it appears that way. They're trying to get better. They know there's weaknesses to shore up, and we're trying to accentuate our strengths." One strength that Ryan pointed to was the team's overall depth. He says he has seven starters with Nigel Hayes, Bronson Koenig and Duje Dukan all potentially working their way into the starting rotation. Four starters return, including Frank Kaminsky, the Big Ten's preseason player of the year. They're obviously facing more scrutiny and the expectations are higher, but the Badgers seem as humble and reserved as they were when they became accustomed to being the perennial underdogs in the league.

Where are the stars? In recent years, the Big Ten has been carried by some big names who shaped the league's identity. Jared Sullinger, Greg Oden, Draymond Green, Robbie Hummel, Cody Zeller, Adreian Payne and others were marquee names that resonated on the national scale. But outside Wisconsin's roster, it's difficult to find those stars in the Big Ten. There are certainly some candidates who could emerge in the coming months. A.J. Hammons could have a big year for Purdue. Branden Dawson is finally "The Man" at Michigan State. Caris LeVert could be Michigan's next lottery pick. Rayvonte Rice is a talented player who could make some noise. Aaron White at Iowa could, too. But it's odd to survey the room and not see the kind of recognizable talent that the Big Ten often enjoys. But the good news for the league is that it has produced a multitude of breakout stars, including Victor Oladipo and Nik Stauskas, in recent years. That could happen again this season. Right now, however, there aren't many surefire gems in the Big Ten who don't live in Madison.

Big Ten not worried about Big National Title Drought. The Big Ten has taken the "best league in the country" championship in recent seasons. It's a force that regularly sends six or more teams to the Big Dance every year. But the conference hasn't won a national title since Michigan State seized the crown in 2000. Big Ten football has experienced a similar drought (Ohio State's 2002 championship was the league's last national title in that sport). But commissioner Jim Delany said he doesn't think that mark is a fair measurement of the league's achievements. "When I was at North Carolina, we lost in three Final Fours three years in a row," Delany said. "We couldn't win the big one. But the reality is there are a lot of ways to measure success. This is college basketball, so check us first on who we recruit, the kind of people we have, how they move through the system. Check out our winning, check out our attendance for 38 years in a row. We've had five years of consecutive attendance growth -- that's pretty remarkable."

Nebraska ready for the next step. Tim Miles, the coach who live tweets during games, kicked off the event with his typical brand of humor. "You know, an old coaching friend told me one time, never trust the media unless it helps you with recruiting, so I kind of stick by that." How old a coach was that? "Well, that was Jim Molinari, my assistant. He told me yesterday." But he's more than a comedian. Miles can coach and he's ready for the expectations that Nebraska faces after last year's run to the NCAA tourney. "Expectations are what they are, but nobody should have higher expectations for us than ourselves," he said.

Poll Recount? Wisconsin, Michigan State and Ohio State (the latter two lost major contributors from last year) were picked to finish first, second and third in the league by a media panel. I think Nebraska deserves a slot in that top three with all that Miles is bringing back. Kaminsky, Dekker, LeVert, Terran Petteway and Yogi Ferrell comprise the preseason all-Big Ten squad. Strong crew, but no room for Dawson, Rice or Big Ten newcomer and former all-ACC performer Dez Wells?