College Basketball Nation:

Butler Bulldogs
October, 16, 2013
Oct 16
3:45
PM ET
NEW YORK CITY -- Val Ackerman believes the Big East is still the Big East.
In her opening address during the league's media day event at Chelsea Piers on Wednesday, the Big East commissioner told reporters that she expects the conference to possess the same strength that it had in the pre-realignment years.
Ackerman, the former president of the WNBA, turned into a boxing promoter while she hyped the league as it prepares for its new beginning.
[+] Enlarge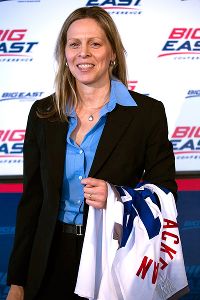 AP Photo/Craig RuttleBig East commissioner Val Ackerman said the conference isn't looking to expand from 10 teams.
"We're going to make this basketball conference a force," she said.
This league is obviously different. A summer split with the previous version of the Big East resulted in seven former Big East squads linking up with Creighton, Xavier and Butler to form the new conference.
She acknowledged that the conference feels some pressure to prove that it's still a power league in its inaugural year.
"There's no doubt the eyes of the basketball world and the eyes of others in college sports are definitely on the Big East," she said. "I think everybody in our league uses that as a source of motivation."
There are, however, no immediate plans to expand. Ackerman said the conference will be "very selective" if it ever decides to add teams.
"Ten is a good number," she said.
I think the Big East recognizes that it is not the same league, now that former powers Louisville, Syracuse, UConn, Pitt and Notre Dame are gone. But the new members certainly believe in the Big East's ability to maintain a slot as one of college basketball's power conferences this season.
The overall success of league favorites Marquette, Georgetown and Creighton will certainly be pivotal in that aspiration.
Other impressions and notes:
Doug McDermott, a strong contender for national player of the year honors, said Creighton's transition to the Big East was a major factor in his decision to come back for his senior season. "If it was the Missouri Valley, I don't know if I would've come back," he said. "This is just a new challenge." That shows that McDermott still believes he has more to prove. He is not running from the new spotlight that he and his program are under now. He's embracing it.
John Thompson III doesn't seem too worried about the loss of standout Greg Whittington, and maybe he shouldn't be. The team played without him for a chunk of the 2012-13 season when he was suspended midyear due to academic issues. Whittington could miss the entire 2013-14 season due to an ACL injury he suffered in June. "Greg played in, I think, one conference game last year and we won the conference," Thompson said. "We have a group of guys that do not have to make the adjustment to playing without Greg."
Villanova's Jay Wright is one of multiple Big East coaches who have some concerns about the new handchecking rules. How do you play tough defense with the new rules that will be implemented this season? Coaches, although excited about the impact the rules could have on offense, aren't completely sure. "That's going to be interesting in the Big East because we've all taken pride in our defense," he said. "And the three teams that are coming in are the same way. ... I think you're going to see some ugly games early."
When a teary-eyed Brad Stevens walked into their locker room, his former players were nervous. When he told them he was leaving, they were lost. But, Khyle Marshall said, players weren't mad when Stevens announced that he was taking a job with the Boston Celtics. "Once he said the Boston Celtics, I was like, 'I completely understand,'" Marshall said. Marshall and new coach Brandon Miller didn't dwell on the past Wednesday. They're ready to move forward. "I can only be like myself," Miller said when asked about following Stevens.
St. John's is the league's most difficult team to project. Steve Lavin's squad, which finished 17-16 last season, is arguably as talented and athletic as any team in the Big East. But it needs leaders to emerge. Lavin said D'Angelo Harrison, the team's leading scorer who was suspended late last season, is staying on track to have a productive season. He said the talented junior underwent counseling to help him deal with some of his anger issues this offseason. "We sat down when he was dismissed and developed a road map where he could earn his way back the old-fashioned way," Lavin said. "That checklist ... he's taken care of."
October, 9, 2013
Oct 9
9:00
AM ET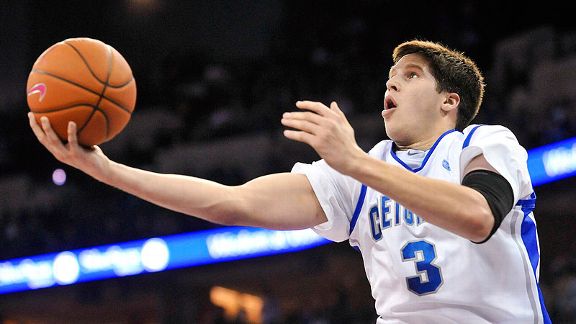 Dave Weaver/USA TODAY SportsDoug McDermott and Creighton are shooting for a big debut year in the Big East.
It's college basketball preview season, and you know what that means: tons of preseason info to get you primed for 2013-14. But what do you really need to know? Each day for the next month, we'll highlight the most important, interesting or just plain amusing thing each conference has to offer this season -- from great teams to thrilling players to wild fans and anything in between. Up next: The new Big East contains multitudes.
In March, at the Verizon Center in Washington, D.C., on Day 3 of my Regional Road Trip, which still makes me tired every time I think about it, I ran into Bradley Kalscheur. It was the middle of the Marquette-Syracuse East Regional Final, and I was looking for interesting fans to talk to -- I wanted to take their temperature on the fresh drama that would carve out a new Big East from the old, realignment-ravaged (and renamed) American.
Kalscheur, a Milwaukee attorney, was one of the first people I noticed -- mostly because he was wearing an amazing sweatshirt. During a timeout, we got to talking, and I asked him for his thoughts on the new league. I assumed he would be sad. I assumed wrong.
"[Founder] Dave Gavitt would smile on the new league," Kalscheur said. "It isn't going away. It's carrying on with the original intent."
In 2013-14, we get to officially test that theory.
To me, that's the most interesting thing about the new 2013-14 Big East. Yes, there are loads of individual storylines. There's Creighton making the leap from the Missouri Valley. There's Creighton star Doug McDermott — who has a chance to become the first three-time All-American since Patrick Ewing and Wayman Tisdale — testing his limits every single night. There's Butler, which was a Horizon League member just two seasons ago. There's its new coach, Brandon Miller, replacing the new head coach of the Boston Celtics, charged with turning all the success and goodwill of his predecessor's tenure into a lasting spot among college basketball's elite.
There's Xavier, recovering from the rare "down" year, hoping guard Semaj Christon blossoms into a star. There's Georgetown without Otto Porter (and Greg Whittington) and St. John's still-talented-and-still-frustrating group and Jay Wright pushing Villanova back into the light and the impressive ongoing success Buzz Williams is having at Marquette. There are many more, too; this post can't be 3,000 words.
But the biggest -- certainly the unifying -- story is what all of those disparate parts create in unison. What is the Big East, exactly? It's nothing like a mid-major, obviously. Is it a power league? Can you even have a "power" league without football? Has the landscape simply changed too much? In a year's time, how will we regard the first season of the new Big East?
When the "Catholic 7" staged its insurrection, walked away with the Big East name, and snapped up Butler, Creighton and Xavier, college basketball fans roundly applauded, and why not? We agree with Kalscheur: This is what the Big East should be. But Dave Gavitt's Big East was created in a different time. Is the great-basketball, no-football model still viable anymore? Can you really thread that needle? What if, in a year, all of these questions are silly?
That's precisely the point. We're about to find out.
September, 3, 2013
Sep 3
9:40
PM ET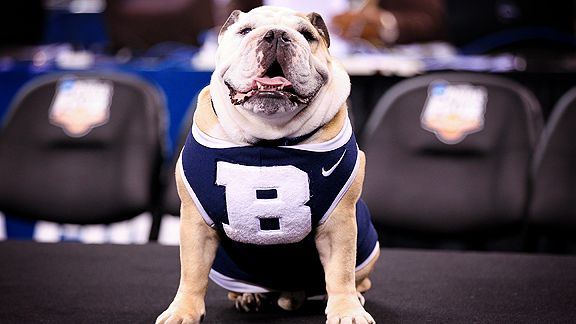 Andy Lyons/Getty ImagesButler Blue II passed away after battling dilated cardiomyopathy (DCM).
Dogs go away. There is no changing this fact. It is always there, and every pet owner must eventually come to terms with it. Long before you pass, your once-tireless puppy will slow down. It happens slowly, like a montage from a bad movie, and then all at once. The old girl won't run up the stairs quite as fast as she used to. Once-routine games of fetch become teary tribute shows.
A decade's got behind you, as the old song goes, and the eventuality that lived in the back of your head from the first moment you brought your buddy home and got her to sleep on that first sleepless, yelping night -- the thing you never really wanted to admit to yourself, even though you always knew -- has arrived. Your friend will go away soon. Plans must be made.
Pet owners of all stripes think about this a lot -- so much so, I'd wager, that we actively avoid it when the pet is anyone else's. The same holds true for mascots. To fans, mascots aren't pets; they're eternal symbols of school pride. Symbols don't have to go away. Symbols are distant, immortal. Symbols don't say goodbye.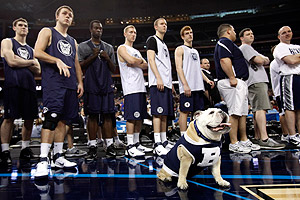 AP Photo/Mark HumphreyBlue II was there every step of the way when Butler made the national title game two years in a row.
In the past few years, thanks to Butler's back-to-back Final Four appearances and some savvy social media presence, Butler Blue II became the most prominent mascot in college basketball -- the most recognizable symbol, save its head coach, of a small Indianapolis school's storybook rise to fame.
But Blue II went away too, Butler announced Tuesday, the result of congestive heart failure weeks in the making. Even at the end,
he and Michael Kaltenmark were friendly and endearing and fun
, and that might be the best testament to Butler Blue II that I can think of -- the reason why news of the little guy's passing hit the Internet (and yours truly) as hard as it did this afternoon.
Blue II never felt like a mascot. He felt like a pet, like Butler's pet, like
college basketball's
pet, only with a tiny Nike sweater and a courtside seat. He wasn't a symbol. He was a real dog.
It only feels fitting, then, to offer a real goodbye. So, goodbye, Blue II. Rest in peace, little buddy. You were a really awesome dog, and you'll be missed. And if you'll excuse me, it seems my house in in need of a thorough dusting.