College Basketball Nation:

California Golden Bears
April, 25, 2014
4/25/14
10:00
AM ET
Sean Miller seemed to have every tool necessary for the
Arizona Wildcats
to make a push for the national title as the 2013-14 season approached. His talent pool was so rich that
Rondae Hollis-Jefferson
, a former McDonald's All-American, was a reserve most of the season.
But Arizona, a team so well-rounded that it reached the Elite Eight without NBA prospect Brandon Ashley's services in the final two months of the season, wasn't the best measurement of the conference.
[+] Enlarge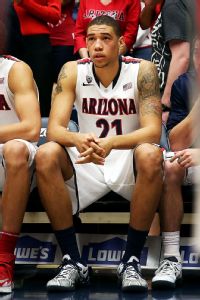 Christian Petersen/Getty ImagesBrandon Ashley's return from a foot injury should keep Arizona in contention in the Pac-12.
For that, go to Salt Lake City, where Larry Krystkowiak began the season as a
campus crime-fighter
and continued his heroics by enhancing Utah's program. This past season, the Utes finished 9-9 in conference play a year after going 5-13 in the Pac-12. They also added six wins compared to last season.
The Utes were one of nine Pac-12 squads that finished .500 or better in league play. Oregon State, 10th in the league, finished 16-16 overall. Only two teams in the Pac-12 finished with sub-.500 overall records.
Arizona and UCLA were the only two squads that separated themselves from the rest of the league, and that can be viewed in two ways: The Pac-12 was packed with a bunch of solid programs, or it was plagued by mediocrity.
The league's postseason finish -- six NCAA tourney teams, three in the Sweet 16 and one in the Elite Eight -- suggests the former.
What we saw this season
: On Feb. 1, the national title race changed. That night, Ashley suffered a season-ending foot injury in a loss to Cal, Arizona's first loss of the season. How important was Ashley?
Well, the Wildcats were still a powerhouse that maintained its position as the top-rated team in Ken Pomeroy's adjusted efficiency rankings. And they maintained enough mojo to win the Pac-12's regular-season crown and reach the Elite Eight, but they really needed Ashley's versatility and length in their loss to
Frank Kaminsky
and Wisconsin in the NCAA tourney.
At UCLA, in Steve Alford's first season, he found the best position for
Kyle Anderson
-- playmaker -- and shaped the Bruins into a top-50 defensive unit. After some early bumps, the Bruins finished 11-4 in the final weeks of the season after suffering a four-point loss at Oregon State on Feb. 2. That run included a Pac-12 tourney title and a Sweet 16 appearance.
Both Johnny Dawkins at Stanford and Herb Sendek at Arizona State were on the hot seat entering the season. That wasn't a secret. Both Dawkins and Sendek bought more time with NCAA tourney appearances. Dawkins reached the Big Dance with the help of a few ambitious and hungry upperclassmen (
Chasson Randle
,
Dwight Powell
), and the Cardinal's rally to the Sweet 16 was a stunning development in the NCAA tournament. It was a big win for Dawkins, whose athletic director had demanded improvement before the season. Sendek, meanwhile, signed Penn State transfer
Jermaine Marshall
, a reputable Robin to
Jahii Carson
's Batman, but the Sun Devils lost six of their final eight games.
Oregon's 2-8 stretch midseason didn't define its season. Transfers
Joseph Young
and
Mike Moser
led Dana Altman's program to 24 wins. The Ducks were ahead by 12 at halftime against Wisconsin before losing in the third round of the tournament.
Colorado's dreams were deferred when
Spencer Dinwiddie
suffered a season-ending injury in January. The Buffaloes were never the same without him, and a 29-point loss to Pitt in the opening round of the tourney was the final blow in a rough season for Tad Boyle's crew. Washington finished 9-9 in league play, but that record features more highs and lows. The Huskies, much like the rest of the conference, couldn't win on the road.
California failed to maintain the swagger it had in that upset win over Arizona in February and ended up in the NIT. Oregon State, Washington State and USC all finished at the bottom of the conference, which wasn't surprising.
The story of the Pac-12 in 2013-14? The limited separation within the league.
What we expect to see next season
: The future is uncertain for a league that could have had an unprecedented seven tournament bids in 2014-15.
Eleven ESPN 100 prospects will enter the league in 2014-15. And the rich will get richer, so the landscape shouldn't change much.
[+] Enlarge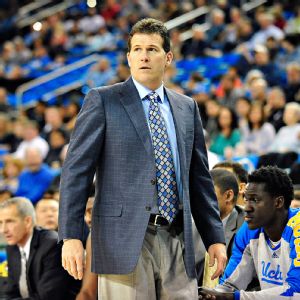 Gary A. Vasquez/USA TODAY SportsSteve Alford will bring a top-10 recruiting class to UCLA.
Miller lost
Aaron Gordon
and
Nick Johnson
, but McDonald's All-American forward
Stanley Johnson
is a versatile beast who leads the league's top recruiting class. Plus, Ashley will return from his foot injury along with
T.J. McConnell
,
Kaleb Tarczewski
and Hollis-Jefferson. The Wildcats will contend for the national championship next season, although that would be an easier argument to make if Johnson had decided to return.
Anderson and
Zach LaVine
left Los Angeles, but Alford adds elite big man
Kevon Looney
(No. 12 recruit in 2014 class, per RecruitingNation) and 6-foot-11 Californian
Thomas Welsh
(36th). They're more talented and athletic than the Wear twins, but Anderson's departure and the fact that Alford doesn't have a clear point guard right now makes it difficult to assess UCLA's potential. A strong nucleus returns, however.
There are questions in Eugene, too. The Ducks return one of the most talented backcourt trios (Young,
Damyean Dotson
and
Dominic Artis
) in America. Without
Mike Moser
, what will they do inside, though?
Stanford is in a position to rise in the league after its Sweet 16 run.
Reid Travis
(27th overall prospect) leads Dawkins' most fruitful recruiting class, and three of his top five scorers from last season, including Randle, will return. Utah could surge, too. Krystkowiak had only one senior on the Utes' roster last season.
Things looked brighter for Colorado before Dinwiddie entered the NBA draft. But Boyle will still have a strong group returning, and point guard prospect
Dominique Collier
could evolve into the young floor leader his program needs.
Cuonzo Martin replaces Mike Montgomery at Cal. The good news? A strong group of players are back. The bad news? He won't have
Justin Cobbs
and top rebounder
Richard Solomon
.
Andy Enfield signed a top-25 recruiting class, but his USC squad, which finished last in the Pac-12 last season, also lost its top two scorers (
Byron Wesley
will transfer and
Pe'Shon Howard
graduated). Former Oregon coach Ernie Kent will attempt to change the culture of a Washington State squad that finished 3-15 in Pac-12 play.
Nigel Williams-Goss
made the right decision to return to Washington for his sophomore season, but that alone won't be enough to make Washington a contender in the league. Arizona State could also struggle next season without Carson, Marshall and
Jordan Bachynski
.
There's talent coming, but more is leaving.
Although the Pac-12 will boast a handful of teams that will warrant NCAA tourney consideration, it won't be as deep as it was this past season.
April, 15, 2014
4/15/14
3:30
PM ET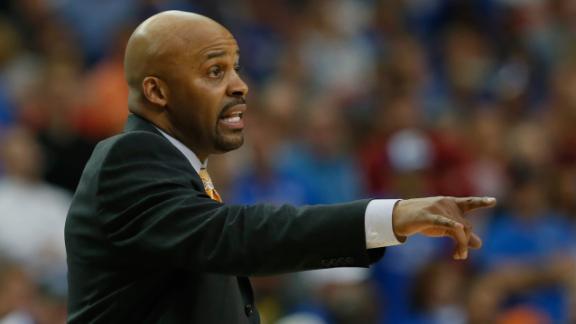 In the most deliciously ironic coaching carousel ride in some time, the University of Tennessee, both fan base and athletic department, somehow managed to get what they no longer wanted and exactly what they deserved.
Cuonzo Martin, the man they treated like a bad case of the flu for three years, essentially put his thumb to his nose, wiggled his fingers and said, "Stuff it." He is off to the greener, more welcoming pastures of Cal while Tennessee is left with a bare cupboard, no coach and, worst of all, the coach it longed for now working down the SEC road at Auburn.
[+] Enlarge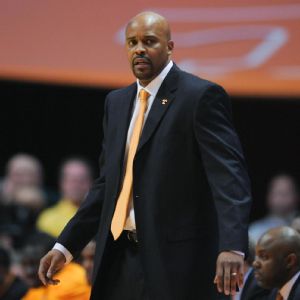 Randy Sartin/USA TODAY SportsCuonzo Martin will take his winning overall record to the West Coast.
Using Grinchian vernacular, Martin even took the Who Hash. Seven-foot-1 center prospect
Kingsley Okoroh
, who committed to UT on Monday, tweeted within an hour of Martin's departure that he, too, was off to Berkeley.
The Volunteers, apparently, would have been wise to look at the fine print when Martin said, upon removing himself from the Marquette search that, "Tennessee is where I want to be. That has never changed."
He made those remarks, after all, on April Fools' Day.
And now the joke is on Tennessee.
Or the joke is Tennessee. Take your pick. Both are applicable.
The school is now on its third basketball coach in four years, to partner with the four football coaches it's hired in the past six seasons.
No one will argue that Tennessee is a plum job -- one currently unemployed coach called me within an hour of the opening to inquire about it -- but the administration and fan base are doing a helluva job turning Knoxville into a reality show.
This is now a place that has been jilted by both Lane Kiffin and Martin.
Except when Kiffin left, his players were furious.
When Martin hit the road, Jordan McRae took to social media: "Can't treat people any kind of way and expect good in return," he wrote.
No you cannot. Even in this weird, morally challenged world, the golden rule does still have some teeth. You can't spend three years making a man feel like an unwanted interim coach and then, once he reaches the Sweet 16, expect him to return the warm and phony embrace.
Less than a month ago, 36,000 fans signed a petition to get rid of Martin and return Bruce Pearl to glory. Never mind the fact Martin spent his entire tenure trying to extricate the Vols from the NCAA crater that Pearl had dug them. Pearl was Pearl -- gregarious and fun, with an up-and-down style and he still lived in Knoxville.
In the days before the Sweet 16 game -- and after Pearl signed with Auburn -- came another petition. This one was aimed at getting Martin a raise, complete with an open apology for the first petition.
Prior to today's news conference, called after Martin already had left, Hart had given and offered Martin one measly raise -- $50,000 last year. That bumped Martin's overall salary to $1.35 million, 11th in the 14-member SEC.
And then when the Vols thumped Mercer to go to the regional semifinal, there was Hart embracing Martin on the court.
Didn't work for Judas.
Won't work here.
Vols fans, no doubt, will say that Cal will fail and good riddance and that's fine. Hell hath no fury like a fan base scorned.
And that's OK, too.
But remove the anger and what you see is a coach who was far from an epic failure. He went 63-41 in his three seasons, finishing in the top five of the SEC in each season.
This despite the stain and strain of NCAA sanctions.
In a lot of places that would merit a raise, a contract extension and a heap of praise.
At Tennessee, it got Martin a heap of nothing. Impatient fans and lukewarm administrators never really gave Martin a chance -- Indiana fans, with a bit more basketball dog in the fight, gave Tom Crean a longer leash.
And now the Vols got what they stopped wanting and exactly what they deserved.
April, 11, 2014
4/11/14
10:00
AM ET
Player unions and paying players are issues that touch all of college athletics, including basketball, and they will continue to be talked about during the summer. The 2014-15 season won't be a time to usher in rule changes, like this past season's emphasis on freedom of movement. But here are a few things to keep in mind as college hoops begins its offseason:
[+] Enlarge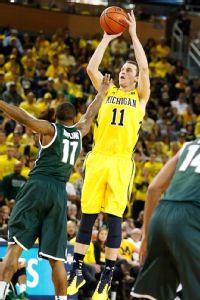 Gregory Shamus/Getty ImagesMichigan's Nik Stauskas has denied that he has decided to turn pro.
Declare or return:
Almost every year, the saga of who's coming and who's going makes for a couple weeks of anxious coaches. There have already been official NBA draft announcements from Kansas'
Joel Embiid
and
Andrew Wiggins
. Kentucky's
Julius Randle
and Michigan's
Nik Stauskas
are reportedly going, too, which prompted denials from both players. Generally, the biggest surprises come from those players who decide to return to school. Duke's
Jabari Parker
, a projected top-five pick, has not yet publicly announced whether he'll return for his sophomore season. There's a growing scuttlebutt that he will stay in school, which would likely cement the Blue Devils as the preseason No. 1 team. For early entrants who don't sign with an agent, the NCAA's deadline to withdraw from the draft and retain eligibility is April 15. But it's a pretty soft deadline considering that the NBA's deadline for underclassmen to declare is April 27, so some players could keep their intentions secret until well after the NCAA's date.
Coaching moves:
With Boston College hiring Jim Christian and Wake Forest selecting Danny Manning, California remains the lone major conference school with an opening. That means filling it (Xavier's Chris Mack is reportedly the lead candidate) would potentially make for only a small ripple effect in the offseason. Then again, keep in mind that last year Brad Stevens didn't leave Butler for the Boston Celtics until July. So until NBA jobs are filled, college coaches like Kentucky's John Calipari, Iowa State's Fred Hoiberg and even Connecticut's newly crowned national champion Kevin Ollie could appear on the short list of candidates to fill those slots. Shortly after the national championship game, Calipari issued denials that he's interested in the Los Angeles Lakers. But nothing can stop the rumor mill until the hiring and firing is completed, and that could go into the summer.
Transfer status:
Maybe the blame belongs on the high school and AAU culture, where players jump around until they find a good fit. Or maybe kids have just wised up and realized that rather than ride the bench for four years, some coach at some school will value them more. Regardless of how it got to this point, the smoldering over transfers has been growing among coaches to the point that it's about to be a fire. Some even feel that the rules are being outright exploited. Syracuse coach Jim Boeheim lamented during ACC media days last October about the transfer who leaves a school due to a sick family member, but then never sees the family after the transfer is completed. Some players have followed the model set forth by coaches themselves by playing for a lower-level school long enough to make a name and then transferring to a bigger stage. Toss in the graduate student waiver, and the culture of transfers seems like the college equivalent of free agency. Until the rules are changed, there are plenty of good players available. Over the next two months players will find new homes, and fan bases will find new reasons to be hopeful about their futures.
[+] Enlarge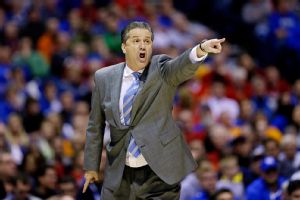 AP Photo/David J. PhillipJohn Calipari has already denied being linked to one NBA job, but questions about his job status could linger into the summer.
Recruiting quirk:
Because of the way the schedule fell this year, the NCAA eliminated one of the April evaluation periods and opted against moving it to May. (Easter and SAT/ACT test dates provided the scheduling conflict in April.) One weekend might not seem like much, but it could end up having a big impact on the Class of 2015 for schools outside the major conferences. The spring dates usually allow those schools to identify who they'll target, and July's period offers the true evaluation. It could make the entire process a bit slower or cause some schools to gamble on players. Major conference schools that throw around major conference budgets are less affected by the shortened April window since juniors can make official visits after Jan. 1 and many of those coaches have already honed in on the players they want to recruit.
Silver lining:
The earliest either side can opt out of the NBA's collective bargaining agreement isn't until June 2017, so any talk about increasing the league's age limit is just talk. For now. But as one-and-done players trickle into the league each year -- there could be about 10 taken in the first round of this year's draft -- the discussion perks up again. It's an issue that is gaining momentum from the highest office in the NBA. New commissioner Adam Silver has made it known that he supports raising the age limit from 19 to 20. On Thursday he told ESPN.com that he'd also consider providing a subsidy to college players that would include a complete insurance plan. At the very least, Silver has indicated that he's open to dialogue with the NCAA and the NBA players' union. And that is a start in bringing a little more stability to the college game.
March, 11, 2014
3/11/14
11:00
AM ET
The Pac-12 has followed the script for the most part.
Entering this season, anyone could recognize Arizona's perch atop the conference with McDonald's All American
Aaron Gordon
joining one of the nation's best frontcourts.
Steve Alford, meanwhile, had come to Los Angeles to save UCLA.
Oregon, Colorado, Stanford, Arizona State and Cal all looked like potential NCAA tourney teams.
But even though we knew that about this league, no conference is teetering on a bigger platform of uncertainty right now. Maybe this is a three-bid league. Maybe it's a six- or seven-bid league.
The Pac-12 picked the perfect city, Las Vegas, for this toss-up
conference tournament
.
[+] Enlarge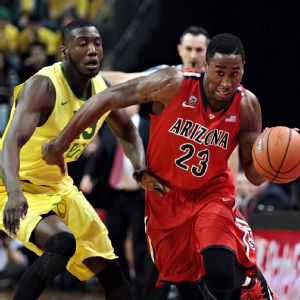 Scott Olmos/USA TODAY SportsRondae Hollis-Jefferson's versatility has helped Arizona move forward in the absence of Brandon Ashley.
What's at stake?
On Feb. 1,
Brandon Ashley
suffered a season-ending foot injury that changed Arizona's season and program. Ashley, a sophomore, stretched the floor in ways that few big men can.
But Sean Miller's recruiting spoils in recent years have been a godsend to the program. Freshman
Rondae Hollis-Jefferson
gives the starting five a true small forward and creates a mismatch nightmare for every frontcourt that faces Hollis-Jefferson, Gordon and
Kaleb Tarczewski
.
Everything is pointing to
Nick Johnson
, the Pac-12 player of the year, and the Wildcats earning a top seed and a place in Anaheim. But what could mess that up? A loss to Washington or Utah -- a pair of sub-50 teams in the RPI -- in Thursday's quarterfinals wouldn't help.
A quarterfinal loss to Oregon State (if the Beavers were to get past Oregon in the first round) could demote UCLA, too. And it's not like the Bruins are hot right now (2-3 in their past five games).
But neither has much to worry about right now, it seems. They're dancing.
As for the rest of the league? Well, that's not necessarily the case.
Oregon, Stanford, Arizona State, Colorado and Cal are all fighting to lock up berths in the NCAA tournament. Oregon, which defeated Arizona over the weekend, is probably the safest member of the group. The Ducks likely feel secure after defeating the Wildcats, but that buzz will die fast if they lose to Oregon State on Wednesday.
Stanford is searching for its first NCAA tournament berth under Johnny Dawkins. An NIT bid for Arizona State, which enters the conference tourney after suffering back-to-back road losses to Oregon State and Oregon, would be disappointing. The Sun Devils and Cardinal could be matched up on Thursday in a quarterfinal game with high stakes.
Colorado continues to deal with the question, "Who are the Buffs without
Spencer Dinwiddie
?" Including its Jan. 12 loss to Washington when Dinwiddie suffered his season-ending knee injury, Tad Boyle's program is 7-8 without the previously projected first-round pick in next summer's NBA draft. Colorado has a chance to prove it would still be a respectable addition to the field and a solid seed with a run this week. Its overtime road loss to Cal over the weekend didn't help.
Team with the most to gain
On Feb. 1,
Justin Cobbs
drove off a pick and connected on a 17-footer that beat the buzzer and then-No. 1 Arizona. Cal fans stormed the court and all seemed well for Mike Montgomery's program.
That thrill, however, didn't last. Cal has gone 4-5 since then but enters the conference tournament following a weekend overtime victory over Colorado.
Cal is still alive. The Bears are currently in Joe Lunardi's
"First Four Out" grouping
. So a couple wins, beginning with a potential matchup against Colorado in Thursday's quarterfinals, could be the difference for Cal.
It'll be interesting to see how the Pac-12 tourney affects the league's pool of at-large berths once they're announced on Selection Sunday.
It could be bigger than that, though. Few leagues have faced as much speculation about coaches who might be on the hot seat. This might be a pivotal tourney for Dawkins, Arizona State's Herb Sendek, Washington State's Ken Bone and Oregon State's Craig Robinson.
February, 2, 2014
2/02/14
3:05
AM ET
BERKELEY, Calif. -- Somewhere in that sea of yellow, he was stuck.
Justin Cobbs
couldn't breathe. The curse of victory for a young man who wasn't wild about being swallowed by a crowd after
Cal's 60-58 upset win over No. 1 Arizona
on Saturday.
But that's what happens when the undefeated No. 1 squad in the country falls for the first time on the opponent's home floor. That's what happens when a three-game losing streak is ended that way. And that's what happens when a senior point guard hits a game winner with 0.9 seconds to go, a development so stunning that Bears fans rushed the court early.
Fearing a technical foul that might ruin the moment, team and school officials eventually cleared the floor after Cobbs hit a jump shot from the left corner over 7-footer
Kaleb Tarczewski
.
"I just stepped back and was able to shoot a shot I could make," said Cobbs, who finished with 19 points and seven assists. "Step back and shot it with confidence and it went in."
Haas Pavilion, which hosted Cal's first win over a No. 1 team at the on-campus facility, exploded. Saturday night's festivities had already started on the hardwood.
There were the fraternity brothers dishing out hugs whether they were wanted or not. There were the cheerleaders maintaining their perfect kicks and pom-pom pumps in the midst of the frenzy. There were the young men fixing their hair and posing for selfies. There were the young women nearby who thought they were fools.
[+] Enlarge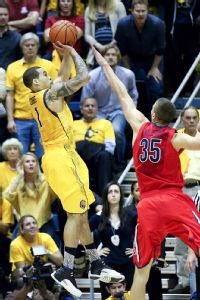 Kelley L Cox/USA TODAY SportsCal's Justin Cobbs takes the shot that knocked off No. 1 Arizona.
There was the elderly fan who told Cobbs, "We'll never forget this."
There was the 20-something fan who speechless, yet screaming to a friend she'd put on speakerphone. "Like … I don't even know what to say!"
Cobbs survived the madness. But it had reached his phone by the time he'd returned to the locker room. There were 135 text messages awaiting him just 30 minutes after the win. "I got 89 [Twitter] mentions," he said.
Cobbs was smiling.
Four years ago, he couldn't find many reasons to smile.
The Los Angeles native left the West Coast to begin his collegiate career at Minnesota during the 2009-10 season. But he didn't thrive in former Gophers coach Tubby Smith's system. And he missed home.
It was bigger than that, though. He wasn't even sure he still wanted to play.
At Cal, however, Cobbs got his groove back following a transfer in 2010. He's been one of the top guards in the Pac-12 throughout his career. And he's a leader who is respected by his teammates and coaches.
In the final seconds Saturday, Cobbs dribbled up the floor. Mike Montgomery had decided to let his team play for the win instead of calling a timeout and attempting to set up something.
[+] Enlarge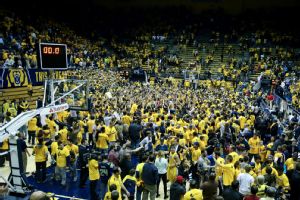 Kelley L Cox/USA TODAY SportsCal fans storm the court after the Bears pulled off the upset.
Cobbs had run pick-and-pop plays with
David Kravish
(14 points, 11 rebounds, 4 assists, 4 blocks) all night.
Arizona had lost
Brandon Ashley
early in the game to a foot injury that could end his season. There was a noticeable difference in the Wildcats' interior defense without him.
Cal exploited that.
"Anytime you lose a starter to an injury during a game, it takes a lot of resolve on your group and team to fight," Arizona coach Sean Miller said.
By the time Cobbs had a shot at the game winner, Arizona had already been conditioned to monitor Kravish in space because he'd hit so many jump shots. That potential threat, one that Cal had built up throughout the evening, possibly made Tarczewski react too slowly when
Richard Solomon
came up to set the screen and give Cobbs some extra time to take the shot.
The Bears entered Saturday's game on a three-game losing streak. Cobbs had a similar late-game opportunity during an overtime loss to Arizona State on Wednesday. But he missed.
Cobbs' teammates, however, never doubted him. So as he dribbled up the floor against the No. 1 team in the country, they expected him to make it.
"I already knew," said Solomon, who had 12 points, seven rebounds, two assists, two blocks and three steals. "The whole team has faith in Justin to knock that shot down. … I'm proud of him. I'm happy for him. We gonna celebrate tonight."
It was just one basket. It doesn't change everything for Cal.
It does, however, validate so much for Cobbs.
The decision to return home. The toughness to stick with the game even when he was unsure about his future. The courage to take another possible game winner even though the last one didn't fall.
"[That shot] does a lot of things, because after my freshman year I was questioning a lot of things," Cobbs said. "Whether this sport was for me, whether I was good enough to play at this level. I'm just blessed. I'm blessed to have this opportunity to come to another program and have another opportunity where I can get on the floor and show what I can do. It's tremendous for me. I'm just going to embrace it and keep getting better."
January, 31, 2014
1/31/14
9:30
AM ET
If there are any weaknesses on this Arizona roster -- and there are few -- then they can all be summed up like this: Sometimes even the best have bad nights, especially on the road.

That's the only legitimate explanation for what happened to No. 1 Arizona in its occasionally turbulent outing against Stanford. Utah gave the Wildcats trouble at home before that. Both teams pushed the Wildcats. Somehow.
Well, it's not the only explanation. In Arizona's 65-56 victory over Utah last Sunday, the Wildcats made only three of their 14 3-point attempts. Freshman star
Aaron Gordon
struggled in a 3-for-13 outing. He went 2-for-10 in a 60-57 victory over Stanford on Wednesday. The team missed 11 of 29 free throws.
But the Wildcats held on both nights.
The challenges, however, solidified what we all know about conference play. Regardless of the league, it's never easy. It's never a breeze. From the Missouri Valley to the Big 12, playing 16 or 18 games against familiar foes creates pitfalls at some point in the year, even for elite teams.
So it's not prudent to overlook Arizona's next test, a road game at Cal on Saturday (10:30 p.m. ET, Pac-12 Network). The Bears are spiraling downward, locked in a three-game losing skid with the No. 1 team in the country coming to town. That's not good. But they're desperate.
And
Justin Cobbs
(15.5 points per game, 6.0 assists per game) could have a big night. Maybe the Cal team that scored 96 on a ranked Oregon squad will show up.
Considering their recent efforts, however, that's unlikely. In reality, the Bears would need a near-perfect game to beat Arizona.
Sean Miller can win games in many ways.
That's the benefit of having so many capable athletes. Miller doesn't rely on one guy in clutch situations because he doesn't have to.
Rondae Hollis-Jefferson
(perhaps the future of the program), Gordon,
Brandon Ashley
,
Kaleb Tarczewski
,
Nick Johnson
and
T.J. McConnell
can all make plays, offensively or defensively, to give Arizona a boost in those scenarios.
Few teams in the past decade have had the luxury of employing so many gifted athletes.
The road, where the Wildcats have displayed some of their vulnerabilities, is often the platform for disaster, though.
No, they shouldn't have much trouble with Cal. But sometimes strange things happen on the road. Arizona's past two games have re-emphasized that notion.
So expect the Wildcats to come out strong and remove that possibility early.
Then again, maybe they'll end up in another scrap.
January, 16, 2014
1/16/14
12:03
AM ET
North Carolina State forward
T.J. Warren
can't catch much of a break. Even when I was ready to talk about how underappreciated he is nationally, he got overshadowed by Wake Forest guard
Codi Miller-McIntyre
.


Miller-McIntyre made the game-winning basket to cap off a 20-point performance in the
Demon Deacons' 70-69 win Wednesday
.
Miller-McIntyre ranks in the top 10 in assists (3.9) and field goal percentage (45.5.) in the ACC and is 11th in scoring at 15.6 points per game.
Warren does it all for the Wolfpack. He entered Wednesday leading the ACC in scoring at 22.2 points per game. He's fourth in field goal percentage at 50.5, sixth in rebounding with 7.5 per game and 10th with 1.6 steals per game.
With conference play just starting to heat up, it's time to take a look at a few other players whose impressive seasons have gone underappreciated:

Xavier guard
Semaj Christon
scored a team-high 18 points in the Musketeers' win over Georgetown, while shooting an efficient 9-for-12 from the field. Christon leads the team in scoring (16.2 points) and ranks third in the Big East with 4.4 assists per game. But really, he just has a knack for making whatever play is needed at the time. Against the Hoyas, eight of his points and two of his three steals came during a run that brought the Musketeers back from a 17-point deficit to take the lead.

UMass center
Cady Lalanne
isn't going to score in bunches -- his 19-point effort against George Mason notwithstanding -- but he's a big reason the Minutemen are sitting at 15-1 and ranked 16th. He leads the team with 9.0 rebounds, but more importantly, he's a shot-blocking deterrent in the middle of the lane. Lalanne averages 2.5 blocks per game, each of which has been crucial since the emphasis on freedom of movement has made it easier to get to the basket.

West Virginia guard
Juwan Staten
is truly running things in Morgantown. Talk about a do-it-all player: He leads the Big 12 with 6.1 assists per game, is tied for third with 17.4 points and ranks third in field goal percentage at 53.4. Despite being just 6-foot-1, Staten is second on the Mountaineers with a 5.9 rebounding average per game.

SMU guard
Nic Moore
functions in what could be the toughest work environment of any player on this list. Playing point guard for
Larry Brown
isn't easy, but Moore is making it look that way, averaging 13.3 points and 4.6 assists per game. He's second in the American with a 51.5 3-point field goal percentage.

Texas Tech forward
Jaye Crockett
leads the Big 12 in field goal percentage at 57.9 -- that was before he shot 7-of-12 for 19 points in the upset of Baylor Wednesday. His 14.4 points and 6.3 rebounds rank in the top 15 in the league in both categories.

New Mexico forward
Cameron Bairstow
embraced his expanded scoring role this season and is second in the Mountain West averaging 20.0 points. Turnaround jumpers from the blocks, hook shots, step backs -- he does it all, which makes him difficult to defend because you don't know what's coming next. He was one shot short for the Lobos against UNLV Wednesday, scoring 27 points but missing what would have been a go-ahead basket with 35 seconds left.

Houston forward
TaShawn Thomas
is shooting 63 percent from the field en route to averaging 17 points per game. But his strength is rebounding (8.9) per game, which ranks second in the American.

California forward
Richard Solomon
is as dependable as it gets on the boards. He ranks 14th nationally in rebounding at 10.2 per game and has posted five double-doubles for the Bears this season. Who knows how well the Bears could have matched up with Syracuse had Solomon not injured his eye against Arkansas.
November, 26, 2013
11/26/13
9:00
AM ET
On Holiday is College Basketball Nation's daily rundown of the holiday tournaments, complete with previews, recaps, and links to all of the early-season tournament info you'll need in the weeks to come.
IN REVIEW
MAUI INVITATIONAL [bracket]
While You Were Sleeping: Dayton survives "just drive to the rim and get fouled, or at least just act like it" late-game offense, upsets Gonzaga 84-79
Just when you thought the Maui Invitational was going to go according to plan.
On an otherwise predictable first day of Maui action, Dayton unleashed a thorough performance in an 84-79 win over Gonzaga.
How? The Flyers were the more physical, sharper team throughout. Of the 50 rebounds on Gonzaga's end of the floor, Dayton grabbed 17. But it wasn't until the second half that the Flyers, um, took flight? (Wow, sorry.) Dayton scored 28 points in the first 20 minutes of the game, but required just 10 minutes and 28 seconds in the second half to do the same — blitzing the Zags with good spacing, crisp ball movement and a bevy of 3s. Jordan Sibert, Khari Price and Scoochie Smith made four 3s in one four-minute stretch, and eight of Dayton's nine 3s came in the second period.
[+] Enlarge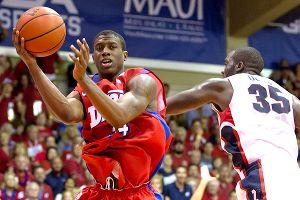 AP Photo/Eugene TannerJordan Sibert had 23 points to lead Dayton to a win over No. 11 Gonzaga.
The biggest among them came with just one minute to play. Up 75-72, Sibert took a quicker-than-recommended 3, and sank it, giving Dayton a 78-72 lead. The Flyers would need every bit of that lead in the final 60 seconds.
Why? Two reasons: First, Kevin Pangos was very good at getting to the rim. Second, he was very good at drawing fouls while doing so -- even when contact looked minimal at best. It was a tough night for the officials all around, and there were a lot of questionable calls, and a lot of unfortunate foul trouble, that marred an otherwise entertaining affair. But it was the final minute that was most noticeable, as Pangos kept turning the corner, kept getting fouled and kept earning free throws. Honestly, the final minute took forever.
Eventually, Pangos, who finished with 27 points, spurred his own undoing. His steal with 43 seconds left turned into a wide-open, missed floater, and Gary Bell Jr. failed to convert on the rebound. Then, 21 seconds later, Pangos and Bell converged on Dyshawn Pierre -- and Pangos, who had four fouls, slapped and fouled Bell. Bell gave Pangos a mystified look, just before the star guard calmly walked to the bench.
You can't have seen Dayton's performance and not bumped up your projections for the Flyers going forward. They were good. Very good. If they're able to control the offensive glass and knock down kickout 3s the way they did Monday night, they'll give teams even better than the Zags plenty of fits in the days and weeks to come.
Top Story 1B: Syracuse manages Minnesota. A near-upset of Kentucky in Lexington was Monday night's biggest non-tournament news, and Arizona State's campus-site preliminary thriller against Marquette was the most entertaining result of the day, but the most interesting game (at least to your humble correspondent) came Monday afternoon. Syracuse's 75-67 win over Minnesota was about as close as you get to a win-win.
For Syracuse, it was a victory, of course, but also much more than that. In four games to date, in particular last week's downright gross 56-50 home win over St. Francis, the Orange looked disjointed and out of sorts, especially on the offensive end. Senior C.J. Fair, a do-everything glue guy turned focal point, had struggled in his new role; a talented-but-thin Orange backcourt of Trevor Cooney and Tyler Ennis looked even less comfortable.
On Monday, though, Fair finally grabbed a game by the scruff of its neck. Late in the first half, Fair skied over two Minnesota defenders and dunked so hard his own face exploded into bloody stigmata. (In reality, he caught a fingernail or three on the way up, but I prefer my explanation.) With two minutes left in the second half, when Minnesota's press began to wear on Syracuse, Fair knocked down an ice-cold midrange jumper that built the Orange lead back out to four points, a lead that held the rest of the way. Fair finished with 16 points and 10 rebounds on 15 shots; Cooney made five 3s; Ennis went 1-of-9 from the field but 10-of-11 from the free throw line.
Minnesota, meanwhile, kept on being impressive. The Gophers have adapted to Richard Pitino's chip-off-the-block high-pressure style immensely well. That style kept them in the game throughout the second half, and good 3-point and free throw shooting put them there in the first place. Monday's performance, combined with a big road win at Richmond on Nov. 16, is enough to make one think the younger Pitino's first season might not involve much rebuilding at all.
[+] Enlarge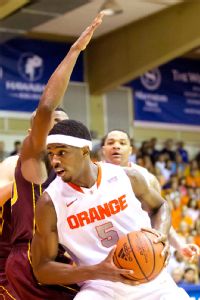 AP Photo/Eugene TannerC.J. Fair and Syracuse struggled with Minnesota's press, but got the win in Maui.
The rest: California looked plenty impressive in its own right. Arkansas has not exactly been the best road defensive team under Mike Anderson, so make of that what you will, but still: Cal got a 19-point, 15-rebound, 8-of-12 night from forward David Kravish, 15 points on eight shots from promising wing Jabari Bird, and a nice 15-point, seven-assist night from senior guard Justin Cobbs. The phrase "total team win" applies here. … Chaminade couldn't hang with Baylor in the second half in Tuesday night's 93-77 loss, but it did have at least a little of what Baylor coach Scott Drew called "Maui Magic." Silverswords guard -- and former Dunk City resident -- Christophe Varidel scored 31 points in the first half, and 42 total, and did it all while sporting an absolutely textbook chill-barista ponytail-scruff combo. Here's to you, Christophe!
Maui fixtures, Day 2:
Arkansas-Minnesota, 2 p.m. ET (ESPN2)
Chaminade-Gonzaga, 4:30 p.m. ET (ESPN2)
California-Syracuse, 7 p.m. ET (ESPN)
Baylor-Dayton, 9:30 p.m. ET (ESPN)
PARADISE JAM: Maryland tops Providence in final, 56-52: So: Good win for Maryland? Letdown for Providence? What about neither? The Terps will take it, to be sure, and the Friars will walk away feeling as if an opportunity was lost, but I'm not willing to throw out any long-term Providence bullishness on the back of a 16-of-59 night from the field. Sometimes you eat the rim, and sometimes the rim eats you.
ELSEWHERE:
BYU got a characteristically high-octane 86-82 win over Texas on the first night of the CBE Classic. That tally was topped only by Wichita State, which put up a tidy 90 on the still-defensively-challenged DePaul Blue Demons. Those two results set up a fantastic non-power-six final at the CBE, where Wichita State, fresh off a Final Four run, will happily soak up the home Kansas City energy that has in recent years been reserved for Kansas, Missouri and Kansas State. Movin' on up, indeed.
The Legends Classic did its best to fill the Maui lull, but there wasn't a whole lot of entertainment value involved. Stanford got a pretty good 86-76 win over Houston.
October, 21, 2013
10/21/13
9:30
AM ET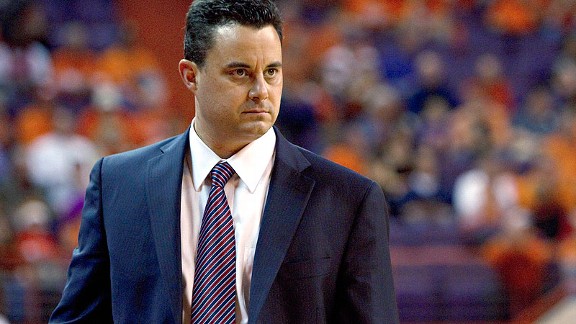 Joshua S. Kelly/USA TODAY SportsAfter years of accumulating high-level talent, the pieces are starting to fit into place for Arizona coach Sean Miller, who boasts a team that could be a national championship contender.
It's college basketball preview season, and you know what that means: tons of preseason info to get you primed for 2013-14. But what do you really need to know? Each day for the next month, we'll highlight the most important, interesting or just plain amusing thing each conference has to offer this season -- from great teams to thrilling players to wild fans and anything in between. Up next: Can Arizona put it all together?
Is Arizona the most fascinating story in the 2013-14 Pac-12? Probably not! Indeed, the travails of the UCLA Bruins and new coach Steve Alford surely offer more pure intrigue. Alford will step into a breach occupied by the insane subconscious expectations of UCLA fans, who were already in somewhat of an open revolt against their entire athletics program before they were miffed by the hire. Alford has a gigantic, inexplicable contract buyout, so he's not going anywhere anytime soon, and how he handles his first season -- when he will have as talented a roster as he's ever coached -- will set the tone for the next five.
It's interesting stuff, and yet I can't help but feel that UCLA -- like brilliant Arizona State point guard Jahii Carson, like Dana Altman's steadily improving Oregon Ducks, like Mike Montgomery's quiet solidity at Cal -- are mere bit players in this production. In the 2013-14 Pac-12, Arizona's name is the one in lights.
In four seasons at Arizona, Sean Miller's teams have had one defining characteristic: talent. No one on the West Coast has recruited elite prospects as well as Miller. But this season feels different. This season doesn't include a productive but ultimately makeshift option (Mark Lyons) at point guard. It isn't staking its season on a freshman such as Josiah Turner. (Remember him?) It isn't mixing in maybe one too many young forwards with seniors (Solomon Hill) who have to play. This season Arizona doesn't feel like a collection of really good pieces; it feels like a really good team.
Rest assured: There will still be talent. Even without forward Grant Jerrett, who made a surprise move to the NBA this past spring, the Wildcats have one of the deepest and most talented frontcourts in the country. Sophomores Kaleb Tarczewski and Brandon Ashley are star-level talents willing to bang on the low block, and Rondae Hollis-Jefferson is the fifth-ranked small forward in the class of 2013. And then there's Aaron Gordon. Go ahead and type his name into the YouTube search field now. The Blake Griffin comparisons are non-stop at this point; Gordon isn't talked about as much as Andrew Wiggins, Julius Randle or Jabari Parker, but he has a chance to be better than all three.
But what really separates this year's Arizona team from slightly underachieving groups of the recent past is the backcourt. Last season, Miller turned to Lyons, his former recruit at Xavier, after Lyons' relationship with Chris Mack broke down; that meant putting all that frontcourt talent (along with Hill) on the floor with a point guard whose game would never be described as "pass-first." And don't get me wrong: Lyons had a good season, as did the Arizona offense. But one couldn't watch the Wildcats' fourth-place Pac-12 finish and not feel like much had been left on the table, like everything didn't quite fit.
Duquesne transfer T.J. McConnell, who will take over at the point this fall, should snap into place immediately. And his backcourt mate, junior Nick Johnson, is probably the most polished player on the team -- an ideal outside-in college two.
That's why Arizona is (or should be) a top-five team in just about every poll despite losing Lyons, Hill, Jerrett and Kevin Parrom: Because the product of Miller's years of recruiting success are finally taking shape in more ways than mere acquisition. This could be the best team in the country. At the very worst, there will be lots and lots of lobs. Either prospect is worth the price of admission.