College Basketball Nation:

Dayton Flyers
June, 2, 2014
Jun 2
11:00
AM ET
ESPN.com has decided to rank college basketball's top coaches. On Monday,
Nos. 50-25 were announced
. Some might think that a few coaches were too high or too low, and there were some surprises in this batch of rankings.
Here are a few surprises from the initial set of rankings:
[+] Enlarge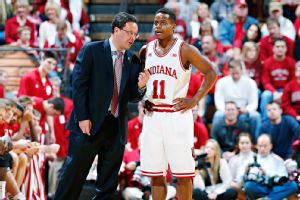 Joe Robbins/Getty ImagesTom Crean has proved he can recruit but has gotten criticism for his in-game coaching.
Tom Crean (unranked)
: Well, the Indiana coach failed to crack the top 50. And that's surprising -- maybe. Under Crean, Indiana has reached the Sweet 16 in two of the past three years and won the Big Ten regular-season crown in 2012-13. He's also responsible for restoring a program that fell short of a lofty legacy as it endured the post-Kelvin Sampson era sanctions. All of that after he led Marquette to the Final Four in 2003. That should count for something. But perception matters, and the perception that Crean has failed to alter is one that sees him as more of a recruiter than an X's and O's guy. A 4-15 record overall against Wisconsin coach Bo Ryan, one of the game's great X's and O's coaches, only magnifies that notion. Crean had two future top-five NBA draft picks in 2012-13, but he couldn't advance beyond the Sweet 16 with Victor Oladipo and Cody Zeller, even though that Hoosiers squad spent a chunk of the season with the No. 1 slot. It exited the Big Dance after shooting 33.3 percent and committing 18 turnovers against Syracuse in the Sweet 16. Last season, Indiana went 7-11 in the Big Ten and failed to reach the NCAA tourney. Yes, Crean had a lot of inexperienced players on that team, but that shouldn't happen when one of the league's top athletes (
Yogi Ferrell
) and a future lottery pick (
Noah Vonleh
) anchor your roster. Still, Steve Alford has two Sweet 16 appearance in his entire career, and just one since 1999. And Fran McCaffery finally turned Iowa into an NCAA tourney team last season. Not sure how those guys are ranked in the 30s and Crean can't even crack the top 50. It's interesting.
Buzz Williams (No. 38)
: Marquette entered last season as the favorite to win the title in the (new) Big East's first season. The Golden Eagles fell short of those expectations when they finished sixth and missed the NCAA tournament. Not the best regular season for Williams, who left to fill Virginia Tech's opening a few weeks ago, but Marquette was coming off a shared league title in a much tougher version of the conference. The Golden Eagles split that 2012-13 crown with a Louisville team that won the national championship that season and a Georgetown team that looked like a Final Four squad before Dunk City ruined those plans in the opening round. Marquette made five consecutive NCAA tourney appearances (2009-2013) under Williams. That run included two Sweet 16 appearances and an Elite Eight run in 2013. Nothing against Colorado's Tad Boyle (No. 34) and Nebraska's Tim Miles (No. 32) -- both good coaches -- but they can't match that. Seems too low for Williams.
Archie Miller (No. 26)
: Miller is no longer just Sean Miller's brother; he has his own legacy now. Last season, he not only led Dayton to its first NCAA tourney appearance since 2009 but also guided the program to its first Elite Eight appearance in 30 years. It was an impressive feat. The Flyers won 26 games as Miller became one of the hottest young coaches in the game with that memorable tournament run. But No. 26 in the rankings? It's only Miller's third season as a head coach. Although he's done more in three seasons than other coaches with lengthier résumés have achieved in their careers, longevity has to be a factor, and it's too early to know whether Miller will continue this success in the coming years. Plus, he has to turn Dayton into a consistent contender for the A-10 crown. He definitely has the tools to get there, but No. 26 might be premature.
John Thompson III (No. 46)
: Georgetown struggled in the new Big East last season. After losing key pieces from the previous season, the Hoyas finished seventh in league play. Plus, the 2012-13 Georgetown team lost in a major upset to Florida Gulf Coast in the Big Dance. But the program also has won or shared three Big East championships and reached the Final Four in 2007 and the Sweet 16 in 2006 under JTIII. Those achievements seem ancient now, though; Thompson has amassed a 2-5 record in the NCAA tournament since that Final Four appearance. That's why JTIII barely cracked the top 50 in these rankings. But again, he has a résumé that surpasses what some of the coaches ranked ahead of him have.
[+] Enlarge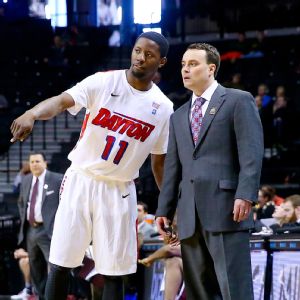 Rich Graessle/Icon SMIDayton's 2014 NCAA tournament made Archie Miller a bigger name in coaching circles, but now he has to back it up.
Dana Altman (unranked)
: These rankings emphasize a coach's overall impact on a program. A few weeks ago, Altman dismissed three key players after a rape investigation. One of those players, Brandon Austin, had been involved in a previous rape investigation at Providence that Altman claimed he had no knowledge of when he recruited Austin. The bottom line is that Altman should have been better informed. Oregon has had four consecutive seasons of 20 wins or more under Altman, but the Ducks also have dealt with a bunch of off-the-court drama that has marred his highs. The revolving pool of transfers also doesn't convey a sense of stability in Eugene, Oregon. He's falling. Maybe he shouldn't be out of the top 50, but he's definitely falling.
Scott Drew (No. 50, tie)
: Drew is one of the most polarizing coaches in college basketball. Ask other coaches or media folks about him, and they'll probably express an extreme view. The people who think he's a bad coach think he's a really bad coach. The folks who think those critics are just haters believe that he's flawless. The truth, as it is with any coach, is somewhere in the middle. But here's the reality: Drew turned Baylor into a player on the national scene after a major scandal nearly crippled the program before his arrival in 2003. Drew's talent hasn't always matched his team's results. Last season, Baylor began Big 12 play with eight losses in 10 games, but the Bears recovered and reached the Big 12 tournament championship game and the Sweet 16. Drew has guided Baylor to four NCAA tourney appearances and two Elite Eight berths. Baylor had reached the NCAA tournament only four times before his arrival. He's certainly guilty of missed opportunities and in-game coaching errors, but Tubby Smith (No. 39), Jim Crews (No. 29) and Ed Cooley (No. 41) can't match his achievements over the past six seasons. An argument, a strong one, could be made that Drew deserves a higher ranking.
May, 23, 2014
May 23
3:15
PM ET
Dayton's surprise run to the Elite Eight of this past season's NCAA tournament was worth nearly $73 million to the city.
A report issued by Dayton's city commissioners this month concluded that the Flyers garnered the equivalent of $36.7 million for Dayton during the play of their four games, $34.5 million from replays and television clips, and $726,321 in value from social media posts. The team's Twitter handle, @daytonflyers, received more than 90 million impressions from the start of the tournament on March 18 to when the team was knocked out by overall top seed Florida on March 29.
To read more,
click here
.
April, 15, 2014
Apr 15
10:00
AM ET
Dayton president Dan Curran, like many university presidents, has an impressive résumé.
"A sociologist by training, Dr. Curran spent 23 years in various administrative and faculty positions at Saint Joseph's University in Philadelphia," his extended biography on the university website reads. "He's a noted scholar in criminology, juvenile justice and social problems, with a deep interest in international issues."
In 2002, he received the Eternal Flame award, an international honor given for "exceptional contribution to the field of Holocaust education." He is a former Fulbright senior scholar with eight scholarly publications to his name, almost all of which have advanced the fight against social inequality.
At 11 p.m. on March 22, this man -- this hyper-successful baron of academia -- was crowd-surfing his way down Kiefaber Street in Dayton, Ohio. Thousands chanted his name: "Dan! Dan! Dan!" A couple of hours later, riot police would show up, fiberglass shields in tow, to put down the joyous rebellion.
[+] Enlarge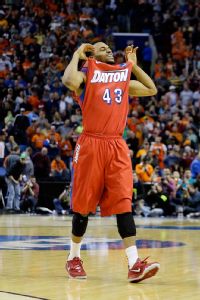 AP Photo/Frank Franklin IIVee Sanford and Dayton enjoyed a memorable March.
In any other month but March, you'd assume this was some kind of student uprising. In March, you can fairly guess that Dayton's men's basketball team surprised its loyal, loving fans with an unlikely "Cinderella" run. March:
It's where crowd-surfing university presidents happen
.
What we saw this season: Only Dayton wasn't a Cinderella. The Flyers were, in fact, a solid but injury-bugged team in a surprisingly dynamic 2013-14 Atlantic 10 Conference -- one that housed two of the nation's 10 best defensive teams (Saint Louis, VCU), that saw George Washington and Saint Joe's rise to tournament prominence, that watched Derek Kellogg get UMass back to the NCAA tournament for the first time since 1998, that had probably the best, or at least the most unlucky, 11-20 team in the country.
That team? George Mason. The Patriots had a pretty rough go in A-10 play: Including their season-ending A-10 tournament loss to Fordham, nine of George Mason's conference games were decided by two possessions or fewer, or in overtime. In one nine-game losing streak, the Patriots lost to Saint Joe's, UMass and Saint Louis by a combined 11 points.
That was a fair enough summary of the A-10 in general: You really never knew what to expect.
After a disappointing start to the nonconference slate, VCU fell off the national radar. But the Rams got better and better as the season wound along, their turnover-creation more and more potent, in time to finish 12-4 in the A-10. Saint Louis took the opposite tack. The Billikens were the league's steadily marching defensive monster -- they eventually earned the top-10 ranking their late coach Rick Majerus predicted they would -- until the final month of the season, when their defense softened just enough to expose the struggles on the offensive end. UMass also went the opposite direction: great (or maybe just better than expected) early, weak late.
In the end, it was Dayton that peaked in March. At their best, any of the A-10's top teams could have made a similar run. But the Flyers got right at the perfect time.
What we expect to see next season: One must be careful not to overrate a handful of single-elimination games in March. That is the gospel we preach every summer, even if we don't always live by it ourselves.
In other words: Dayton's Elite Eight run doesn't automatically make the Flyers the A-10 favorite next season. Vee Sanford and Devin Oliver, both seniors, are huge losses for the Flyers. But! Dyshawn Pierre and Jordan Sibert were the team's most dynamic players by the end of the season, and Archie Miller's deep roster was primarily composed of freshmen and sophomores. The Flyers could well compete for the A-10 title.
UMass looks solid moving forward, despite the loss of point guard Chaz Williams. Saint Joe's and George Washington likewise lose key seniors but have some reasonable hopes in coming seasons. Saint Louis looks destined to take a step back: The Billikens were all about their seniors and now are in that post-core rebuild-or-reload mode.
Meanwhile, here's a safe prediction: VCU will begin the season as the preseason favorite. The Rams lost a couple of old 2011 Final Four stalwarts (including Rob Brandenberg) to the sands of time, but Shaka Smart has everyone else (including Briante Weber and Treveon Graham) returning and his best recruiting class ever (including three top-100 prospects) on board. The Rams look like the deepest team in the A-10, which, given that high-pressure defensive style, is a terrifying thought indeed.
Four years ago, VCU had its mad dash deep into the tournament field. In 2014, the Rams bore the brunt of the upset, thanks to a last-second four-point play and a missed game winner in overtime. Meanwhile, Dayton -- which went 1-5 in January -- was one game away from the Final Four, with its president wafting atop a riot.

Such are the vagaries of March. Such was the state of the 2013-14 A-10. This might not be a "power" league, but it is almost always a lot of fun.
April, 9, 2014
Apr 9
10:00
AM ET
Another NCAA tournament is in the books, and before we get too sad over saying goodbye to college basketball for six months, let's review what we just witnessed:
One player can carry a team:
It's particularly true if that player happens to be a guard. UConn's
Shabazz Napier
proved that point -- like Kemba Walker before him -- by leading the Huskies to the national championship.
One player can't carry a team:
Particularly if his team relies on outscoring its opponents. For all the scoring records Creighton's
Doug McDermott
broke, the Blue Jays defense was ultimately picked apart by Baylor, and one of the great college basketball careers of the past decade ended in the first weekend of the tournament.
Freshmen can carry a team:
Kentucky was only the second team to start five freshmen in the title game. After many stumbles during the regular season, the youthful Wildcats put it together at the right time.
[+] Enlarge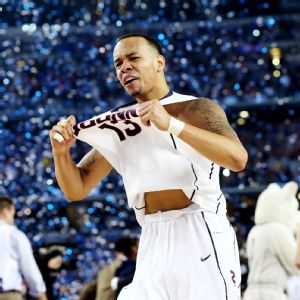 Ronald Martinez/Getty ImagesShabazz Napier took over the tournament and was a dominant force in UConn's run to the title.
Freshmen can't carry a team:
Kansas played without its talented freshman center
Joel Embiid
in the tournament. Its other highly touted freshmen starters,
Andrew Wiggins
and
Wayne Selden Jr.
, combined to shoot 2-for-11 and score six points as the Jayhawks were eliminated by Stanford. Wiggins might still prove to have Carmelo Anthony-type talent in the NBA, but he didn't come close to matching Anthony's NCAA tournament legacy.
Seeding is an inexact science:
Louisville as a 4? Kentucky as an 8? The selection committee's favorite phrase is "whole body of work," which is understandable, but it doesn't take into account a team that's playing its best late, such as the Cardinals; or a team clearly better than its record, such as the Wildcats.
Brackets aren't fair, but such is life:
The biggest example was having No. 1 seed Wichita State pitted against No. 8 Kentucky in the round of 32. The game had an Elite Eight feel for a reason -- it probably should have been played in the later rounds.
A 12-seed beating a 5-seed is no longer an upset:
The 12-seeds nearly -- and probably should have -- completed a full sweep of the 5-seeds. No. 12 seeds Harvard, Steven F. Austin and North Dakota State all advanced and North Carolina State was positioned to join them but missed 9 of 17 free throws before blowing a late eight-point lead to Saint Louis. It was the second game in three days for the Wolfpack, who had to play their way in by beating Xavier.
The 16-seeds are getting closer (incrementally, maybe, but closer):
For those counting, the No. 1 seed is 120-0 against No. 16 seeds, but the gap is closing. Coastal Carolina led Virginia by 10 in the first half and by five at halftime before losing. Albany and Weber State also gave Florida and Arizona tougher than expected games.
Four-point plays do exist:
And for Stephen F. Austin it happened at the best possible moment.
Desmond Haymon
drew a foul on VCU's JeQuan Lewis and his four-point play tied the score with three seconds left in regulation before the Lumberjacks won in overtime.
Big shots:
Whether true buzzer-beaters such as Cameron Ridley's putback in Texas' win over Arizona State or simply big shots in closing seconds such as North Dakota State's
Lawrence Alexander
forcing overtime against Oklahoma with a 3-pointer, we love seeing a game-changer. Kentucky's
Aaron Harrison
made the most of his big shots, taking down Louisville, Michigan and Wisconsin in the process.
Shots not fired:
With 2.3 seconds left, Arizona's
Nick Johnson
took one dribble too many and failed to get a shot off before time expired. The Wildcats' loss to Wisconsin in the Elite Eight proved the shot that's not taken hurts most.
Check the monitor (Shots not fired Part II):
Then again, it might hurt more to lose the game after an officials' conference. Officials didn't see North Carolina coach Roy Williams signaling for a timeout with 1.6 seconds left immediately after Iowa State's
DeAndre Kane
scored the go-ahead basket. The ball was inbounded but the clock operator started it late, allowing Carolina a timeout after the ball was advanced to half court. The officials checked the monitor, huddled and determined that time had expired before the timeout was granted.
We still never figured out the block/charge call:
It didn't outright decide the outcome of any game, but it came close. Tennessee's
Jarnell Stokes
was called for a charge with six seconds left in a one-point game. Michigan's
Jordan Morgan
sold the call and the Wolverines advanced.
[+] Enlarge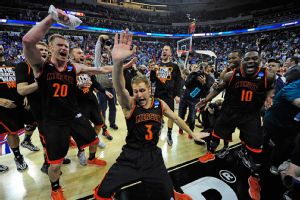 Bob Donnan/USA TODAY SportsAn upset of Duke sent Mercer's Kevin Canevari into his version of the Nae Nae.
Location. Location! Location?
Wisconsin doesn't rally to beat Oregon had the partisan crowd in Milwaukee not helped turn the momentum of that game. UConn might not get past Michigan State had it not been in the familiar confines of Madison Square Garden. Then again, Syracuse lost to Dayton in Buffalo, N.Y., and Duke lost to Mercer in Raleigh, N.C. Maybe location doesn't matter as much as we think.
Conferences might want to rethink who earns the automatic bid:
Milwaukee had a losing record in the Horizon, yet beat regular-season champ Green Bay in the league tournament en route to earning their NCAA bid. Cal Poly had a losing record overall and finished tied for sixth in the Big West, yet earned the bid and beat Texas Southern before getting pummeled by Wichita State. Mount St. Mary's also had a losing record overall before winning the Northeast tournament title. All those upsets, of course, led to NCAA tournament seeds.
Seniors matter:
Obviously the shining example was Napier carrying UConn to the title and Florida reaching the Final Four by starting four seniors. But the common thread in nearly every early-round upset was that schools such as North Dakota State, which had five seniors in its rotation, and Mercer, which had seven seniors, played a lot of experienced players.
Conference affiliation doesn't:
The Big 12 had the most teams in the tournament with seven, but they flamed early. Kansas State, Oklahoma State and Oklahoma lost their first games, only Baylor and Iowa State made it to the Sweet 16.
Michigan State starting over:
One of the best streaks came to an end this season when the Spartans lost to UConn.
Keith Appling
and
Adreian Payne
are the first players who stayed four years under coach Tom Izzo but did not play in a Final Four.
Pay more attention to the Atlantic Sun:
From the conference that gave us Florida Gulf Coast last season, Mercer came out of the league this year. The Bears beat Duke in a game they were positively poised and confident they would win.
THE University of Dayton made a statement:
A headline in the Dayton Daily News poked a little fun at Ohio State, but the way the Flyers were embraced after beating the Buckeyes, Syracuse and Stanford showed just how much March can unite a community.
Kevin Canevari can dance:
Moments after Mercer topped Duke in the tournament's biggest upset, Canevari provided arguably the tournament's best celebration dance by doing the Nae Nae in front of the Bears' fan section.
Grudges last:
Napier blasted the NCAA for keeping the Huskies out of the tournament last season because of their APR. That means SMU, which beat UConn twice, is on the clock for next season with some hard feelings of its own. The Mustangs missed the NCAA tournament and finished runners-up in the NIT. With most of their starters back, and adding arguably the best point guard from the 2014 recruiting class, Larry Brown's crew will be a force next season.
March, 30, 2014
Mar 30
1:19
AM ET
MEMPHIS -- Billy Donovan could live with the first two.
Isn't that how it goes? There are losses you can live with, and losses that drive you mad -- performances you can be proud of despite the result, and games that stick in your gut for months.
In 2011, the first of Florida's four-straight Elite Eights, the Gators lost in overtime to a red-hot Butler team that made every play down the stretch. In 2012, Donovan lost to his mentor, Rick Pitino, and a Louisville team that guarded its way to the Final Four. Florida played well in both games. It was last year's loss -- a dreary blowout to eventual national runner-up Michigan -- that Donovan didn't like.
On Saturday, after Florida's fourth Elite Eight game in four years, and its first win -- a 62-52 victory over No. 11-seed Dayton -- Donovan was fielding all of the expected questions about his program's remarkable run of success. He was making a larger point about the way seasons end in the NCAA tournament, and the ways those small samples skew perception. But for a second, his tone gave him away.
"I thought we played well against Louisville and Butler," Donovan said, his voice flecked with sudden disdain. "I did
not
think we played well against Michigan --
at all
."
To continue reading,
click here
March, 29, 2014
Mar 29
8:28
PM ET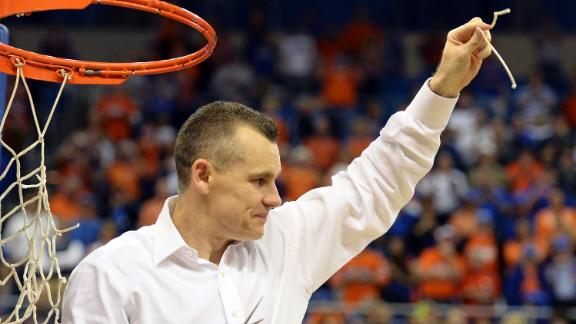 MEMPHIS -- The feel-good story of the 2014 NCAA tournament ended as so many feel-good underdog stories do: at the hands of a top-seeded favorite. Last season, Florida clinically ended Florida Gulf Coast's dunk-filled Cinderella run. On Saturday, the Gators sent Dayton home 62-52, and this time their reward is a long-awaited trip to the Final Four.


The Flyers didn't fade away. With 12 minutes left in the second half, Florida led 51-36 and looked set to cruise. But Dayton, led by the determined work of guard Dyshawn Pierre, kept incrementally pushing back in the second half. With 2:37 to play, the Flyers trailed by just eight. It was an off night in a handful of ways, but Pierre & Co. kept things interesting for longer than anyone could have expected midway through the second half.
Florida's size won the game. The Gators had their fair share of ugly possessions in the last 10 minutes of the second half, which usually went like this: Shoot the ball, scrap for a rebound, shoot the ball, scrap for a rebound, rinse, repeat. But even when Florida came away from those trips empty-handed, the rebounds spoke to the dominance the Gators wielded over Dayton around the rim. Patric Young was a force on both ends of the floor, finishing with 4 blocks, 6 rebounds and 12 points -- most of which were scored after he sealed a Dayton defender into oblivion under the rim.
Also: The rebounding battle wasn't close. Dayton likewise faced a much taller Stanford team in its first game in Memphis (which was true of its wins over New Mexico and Syracuse, too), but the Flyers were able to play the Cardinal to a draw on the glass by being quicker and craftier in the gaps of the Stanford zone. There were no such openings Saturday night. Florida rebounded more than 80 percent of Dayton's misses. Good first-shot defense helped the Gators as usual, but Dayton made a few shots, too (it finished 8-of-18 from 3). Most important was Florida's comprehensive rebounding effort.
Scottie Wilbekin was good when he needed to be. For the second time in as many games, the SEC Player of the Year didn't have a good shooting night -- he finished 6-of-14 from the field. But he went 3-of-5 from 3, including a re-tee attempt late in the second half after Dorian Finney-Smith corralled one of UF's dozen offensive rebounds. It was the shot of the game, providing the buffer a cold Gators team needed to hold off Dayton's last-ditch push down the stretch.
Dayton's fans were great. Coaches and players talk all the time about how the exposure of the NCAA tournament reveals to the world things locals take for granted. Rarely was that maxim more true than with Dayton. The city and university have long shared a special relationship with the basketball team through thick and thin. If nothing else, this team's run -- marked by thousands of students celebrating in the streets, and the thousands of Dayton fans who giddily flooded into Memphis this week -- showed off that relationship to the world.