College Basketball Nation:

Florida Gulf Coast Eagles
January, 25, 2014
Jan 25
7:15
PM ET
It was another eventful Saturday in the world of college basketball.
These 10 players were responsible for some of the most significant performances of the day.
Melvin Ejim (Iowa State) -- A few weeks ago, Fred Hoiberg identified the senior as the glue guy who has helped him rebuild Iowa State basketball. The veteran recorded 20 points, nine rebounds, two assists, three steals and three blocks in No. 16 Iowa State's 81-75 home win over No. 22 Kansas State. He also blocked Shane Southwell's 3-point attempt in the final seconds, snatched a key rebound and hit a pair of late free throws to seal it.

Treveon Graham (VCU) -- The junior guard scored a career-high 34 points in VCU's 97-89 double-overtime win at La Salle. Graham scored six straight points to send the game into its first overtime. He also finished with 12 rebounds and two assists for a VCU squad that has won 12 of its last 14 games.

[+] Enlarge

AP Photo/Sue OgrockiWith Marcus Smart struggling, Le'Bryan Nash came through with a huge game to lead Oklahoma State past West Virginia.

Le'Bryan Nash (Oklahoma State) -- Travis Ford needed some help on a horrible day for Marcus Smart, who fouled out with just four points and a 1-for-7 tally. Nash stepped up. He recorded 29 points, nine rebounds, two assists and two blocks in No. 11 Oklahoma State's 81-75 win over West Virginia, which played tough for 40 minutes.

Ryan Arcidiacono (Villanova) -- The controversial offensive foul call at the end of No. 4 Villanova's 94-85 overtime win over Marquette shouldn't mask the exceptional effort by Arcidiacono. The point guard finished with 20 points, 11 assists and, most impressively, zero turnovers in 39 minutes. He also grabbed a critical loose ball and steadied the Wildcats in the extra period.

Isaiah Taylor (Texas) -- Why are the Longhorns legitimate Big 12 contenders now after winning three consecutive games against ranked opponents (Iowa State, Kansas State and Baylor)? Because players such as Taylor continue to step up for Rick Barnes. The guard finished with 27 points (10-for-18), three assists and three steals in Texas' 74-60 road win over Baylor.

Kendall Williams (New Mexico) -- The Lobos dealt with some tough losses during the nonconference season, but they're 6-1 in league play after a 68-66 victory over Colorado State. Williams finished with 23 points, five assists and one steal in that game. He hit 5 of 10 3-pointers.

Michael Frazier II (Florida) -- The guard anchored a balanced attack in No. 6 Florida's 67-41 win over Tennessee. Frazier finished with 17 points (3-for-6 from beyond the arc), four rebounds and two assists. The Gators haven't lost since Dec. 2.

Tyler Ennis (Syracuse) -- It wasn't a pretty performance. But No. 2 Syracuse scored a 64-52 win at Miami in a tough road game. Ennis continues to make a case for "best point guard in America" status. He finished with 14 points, five rebounds and four assists. That effort included some clutch plays in the final minutes.

Willie Cauley-Stein (Kentucky) -- The sophomore hasn't been a consistent offensive threat, but his defensive presence is undeniable. He only scored eight points in No. 14 Kentucky's 79-54 win over Georgia. But he also recorded six steals, six blocks and altered multiple shots. He's such a vital player for that young Kentucky team.

Chase Fieler (Florida Gulf Coast) -- The "Dunk City" contributor had an impressive stat line during Florida Gulf Coast's 83-62 win over Kennesaw State. He hit 7 of 14 shots and went 9-for-9 from the free throw line for 24 points while also recording 7 rebounds, one block and two steals.
November, 11, 2013
11/11/13
12:00
PM ET
The ESPN College Hoops Tip-Off Marathon is here, and with all due respect to Oregon's far-flung win over Georgetown in South Korea on Friday (and UConn's nervy victory over Maryland in less-far-flung Brooklyn), the marathon always feels like the official start of the season.
Things are a little different this time around: The festivities begin at 7 p.m. ET Monday night and don't end until the 9:30 p.m. Champions Classic finale wraps late Tuesday. Check my math, but that's well over the allotted 24 hours of hoops. By the time we're done, it could be more like 30. Are you excited? You should be. Did you buy enough NoDoz to incapacitate a small farm animal? You should probably do that, too.
Before you run that errand, though, let's run through some of the things you need to know -- or should plan to watch for -- in this 2013-14 edition of the college hoops obsessive's nirvana. (
Click here for the schedule
. You might need that.)
Sneakiest good game
:
LSU at UMass, 11 a.m. ET, ESPN2.
And not just because LSU coach Johnny Jones has one of the best freshmen in the country (power forward Jarrell Martin, the 11th-ranked player in the loaded 2013 class) making his debut. No, this UMass team -- which averaged a speedy 70.8 possessions per game last season -- is a lot of fun, and kicking off a crucial season for coach Derek Kellogg.
[+] Enlarge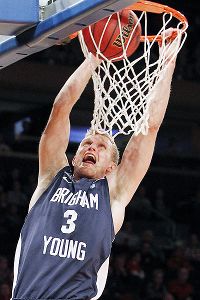 Jason Szenes/Getty ImagesWatching BYU guard Tyler Haws in action is a good excuse to burn the midnight oil.
Worth staying up for
:
BYU at Stanford, 11 p.m. ET, ESPN2
. With all due respect to the overnight games, I can't really recommend you ruin your entire week for any portion of the overnight slate unless (A) you're like me, and don't really sleep anyway, or (B) you're just insane. Recommending BYU-Stanford instead feels a bit like cheating, but oh well: Dave Rose has his most complete team of the post-Jimmer era, and wing
Tyler Haws
is well worth the price of admission, especially up against a good Stanford defense.
Under-the-whatever* player you should see: T.J. Warren, NC State
. Last season, Warren was a hyper-efficient tweener freshman on an overstuffed NC State offense. This season he's the main attraction, and his first game Friday night -- 29 points on 13-of-20 shooting, with six rebounds, three steals and a block against Appalachian State -- provided a glimpse of what could be a monster offensive season. Warren and the Wolfpack go to Cincinnati at 5 p.m. ET on Tuesday night.
(*Note: It's only Nov. 11 and I'm already sick of "under the radar." I'm using this until further notice. Replacement suggestions welcome!)
Team that might be really good, but we just don't know
:
Baylor Bears (vs. South Carolina, 3 p.m. ET, ESPN)
. Super-talented? Check. Kept a would-be one-and-done (
Isaiah Austin
) on campus for his sophomore season? Check. Could be awesome? Sure! Could be thoroughly mediocre? Right.
Best 2013 NCAA tournament Cinderella
:
Florida Gulf Coast (vs. Hartford, 7 a.m. ET, ESPN2).
Second-best 2013 NCAA tournament Cinderella
:
La Salle (vs. Quinnipiac, 9 a.m. ET, ESPN2)
Best game
: This one's a tie, which doesn't make it any less obvious: It's
No. 1 Kentucky vs. No. 2 Michigan State, and No. 4 Duke vs. No. 5 Kansas
, Tuesday at United Center. You're up to speed on this, right? You don't need me to elaborate, do you? No? Good.
Best non-Champions Classic game
:
No. 14 Virginia Commonwealth at No. 24 Virginia
. Now
this
is an interesting question. As I see it, there are two viable options, both of which air on
the Ocho
ESPN2 opposite the Champions Classic. The first is the above, at 7 p.m. ET, followed by No. 10 Florida at No. 20 Wisconsin at 9 p.m. ET. At first glance, you might be inclined to take Florida-Wisconsin; those are the bigger "brand" names and probably more talented squads from top to bottom. But with Florida hobbled by injuries and suspensions, it seems less likely we'll get as good a game from the Gators and Badgers as we will at 7 p.m.
VCU at Virginia is a fascinating fixture. Not only are both programs pegged for big seasons, and not only could we witness the start of a nascent in-state rivalry, but the styles on display couldn't be more dichotomous. Virginia loves to slow the pace, take care of the ball, settle into Tony Bennett's pack-line defense, and generally play as cautiously and intelligently as possible. VCU loves to unleash havoc, press opponents, pounce on turnovers, get easy transition buckets and generally play as furiously and frustratingly as possible. Something will have to give.
Best thing about all of this
: You can turn on your TV at any time between 7 p.m. Monday and midnight or so Tuesday and find basketball on the Worldwide Leader and its family of networks! Rejoice, rejoice. College basketball is finally here.