College Basketball Nation:

Houston Cougars
May, 30, 2014
May 30
11:48
AM ET
The question was simple and intentionally direct: Was Kelvin Sampson's return to college coaching at all motivated by a desire to clear his name?
The answer, though brief in words, was far more complex. Sampson paused for a good 15 seconds, a stretch that can feel like an eternity in a phone conversation. He finally exhaled and answered.
"Yes," he said, stretching out the word and pausing again. "I'm not going to go any deeper than that, but yes."
In sports, there is always a winner and a loser, and eventually the sting from even the toughest loss dissipates. But what if something else is lost in the quest for the big win, something more precious than a game? Like a reputation?
What then? How do you come back?
Two NCAA sinners are about to answer that question this coming season: Sampson at Houston and Bruce Pearl at Auburn.
Done in by hubris as much as by the NCAA rulebook, they each were fired from good jobs and slapped with a show-cause penalty, their transgressions deemed so egregious that they were told to stay away from college basketball for a while.
To continue reading this story,
click here
.
March, 14, 2014
Mar 14
10:30
AM ET
By
ESPN.com staff
| ESPN.com

Andy Katz discusses the future of the American Athletic Conference tournament, Houston coach James Dickey's future and Rick Pitino's thoughts on conference tournaments' impact on the NCAA tournament.
January, 16, 2014
Jan 16
12:03
AM ET
North Carolina State forward
T.J. Warren
can't catch much of a break. Even when I was ready to talk about how underappreciated he is nationally, he got overshadowed by Wake Forest guard
Codi Miller-McIntyre
.


Miller-McIntyre made the game-winning basket to cap off a 20-point performance in the
Demon Deacons' 70-69 win Wednesday
.
Miller-McIntyre ranks in the top 10 in assists (3.9) and field goal percentage (45.5.) in the ACC and is 11th in scoring at 15.6 points per game.
Warren does it all for the Wolfpack. He entered Wednesday leading the ACC in scoring at 22.2 points per game. He's fourth in field goal percentage at 50.5, sixth in rebounding with 7.5 per game and 10th with 1.6 steals per game.
With conference play just starting to heat up, it's time to take a look at a few other players whose impressive seasons have gone underappreciated:

Xavier guard
Semaj Christon
scored a team-high 18 points in the Musketeers' win over Georgetown, while shooting an efficient 9-for-12 from the field. Christon leads the team in scoring (16.2 points) and ranks third in the Big East with 4.4 assists per game. But really, he just has a knack for making whatever play is needed at the time. Against the Hoyas, eight of his points and two of his three steals came during a run that brought the Musketeers back from a 17-point deficit to take the lead.

UMass center
Cady Lalanne
isn't going to score in bunches -- his 19-point effort against George Mason notwithstanding -- but he's a big reason the Minutemen are sitting at 15-1 and ranked 16th. He leads the team with 9.0 rebounds, but more importantly, he's a shot-blocking deterrent in the middle of the lane. Lalanne averages 2.5 blocks per game, each of which has been crucial since the emphasis on freedom of movement has made it easier to get to the basket.

West Virginia guard
Juwan Staten
is truly running things in Morgantown. Talk about a do-it-all player: He leads the Big 12 with 6.1 assists per game, is tied for third with 17.4 points and ranks third in field goal percentage at 53.4. Despite being just 6-foot-1, Staten is second on the Mountaineers with a 5.9 rebounding average per game.

SMU guard
Nic Moore
functions in what could be the toughest work environment of any player on this list. Playing point guard for
Larry Brown
isn't easy, but Moore is making it look that way, averaging 13.3 points and 4.6 assists per game. He's second in the American with a 51.5 3-point field goal percentage.

Texas Tech forward
Jaye Crockett
leads the Big 12 in field goal percentage at 57.9 -- that was before he shot 7-of-12 for 19 points in the upset of Baylor Wednesday. His 14.4 points and 6.3 rebounds rank in the top 15 in the league in both categories.

New Mexico forward
Cameron Bairstow
embraced his expanded scoring role this season and is second in the Mountain West averaging 20.0 points. Turnaround jumpers from the blocks, hook shots, step backs -- he does it all, which makes him difficult to defend because you don't know what's coming next. He was one shot short for the Lobos against UNLV Wednesday, scoring 27 points but missing what would have been a go-ahead basket with 35 seconds left.

Houston forward
TaShawn Thomas
is shooting 63 percent from the field en route to averaging 17 points per game. But his strength is rebounding (8.9) per game, which ranks second in the American.

California forward
Richard Solomon
is as dependable as it gets on the boards. He ranks 14th nationally in rebounding at 10.2 per game and has posted five double-doubles for the Bears this season. Who knows how well the Bears could have matched up with Syracuse had Solomon not injured his eye against Arkansas.
October, 16, 2013
10/16/13
3:30
PM ET
By
ESPN.com staff
| ESPN.com
From Sept. 30 through Oct. 25, Insider will be rolling out its
college basketball preview
, including breakdowns on every Division I team, projected order of finish for every conference and essays from Insider's hoops experts.
Here are previews for each team in The American.
Louisville Cardinals

Connecticut Huskies

Memphis Tigers

Cincinnati Bearcats

SMU Mustangs

Houston Cougars

UCF Knights

Temple Owls

South Florida Bulls

Rutgers Scarlet Knights

September, 5, 2013
9/05/13
11:00
AM ET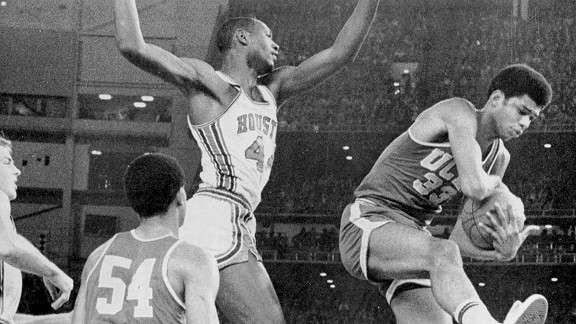 AP Photo"The Game of the Century," which saw Guy Lewis' Houston Cougars upset defending national champion UCLA in 1968 in the Astrodome, was a watershed moment in college hoops.
Editor's Note: Three legendary college basketball coaches -- Jerry Tarkanian, Rick Pitino and Guy Lewis -- take center stage this weekend as the trio is inducted into the Basketball Hall of Fame in Springfield, Mass. We'll be devoting a day to each as we examine what made them HOF-worthy. Here is Tuesday's tribute to Tarkanian and Wednesday's to Pitino.
Today's college basketball fans might not know much about Guy Lewis. But Houston's former coach guided the program for 30 years. He's responsible for the team's five Final Four appearances. Proof of his worth? Houston hasn't won an NCAA tournament game since he left the building for good in 1986.
His legacy will be rewarded with an induction into the Naismith Hall of Fame this weekend.
Here are the top 10 Lewis memories:
"Game of the Century": Lewis didn't just help change a program. He changed the entire game. In 1968, his Cougars faced the UCLA Bruins in a nationally televised primetime game that was viewed by 52,693 fans at the Astrodome. Lewis orchestrated that matchup and the hoopla that surrounded it. In the Associated Press polls, UCLA and Houston were No. 1 and No. 2, respectively. The Bruins were riding a 47-game winning streak that they'd amassed over two-plus years. Lew Alcindor and Elvin Hayes (39 points, 15 rebounds) were the centers of attention. Alcindor, however, had an eye injury that affected his play. But Lewis' coaching insight fueled Houston's 71-69 upset. It was a monumental event for both teams and the entire sport.

Creation of "Phi Slama Jama": A local newspaper columnist came up with the name, but Lewis put the group together. All-Americans Clyde Drexler and Hakeem Olajuwon and their teammates were so captivating that fans began judging the crew's pregame dunks. Phi Slama Jama was hip and trendy. They were college basketball's most entertaining collective throughout the early 1980s. They won 26 games in a row and nearly captured the NCAA title during the 1982-83 season. Emphasis on the word "nearly." See No. 3. ...

Broken Hearts: Although Drexler and Co. were a memorable group, the most lasting image from the 1982-83 campaign that anchored the Phi Slama Jama's legacy was the way it ended. Lewis' talented UH squad lost the national championship after NC State's Lorenzo Charles slammed the game winner at the buzzer after Dereck Whittenburg missed a 35-footer. It was a great moment for Jim Valvano and the Wolfpack, but it certainly was a bitter one for Lewis and his team. They were all set for overtime until Charles changed the game and history.

Lewis helps integrate college basketball: Don Haskins' Texas Western squad in the mid-1960s is generally credited as the most critical factor in the integration of college basketball. But Lewis and others played key roles, too. The legendary coach signed Elvin Hayes and Don Chaney, the first black players in the program's history, during that same period. Hayes became a legend in college and the pros. Chaney won two NBA championships and became a head coach for multiple franchises. Lewis' decision to embrace racial integration was significant, especially in the South.

Five Final Four appearances: Lewis is on a short list of coaches who've led teams to five or more Final Fours. Lewis' streak is impressive because he did it in different eras. His first two Final Four trips were orchestrated in 1967 and 1968, when only one team per conference could earn a bid to the NCAA tournament. Hayes, who averaged 28.4 PPG and 36.8 points per game respectively during those seasons, definitely helped. But years later, Lewis proved that he still had it when he guided Houston to three consecutive Final Fours in 1982, 1983 and 1984. By then, the tournament had expanded and the game had changed. The dunk was legalized again. Freshmen were eligible. And despite the changes, Lewis maintained his edge.

Olajuwon picks Houston: The man who would eventually become a legendary NBA center reportedly took a detour from a scheduled visit to St. John's in New York City due to cold weather. Enter Houston. Olajuwon, an inexperienced Nigerian prospect when he reached Houston's campus, was raw. He redshirted as a freshman. But under Lewis, Olajuwon became one of the greatest centers in the game. He was a consensus All-American as a senior and No. 1 pick by the Houston Rockets in that year's NBA draft. Was Lewis one of the greatest coaches of all time? Well, consider Olajuwon's progression.

National Coach of the Year honors: For his efforts, Lewis was named national coach of the year in 1968 and 1983. But it took 30 years from that time for Lewis to earn recognition from the Hall of Fame.

Hayes boycotts Hall of Fame in support of Lewis: Hayes, Houston's former superstar, was so upset by Lewis' previous exclusion from the Naismith Hall of Fame that he had refused to attend all events hosted by the Hall since he was inducted in 1990. "That was a great wrong done and all of the sudden, it's right," Hayes recently told the Associated Press. "And once it's right, it doesn't even make any difference what happened in the past." Lewis, who won 592 games in his career, reached the NCAA tournament 14 times.

Winning streak in 1982-83: With arguably his best team, Lewis weathered a brief storm to launch a historic rally. After suffering back-to-back losses to Syracuse and Virginia during the 1982-83 season, Houston won 26 games in a row (the nation's longest winning streak at the time). Its streak ended against NC State in the national title game (see No. 2). But that doesn't discount the Cougars' efforts prior to that loss.

Arena named in his honor: It took the Naismith Hall of Fame nearly 30 years after Lewis retired to invite him. But those connected to Houston's program have been fighting for his induction since he left the team in the mid-1980s. In 1995, the school renamed its home floor "Guy V. Lewis Court at Hofheinz Pavilion" to recognize his accomplishments.
September, 5, 2013
9/05/13
10:30
AM ET
Editor's Note: Three legendary college basketball coaches -- Jerry Tarkanian, Rick Pitino and Guy Lewis -- take center stage this weekend as the trio is inducted into the Basketball Hall of Fame in Springfield, Mass. We'll be devoting a day to each as we examine what made them HOF-worthy. Here is Tuesday's tribute to Tarkanian and Wednesday's to Pitino.
Everyone knows Rick Pitino. Everyone knows Jerry Tarkanian. They are not only college coaching greats and worthy Hall of Fame inductees, but celebrities of the sport, iconic figures in ways that go beyond wins and losses.
Far fewer fans know Guy Lewis. Some of that is just sheer timing: Lewis' 30-year tenure at Houston, where he played in the late 1940s after returning from service in World War II, ended in 1986, which itself is almost 30 years ago now. Did that make you feel old? I was born in 1985, and it made me feel old. Which is sort of the point: Beyond the occasional Phi Slama Jama mention during a March Madness highlight package, fans my age simply don't hear about Lewis all that often -- or at all.
We're missing out. For all their well-deserved status, neither Pitino nor Tarkanian can boast the sheer force of impact Lewis had on game of basketball in the 20th century. In 1964, at the height of the Civil Rights movement, Lewis was one of the first coaches at a Southern school to actively recruit and play African-American players. The school's first two black players were Elvin Hayes and Don Chaney, who countered countless racial slurs by being so dominant they essentially forced other coaches to embrace equality as a competitive survival mechanism. Since his own induction in 1990, Hayes -- a rural Louisiana native
who grew up in a place where
"blacks had been taught to hate whites and whites had been taught to hate blacks" -- has boycotted the Hall of Fame, refusing to attend any events until his old college coach was inducted, too. "That was a great wrong done and all of the sudden, it's right," Hayes said in April. "And once it's right, it doesn't even make any difference what happened in the past."
[+] Enlarge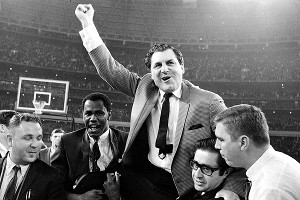 AP Photo/Ed KolenovskyGuy Lewis helped organize college basketball's first nationally televised regular-season game when Houston played UCLA at the Astrodome in 1968.
In 1968, Lewis helped organize the "Game of the Century" -- a matchup with John Wooden's dominant UCLA program in front of an Astrodome crowd 50,000 strong, the first nationally broadcast regular-season game in college basketball history. In the 1980s, at a time when some still believed the oh-so-exotic "dunk shot" was something to be disparaged -- yes, folks, there was a time when dunking was controversial; the people who manage Kia Motors' advertising just shuddered -- Lewis cracked that it was a "high-percentage shot" and then proceeded to build some of the most talented and entertaining basketball teams of all time.
Despite that pioneering spirit, in retrospect Lewis' tenure feels pleasantly nostalgic. Case in point:
From 1956 to 1968
[PDF], Lewis had exactly one assistant coach, Harvey Pate. In 1969, Pate was joined by Donnie Schverak -- because when you end UCLA's 47-game win streak in the
first televised regular-season college basketball game ever
, it's only fair that you get to add a second assistant to the staff. The last half-decade of his tenure, following Pate's retirement, saw the addition of a couple more assistants -- Terry Kirkpatrick, Jay Bowerman, George Walker -- but that's it. Over 30 years, Lewis coached alongside exactly five other men. Compared with today's coaches, who prowl the sidelines backed by a rotating army of flash card-wielding minions, Lewis' staffs were small and dedicated. No one was texting about the next hot job.
That charming fact is worth explaining because, relative to many of his Hall of Fame peers, Lewis' coaching tree is sparse. Save the handful of folks below (a couple of whom are generous inclusions), Lewis did not give birth to a legion of coaching descendants. But given the impact he had on the game -- from dragging southern basketball beyond its ugly past to engineering the game's watershed TV moment to embracing the joy of high-flying, well-played hoops -- well, frankly, who cares?
Dave Rose
: The name most college basketball fans will immediately recognize in this list is BYU coach Dave Rose. Long before he oversaw the Jimmer Fredette show in Provo, Utah (
miss you, Jimmer
), Rose played at Houston under Lewis from 1980 to 1983, in the heart of the Phi Slama Jama era. Even then, Rose -- who completed his two-year LDS mission in England before returning to play for UH, and who was the only married player on the team -- was so good a leader that he was named a co-captain on a squad that starred Clyde Drexler and Hakeem Olajuwon, which is saying something. Rose's coaching career began inauspiciously enough at Millard High School in 1983. He later moved on to Dixie State as an assistant and then head coach, and earned the BYU job in 2005 after eight years as an assistant.
[+] Enlarge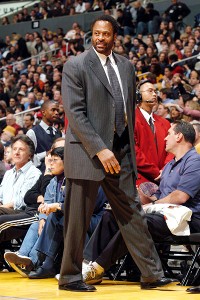 Noah Graham/NBAE via Getty ImagesDon Chaney won an NBA Coach of the Year award following the 1990-91 season.
Don Chaney
: Chaney, Hayes's partner on those heady and transformative 1960s Cougars teams, is probably best known for his work on NBA courts in the 1970s, specifically his stints with the Boston Celtics, where he contributed on two title teams (in 1969 and 1974), earned five NBA All-Defensive second-team honors, and became the lone Celtic to play with both Bill Russell
and
Larry Bird, a fact that could come in handy at any self-respecting Boston-area pub trivia night. But four years after Chaney left the game, he returned as a coach, and would spend the next 22 years of his life on NBA sidelines, nine as a head coach. In 1990-91, he led young star Olajuwon and an aging-but-still-dominant Moses Malone & Co. to a 50-32 record, and was named NBA Coach of the Year. His last job placed him atop the New York Knicks dog pile from 2001 until 2004 -- the official start of the legendary Isiah Thomas era (about which the less said the better).
Clyde Drexler
: True story. No, seriously! Clyde Drexler coached basketball! Wait … you mean you didn't know this? Pshh. Noob.
It really did happen: In 1998, after his retirement from a Hall of Fame NBA career, The Glide was hired to replace Alvin Brooks. As you could probably guess, the attending fanfare bordered on hysteria. One of Lewis' legends -- three years off from winning an NBA title with Olajuwon for the Houston Rockets, as if those two could get any
more
popular around H-town -- had come home, and he was going to lead the Cougars out of their despondent decade, erase the disappointment of Big 12 rejection, and get Houston basketball teams playing exuberant basketball once more. Can you blame folks for being so hyped?
It's even worse knowing what came next. In two seasons, Drexler went 19-39 overall and 7-25 in C-USA, and The Glide thought better of the whole coaching thing, resigning in order to spend more time with his family. (Given that Drexler never returned to coaching, the tried-and-true "family out" actually seems legit.) It is easy to crack jokes about this experiment, but from this distance it feels like the most devastating turn of the post-Lewis era -- the final, sad squandering of the interest Lewis had built in the preceding decades.
Hakeem Olajuwon
: OK, this is being generous, but whatever. It's Hakeem Olajuwon. After his iconic years at Houston, Olajuwon somehow just kept getting better and better, and by the time he finished his NBA career he was without question one of the greatest players in basketball history, full stop. (He also earned inclusion into one of the most exclusive clubs of the 1990s: "10-Year-Old Eamonn's Favorite Non-Chicago Bulls." Belated congratulations to Hakeem.) Olajuwon has never actually coached in an official capacity, but in 2006 he opened his first Big Man Camp, an informal offseason seminar in the art of post moves. Since then, he has worked with LeBron James, Kobe Bryant, Dwight Howard, Carmelo Anthony and countless other NBA stars, and almost all of them (cough, Dwight, cough) have visibly benefited from the instruction.
At this point, "worked with Hakeem in the offseason!" is on the same overplayed par as "he's in the best shape of his life!" It almost feels too easy to portray Olajuwon as some sort of wizened post-up yogi. But … that's pretty much exactly what he is. He doesn't charge a fee for his camp, and all are welcome. "If these kids want to come here and take the time to listen and to work, if they're willing, it is my honor to help," Olajuwon
told the Houston Chronicle in 2006
. "This is my way of giving back to the game." Besides, just listen to the guy explain the Dream Shake:
When the point guard throws me the ball, I jump to get the ball. But this jump is the set-up for the second move, the baseline move. I call it the "touch landing." The defender is waiting for me to come down because I jumped but I'm gone before I land. Defenders say "Wow, he's quick," but they don't know that where I'm going is predetermined. He's basing it on quickness, but the jump is to set him up. Before I come down, I make my move. When you jump, you turn as you land. Boom! The defender can't react because he's waiting for you to come down to defend you. Now, the first time when you showed that quickness, he has to react to that quickness, so you can fake baseline and go the other way with your jump hook. All this is part of the Dream Shake.
Young big men: You will go to the Dagobah System. There you will learn from Hakeem, the Dream Shake master who instructed LeBron. Clear your mind of questions. You must unlearn what you have learned.
Michael Young
: Young might be a slightly generous inclusion on this list, too, considering he spent just one season as an assistant coach and has never held a head job. But that distinction begins to fall apart when you consider that Young -- a local product and intense fan favorite who shared 1983 Southwest Player of the Year honors with Drexler and played in both the 1983 and 1984 NCAA finals -- spent the past 16 years working in various instructive capacities for his alma mater. A handful of those years were as a strength and conditioning coach. For the past seven years, Young was Houston's director of basketball operations.
This summer,
that tenure came to a chilly close
. During contract negotiations, Young was asked to ditch the ops position in favor of a more ceremonial, "community service" role. "James Dickey doesn't want me to be part of his coaching staff anymore," he bluntly told the Chronicle in June. The immediate fallout actively hurt the Cougars, as Young's son -- efficient sophomore shooting guard Joseph Young, a key piece in Dickey's promising rebuilding plan -- decided to follow his father out the door, because, as Michael Young said, "He made a statement to me that he can't play for a coach that doesn't want his dad to be a part of the staff."
It was hardly the most diplomatic ending to a nearly two-decade role in Houston's basketball program. Cougars fans who screamed extra loud for Young during pregame introductions -- Young still gets the loudest -- will surely feel his absence this fall.