College Basketball Nation:

Louisiana Tech Bulldogs
June, 18, 2014
Jun 18
11:00
AM ET
Editor's note: During the next five weeks, we will reveal the top 50 coaches in college basketball, as decided by our ESPN Forecast panel. Today we unveil No. 13: VCU's Shaka Smart. On Thursday, we release No. 12.
It begins again each year. Ed McLaughlin anticipates the frenzy that will commence once Virginia Commonwealth's season ends.
Powerful programs will contact Shaka Smart -- the courtesy calls between athletic directors is a practice of the past -- and attempt to lure the 37-year-old coach to a school with more money in the bank and more eyeballs locked onto their teams via lucrative TV deals.
[+] Enlarge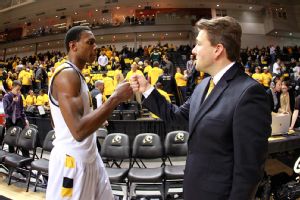 Geoff Burke/USA TODAY SportsAD Ed McLaughlin, right, is focused on making VCU a good program, not on the other schools that come after head coach Shaka Smart.
It's never a pleasant moment for McLaughlin, VCU's athletics director -- or his colleagues in similar positions -- who must deal with the courtship of his program's young leader. But he endures it with the knowledge that his school has unique advantages.
"[Smart] really feels like he can win here," McLaughlin said. "I know we've invested a lot. … I'm with him every day. That relationship is so important."
The postseason pursuit of rising stars and proven veterans on the collegiate coaching circuit is often viewed as a one-sided effort. Some major-conference college or NBA franchise promises a multimillion-dollar contract and an opportunity to work with the best players in the country. The employers who await their decisions often seem slighted within the conversation and powerless in the process. But many have channeled their inner Joni Mitchell and reminded tempted coaches about the things they'd leave behind.
Jamie Pollard, athletics director at Iowa State, doesn't want to lose Fred Hoiberg. Pollard also knows, however, that Hoiberg won't find an NBA city that will show him the love that Ames, his hometown, does all year. And what pro team will match his 10-year contract? Eric Sexton understands that Gregg Marshall will be courted. That's why Wichita State's AD puts Marshall's team on charters to games and continues to increase his pay (Marshall makes $1.75 million). Everything about Marshall's gig is high-major.
A few months ago, Tennessee reportedly chased Louisiana Tech's Michael White. But the school's commitment to White and the program -- the university recently converted an old gym into a practice facility -- made it hard to leave for Knoxville, especially after a 29-win season suggested that the Bulldogs could snatch their first NCAA tourney bid since 1991 nine months from now.
"The reality is that the money is at such a different level [for some high-major jobs] that at some point, you can't compete," said Tommy McClelland, Louisiana Tech's athletics director. "But we want him to be here. He's wanted. He's truly wanted here. There's something to be said about being wanted."
Added White: "I've had some tough decisions to make but as we all know, the grass isn't always greener on the other side."
Money in the NBA is plenty green, and both the Detroit Pistons and Cleveland Cavaliers wanted Tom Izzo. Michigan State AD Mark Hollis couldn't compete with the money. But the NBA can't match Izzo's relationships on the East Lansing campus.
That's why the underdogs have won so many fights for top candidates.
"It's really about having a vision for having the first-class student-athlete experience and providing coaches with all of the tools that they need, from their perspective, to accomplish what they want to do in an environment that is conducive to them being successful," Sexton said. "That's what we want to do is provide as many tools as we can, understanding that we're not a BCS school … [but] most of our coaches would say they want for very little."
Every season, McLaughlin deals with rumors about Smart. But rather than stress, he focuses on the efforts that VCU has made to keep him in Richmond.
Last year, Smart rejected UCLA's overtures, even though the Bruins, it seems, have everything that any college coach would crave.
You can recruit in one of America's richest talent pools. You have access to a strong fan base and a collection of wealthy boosters. Big salaries and an even bigger spotlight. But Smart said no -- or yes, depending on your perspective.
McLaughlin views Smart's choice to stay as an affirmation of the assets he has at VCU. Under Smart, the Rams have gone from mid-major player to perennial Atlantic 10 contender with solid national TV exposure and a fleet of high-level recruits. In March, the school announced plans for a 60,000-square foot practice facility with a $25 million price tag.
"It shows [Smart] how invested we are," McLaughlin said.
And they must be. Facility upgrades are no longer luxuries. Schools without them are missing a key element that affects both the team and its recruiting efforts.
[+] Enlarge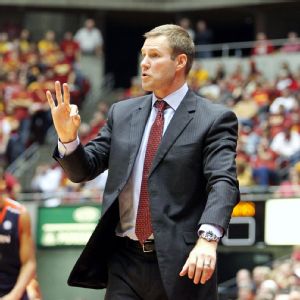 Reese Strickland/USA TODAY SportsFred Hoiberg will continue to draw NBA interest, but his stature in Ames won't be matched in any NBA city.
Iowa State turned to the Sukup family, which runs the largest family-owned grain bin manufacturing company in the world, when it wanted a practice facility. Steve Sukup said his family recognized the value of the $8 million facility, which is called the Sukup Basketball Complex, and wanted to give the Cyclones a proper headquarters. Plus, they want to keep Hoiberg.
"To be able to keep a coach of that class and recruit athletes, you're going to have to have a facility that matches what he needs to get it done," Sukup said.
Hoiberg has fans that fill Hilton Coliseum every winter and open their wallets when necessary. He's the most popular man in town and he recently received a $600,000 raise -- more than the university's president makes in a year -- as part of a 10-year deal. Pollard, however, isn't foolish. He believes, like everyone else, that Hoiberg will ultimately leave Ames to take an NBA job. Right now, he just wants to make sure his coach has everything he wants and needs.
"Do I think he would coach in the NBA? I think yes, at some point he will," Pollard said. "Just look at how he runs our team. He runs it like it's an NBA team. I think he's wired to do that but at this stage in his life with his young kids and his family situation, I think he's in the right place for him personally at this point and time. So I don't spend a lot of time worrying about it."
Izzo is in a similar situation in East Lansing. He's just the second head coach that the program has had since 1976. Signs of the adoration that Spartans supporters have for Izzo? Take your pick. There was the pep rally in a Detroit mall that was packed with Spartans fans prior to a 2009 Final Four run. And the news conference when Izzo chose to stay at MSU after he was entertained by the Cleveland Cavaliers a few years ago turned into more of a celebration.
Hollis knows that Michigan State can't keep Izzo from the NBA if it's just about money. But it's about much more for Izzo.
"In college, a coach has the potential to have a bigger impact on individuals than you do in pro ball," said Hollis, who was Izzo's college roommate. "That's something that drives him. The college game is better suited for that type of personality. … Tom is remarkable at pushing and loving at the same time. That's a trait that's very good for college basketball."
They are not naïve. They know that they can't stop destiny. If a coach really wants another job, he'll take it. There's not much they can do about that.
But they can continue to build their respective programs and make their decision more difficult.
"It certainly makes the week after the NCAA tournament," McLaughlin said, "busy."
April, 22, 2014
Apr 22
11:49
AM ET
By
ESPN.com staff
| ESPN.com
April, 22, 2014
Apr 22
10:00
AM ET
The reality that was for Conference USA this past season remains the reality the league must change for the upcoming season.
The conference, done in by realignment, has the reputation of being a way station or purgatory instead of a landing place.
All of those chronically shifting sands certainly don't help create stability. But even more, it creates the image of a league in constant flux and, consequently, a talent pool that also is hard to judge.
[+] Enlarge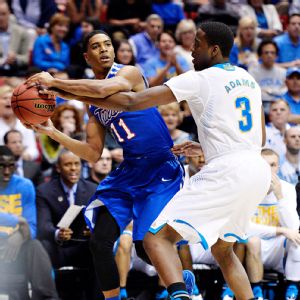 Robert Hanashiro/USA TODAY SportsConference champion Tulsa rode a hot streak into the NCAA tournament but lost its coach following the season.
Fifty bucks to the casual fan that can accurately name all 14 members for 2014-15
*
.
Memphis is no longer around to carry the league's water. The teams in its stead, while good, just don't have that name cache. The NCAA tournament selection committee says it judges each team on its annual merit, not past performance, but the committee is made up of human beings, too, and human nature does what it does.
While the Atlantic 10 pushed six teams into the NCAA tournament, C-USA managed just one -- the second year in a row it has been shut out of an at-large bid. Southern Miss, with an RPI of 33 and 27 wins, probably deserved a bid. Louisiana Tech, another 27-game winner with a bubblier RPI of 59, deserved consideration.
It didn't happen.
Coaches are already on record about boosting their nonconference schedules next season to guard against such disappointment, and with an 11-33 record against teams in the top 50 RPI, that's a good idea. But until Conference USA can settle on its members and then work to build up its stock, the perception will dog its teams as much as the records.
*Answer:
Charlotte, Florida Atlantic, Florida International, Louisiana Tech, Marshall, Middle Tennessee, North Texas, Old Dominion, Rice, Southern Miss, UAB, UTEP, UTSA and Western Kentucky.
What we saw this season:
What it might have lacked in predictability, C-USA made up for in competition. Four teams finished in a tie for first place, with UTEP a mere game behind.
Trouble was, with such a gargantuan league (16 members) it was impossible to play anything near a round-robin schedule.
Worse still, the league settled on a schedule that included just one repeat opponent per team, creating a wildly unbalanced schedule that was nearly impossible to judge. Was Southern Miss' 13-3, with Tulane as a repeat, better or worse than 13-3 Louisiana Tech, which played Rice twice? Or better or worse than 13-3 Middle Tennessee, which played Rice two times? Or better or worse than 13-3 Tulsa, two-time opponent of North Texas?
Ultimately the Golden Hurricane won the conference tourney and, with it, the golden ticket to the NCAA Tournament. Southern Miss and Louisiana Tech were relegated to the NIT.
On numbers alone, the Golden Eagles probably deserved a bid, but a deeper scrub of their schedule unveils a team that lacked real quality wins to bolster an at-large bid. Southern Miss beat DePaul, Georgia State and North Dakota State and got its doors blown off by Louisville. An 18-point loss to Louisiana Tech in the C-USA tourney, wasn't the lasting impression to help its cause, either.
Tulsa, meanwhile, got hot and stayed that way, winning 11 in a row before its second-round loss to UCLA in the tourney.
Two weeks later, it lost its coach, Danny Manning, to Wake Forest.
What we expect to see next season:
TBD … Tulsa, the reigning champ, now departs for the American Athletic Conference along with East Carolina and Tulane, creating yet more turnover for Conference USA.
[+] Enlarge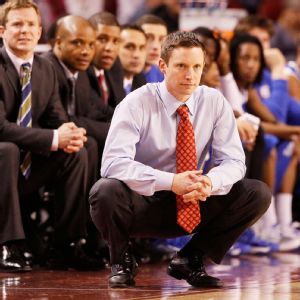 AP Photo/David ZalubowskiLouisiana Tech, one of C-USA's steadiest programs, will stay that way after Mike White turned down Tennessee.
Western Kentucky, a program with a rich history in the Sun Belt, comes in as a replacement and is a good addition. The Hilltoppers have a strong basketball following and a decent tradition to add some credibility to the league.
More needed new blood comes in the way of former VCU associate head coach Mike Rhoades, hired at woebegone Rice, and ex-Pistons coach Michael Curry, who takes over for Mike Jarvis at Florida Atlantic. The league's bottom-feeders need an energy injection and these two could provide it.
Presumably, Marshall eventually will get around to replacing Tom Herrion, too. Rumor has it now Lakers coach Mike D'Antoni is on the wish list. Point guard Kareem Canty, however, is already out. He plans to transfer.
Of course, coaching changes have been part of the league's problem too. One day after breathing a sigh of relief when Louisiana Tech coach Mike White opted to stay with the Bulldogs instead of bolt for Tennessee, the league still lost a coach to the Volunteers.
Donnie Tyndall takes over for Cuonzo Martin, putting Southern Miss back on the coaching market. Tyndall, who won 56 games in two seasons, spent just two years in Hattiesburg after taking over for Larry Eustachy.
Southern Miss has been one of the more reliable Conference USA programs and the hire now will be critical to maintain that consistency.
But Tyndall's replacement also will be the ninth new coach in the past two years in the conference. That's significant turnover in a league in desperate need of more stable waters.
March, 15, 2014
Mar 15
3:32
PM ET
Things are bubbling here on Selection Sunday Eve. What's going on? Here's what's happening in "others" world …

The Watch was always a little more bullish on Louisiana Tech than most. The Bulldogs' Dec. 30 road win at Oklahoma kept looking better and better as the season rolled along -- rare was the bubble team with that good a nonconference road win. After Friday's convincing C-USA semifinal win over Southern Miss, we didn't want to count the Bulldogs out. But even the most optimistic La. Tech touter couldn't overlook its brutal schedule numbers -- an overall schedule in 220s and a nonconference schedule in the 280s -- or its loss at awful East Carolina on Feb. 20. By Saturday's conference tourney final against Tulsa, La. Tech still lagged behind most realistic bubble teams. After its loss to the Golden Hurricane in El Paso, Texas, it's hard to imagine the committee finding a way to wedge them in among a crowded bubble group. The Bulldogs have a bright future under coach Mike White, but the immediate future holds a trip to the NIT.
And so the "others" bubble action comes to a close. This year's NCAA tournament is going to contain a wealth of dangerous mid-majors, but nearly all of them had to win their conference tournaments to get in. For a variety of reasons -- conference realignment chief among them -- the lack of relevant mid-major tournament resumes was noticeable throughout the past two months. We're left with just BYU and Green Bay. The Cougars are right on the cut line and Green Bay seems in need of a minor committee miracle. Both have been sidelined all week, sweating things out, helpless to change their Selection Sunday fate.

BYU:
Earlier in the week, we wrote that BYU "had some sweating to do" after its WCC final loss to Gonzaga, but we assumed the Cougars would probably be OK. We're far less sure now. On Wednesday, BYU learned that guard
Kyle Collinsworth
tore his ACL in the WCC finale, and will (obviously) be unavailable for the tournament. There are plenty of examples of the selection committee considering key injuries and seeding accordingly. But what about the actual selection? Does Collinsworth's injury invalidate the things the committee would have favored about its resume (wins at Stanford and vs. Texas on a neutral court, mainly). Does it downgrade BYU from one side of the bubble to the other? We weren't totally sure the Cougars were going to get in in the first place, which makes isolating any given selection variable even trickier. There's no good template here. Anything could happen.

Green Bay:
We offered a warm Bubble Watch welcome back to the
Green Bay Phoenix
on Thursday, who had become something of a mid-major
cause célèbre
since their semifinal loss to Milwaukee in the Horizon League tournament last week. That's not why they came back, of course, it's merely worth noting as the committee gets down to business in Indianapolis this weekend. No, Green Bay is back on the page because it's not clear there are that many bubble teams with better resumes. Yeah, the Horizon League was rough, and yeah, Green Bay's major claim to fame -- its win over Virginia -- came at home, in December, back when UVa wasn't playing nearly as well as in the two months since. But it does have a reasonable RPI (high-50s) and a reasonable nonconference SOS number (also high-50s). And if the committee takes a long look and thinks the Phoenix are worthy, some of the usual considerations and comparisons could fall away. This one might come down to subjective preferences, to the strength of argument between committee members, maybe all the way up until the final few hours of selection on Sunday afternoon.
And over in the SEC …

The
Volunteers' loss to Florida
in Saturday's SEC tourney semifinal officially closes the SEC bubble books. Where does the league stand? Tennessee looks like a solid inclusion right now, even if we can't go all the way and lock the Volunteers up. But Arkansas' loss to South Carolina on Thursday might well have been a killer, and Missouri hasn't looked like a tournament team -- either on the court or on its nitty-gritty sheet -- in weeks. This looks like a three-bid league.
Tennessee:
Tennessee could have locked its bid up if it had managed to hold on Saturday against Florida. The Vols nearly did. They led the Gators by 10 late in the first half, after all, and were in winning position until forward
Jeronne Maymon
fouled out with less than five minutes to play. As he walked off the court, Maymon said something to official Pat Adams that Adams didn't like and hit Maymon with a technical. Adams stared the player down for a few seconds afterward. Maymon's foul was bad, and his decision to question it was, too, but the technical looked like textbook officiating bluster. Florida gradually ground the Vols out from there. But even without the win, Tennessee should get in the NCAA tournament. The Volunteers have a top-25 schedule figure, bolstering their otherwise solid RPI and overall SOS numbers, plus a neutral-court win over fellow bubbler Xavier and that 30-point blowout of Virginia earlier in the year. What's more, the committee should like what they've seen in recent weeks: The Vols have played their best basketball of the season down the stretch. It's a big, talented, dangerous team with a totally impeachable resume. But we think they'll get in.
Check out full details on teams on the bubble
here
.
March, 15, 2014
Mar 15
12:16
AM ET
The Big Ten's bubble teams are officially in wait-and-see mode after Friday's quarterfinals while one Conference USA bubbler moved past another:
Big Ten

Illinois:
The Illini needed at the very least a win over Michigan on Friday (and then probably a win against Ohio State on Saturday) to get anywhere near the bubble conversation. The Illini gave it a real run, but Michigan held on down the
stretch to win 64-63
. And with that, the Illini's sudden long-shot hopes vanished just as quickly.

Nebraska:
In the second game of the afternoon session,
Nebraska gave one away against Ohio State
. The Cornhuskers led by 18 at one point in the second half. They were better than Ohio State for all but the first five and final 10 minutes of the game. Where do the Cornhuskers stand? That answer could be affected slightly by the egg Minnesota laid against Wisconsin on Friday night. Both teams will spend the rest of the weekend uncertain of where -- or whether -- they'll end up in the bracket come Sunday.

Minnesota:
On the one hand, losing to Wisconsin on a neutral court is not a bad thing. Wisconsin is really good and the Badgers will likely beat plenty of good teams on neutral courts in the next three weeks. But losing the way Minnesota lost on Friday night, in a game it desperately needed, is hardly the kind of final impression you want to leave with the committee. The Gophers
got trucked by 26 in Indianapolis
, a loss that made them 20-13 overall. Minnesota finished 8-10 in the Big Ten in the regular season and just 2-7 against the RPI top 50, with those only two wins (Ohio State, Wisconsin) coming on their own floor. The lone redeeming data point here is the Gophers' schedule, which is top-10 overall and includes a top-30 nonconference mark. That has kept Minnesota clinging to the cut line for weeks. The committee typically prefers to reward teams with good schedules, but Friday's letdown might override that preference after all.
Other at-large contenders

Southern Miss:
Opinions have differed on Southern Miss-as-at-large for weeks now. Some thought the Golden Eagles were worthy. Some thought they needed the auto bid to have any chance. As debates go, that's a pretty mild one, but it was a matter of some confusion. Consensus should be easier to reach now. The Golden Eagles were thoroughly mediocre in their 88-70 C-USA
semifinal loss to Louisiana Tech
, giving up 1.30 points per possession and looking athletically outmatched in just about every regard. La. Tech should go ahead and win the C-USA tournament just to be safe. But if the committee does reach for a C-USA at-large, it won't be Southern Miss.

Louisiana Tech:
As we wrote said, the chances for La. Tech to earn an at-large bid are probably small. The Bulldogs were small for Southern Miss, too. But if the committee is going to take one or the other, we know who that one will be. Besides, pending the rest of the weekend, perhaps the committee will feel better about taking a team whose best win came at Oklahoma as opposed to North Dakota State. And Southern Miss's top-30-ish RPI is a decent top-50 win addition for the Bulldogs, too. We'll see.
Check out full details on teams on the bubble
here
.