College Basketball Nation:

Marquette Golden Eagles
February, 7, 2014
Feb 7
3:10
PM ET
What we're reading while we ignore the opening ceremonies. Submit links via Twitter.
January, 10, 2014
Jan 10
1:23
AM ET
In October, Big East commissioner Val Ackerman made it clear that she expected the new league to immediately snatch a spot toward the top of the college basketball hierarchy. The conference boss didn't preach a two-year, three-year or five-year vision.
Nope. Ackerman emphasized that the league could win big in 2013-14.
She was right.
Although the conference didn't end the nonconference season with the splash some had anticipated, there are still four Big East squads ranked in the top 50 of ESPN's RPI (Georgetown, Creighton, Xavier and Villanova).
But Marquette, the preseason favorite to win the inaugural title in the new Big East, might not be a top-100 squad anymore. The Golden Eagles were ranked 95th in the RPI before Thursday night's
86-79
loss at Xavier.
They had a chance in that game.
They were down 46-34 with 17 minutes, 14 seconds to play.
[+] Enlarge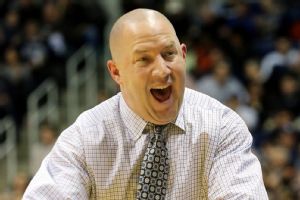 AP Photo/Tom UhlmanBuzz Williams' team lost a tough one on the road.
Nearly 10 minutes later, a
Davante Gardner
layup tied the game 60-60. It was a remarkable rally in a hostile environment.
And suddenly, Marquette began to look like the old Marquette again.
That team that appeared to be the best program in the conference, along with Creighton, before any games were ever played. That squad that brought back Gardner and other pieces from a team that won a slice of the former Big East crown and reached the Elite Eight in one of the most stunning runs of last year's NCAA tournament.
That achievement seems ancient now, with Buzz Williams' squad owning a modest 9-7 record after it failed to finish against the Musketeers.
It's important to note that three of those seven losses came against squads currently in the top 15 (San Diego State, Wisconsin and Ohio State). And losses to New Mexico in Las Vegas and defeats on the road against Xavier and Creighton were not inconceivable, either. The loss at Arizona State, Marquette's worst of the season, wasn't horrible.
Many non-elite teams would incur similar damage if they'd faced that slate.
Marquette should be elite, though. Thursday was another opportunity for the Golden Eagles to shake their funk and compete against a program that has gone from Big East sleeper to legit contender.
Now, it seems, the Golden Eagles are a second-tier team in the Big East. Only a sliver of potential remains. They don't have any signature wins. And their RPI proves as much.
If they're going to turn the corner, it has to happen soon.
But that won't happen if they continue to approach late-game deficits with poor shot selection or if they give up 86 points again or if they can't find playmakers when they need them.
In the final minutes of Thursday's loss, Gardner had room to drive to the lane. Instead, he took a bad 17-footer near the top of the key. Why?
Jake Thomas
went 5-for-11 from the 3-point line against Xavier, but he passed on a wide-open 3-pointer late. Why?
Offense was an obvious concern entering the season. Vander Blue, Junior Cadougan and Trent Lockett had all departed. That was more than 30 points per game for the Golden Eagles. In games like the one Marquette was in Thursday, it's at definite a disadvantage because it lacks the offensive diversity that it was blessed with last season.
But the collective absence of those players,
Williams told local reporters earlier this week
, is no excuse for the team's struggles.
"Junior [Cadougan] was not that good a player," Williams told the Milwaukee Journal Sentinel. "Vander was OK. Trent Lockett statistically was average."
Still, Marquette is ranked 118th in adjusted offensive efficiency per Ken Pomeroy. The Golden Eagles entered Thursday's game with the Big East's worst scoring offense (71.4 points per game).
Marquette, however, was also holding its opponents to 63.1 PPG, the top mark in the league. Against Xavier, Marquette had no answer for NBA prospect
Semaj Christon
(28 points). The Musketeers shot 52 percent from the field.
The Golden Eagles have given up 70 points or more in four of their seven losses.
Their problems are on both ends of the floor.
The good news for Marquette is that the young talent on its roster should blossom in the coming years. Freshman Duane Wilson redshirted after suffering a leg injury. First-year man
Deonte Burton
had 13 points in Thursday's game.
JaJuan Johnson
, the 27th-rated player in the 2013 class per Recruiting Nation, will continue to grow.
Right now, they're just members of a program that hasn't met the preseason standard and is at top of the list for disappointing teams in college basketball.
There's still time for Marquette to have a revival and catch the winning spirit. That's college basketball. The teams trapped in a ditch in early January can climb out of it by February. And maybe that will happen with this Marquette squad.
Thursday's game wasn't exactly promising, though.
It was more of the same.
Marquette just didn't have enough. Again.
December, 11, 2013
12/11/13
11:50
PM ET
Kansas isn't the only team in America
that's struggling right now.
Here are five other squads that might stumble into conference play due to some early problems.
Notre Dame (7-3): The Fighting Irish entered the season ranked 21st in the Associated Press preseason poll. And that's where the hype stopped for this new ACC member. Notre Dame's upset loss to North Dakota State in South Bend, Ind., on Wednesday night was the team's third of the year. In each loss, opponents have made at least 48 percent of their shots against Mike Brey's squad (48 percent for Indiana State, 56.9 percent for Iowa and 51 percent for North Dakota State).
BYU (8-3): The Cougars entered the week averaging 89.9 ppg, sixth in the country. They put up 112 points against Stanford, 90 against Iowa State and 96 against UMass. Tyler Haws and Matt Carlino comprise one of the best offensive combos in college basketball. But BYU's poor defense could ruin its chances of snatching the West Coast Conference title from Gonzaga. The Cougars entered the week with the 318th-ranked scoring defense after giving up 80.4 ppg in their first 10 matchups. That's a problem.
Marquette (5-4): The Golden Eagles were picked as the Big East favorites prior to the start of the season. But they're having a lot of trouble on offense. The backcourt that led Buzz Williams' program to the Elite Eight last season is gone. And Marquette, 83rd in adjusted offensive efficiency per KenPom.com, just can't score consistently. The Golden Eagles scored just 35 points in a November loss to Ohio State. They've failed to break 60 points three times this season. They have three players averaging double figures (Jamil Wilson, Davante Gardner and Todd Mayo) but they haven't been consistent.
UNLV (3-4): Most teams suffer after losing key players. But the Runnin' Rebels' problems are a combination of departures -- Anthony Bennett was the No. 1 pick in last summer's draft and Mike Moser transferred to Oregon -- and limited cohesiveness due to a multitude of new faces. Bryce Dejean-Jones (13.3 ppg) is one of just three UNLV players who logged 5.0 mpg or more last year. Dave Rice's program is 260th in adjusted offensive efficiency. That's what happens when a team loses more than 50.0 ppg of production.
Temple (4-4): Even without last year's star Khalif Wyatt (20.5 ppg), the Owls appeared to be potential contenders for the inaugural American Athletic Conference crown before the season started. But Temple has a multitude of problems. The Owls are shooting just 43.7 percent from the field, 211th overall. They've also given up 74.8 ppg, the ninth-ranked scoring defense in the American thus far. And they're also at the bottom of the conference in 3-point shooting (30.3 percent from beyond the arc). Where should Fran Dunphy begin? The list of problems is lengthy and it grew after Saturday's overtime loss to Texas.
December, 6, 2013
12/06/13
10:00
AM ET
Sports fans love predictions. Well, sports fans love to tell you when your predictions are wrong. I would know.
I've made a few predictions during my time at ESPN.com. Some right.
Some wrong
.
Why stop now? Throughout the rest of the 2013-14 college basketball season, I'll make predictions (winner and score) about five prominent weekend matchups. I'll tally up my results each week so you all can see how well -- or poorly -- I'm doing overall.
Here we go again …
Friday
[+] Enlarge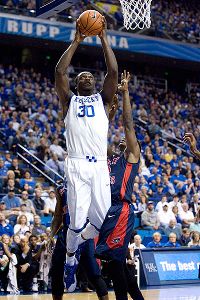 Mark Zerof/USA TODAY SportsJulius Randle has been a force for Kentucky, but he and the Wildcats will have their hands full with Baylor.
No. 3 Kentucky vs. No. 20 Baylor (AT&T Stadium in Arlington, Texas), 10 p.m. ET, ESPN:
Julius Randle
will probably be unstoppable, as usual, against the Bears. He's the only player in America averaging at least 18.0 PPG and 12.0 RPG. He's also the main reason that Kentucky leads the nation in offensive rebounding percentage and second-chance points, per ESPN Stats & Info. But Baylor is one of the top 3-point shooting teams in America, and the Wildcats don't defend the perimeter well (seventh in the SEC in 3-point field-goal percentage defense). But Kentucky is too big, skilled and athletic for Baylor, right? Wrong. Scott Drew's squad will stretch the floor and win this one. Barely.
Prediction: Baylor 78, Kentucky 76
Saturday
Marquette at No. 8 Wisconsin, 2:15 p.m. ET, Big Ten Network:
The biggest issue for Marquette right now? Consistent offense. The Golden Eagles, like their intrastate rivals, are one of the nation's top defensive squads (both Wisconsin and Marquette are top-25 in Ken Pomeroy's adjusted defensive efficiency ratings). But Marquette just can't score. Consistently. Last spring, Buzz Williams lost a veteran backcourt that registered 30.3 PPG. That didn't help his offense. And now his program will face a Wisconsin team that held Virginia to just 38 points -- yes, 38 points -- on Tuesday. Plus,
Sam Dekker
and
Frank Kaminsky
are pick-and-pop nightmares for Marquette. The Golden Eagles need this one. But they won't get it.
Prediction: Wisconsin 58, Marquette 48
No. 6 Kansas at Colorado, 3:15 p.m. ET, ESPN2:
Last weekend was a rough one for Kansas, which lost to Villanova in the semifinals of the Battle 4 Atlantis.
Andrew Wiggins
couldn't find a rhythm. And the Jayhawks continued to struggle from the 3-point line (2-for-11 against the Wildcats). But Bill Self recently announced that he will give freshman
Joel Embiid
, who leads the nation in block percentage, more minutes in the coming weeks. The fluid NBA prospect will be critical in a matchup against a Colorado squad that's won eight in a row and held five of its last eight opponents to 65 points or less.
Prediction: Kansas 69, Colorado 65
BYU at No. 21 UMass, 1:30 p.m. ET, CBS Sports Network:
Tyler Haws
(23.6 PPG, 40 percent from the 3-point line) leads an offense that's averaging 89.2 PPG (ninth in the country). The Cougars scored 112 points in a win over Stanford and put up 90 in a loss to nationally ranked Iowa State. They've also been successful this year because they're careful (ninth in offensive TO percentage per KenPom.com). But
Chaz Williams
(15.4 PPG, 6.4 APG, 1.3 SPG) leads a fast attack that balances UMass' defensive pressure. The Minutemen will challenge BYU inside and outside. And the emerging
Cady Lalanne
(17.0 PPG, 11.4 RPG and 2.7 BPG) will be a problem in the post for BYU.
Prediction: UMass 80, BYU 74
No. 18 UCLA at Missouri, 12:30 p.m. ET, CBS:
The Bruins have one of the Pac-12's strongest backcourts with
Jordan Adams
,
Kyle Anderson
and freshman
Zach LaVine
. Sophomore
Tony Parker
has slimmed down, which is one of the reasons he's averaging 21.6 MPG this year. The Bruins' defense is relatively mediocre (65
th
in adjusted defensive efficiency per Ken Pomeroy), but it's tough enough to suppress a Missouri squad that hasn't played any notable opponents yet. Plus, the Tigers are committing turnovers on 18.6 percent of their possessions per KenPom.com (176
th
nationally).
Jabari Brown
, Tulsa transfer
Jordan Clarkson
and Co. will struggle in their first matchup with a Top 25 team this season.
Prediction: UCLA 71, Missouri 65
December, 5, 2013
12/05/13
9:30
AM ET
The rivalry between Wisconsin and Marquette has been interesting over the last decade because both programs have been relevant on the national scene.
There was a dark period for the Golden Eagles near the turn of the millennium (Marquette missed the NCAA tournament from 1998 through 2001), but they rebooted under Tom Crean and Buzz Williams. The Badgers haven't missed the Big Dance or a 20-win season under Bo Ryan.


But Marquette still owns a 55-64 record in the series, as the two programs prepare for another intrastate battle on Saturday.
This year, Buzz needs the win more than Bo. Marquette is approaching desperation in its quest for the resume-boosting nonconference victories that will pay off on Selection Sunday.
A series of mishaps in holiday tournaments diminished the Big East's buzz. The conference's contenders failed in recent nonconference matchups that would have enhanced their respective NCAA tournament hopes/seeds.
Marquette was pegged as the preseason favorite to win the new Big East. And the Golden Eagles are certainly talented enough to fulfill that prophecy. But they're struggling right now after losing to Arizona State and San Diego State in two of their last four games.
And they'll face their toughest and most significant test when they meet the Badgers over the weekend. Both squads feature defenses ranked in Ken Pomeroy's top 20 for adjusted efficiency.
Wisconsin's offense has improved (14th in adjusted offensive efficiency) this year, but Marquette can't find consistent scorers.
The Golden Eagles, 103rd in adjusted offensive efficiency compared to 25th last season, are still searching for offensive continuity following the departures of Vander Blue, Trent Lockett and Junior Cadougan (30.3 PPG combined).
How will they score? On Saturday? In the games after that? During the conference season?
Solving that riddle against a Badgers squad that gave up just 38 points in a win over Virginia in the Big Ten/ACC Challenge on Wednesday will be difficult.
The Golden Eagles won't have a prayer unless they spread the load.
Jamil Wilson
(10.5 PPG, 5.3 RPG) and
Davante Gardner
(14.0 PPG, 7.0 RPG) have done the bulk of the offensive work this season. But they've been inconsistent, too. Williams needs more offensive production from a unit that features multiple freshmen. And he needs his team's stars to be go-to players every night.
This might be the team's last chance for a meaningful nonconference win.
Saturday's game might not be a must-win for Marquette. But it's close.
November, 26, 2013
11/26/13
9:00
AM ET
On Holiday is College Basketball Nation's daily rundown of the holiday tournaments, complete with previews, recaps, and links to all of the early-season tournament info you'll need in the weeks to come.
IN REVIEW
MAUI INVITATIONAL [bracket]
While You Were Sleeping: Dayton survives "just drive to the rim and get fouled, or at least just act like it" late-game offense, upsets Gonzaga 84-79
Just when you thought the Maui Invitational was going to go according to plan.
On an otherwise predictable first day of Maui action, Dayton unleashed a thorough performance in an 84-79 win over Gonzaga.
How? The Flyers were the more physical, sharper team throughout. Of the 50 rebounds on Gonzaga's end of the floor, Dayton grabbed 17. But it wasn't until the second half that the Flyers, um, took flight? (Wow, sorry.) Dayton scored 28 points in the first 20 minutes of the game, but required just 10 minutes and 28 seconds in the second half to do the same — blitzing the Zags with good spacing, crisp ball movement and a bevy of 3s. Jordan Sibert, Khari Price and Scoochie Smith made four 3s in one four-minute stretch, and eight of Dayton's nine 3s came in the second period.
[+] Enlarge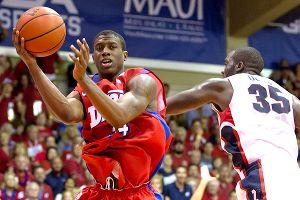 AP Photo/Eugene TannerJordan Sibert had 23 points to lead Dayton to a win over No. 11 Gonzaga.
The biggest among them came with just one minute to play. Up 75-72, Sibert took a quicker-than-recommended 3, and sank it, giving Dayton a 78-72 lead. The Flyers would need every bit of that lead in the final 60 seconds.
Why? Two reasons: First, Kevin Pangos was very good at getting to the rim. Second, he was very good at drawing fouls while doing so -- even when contact looked minimal at best. It was a tough night for the officials all around, and there were a lot of questionable calls, and a lot of unfortunate foul trouble, that marred an otherwise entertaining affair. But it was the final minute that was most noticeable, as Pangos kept turning the corner, kept getting fouled and kept earning free throws. Honestly, the final minute took forever.
Eventually, Pangos, who finished with 27 points, spurred his own undoing. His steal with 43 seconds left turned into a wide-open, missed floater, and Gary Bell Jr. failed to convert on the rebound. Then, 21 seconds later, Pangos and Bell converged on Dyshawn Pierre -- and Pangos, who had four fouls, slapped and fouled Bell. Bell gave Pangos a mystified look, just before the star guard calmly walked to the bench.
You can't have seen Dayton's performance and not bumped up your projections for the Flyers going forward. They were good. Very good. If they're able to control the offensive glass and knock down kickout 3s the way they did Monday night, they'll give teams even better than the Zags plenty of fits in the days and weeks to come.
Top Story 1B: Syracuse manages Minnesota. A near-upset of Kentucky in Lexington was Monday night's biggest non-tournament news, and Arizona State's campus-site preliminary thriller against Marquette was the most entertaining result of the day, but the most interesting game (at least to your humble correspondent) came Monday afternoon. Syracuse's 75-67 win over Minnesota was about as close as you get to a win-win.
For Syracuse, it was a victory, of course, but also much more than that. In four games to date, in particular last week's downright gross 56-50 home win over St. Francis, the Orange looked disjointed and out of sorts, especially on the offensive end. Senior C.J. Fair, a do-everything glue guy turned focal point, had struggled in his new role; a talented-but-thin Orange backcourt of Trevor Cooney and Tyler Ennis looked even less comfortable.
On Monday, though, Fair finally grabbed a game by the scruff of its neck. Late in the first half, Fair skied over two Minnesota defenders and dunked so hard his own face exploded into bloody stigmata. (In reality, he caught a fingernail or three on the way up, but I prefer my explanation.) With two minutes left in the second half, when Minnesota's press began to wear on Syracuse, Fair knocked down an ice-cold midrange jumper that built the Orange lead back out to four points, a lead that held the rest of the way. Fair finished with 16 points and 10 rebounds on 15 shots; Cooney made five 3s; Ennis went 1-of-9 from the field but 10-of-11 from the free throw line.
Minnesota, meanwhile, kept on being impressive. The Gophers have adapted to Richard Pitino's chip-off-the-block high-pressure style immensely well. That style kept them in the game throughout the second half, and good 3-point and free throw shooting put them there in the first place. Monday's performance, combined with a big road win at Richmond on Nov. 16, is enough to make one think the younger Pitino's first season might not involve much rebuilding at all.
[+] Enlarge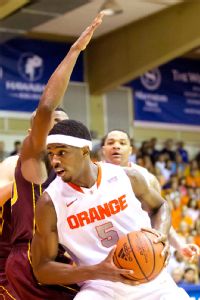 AP Photo/Eugene TannerC.J. Fair and Syracuse struggled with Minnesota's press, but got the win in Maui.
The rest: California looked plenty impressive in its own right. Arkansas has not exactly been the best road defensive team under Mike Anderson, so make of that what you will, but still: Cal got a 19-point, 15-rebound, 8-of-12 night from forward David Kravish, 15 points on eight shots from promising wing Jabari Bird, and a nice 15-point, seven-assist night from senior guard Justin Cobbs. The phrase "total team win" applies here. … Chaminade couldn't hang with Baylor in the second half in Tuesday night's 93-77 loss, but it did have at least a little of what Baylor coach Scott Drew called "Maui Magic." Silverswords guard -- and former Dunk City resident -- Christophe Varidel scored 31 points in the first half, and 42 total, and did it all while sporting an absolutely textbook chill-barista ponytail-scruff combo. Here's to you, Christophe!
Maui fixtures, Day 2:
Arkansas-Minnesota, 2 p.m. ET (ESPN2)
Chaminade-Gonzaga, 4:30 p.m. ET (ESPN2)
California-Syracuse, 7 p.m. ET (ESPN)
Baylor-Dayton, 9:30 p.m. ET (ESPN)
PARADISE JAM: Maryland tops Providence in final, 56-52: So: Good win for Maryland? Letdown for Providence? What about neither? The Terps will take it, to be sure, and the Friars will walk away feeling as if an opportunity was lost, but I'm not willing to throw out any long-term Providence bullishness on the back of a 16-of-59 night from the field. Sometimes you eat the rim, and sometimes the rim eats you.
ELSEWHERE:
BYU got a characteristically high-octane 86-82 win over Texas on the first night of the CBE Classic. That tally was topped only by Wichita State, which put up a tidy 90 on the still-defensively-challenged DePaul Blue Demons. Those two results set up a fantastic non-power-six final at the CBE, where Wichita State, fresh off a Final Four run, will happily soak up the home Kansas City energy that has in recent years been reserved for Kansas, Missouri and Kansas State. Movin' on up, indeed.
The Legends Classic did its best to fill the Maui lull, but there wasn't a whole lot of entertainment value involved. Stanford got a pretty good 86-76 win over Houston.
November, 16, 2013
11/16/13
9:58
PM ET
Marquette's anemic offensive output in its 52-35 loss to Ohio State on Saturday afternoon wasn't exactly what the NCAA men's basketball competition committee had in mind when it sought to increase scoring this season.
Freedom of movement meant the Golden Eagles could miss more shots without being impeded by a hand check. The Buckeyes weren't any better in the first half, as they needed a late basket to tie the game at 19 going into intermission.
It was the lowest combined halftime score in Division I this season.
Despite the rules to benefit offense and increase scoring, a team without at least one scorer in the backcourt is a team that is going to struggle.
[+] Enlarge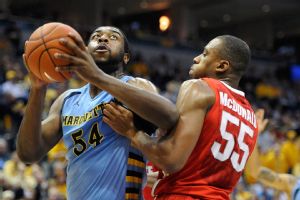 Benny Sieu/USA TODAY SportsDavante Gardner is a force inside, but Marquette is learning that the new rules mean backcourt scoring is more important than ever.
Marquette was the prime example Saturday.
Yes, it's still early in the season and teams are adapting to new personnel and new lineups.
But other ranked teams like Florida, Virginia and Syracuse -- all of which started freshman point guards -- managed to work through slow first-half starts to post double-digit victories.
The Golden Eagles, who had to replace their entire starting backcourt from last season, actually shot worse in the second half. After making just 6 of 29 shots in the first half, they made just 4 of 24 in the second.
It wasn't the pace of the game that led to their low scoring output. They had 20 turnovers. They missed open shots. And that snowballed into taking bad shots, too.
Even senior forward
Davante Gardner
, all 6-foot-8 and 290 pounds of him, for some reason felt compelled to launch a 3-pointer in the first half, which marked just his eighth career attempt.
The strength of the Golden Eagles is in their front court, with Gardner and
Chris Otule
on the blocks. Neither one of those guys can break down a defender off the dribble and create his own shot. That should be up to the backcourt, but no one in the Golden Eagles' current rotation fits that description.
Junior guard
Derrick Wilson
isn't a scorer. He'd taken only a combined two field goal attempts in their first two games, and went 1-for-7 against the Buckeyes. Wilson had never really played extended minutes at point guard, either, but is being forced in the role this season.
Senior
Jake Thomas
is a good spot-up shooter, but never quite got any open looks. Although he entered the game making 3 of 7 from behind the arc, he missed all seven of his shot attempts against the Buckeyes, including six 3-pointers.
Junior
Todd Mayo
generally is a scoring boost to the backcourt from off the bench. He scored a team-high 11 points Saturday, but needed 15 shots to get there.
Ohio State's backcourt shook off its 7-of-26 shooting performance in the first half thanks to its backcourt getting better shots in the second half. And by better shots I mean layups and runouts.
Shannon Scott
led the charge for Ohio State, going 5-for-10 in the second half to finish with 13 points. Scott missed all four of his 3-point attempts but kept attacking the rim for high-percentage shots.
Aaron Craft
, meanwhile, went 4-of-5 in the second half after making just one of his four shots in the first. He got layups, too, and the Buckeyes scored 12 points before the first media timeout of the second half.
Ohio State coach Thad Matta could expect that from his veteran backcourt. Freshman point guards
London Perrantes
at Virginia,
Tyler Ennis
at Syracuse and
Kasey Hill
at Florida seem to be slowly learning despite stumbling blocks.
Perrantes only scored five points in the Cavaliers' 70-57 win over Davidson, but he added five assists and no turnovers. He didn't need to score, as backcourt mate
Malcolm Brogdon
netted 17 on 7-of-10 shooting.
Ennis had a shaky season debut, but has played well in the two games since, including his 12-point performance as the Orange beat Colgate 69-50.
Hill is starting for the Gators while
Scott Wilbekin
serves his suspension. Hill had six assists and scored eight of his 14 points in the second half and helped Florida run past Arkansas-Little Rock 86-56 despite being tied at the half.
November, 14, 2013
11/14/13
10:30
AM ET
Ohio State
and
Marquette
were supposed to play on a ship off the coast of South Carolina last season.
Condensation on the court canceled that game.


Ohio State coach Thad Matta said there was no correlation in wanting to play the Golden Eagles again. That's hard to believe, but he said the series was on the docket, regardless of the inability to complete the game last season.
Still, the potential of last season's game still remains just as vibrant Saturday when they finally meet -- this time indoors in Milwaukee.
The Buckeyes and Golden Eagles are both legitimate contenders in the Big Ten and Big East, respectively. But they've also changed a bit. Marquette doesn't have Vander Blue, the late-game scorer from a season ago, or its point guard, Junior Cadougan. DeShaun Thomas is gone for the Buckeyes.
Marquette could have the advantage inside with
Davante Gardner
, but the Buckeyes have the edge at the point with
Aaron Craft
. The game-within-the-game matchup, though, that will be the most intriguing to follow is how the game is officiated. Matta said Craft won't and hasn't had an issue with using his feet to defend instead of his hands. Marquette has traditionally been a physically strong defensive team. This will be an intriguing test for both teams. How does Marquette defend Craft and
Shannon Scott
? How well will the Buckeyes move their feet inside to deal with the size and strength of Gardner? The onus will be on
Sam Thompson
and
Amir Williams
.
Gardner has been a load inside, averaging 17 points in Marquette's first two games. Marquette put up 114 points against Grambling. The Golden Eagles have a rugged slate of games, playing at Arizona State, at Wisconsin and against New Mexico in Las Vegas. This Ohio State game is the lone home game on this slate, putting even more pressure on Marquette to get a quality nonconference win.
Ohio State, which has had balanced scoring so far, plays only one more nonconference game away from home -- against Notre Dame in the Gotham Classic in New York. The Buckeyes will have plenty of chances for quality power-rating points, but a win here would be a major boost for the team's confidence in ultimately what it can accomplish in the heart of the Big Ten schedule.