College Basketball Nation:

Massachusetts Minutemen
January, 31, 2014
Jan 31
12:00
PM ET
The games will mean more as Selection Sunday approaches.
But the games also make less sense now, right?
Northwestern over Wisconsin? Texas in the hunt for the Big 12 title? Utah putting up a fight against No. 1 Arizona?
Anything can happen.
But I admit it was still a bit audacious -- maybe crazy -- to pick Florida State to upset Duke in Cameron Indoor last weekend. I guess I hadn't realized that the Blue Devils had suddenly morphed into a serious national contender again. They're rolling. Capable of beating any team in the ACC.
Let's see if they can keep it up Saturday when they travel to Syracuse.
Last week: 4-1
Overall: 28-12
Saturday


No. 23 Oklahoma at No. 16 Iowa State, 4 p.m. ET, ESPN3.com
: The Sooners (6-2 Big 12), along with Texas (5-2 Big 12), are one of the few teams in the stacked Big 12 that can catch Kansas and grab a sliver of the Big 12 title. Iowa State is just trying to stop a slide that has thrown it toward the bottom of the league. Possessing the worst scoring defense in the conference doesn't help (78.7 points per game allowed), although a rough stretch (two games against Kansas in two weeks) contributed to Iowa State's stumbles. After Oklahoma (No. 2 scoring offense in the Big 12) and an upcoming road test against Oklahoma State, things should get easier in Ames. These two games, however, could extend the slide. This is the same Oklahoma team that beat the Cyclones in Norman, Okla., on Jan. 11 and has won five of its past six. One team rising, the other falling.
Prediction: Iowa State 83, Oklahoma 82


No. 17 Duke at No. 2 Syracuse, 6:30 p.m. ET, ESPN
: There were so many concerns about this Duke team after it lost to Clemson a few weeks ago. It has an impressive collection of playmakers, including a likely top-three pick named
Jabari Parker
who could be the antidote to Cuse's zone. But its defense had been inconsistent. That was the past. Duke is a sturdier defensive unit now. Barely top-100 a few weeks ago, the Blue Devils (58.4 points per game allowed in their past five games, per ESPN Stats & Info) are ranked 60th in Ken Pomeroy's adjusted defensive efficiency ratings. But Cuse has been a juggernaut this season. The Orange have forced turnovers on 23.8 percent of their opponents' possessions. And
Tyler Ennis
,
Jerami Grant
and
C.J. Fair
anchor one of the most talented units in the country. Cuse doesn't always win pretty, but Jim Boeheim's team continues to come out on top.
Prediction: Syracuse 68, Duke 66


No. 6 Kansas at No. 25 Texas, 4 p.m. ET, ESPN
: Rick Barnes might be the front-runner in the Big 12's coach of the year conversation. And that's one of the greatest reversals in the country. He entered the season on a seat that had gotten warmer after Texas missed the NCAA tournament last season. Now his Longhorns are just two games behind Kansas in the Big 12 race after winning seven in a row and 10 of their past 11.
Jonathan Holmes
and
Cameron Ridley
have been a major part of the progress for a team that's been successful on the offensive glass and defensively (21st in adjusted defensive efficiency, 17.6 block percentage per Ken Pomeroy). But they're hosting a Kansas team that might be as dangerous as any group in America right now.
Andrew Wiggins
has averaged 24.3 points per game in KU's past three contests, squashing doubts about his ability to be a more dominant presence. But leaving Austin with a victory will be tough.
Prediction: Kansas 87, Texas 84

No. 21 UMass at Saint Joseph's, 6 p.m. ET, CBS Sports Network
: The Minutemen have had their struggles in recent weeks as the Atlantic 10 race has intensified. Derek Kellogg's program has lost two of three (St. Bonaventure, Richmond). And it's not difficult to see why.
Chaz Williams
, a strong conference player of the year contender, couldn't find the rim in both losses. He went 5-for-21 in those games. He also committed eight combined turnovers. If Saint Joseph's can limit Williams, a player who affects every aspect of Kellogg's game plan, it will have a shot. The Hawks didn't do that in a four-point loss to UMass on Jan. 8 (Williams scored 22, shot 5-for-10). They'll lose again, however, if they fail to pressure UMass' senior star.
Prediction: Saint Joseph's 69, UMass 67
Sunday


Virginia at No. 18 Pitt, 12:30 p.m. ET, ESPNU
: Virginia quietly has climbed the ACC standings. The Cavaliers are 7-1 and second behind Syracuse. Their only ACC loss came against Duke. They're ranked third in adjusted defensive efficiency, per Ken Pomeroy, and their seven conference wins have all been by 12 points or more. But Tony Bennett's squad is still missing a true signature victory. Virginia will have a chance to change that when it faces Pitt, a team that's coming off a 15-point loss to Duke earlier this week. Duke did a great job of limiting
Lamar Patterson
's early touches and making sure that he didn't have any easy looks. Patterson, No. 6 in Ken Pomeroy's individual offensive ratings, went 4-for-14 in that game. Losing
Durand Johnson
to injury a few weeks ago changed Jamie Dixon's offensive capabilities. That puts more pressure on Patterson,
Cameron Wright
and
Talib Zanna
. But they can handle it.
Prediction: Pitt 60, Virginia 57
January, 16, 2014
Jan 16
12:03
AM ET
North Carolina State forward
T.J. Warren
can't catch much of a break. Even when I was ready to talk about how underappreciated he is nationally, he got overshadowed by Wake Forest guard
Codi Miller-McIntyre
.


Miller-McIntyre made the game-winning basket to cap off a 20-point performance in the
Demon Deacons' 70-69 win Wednesday
.
Miller-McIntyre ranks in the top 10 in assists (3.9) and field goal percentage (45.5.) in the ACC and is 11th in scoring at 15.6 points per game.
Warren does it all for the Wolfpack. He entered Wednesday leading the ACC in scoring at 22.2 points per game. He's fourth in field goal percentage at 50.5, sixth in rebounding with 7.5 per game and 10th with 1.6 steals per game.
With conference play just starting to heat up, it's time to take a look at a few other players whose impressive seasons have gone underappreciated:

Xavier guard
Semaj Christon
scored a team-high 18 points in the Musketeers' win over Georgetown, while shooting an efficient 9-for-12 from the field. Christon leads the team in scoring (16.2 points) and ranks third in the Big East with 4.4 assists per game. But really, he just has a knack for making whatever play is needed at the time. Against the Hoyas, eight of his points and two of his three steals came during a run that brought the Musketeers back from a 17-point deficit to take the lead.

UMass center
Cady Lalanne
isn't going to score in bunches -- his 19-point effort against George Mason notwithstanding -- but he's a big reason the Minutemen are sitting at 15-1 and ranked 16th. He leads the team with 9.0 rebounds, but more importantly, he's a shot-blocking deterrent in the middle of the lane. Lalanne averages 2.5 blocks per game, each of which has been crucial since the emphasis on freedom of movement has made it easier to get to the basket.

West Virginia guard
Juwan Staten
is truly running things in Morgantown. Talk about a do-it-all player: He leads the Big 12 with 6.1 assists per game, is tied for third with 17.4 points and ranks third in field goal percentage at 53.4. Despite being just 6-foot-1, Staten is second on the Mountaineers with a 5.9 rebounding average per game.

SMU guard
Nic Moore
functions in what could be the toughest work environment of any player on this list. Playing point guard for
Larry Brown
isn't easy, but Moore is making it look that way, averaging 13.3 points and 4.6 assists per game. He's second in the American with a 51.5 3-point field goal percentage.

Texas Tech forward
Jaye Crockett
leads the Big 12 in field goal percentage at 57.9 -- that was before he shot 7-of-12 for 19 points in the upset of Baylor Wednesday. His 14.4 points and 6.3 rebounds rank in the top 15 in the league in both categories.

New Mexico forward
Cameron Bairstow
embraced his expanded scoring role this season and is second in the Mountain West averaging 20.0 points. Turnaround jumpers from the blocks, hook shots, step backs -- he does it all, which makes him difficult to defend because you don't know what's coming next. He was one shot short for the Lobos against UNLV Wednesday, scoring 27 points but missing what would have been a go-ahead basket with 35 seconds left.

Houston forward
TaShawn Thomas
is shooting 63 percent from the field en route to averaging 17 points per game. But his strength is rebounding (8.9) per game, which ranks second in the American.

California forward
Richard Solomon
is as dependable as it gets on the boards. He ranks 14th nationally in rebounding at 10.2 per game and has posted five double-doubles for the Bears this season. Who knows how well the Bears could have matched up with Syracuse had Solomon not injured his eye against Arkansas.
December, 20, 2013
12/20/13
10:00
AM ET
Well, this isn't as bad as I thought it would be. Yet.
We're a long way from March. So I'm sure I'll miss a bunch.
But in
last week's picks
, I was accurate on every game except Iowa-Iowa State. That Cyclones-Hawkeyes matchup was one of the best games of the season. Great finish between a pair of talented teams.
This weekend's slate is stacked, too.
Last week: 4-1
Overall: 7-3
Saturday


No. 7 Oklahoma State vs. No. 20 Colorado (Las Vegas), 11:30 p.m. ET, ESPN2:
Colorado has already upset one Big 12 contender (Kansas). Will Oklahoma State be next? Well, maybe. Colorado hasn't lost since suffering its season-opening 72-60 loss to Baylor and have knocked off Harvard and Kansas during this 10-game winning streak. But Oklahoma State will be a different test for Colorado.
Marcus Smart
,
Markel Brown
, Le'Bryan Nash and Co. can't match the size of a team that's fourth in offensive rebounding percentage per Ken Pomeroy, but Oklahoma State's speed, athleticism and sheer star-power will push Colorado's bigs out of their comfort zones. It'd be easier to believe in Colorado's chances to win what I expect to be a tight game if it weren't one of the Pac-12's worst 3-point shooting teams (32 percent).
Prediction: Oklahoma State 80, Colorado 76


No. 5 Michigan State at Texas, 4 p.m. ET, CBS:
The Spartans picked a bad time to play the Longhorns in Austin. Rick Barnes' squad is filled with confidence after upsetting North Carolina in Chapel Hill -- in Chapel Hill?!? -- on Wednesday night. Barnes' team was projected to finish at the bottom of the Big 12 standings after losing its top four scorers from last season. But
Javan Felix
,
Demarcus Holland
,
Jonathan Holmes
and
Isaiah Taylor
comprise a legit unit that anchors, somehow, a Big 12 sleeper. But Michigan State won't squander the opportunities that North Carolina -- the same North Carolina that beat Michigan State earlier this month -- missed against the Longhorns, although the Spartans are struggling from the free throw line (68.2 percent), too. The Spartans will definitely be ready for the Longhorns on Saturday. One problem, though. Texas will be ready, too.
Prediction: Texas 78, Michigan State 74


Notre Dame vs. No. 3 Ohio State (New York City), 7:30 p.m. ET, ESPN2:
The Fighting Irish began the year as a nationally ranked team. That status made sense with
Jerian Grant
and some of the key contributors returning from a Notre Dame team that reached the NCAA tournament last season. But Notre Dame's defensive gaps have been its downfall so far this season (125th in adjusted defensive efficiency). The Fighting Irish, however, were better last week in a win over Indiana in Indianapolis when
Yogi Ferrell
went 5-for-14, but Ohio State is on another level. The Buckeyes are a defensive force (first in adjusted defensive efficiency per Ken Pomeroy) and they possess one of the nation's most-balanced scoring attacks.
Prediction: Ohio State 73, Notre Dame 63


Georgetown at No. 18 Kansas, 12 p.m. ET, ESPN:
When he was a pro wrestler, the Rock (
Dwayne Johnson
) would say, "Finally, the Rock has come home to …" whenever he'd enter an arena. The Jayhawks probably feel that way entering their first game in Lawrence, Kan., since Nov. 22 (88-58 win over Towson). The roller coaster that they've been on for the last month has changed early projections about a team that might boast the top two NBA prospects in next summer's draft (
Joel Embiid
and
Andrew Wiggins
). It should be a pleasant homecoming.
Josh Smith
will struggle against Wiggins, Embiid and
Perry Ellis
inside. And the Hoyas will face a variety of defensive matchup problems against the Jayhawks in their first true road game of the season. Kansas has been criticized for its recent mishaps. But Saturday should be another positive mark for the program.
Prediction: Kansas 69, Georgetown 65


No. 22 UMass vs. Florida State (Sunrise, Fla.), 2 p.m. ET, No TV:
The Minutemen continue to fly under the radar, but at this rate, they might be college basketball's last undefeated team. They'll be tested in the Atlantic 10, but will face Saint Louis and VCU, their toughest A10 opponents, in Amherst. A favorable schedule is certainly a plus for Derek Kellogg's squad. But Saturday's game against Florida State could be its toughest matchup of the year to date.
Ian Miller
is the star of a strong backcourt. The Seminoles can also play big inside with
Okaro White
and
Boris Bojanovsky
. Massachusetts can match that size with
Cady Lalanne
,
Maxie Esho
,
Raphiael Putney
and
Sampson Carter
. And the Minutemen will push the pace beyond what Florida State experienced in a recent 10-point loss at Minnesota.
Chaz Williams
, however, has to be calm and careful because turnovers have been an issue all year for the Minutemen. But they'll maintain their unblemished record. Barely.
Prediction: UMass 76, FSU 74
December, 6, 2013
12/06/13
10:00
AM ET
Sports fans love predictions. Well, sports fans love to tell you when your predictions are wrong. I would know.
I've made a few predictions during my time at ESPN.com. Some right.
Some wrong
.
Why stop now? Throughout the rest of the 2013-14 college basketball season, I'll make predictions (winner and score) about five prominent weekend matchups. I'll tally up my results each week so you all can see how well -- or poorly -- I'm doing overall.
Here we go again …
Friday
[+] Enlarge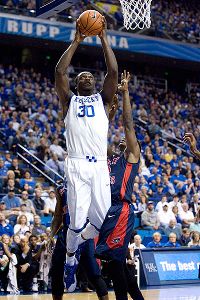 Mark Zerof/USA TODAY SportsJulius Randle has been a force for Kentucky, but he and the Wildcats will have their hands full with Baylor.
No. 3 Kentucky vs. No. 20 Baylor (AT&T Stadium in Arlington, Texas), 10 p.m. ET, ESPN:
Julius Randle
will probably be unstoppable, as usual, against the Bears. He's the only player in America averaging at least 18.0 PPG and 12.0 RPG. He's also the main reason that Kentucky leads the nation in offensive rebounding percentage and second-chance points, per ESPN Stats & Info. But Baylor is one of the top 3-point shooting teams in America, and the Wildcats don't defend the perimeter well (seventh in the SEC in 3-point field-goal percentage defense). But Kentucky is too big, skilled and athletic for Baylor, right? Wrong. Scott Drew's squad will stretch the floor and win this one. Barely.
Prediction: Baylor 78, Kentucky 76
Saturday
Marquette at No. 8 Wisconsin, 2:15 p.m. ET, Big Ten Network:
The biggest issue for Marquette right now? Consistent offense. The Golden Eagles, like their intrastate rivals, are one of the nation's top defensive squads (both Wisconsin and Marquette are top-25 in Ken Pomeroy's adjusted defensive efficiency ratings). But Marquette just can't score. Consistently. Last spring, Buzz Williams lost a veteran backcourt that registered 30.3 PPG. That didn't help his offense. And now his program will face a Wisconsin team that held Virginia to just 38 points -- yes, 38 points -- on Tuesday. Plus,
Sam Dekker
and
Frank Kaminsky
are pick-and-pop nightmares for Marquette. The Golden Eagles need this one. But they won't get it.
Prediction: Wisconsin 58, Marquette 48
No. 6 Kansas at Colorado, 3:15 p.m. ET, ESPN2:
Last weekend was a rough one for Kansas, which lost to Villanova in the semifinals of the Battle 4 Atlantis.
Andrew Wiggins
couldn't find a rhythm. And the Jayhawks continued to struggle from the 3-point line (2-for-11 against the Wildcats). But Bill Self recently announced that he will give freshman
Joel Embiid
, who leads the nation in block percentage, more minutes in the coming weeks. The fluid NBA prospect will be critical in a matchup against a Colorado squad that's won eight in a row and held five of its last eight opponents to 65 points or less.
Prediction: Kansas 69, Colorado 65
BYU at No. 21 UMass, 1:30 p.m. ET, CBS Sports Network:
Tyler Haws
(23.6 PPG, 40 percent from the 3-point line) leads an offense that's averaging 89.2 PPG (ninth in the country). The Cougars scored 112 points in a win over Stanford and put up 90 in a loss to nationally ranked Iowa State. They've also been successful this year because they're careful (ninth in offensive TO percentage per KenPom.com). But
Chaz Williams
(15.4 PPG, 6.4 APG, 1.3 SPG) leads a fast attack that balances UMass' defensive pressure. The Minutemen will challenge BYU inside and outside. And the emerging
Cady Lalanne
(17.0 PPG, 11.4 RPG and 2.7 BPG) will be a problem in the post for BYU.
Prediction: UMass 80, BYU 74
No. 18 UCLA at Missouri, 12:30 p.m. ET, CBS:
The Bruins have one of the Pac-12's strongest backcourts with
Jordan Adams
,
Kyle Anderson
and freshman
Zach LaVine
. Sophomore
Tony Parker
has slimmed down, which is one of the reasons he's averaging 21.6 MPG this year. The Bruins' defense is relatively mediocre (65
th
in adjusted defensive efficiency per Ken Pomeroy), but it's tough enough to suppress a Missouri squad that hasn't played any notable opponents yet. Plus, the Tigers are committing turnovers on 18.6 percent of their possessions per KenPom.com (176
th
nationally).
Jabari Brown
, Tulsa transfer
Jordan Clarkson
and Co. will struggle in their first matchup with a Top 25 team this season.
Prediction: UCLA 71, Missouri 65
December, 5, 2013
12/05/13
11:38
AM ET
UMass handled its first game as a ranked team since 1998 with a road win at Eastern Michigan.
[+] Enlarge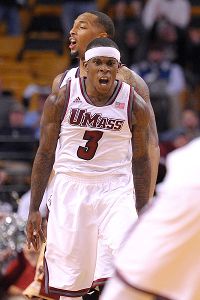 Bob DeChiara/USA TODAY SportsChaz Williams is one of five UMass players averaging double figures.
The Minutemen dealt with EMU's 2-2-1 zone as well as travel issues. UMass' team bus broke down, forcing the team to take four to five cabs to the arena and coach Derek Kellogg and his assistants had to go over scouting reports in the broken-down bus while they waited for the cabs to arrive.
The real test for the Minutemen, however, could be handling the hype that comes with the renewed expectations.
UMass, ranked No. 21, is now the favorite in the Atlantic 10. Sorry VCU, but the honor goes to the Minutemen, who won the Charleston Classic title while the Rams were manhandled in Puerto Rico.
UMass will get another major test Saturday when it hosts BYU in Springfield (1:30 p.m. EST, CBS College Sports).
The Minutemen will deal with more adversity than any other A-10 favorite. The schedule is a bit muddled by being made to play road MAC games because the football team is in that conference. UMass still has to go to Ohio after winning at EMU.
The BYU game is being played in Springfield, not Amherst, which should create even more of a buzz and will allow more fans in the Western Massachusetts area to get on board. Amherst is a bit of a sleepy college town where it's still very difficult to fill the Mullins Center, but having a hot team and the support of the larger Springfield area will bring some limelight on the Minutemen.
They'll have plenty to get excited about when they watch this team. The Minutemen have one of the top players in the league in point guard
Chaz Williams
. Williams is one of five players on the team averaging double figures --
Cady Lalanne
,
Sampson Carter
,
Raphiael Putney
and
Derrick Gordon
being the others. They'll need to be well hydrated to deal with the Runnin' Cougars of BYU. The
Matt Carlino
-Williams matchup should be one of the toughest UMass will have this season.
The Minutemen still have to play Florida State in Sunrise, Fla., and host Providence before the A-10 season begins, so a win over BYU will continue the interest, the hype and increase the ranking before getting into conference play. But a loss will give reason to pause. It shouldn't, but it could, especially with a team where fans are increasingly suspect of whether they can return to being a consistent winner. Kellogg is a graduate and grew up in the area, so this means more to him than most. He is invested in turning this program around and winning Saturday will be another reason to believe in his cause.
November, 11, 2013
11/11/13
12:00
PM ET
The ESPN College Hoops Tip-Off Marathon is here, and with all due respect to Oregon's far-flung win over Georgetown in South Korea on Friday (and UConn's nervy victory over Maryland in less-far-flung Brooklyn), the marathon always feels like the official start of the season.
Things are a little different this time around: The festivities begin at 7 p.m. ET Monday night and don't end until the 9:30 p.m. Champions Classic finale wraps late Tuesday. Check my math, but that's well over the allotted 24 hours of hoops. By the time we're done, it could be more like 30. Are you excited? You should be. Did you buy enough NoDoz to incapacitate a small farm animal? You should probably do that, too.
Before you run that errand, though, let's run through some of the things you need to know -- or should plan to watch for -- in this 2013-14 edition of the college hoops obsessive's nirvana. (
Click here for the schedule
. You might need that.)
Sneakiest good game
:
LSU at UMass, 11 a.m. ET, ESPN2.
And not just because LSU coach Johnny Jones has one of the best freshmen in the country (power forward Jarrell Martin, the 11th-ranked player in the loaded 2013 class) making his debut. No, this UMass team -- which averaged a speedy 70.8 possessions per game last season -- is a lot of fun, and kicking off a crucial season for coach Derek Kellogg.
[+] Enlarge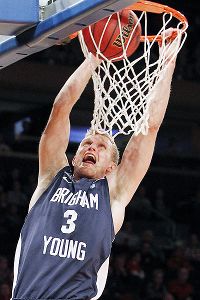 Jason Szenes/Getty ImagesWatching BYU guard Tyler Haws in action is a good excuse to burn the midnight oil.
Worth staying up for
:
BYU at Stanford, 11 p.m. ET, ESPN2
. With all due respect to the overnight games, I can't really recommend you ruin your entire week for any portion of the overnight slate unless (A) you're like me, and don't really sleep anyway, or (B) you're just insane. Recommending BYU-Stanford instead feels a bit like cheating, but oh well: Dave Rose has his most complete team of the post-Jimmer era, and wing
Tyler Haws
is well worth the price of admission, especially up against a good Stanford defense.
Under-the-whatever* player you should see: T.J. Warren, NC State
. Last season, Warren was a hyper-efficient tweener freshman on an overstuffed NC State offense. This season he's the main attraction, and his first game Friday night -- 29 points on 13-of-20 shooting, with six rebounds, three steals and a block against Appalachian State -- provided a glimpse of what could be a monster offensive season. Warren and the Wolfpack go to Cincinnati at 5 p.m. ET on Tuesday night.
(*Note: It's only Nov. 11 and I'm already sick of "under the radar." I'm using this until further notice. Replacement suggestions welcome!)
Team that might be really good, but we just don't know
:
Baylor Bears (vs. South Carolina, 3 p.m. ET, ESPN)
. Super-talented? Check. Kept a would-be one-and-done (
Isaiah Austin
) on campus for his sophomore season? Check. Could be awesome? Sure! Could be thoroughly mediocre? Right.
Best 2013 NCAA tournament Cinderella
:
Florida Gulf Coast (vs. Hartford, 7 a.m. ET, ESPN2).
Second-best 2013 NCAA tournament Cinderella
:
La Salle (vs. Quinnipiac, 9 a.m. ET, ESPN2)
Best game
: This one's a tie, which doesn't make it any less obvious: It's
No. 1 Kentucky vs. No. 2 Michigan State, and No. 4 Duke vs. No. 5 Kansas
, Tuesday at United Center. You're up to speed on this, right? You don't need me to elaborate, do you? No? Good.
Best non-Champions Classic game
:
No. 14 Virginia Commonwealth at No. 24 Virginia
. Now
this
is an interesting question. As I see it, there are two viable options, both of which air on
the Ocho
ESPN2 opposite the Champions Classic. The first is the above, at 7 p.m. ET, followed by No. 10 Florida at No. 20 Wisconsin at 9 p.m. ET. At first glance, you might be inclined to take Florida-Wisconsin; those are the bigger "brand" names and probably more talented squads from top to bottom. But with Florida hobbled by injuries and suspensions, it seems less likely we'll get as good a game from the Gators and Badgers as we will at 7 p.m.
VCU at Virginia is a fascinating fixture. Not only are both programs pegged for big seasons, and not only could we witness the start of a nascent in-state rivalry, but the styles on display couldn't be more dichotomous. Virginia loves to slow the pace, take care of the ball, settle into Tony Bennett's pack-line defense, and generally play as cautiously and intelligently as possible. VCU loves to unleash havoc, press opponents, pounce on turnovers, get easy transition buckets and generally play as furiously and frustratingly as possible. Something will have to give.
Best thing about all of this
: You can turn on your TV at any time between 7 p.m. Monday and midnight or so Tuesday and find basketball on the Worldwide Leader and its family of networks! Rejoice, rejoice. College basketball is finally here.