November, 30, 2014
Nov 30
6:30
PM ET
It wouldn't have been an upset. Not in Storrs, Connecticut. Not with Texas guard
Isaiah Taylor
still sidelined by a wrist injury. Not with
Ryan Boatright
running the show. At home, under these conditions, the Huskies had at least a 50-50 chance against the No. 7 team in the country Sunday, and maybe better than that. They were never really underdogs.
For most of that game's final 12 minutes, the Huskies looked like outright favorites. The defending national champions were going to slide into one of those casual, gradual, by-the-numbers Sunday afternoon home victories, the kind you can sense even when the outcome is mathematically in doubt. Not a blowout, but not as close as the score. Late fouls and desperation heaves and game-sealing free throws coming in almost preordained sequence. Time to flip back to football.
Texas was 4.4 seconds from finishing the aforementioned sequence, scrambling through yet another disjointed, fruitless offensive possession, when Rick Barnes called a timeout. What was supposed to happen next? A well-defended inbounds play, a defensive rebound, some UConn free throws. What actually happened: Boatright got tangled up on a sideline flare screen, suddenly leaving Texas forward
Jonathan Holmes
in miles of space on the baseline corner. Holmes almost leaned in to his 3, like he knew he short-armed it, but it splashed anyway.
UConn never got another shot, and the Longhorns left Gampel Pavilion with a 55-54 victory that was anything but routine.
The same might be said of the day's hoops slate more generally: While you were preoccupied with the NFL, we were treated to a raucous little afternoon of hoops.
To wit: Right as Holmes and Texas were stunning Gampel into silence, Kansas and Michigan State were scrapping in the final of the Orlando Classic. This was not, as play-by-play crew Jon Sciambi and Dick Vitale were happy to point out, a pretty game. Neither team broke the point-per-possession barrier. Kansas shot 37.2 percent from the field (including 3-of-14 from 3); Michigan State shot 32.2 percent (including 13-of-42 from 2). But it was a good game all the same, full of hard-fought rebounding battles and tight defensive rotations, and it wasn't truly decided until the final minute.
That's when Michigan State, which had struggled to score for much of the game, unveiled some of its worst possessions of the season. Some credit is due to Kansas' defense, which hedged every screen hard, and
Branden Dawson
did get clear of his defender on a post flash that would have cut Kansas' lead to 1 only to miss the layup (and the putback, too). But there were also too many possessions in which the Spartans -- particularly
Travis Trice
, who finished 3-of-14 -- floated aimlessly on the perimeter before launching an ill-advised jump shot.
This is the Spartans' chief offensive problem: If they don't make shots, they struggle to score. That sounds reductive. It's really just simple. Michigan State entered Sunday shooting 43.0 percent from 3-point range and 57.2 percent from inside the arc, traits that masked their high turnover rate and infrequent trips to the foul line. If that shooting goes away, so does much of the Spartans' offense. And Sunday, against a Kansas team that might not need to shoot the ball well to win, MSU's accuracy went away.
In previewing Sunday's action, we joked that Kansas-Michigan State was something of a Champions Classic consolation round. In their first big tests, both the Jayhawks and the Spartans were roundly dismissed by Kentucky and Duke, although Michigan State put up a vastly better fight. Now, seeing the two struggle against each other felt suggestive: Neither looks close to national title contention at this point in the season.
For further proof, and right on cue, you could flip to ESPN2, where Kentucky was utterly dismantling Providence.
[+] Enlarge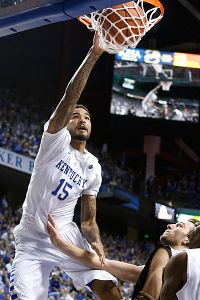 AP Photo/James CrispWillie Cauley-Stein and Kentucky busted out of their cage in the second half against Providence.
That wasn't the case all game, mind you. In fact, the Friars played Kentucky close throughout the first 20 minutes and some distance into the second. Ed Cooley's plan to milk every possession for as long as possible worked for the most part, forcing Kentucky into a settled, half-court game. At halftime, the score was 26-22. The Wildcats weren't getting easy buckets, but they weren't going crazy, either. At the under-12 timeout in the second half, UK led 35-29. Cooley must have felt great.
That was precisely the point at which Kentucky went nuts. The official play-by-play log from the next two minutes is hilarious: block, rebound, missed jumper, offensive rebound, tip-in, steal, missed layup, offensive rebound, missed layup, offensive rebound, missed layup, offensive rebound, made jumper. Providence turnover,
Devin Booker
3. Providence miss, UK layup. In exactly two minutes and 10 seconds of elapsed game time, Kentucky extended its lead to 14 while Providence barely registered a touch. The Friars scored just nine points in the final 10 minutes of the game.
Remember the scene in "Jurassic Park" where the park guards are holding the cage door back against the velociraptors? "Shoot her! SHOOT HER!" (Of course you remember. That scene is incredible.) For the first 30 minutes, Providence was those guards. The goal was to keep Kentucky restrained, keep it from playing a normal Kentucky basketball game, and it worked, even if the Friars would have lost that game, too. But then Kentucky brute-forced its way out of that door and uncoiled that beautiful and terrifying attack.
No team in the country has been as impressive as Kentucky to start the season. But other than Duke and Louisville and (maybe) Wisconsin, Texas looks like the next-closest thing. The Longhorns have thrived despite the wrist injury that Taylor, their starting point guard, suffered in a Nov. 20 victory over Iowa, thanks to three things: defense, size and Jonathan Holmes. In hindsight, maybe the Hawkeyes and Cal weren't the most daunting opponents, but the ease with which Texas rolled them was still impressive. Now the Longhorns have one of the best true nonconference road victories of any team thus far this season.
Texas is tall, talented and multifaceted. On Friday, they travel to Lexington, Kentucky, to take on the aforementioned Wildcats. Expecting them to win in Rupp Arena is silly. But if any team can pull it off right now -- if any team can push the Wildcats out of their usual routine, and then do just enough to win the game at the end -- well, why wouldn't it be Texas?