College Basketball Nation:

NBA
October, 8, 2013
10/08/13
3:15
PM ET
Earlier this year, the sun rose, the IRS collected taxes and Wisconsin reached the NCAA tournament.
The Badgers haven't missed the Big Dance under Bo Ryan. And they've never finished below fourth in the Big Ten. It's a remarkable run for a team that has been forced to hit reset multiple times throughout Ryan's tenure.
His program must reload again this season. Last year's veteran anchors-- Mike Bruesewitz, Ryan Evans and Jared Berggren -- are gone.
[+] Enlarge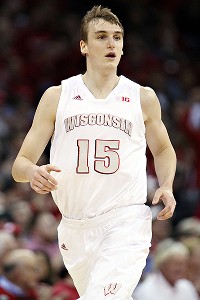 Mary Langenfeld/USA TODAY SportsSam Dekker is ready to be a leader for Wisconsin.
But the Badgers boast a strong backcourt that will feature
Traevon Jackson
,
Ben Brust
and a healthy
Josh Gasser
, who will return after suffering a season-ending knee injury last year.
The star, a notion Ryan would probably not condone, should be sophomore
Sam Dekker
(9.6 points per game, 39.1 percent from behind the 3-point line). Last season, he was one of the top reserves in the country. That debut increased the buzz about his second year.
He's already listed on several NBA mock draft boards. And the 6-foot-7 forward could crack the Big Ten's preseason all-conference first team later this month.
Dekker seems ready for the moment. He also accepts the additional leadership responsibilities.
"I consider myself more of a leader this year," he told ESPN.com. "I think the guys picked up on that, too. I feel like they trust me more this year. I've been much more aggressive in practice and this whole offseason. They definitely recognize that. Hopefully that's going to be something I can continue during the year. … I feel like I could be a good leader for this team. And I feel like we have a bunch of other guys who can do the same."
He obviously won't have to do it alone. There are other veterans within the program.
Gasser is a redshirt junior this season. He'll help on and off the floor, Ryan said.
"They are a good complement; there's no question," he said. "They play off of each other pretty well."
Dekker acknowledges that things are different this year. He simply focused on adapting to the college game and learning Ryan's system when he was a freshman. The buffer provided by last year's seniors eased his transition.
He's a pivotal contributor for this year's group. Younger players will come to him for advice and assistance. He'll have to guide this team toward its potential.
The sophomore forward, however, is not intimidated by the change.
"I think we have a really deep team this year," he said. "If we have good chemistry, we're going to be tough to stop."
September, 30, 2013
9/30/13
1:00
PM ET
Utah coach Larry Krystkowiak was an NBA journeyman for more than a decade before he entered the coaching ranks.
He played for six NBA squads, a tenure that included a lengthy stretch with the Milwaukee Bucks.
The bicycle thief he captured on Saturday might not have known that. But he clearly recognized that it probably wasn't a good idea to run from the 6-foot-9, 220-pound man.
Krystkowiak saw the man riding a bike while towing another. Seemed odd to the Utes head coach.
So, he …
Well,
let the Salt Lake Tribune's Tony Jones explain
…
Upon approaching the man, he forced him to sit on the sidewalk and called campus police, who discovered five stolen phones in his bag upon arrival.

"The guy asked me if I was going to chase him if he attempted to run," Krystkowiak said Saturday night. "I told him that if he tried to run, I was going to chase him and tackle him. Honestly, I was hoping that he'd run. I guess a good thief would've run before I caught up to him."

The incident began at 7:30 a.m. when Krystkowiak was walking to the basketball offices to prepare for basketball practice — the Utes officially started on Friday afternoon in preparation of the new season, now five weeks away.

According to Krystkowiak, the man was riding a bike while holding another bike, which seemed odd. That's when he decided to approach the man.

"He started telling me all kinds of stories," Krystkowiak said. "I guess it was a good way to start the day."
The moral of the story? Don't mess with a guy who played in the NBA during the '80s and early '90s. The rules were different then.
The Detroit Pistons tried to harm Michael Jordan whenever they played the Chicago Bulls. The New York Knicks had guys like Anthony Mason and Charles Oakley, who would have fought in the UFC if it had been prominent then.
Krystkowiak battled these men every night in the league. You had to be tough to survive.
That bicycle thief is lucky Krystkowiak didn't have a flashback. Yes, he would've tackled him. Or worse.
There weren't any refs around to stop him.
On Twitter, the coach called himself "Barney Fife." Nah.
More like "Blade."
August, 13, 2013
8/13/13
3:15
PM ET
Need another reason to get excited for the 2013-14 season?
Well, let me help.
On Monday, ESPN.com's
NBA insider Chad Ford released his latest Big Board.

Every year, Ford sifts through the multitude of college and international prospects to give us a sense of what next summer's NBA draft might look like. It's an important tool because it's often difficult to assess the true pro potential of players at this level.
The 6-foot-7 kid with a 20.0 PPG average might look like a legit pro, but in the eyes of NBA scouts he could be a late second-rounder like
Deshaun Thomas
.
So this Big Board is a great barometer.
This new list, however, is different from the rest. I'll let Ford explain:
The 2014 NBA draft is going to be epic. Our initial 2014 Big Board is one of the most talent-laden I've ever seen. There are as many as five to eight future All-Stars in this group. A number of teams deliberately gutted their rosters this summer to try to get as high as possible in the 2014 lottery. It's going to be big.

The day after the draft, we debuted our first Top 100 of 2014. The Top 100 is a reflection on the consensus of NBA scouts and general managers about a player's relative value in the draft. The Top 100 debuts each year the day after the NBA draft and is finalized the day of the draft.

The Big Board is different. This is a more detailed look at the top 30 players (essentially the first round of the NBA draft) in our Top 100. It tracks player movement and stock fluctuation and is filled with the latest intel from NBA scouts. The biggest takeaway from the first Board for 2014? Not only is the top of the draft stacked, but Kentucky is unbelievably talented.

We have seven Kentucky players in our Big Board -- something that's never happened before.
Whoa
, right? Ford is suggesting that this might be one of the greatest pools of pro talent in league history.
And if that's the case … what does that mean for the college game? It means that this should be a special year for us, too.
I can't wait.
Kansas, Kentucky and Michigan all have multiple players on Ford's Big Board. But check out the other gems on the list.
Jarnell Stokes
,
Montrezl Harrell
,
Jerami Grant
,
Sam Dekker
and
LaQuinton Ross
all made the cut, too.
Talented veterans such as
Adreian Payne
and
Rasheed Sulaimon
aren't listed.
Then, there's Kentucky. Seven possible first-round picks, per Ford. That's ridiculous and amazing. That's ridiculously amazing.
I'm not a fan of the NBA's age limit. I think it's an injustice to talented kids who should be allowed to make millions immediately following high school if they're qualified.
But I'm also a big fan of the college game. And the rule is responsible for the fusion of incoming and veteran talent that could make 2013-14 one of the best years in recent college basketball history.
Get your popcorn ready now, folks.
June, 26, 2013
6/26/13
3:38
PM ET
By
ESPN.com staff
| ESPN.com
ESPN college basketball Insider Andy Katz says there are still a lot of question marks surrounding who will be
taken at the top of the NBA draft
,

weighs in on who would be the safest selection to make and much more.
June, 11, 2013
6/11/13
10:30
AM ET
In the weeks leading up to the June 27 NBA draft, we'll be taking a look at the 20 schools that have produced the best pros in the modern draft era (since 1989, when the draft went from seven to two rounds).
Click here
to read Eamonn Brennan's explanation of the series, which will be featured in the Nation blog each morning as we count down the programs
from 20 to 1
.
Top Five Draftees Since 1989
Chris Bosh (2003)

Stephon Marbury (1996)

Kenny Anderson (1991)

Dennis Scott (1990)

Thaddeus Young (2007)
Sixth man:
Matt Harpring (1998)
The rest:
Matt Geiger, Iman Shumpert, Jarrett Jack, Derrick Favors, Anthony Morrow, Drew Barry, Jon Barry, Tom Hammonds, Travis Best, Gani Lawal, Javaris Crittenton, Alvin Jones, Jason Collier, Dion Glover, Eddie Elisma, Mario West, Malcolm Mackey, Brian Oliver, Luke Schenscher, Fred Vinson, Ivano Newbill, Will Bynum
Why they're ranked where they are:
So you're talking with your buddies about college basketball. Specifically, the programs that tend to produce the most NBA talent. A few powerhouses are mentioned early in the conversation. Kentucky, Connecticut, North Carolina, Duke and Florida. And then, someone has the gall to suggest that Georgia Tech should be considered, too.
Laughter ensues.
"You must really like Chris Bosh, man."
And then the Yellow Jackets advocate begins to make his case. Sure, there's Bosh. But Stephon Marbury, Dennis Scott, Kenny Anderson and Matt Harpring were birthed by Georgia Tech, too. Add Jarrett Jack and Travis Best to the backcourt. Derrick Favors, a solid young big, might be the third man off the bench on GT's all-star squad (since the 1989 NBA draft).
That's when the snickering stops and things get real.
As we scrutinized dozens of squads that were considered for our "Path to the Draft" rankings, there were a few gems, such as Georgia Tech, that just became more impressive as our analysis persisted. This program has some serious NBA juice.
With a little research, it's easy to see why this team is ranked ahead of Ohio State, UNLV, Kansas and Michigan State.
Let's start with Tech's top five.
[+] Enlarge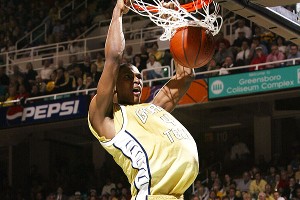 Craig Jones/Getty ImagesChris Bosh has averaged 18 points per game or more in seven of his 10 NBA seasons.
Bosh has been lukewarm throughout the playoffs, a performance that's not exactly justifying his $17.55 million salary in 2012-13. But he has averaged 19.5 PPG, 8.9 RPG and 1.1 BPG since he was drafted in 2003. He has also made eight All-Star appearances. Before his confusing stretch in Miami, Bosh was an elite forward (not sure he has lost that status yet) who made folks remember that Canada still had one pro team.
Marbury
has eaten Vaseline on camera
. And that wasn't the craziest thing that ever happened during his career.
But that's Marbury. If he hadn't made so many headlines off the floor, he might have earned more respect when he was on it. He was, however, one of the league's best point guards when he was focused on the game.
Marbury was a two-time All-Star who averaged 19.3 PPG and 7.6 APG over a 13-year career in the NBA. He's still competing professionally in China.
Dennis Scott's contributions were critical for the Orlando Magic teams that pulled the expansion franchise into relevance during the mid-1990s. Shaquille O'Neal and Penny Hardaway were the main characters in that narrative, but Scott's range (he hit 267 3-pointers in the 1995-96 season, a record that stood for a decade) was crucial for a franchise that reached the NBA Finals in 1995 and lost to the 72-10 Chicago Bulls in the Eastern Conference finals a year later. Scott averaged 17.4 PPG and hit 42.5 percent of his 3-pointers that season.
Kenny Anderson, Scott's backcourt mate on the 1990 Georgia Tech squad that reached the Final Four, was an NBA All-Star in 1993-94. That season, Anderson averaged 18.8 PPG and 9.6 APG. He also hit 81.8 percent of his free throws. Anderson had four or five other seasons that were comparable to that one.
Matt Harpring was never a star, although that 2002-03 campaign (17.6 PPG, 6.6 RPG, 41.3 percent from the 3-point line, 51.1 field goal percentage) briefly thrust him into the "future star" conversation. For 12 seasons, Harpring was just a guy you wanted in your rotation. He averaged 11.5 PPG throughout a solid career.
Georgia Tech's NBA legacy will continue to grow because the Yellow Jackets have multiple young standouts in the league right now.
Thaddeus Young is just 24. And in six seasons in the NBA, he has been one of the top wings in the league. He averaged 14.8 PPG, 7.5 RPG and 1.8 SPG this season. Favors has the tools to anchor the Utah Jazz in the future. Iman Shumpert, Will Bynum and Jack are all reputable role players for their respective franchises, too.
That's a strong crew of guys who've made a noticeable impact at the next level.
That's why Georgia Tech is No. 12 in our "Path to the Draft" rankings.
Why they could be ranked higher:
Our ratings are based on quality, not quantity. A team such as Kansas has sent more players to the league than Georgia Tech since 1989, but it hasn't produced as many playmakers. The Yellow Jackets are responsible for 14 players who've amassed career averages of 8.0 PPG during the eligibility period. Sure, points aren't everything, but that tally is proof that the Atlanta-based program has developed athletes who've become key members of NBA teams. They might not be studs, but they've been significant in their respective rotations.
Plus, this list also includes a bunch of glue guys who earned millions over lengthy careers because they were smart and efficient. Jon Barry (14 years), Tom Hammonds (13 years), Matt Geiger (10 years) and Best (10 years) qualify for the latter category. Georgia Tech has an argument for a higher ranking based on its depth and overall quality. It's that simple.
Why they could be ranked lower:
The only thing that's keeping this crew from the top 10 is the absence of a megastar. The rest of our list includes a bunch of teams that feature household names and superstars. Georgia Tech doesn't have that guy.
Since this isn't a numbers game, it's all subjective. Our past assessments suggest that star power is not only relevant but quite valuable. Kansas would not have been a top-15 squad in our rankings without Paul Pierce. Syracuse would have missed the top 20 entirely had Carmelo Anthony chosen another school.
Georgia Tech is certainly tied to a bunch of successful players who lasted in the league for lengthy stretches. But Bosh is the only perennial All-Star on the list.
That could count against this program and move them down in our rankings, I guess.
What's ahead?
There's a strong chance that Georgia Tech will enhance its reputation for producing NBA talent in the coming years. Shumpert, Favors, Jack and Young have time to mature and improve. That's a talented collection of young players -- a group that could produce an All-Star or two in the coming years.
Anthony Morrow, an undrafted guard, averaged 10.1 PPG, 13.0 PPG, 13.2 PPG and 12 PPG during his first four seasons in the NBA. But injuries affected him this season. A healthy Morrow, however, is a threat and a player who's capable of contributing on any roster.
Bosh has some time left, too. His tenure in Miami has been inconsistent, but check his numbers. How many players have averaged 18.0 PPG or more in seven of 10 seasons? Not many.
Glen Rice Jr. left Georgia Tech a year ago and competed in the NBDL during the 2012-13 campaign. Per multiple draft analysts, he could be a first-round pick in this summer's draft after a strong season with the Rio Grande Valley Vipers.
But there's not much in the pipeline for the program. The current roster doesn't possess any obvious NBA prospects. Still, there are multiple Georgia Tech reps who could give the team's NBA tradition a major boost in the next four or five years.
Final thoughts:
To some, Georgia Tech's inclusion might be somewhat of a surprise. But the squad is clearly worthy. The diversity and character of the program's NBA products are both impressive and undeniable. Yes, the Jackets couldn't overcome some of the blue-chip programs that will complete our rankings. But they were in the top-10 conversation.
February, 22, 2013
2/22/13
11:15
AM ET
One man's predictions for an always unpredictable weekend of college basketball. I'm sure one or two of you might disagree with these:
Friday


Saint Louis at No. 15 Butler, 7 p.m. ET, ESPNU:
If the season ended today, Miami's Jim Larranaga probably would win national coach of the year honors. But Jim Crews might be the runner-up. The Billikens' interim head coach followed legendary leader Rick Majerus, who died in December. And that wasn't his only challenge. He began the season without standout
Kwamain Mitchell
, who suffered a foot injury in the first practice of the season. Look at the Billikens now. They're the best team in the Atlantic 10. They're second in the league in scoring defense (61.6 ppg allowed) and first in scoring margin (plus-10.9). Sure, there's still doubt. Butler, which has won five of six, is in the hunt for the conference crown, as is VCU. But St. Louis has earned convincing wins against both teams in recent weeks. The Bulldogs have held opponents to a 39.5 percent clip from the field, first in the league. They were stomped 75-58 in the first meeting. Will there be a different outcome Friday?
Prediction: Saint Louis 67, Butler 66
Saturday


Arkansas at No. 5 Florida, 7 p.m. ET, ESPNU:
This month, Arkansas shocked the college basketball world when it stopped a Florida team that had toyed with its previous SEC foes. The 80-69 victory on Feb. 5 -- no squad had scored more than 67 points against the Gators at that point -- fueled questions about the Gators and created a buzz around the Razorbacks. Both were premature then. Arkansas has won three of four since that matchup, but Mike Anderson's team tends to pull a 180 once it leaves campus (1-5 in SEC road games this season). Meanwhile, the Gators are coming off their second conference "L" of the season, a 63-60 loss at Missouri on Tuesday. Billy Donovan's depth has taken a hit, as
Will Yeguete
continues to miss time with a knee injury. But the Gators are still the best team in the SEC, and they haven't lost at home.
Prediction: Florida 78, Arkansas 62


No. 11 Georgetown at No. 8 Syracuse, 4 p.m. ET, CBS:
Syracuse's current position at the top of the Big East is unsurprising. But based on what Marquette and Georgetown lost after last season, they were not expected to join the Orange at the top of the conference. The three squads share 10-3 records in a tie for first place. But this is the first of two meetings between the Hoyas and the Orange. Both Georgetown (eighth) and Syracuse (ninth) are ranked in the top 10 of Ken Pomeroy's adjusted defensive efficiency ratings. The Hoyas have held Big East opponents to just 57.2 ppg, the top scoring defense in the conference.
Otto Porter
(15.1 ppg, 7.7 rpg) has led the Hoyas to eight consecutive wins. But they haven't met a program with Syracuse's versatility and offensive diversity. The effectiveness of a Cuse attack that's responsible for four wins in five games is largely based on
Michael Carter-Williams
(13-for-42, 12 combined turnovers in three Big East losses) and his effectiveness. In this game, Syracuse will need MCW to demonstrate the skill set that makes NBA scouts drool. A plus for Jim Boeheim's program is that the Orange haven't lost at the Carrier Dome this season.
Prediction: Syracuse 60, Georgetown 55


No. 16 New Mexico at No. 22 Colorado State, 4 p.m. ET, NBC Sports Network:
This is a matchup between the top offense (Colorado State) and defense (New Mexico) in the Mountain West. The Rams suffered a heartbreaking loss to UNLV on Wednesday, when
Anthony Marshall
hit a jump shot in the final seconds. But they're still better than the team that was bullied by New Mexico in a 66-61 loss on Jan. 23. The Lobos led by as much as 22 in that one. Colorado State possesses the Mountain West's top scoring offense (71.0 ppg), but the Rams were hindered by a 6-for-21 clip from beyond the arc and 16 turnovers in the first game. To beat New Mexico (57.8 ppg allowed, No. 1 in the conference), even at home, they'll have to avoid the latter and attack inside. (
Colton Iverson
is averaging 13.7 ppg and 9.6 rpg.) New Mexico is the most complete team in the conference, but the Lobos have displayed most of their flaws in road losses (see 34 points against San Diego State on Jan. 26). Plus, they're facing a Rams team that's wants to feel more comfortable about its at-large status. A win over the Lobos would certainly help.
Prediction: Colorado State 78, New Mexico 74 (overtime)


No. 17 Marquette at Villanova, 6 p.m. ET, ESPN/ESPN2:
Think back to October. If someone had told you Buzz Williams' program would be locked in a three-way tie for first place in the Big East in late February, how would you have responded? I would have said, "No way." But it's real. The Golden Eagles (45.5 percent from the field, second in the Big East) enter their last five games battling Syracuse, Georgetown and multiple five-loss Big East teams for the top slot. There's just one problem. Three of Marquette's last five games are on the road, where it has struggled ... like most teams in America. The Golden Eagles will face a perplexing Villanova squad that could be one of the selection committee's greatest headaches. The Wildcats have a top-60 RPI with wins over Louisville and Syracuse, but they've also been swept by Providence and suffered a nonconference loss to Columbia. Villanova is right there, though. A win over Marquette would be a positive step for its NCAA tourney hopes.
Prediction: Villanova 71, Marquette 65


Southern Miss at No. 17 Memphis, 1 p.m. ET, Fox Sports National:
Memphis has won 17 consecutive games and is tied with Akron for the nation's longest winning streak. Josh Pastner's program has been difficult to gauge, however, because Conference USA is not a very deep league right now. Southern Miss (top-40 RPI) is the closest thing to a quality opponent that Conference USA can offer. So a win wouldn't hurt the résumé of a Tigers squad that has made strides during the past month. No one has ever questioned the athleticism and potential of Pastner's teams, but the Tigers are finally living up to it. Maybe. We won't really know until the Tigers are competing in the postseason. Another win against Southern Miss (the Tigers won the first matchup 89-76 on Feb. 9) would help Pastner's program build more momentum as March approaches.
Prediction: Memphis 85, Southern Miss 70


No. 24 Virginia Commonwealth at Xavier, 2 p.m. ET, CBS Sports Network:
"HAVOC" describes Virginia Commonwealth's defensive approach (44
th
in adjusted defensive efficiency per Ken Pomeroy) as much as it describes the current battle for the Atlantic 10 title. The Rams are a half-game behind Saint Louis after a 14-point road loss to the Billikens on Tuesday. They'll travel again Saturday to face the league's top scoring defense. Xavier (61.2 ppg allowed), however, has not played Saint Louis, VCU or Butler yet, so those numbers are probably an inaccurate representation of its defensive presence. But this critical stretch could lead Xavier to the bubble. Possibly. The Rams should be safe, but their final stretch could create problems for their at-large hopes if they stumble. First task? Don't lose to a Xavier team with a 90 RPI.
Prediction: VCU 68, Xavier 58
Sunday


No. 4 Michigan State at No. 18 Ohio State, 4 p.m. ET, CBS:
The conclusion of the first game was not fitting. Michigan State and Ohio State had tussled -- well,
Deshaun Thomas
(28 points, while no other Ohio State player scored more than six) tussled with Michigan State -- for 39-plus minutes. Then sophomore
Shannon Scott
missed a potential game-tying 3-pointer at the buzzer. The Buckeyes can play great basketball when Thomas is on. The Buckeyes also can play bad basketball when he's the only one who is on. The latter is a scenario that they must avoid against a Michigan State team that is barely second place in the Big Ten after Tuesday's 72-68 loss to No. 1 Indiana in East Lansing. But the Buckeyes are a different group in Columbus. Just ask the Minnesota team the Buckeyes beat by nearly 30 points there on Wednesday night. The Buckeyes don't have answers for
Adreian Payne
and
Derrick Nix
, who combined to score 22 in the first game. However, they won't need one if Thomas gets some help on Sunday.
Prediction: Ohio State 64, Michigan State 62


No. 20 Pitt at St. John's, noon ET, ESPN3/WatchESPNApp:
The Panthers have lost consecutive games to Marquette and Notre Dame. In Monday's 51-42 loss to the Fighting Irish, Mike Brey drew a first-half technical and the Panthers suddenly lost their momentum. From a 19-3 lead to a nine-point loss. Huh? Now they're in the Big East's six-loss group. You don't want to be in that group in late February. The Big East title is unlikely, so Pitt is playing for a seed. A road loss to a St. John's squad with slim, if any, NCAA tourney at-large potential would not help anyone involved with Pitt basketball. Steve Lavin's program is an athletic marvel that has dismissed the midlevel Big East teams but failed against the top-tier programs. Pitt didn't look like a squad that belonged in the latter group against the Fighting Irish, but Jamie Dixon's team (11
th
in adjusted offensive efficiency per Ken Pomeroy) has never been hungrier. The Big East, however, is packed with hungry teams that still believe they're at-large worthy. St. John's is certainly on that list, and that is a problem for Pitt.
Prediction: St. John's 73, Pitt 70


Cincinnati at No. 25 Notre Dame, 2 p.m. ET, CBS:
How do you explain what happened to the Fighting Irish in Monday's 51-42 win over Pitt? Mike Brey's team played some of its worst basketball of 2012-13, and then he picked up a technical and everything changed. Isn't that the story of Notre Dame's entire season? Flashes of brilliance followed by bouts of mediocrity or vice versa? Well, the 9-5 Fighting Irish are still in the mix. They need a lot to happen with the top three teams (Syracuse, Georgetown and Marquette) to get serious about sharing a slice of the title. A loss to Cincy, however, probably would end that idea. Notre Dame shot 9-for-16 from the 3-point line when it defeated Cincy 66-60 in the first matchup way back on Jan. 7. That Cincy squad had the makings of a Big East contender. This Cincy squad is running on fumes following four losses in its past five games. The Bearcats' dilemma? They can guard anyone (17
th
in adjusted defensive efficiency per Ken Pomeroy), but they can't score (62.1 ppg, 12
th
in the Big East). That matters.
Prediction: Notre Dame 68, Cincinnati 64
November, 12, 2012
11/12/12
10:15
AM ET
For 24 consecutive hours, 16 games will air across ESPN's networks/platforms Tuesday in the 2012 ESPN Tip-Off Marathon. It's a succulent sampler for the college basketball fans who've nibbled on classics and DVR'd games from 2011-12 to satisfy their hoops cravings for the past seven months (I got my fix from 1980s national title matchups available on the NCAA's website).
Get your popcorn ready, grab a few cans of your favorite energy drink and assemble your crew. Here are 24 questions to consider as you prepare for the marathon (aka paradise):
1. Will Michigan State open with two losses again?
Last season, the Spartans secured a No. 1 seed in the NCAA tournament after losing their first two games (against North Carolina and Duke). The Spartans won 29 games in 2011-12. But this season's squad, sans Draymond Green, seemed so listless and timid in its Friday loss to Connecticut that a similar effort and loss against Kansas could sound alarms in East Lansing.
[+] Enlarge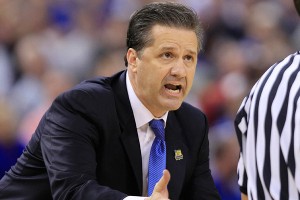 Rich Sugg/Kansas City Star/MCT/Getty ImagesWill John Calipari's Kentucky team be able to reload and make another run?
2. How will Kentucky youngsters handle the spotlight?
John Calipari's latest crop of lottery picks who are temporarily donning college basketball uniforms performed flawlessly in stretches against Maryland on Friday. But a late surge by the Terrapins clearly –- and understandably –- rattled the young team, which still showcased its resilience by securing the win. A matchup against Duke in the Champions Classic in Atlanta will test the Wildcats' poise again.
3. Will Gonzaga beat the Big 12?
The Bulldogs' home matchup against Big 12 newcomer West Virginia is its first of four nonconference games against that league (West Virginia, Kansas State, Baylor and Oklahoma State). It's a significant slate for a Gonzaga squad that hopes to regain its WCC title and finally get back to the Sweet 16. Wins against the Mountaineers and the rest of the Big 12 would pay dividends on Selection Sunday.
4. Has Steve Alford's team been overlooked in the Mountain West?
The Lobos lost last season's leader when Drew Gordon entered the NBA draft. But three starters, including
Tony Snell
(10.5 ppg), return for a New Mexico team that earned a share of the Mountain West title in 2011-12. Gordon's absence creates a void inside, but redshirt sophomore
Alex Kirk
could fill it. A victory over Davidson, one of the top mid-majors in the country, could put the league on alert.
5. Will Hawaii attract better talent in the Big West?
Yes, Hawaii has great weather. But the school struggles to lure elite talent. Its move to the Big West could change that. Most of the league's programs are in California, a five-hour flight from Hawaii. That's short compared to some of its past road trips in the WAC. Hawaii, which faces Houston Baptist in the Tip-Off Marathon, could attract more West Coast talent if it's successful in its new conference.
6. Does Duke have/need a star to beat the Wildcats?
We've identified the potential stars on Calipari's roster. It's still too early to know, however, if Duke has any star power in 2012-13. The Blue Devils certainly have multiple candidates who could supplant Austin Rivers as the program's top playmaker:
Mason Plumlee
,
Seth Curry
and
Rasheed Sulaimon
. One of those players could snatch that role in the Champions Classic battle against Kentucky.
7. How will Valparaiso perform against Northern Illinois with a healthy Kevin Van Wijk?
There were a lot of questions about Valparaiso's prospects after the standout underwent offseason knee surgery. But his performance against Georgia Southern (16 points) in his team's season opener suggested that he's healthier than most realized. That's clearly a good sign for a Crusaders squad that needs to build momentum -- and give Van Wijk more reps so he can continue to work on his postsurgery mobility -- prior to the start of Horizon League play.
8. Are Kansas State and West Virginia underrated?
Both teams enter the Marathon with something to prove. A West Virginia upset over Gonzaga and a Kansas State victory over North Texas (if both win their preseason NIT matchups Monday) wouldn't change projections within the Big 12. It's Kansas, Baylor and Oklahoma State (in that order) at the top of the league, and many questions after that. But strong starts by West Virginia and Kansas State in a pair of challenging matchups in the Tip-Off could insert both teams into the conversation about the league's hierarchy.
9. Who has the best name for a Marathon?
There's
Demetrius Walker
(New Mexico). Temple has
Scootie Randall
. Butler's
Chase Stigall
and Kentucky's
Brian Long
deserve consideration, too. So does Xavier's
James Farr
. Michigan's
Spike Albrecht
would supply the shoes.
[+] Enlarge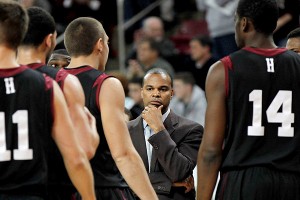 Greg M. Cooper/US PresswireTommy Amaker's Crimson team broke a 66-year NCAA tournament drought last season, but lost in the first round.
10. How will Harvard recover?
Tommy Amaker's squad looked like the clear favorite to win the Ivy League for the second consecutive season before top talents Brandyn Curry and Kyle Casey will miss the season following an academic scandal in the offseason. There's certainly enough talent on Amaker''s roster to compete for the conference title again. A victory against Atlantic 10 contender Massachusetts would prove it.
11. Is Rotnei Clarke worthy of the hype?
The Arkansas transfer averaged 15.2 ppg in 2010-11 and sat out last season per NCAA transfer rules. He scored 21 points (5-for-10 from beyond the arc) in his team's season-opening win over Elon. So far, he's justified the preseason buzz surrounding his Butler debut. Let's see how he handles the Cintas Center, where the Bulldogs will face Xavier on the road.
12. What will a healthy Steve Lavin do with a talented St. John's squad?
Lavin is back on the sideline for St. John's after missing most of 2011-12 recovering from cancer surgery. Today, Lavin says he's cancer-free and expects to coach the duration of the season. It's an opportune time for the program, which welcomes a talented group of newcomers. Tuesday's game against Horizon contender Detroit should be a good test for Lavin's young team.
13. What are the most likely upsets in the Tip-Off Marathon?
Kent State is coming off a win over CAA favorite Drexel. A win over Temple is feasible for the Golden Flashes. It's hard to imagine Michigan State coming out as flat as it did against UConn. The Spartans have a lot of motivation for the Kansas matchup and could pull off the upset. Will
Tony Mitchell
lead the Mean Green -- if it advances in the preseason NIT -- to a big win over Kansas State? That's a possibility, too.
14. What is a seawolf?
This is probably the most baffling question of the entire Marathon. According to the Stony Brook's website, a sea wolf "is a mythical sea creature and according to the legend of the Seawolf, anyone fortunate enough to view it was subject to good luck." The Seawolves might need a little luck to beat a Rider team that rode St. John's transfer
Nurideen Lindsey
(26 points, five assists, nine turnovers) to a season-opening victory over Robert Morris.
15. Will eligibility issues hinder VCU's bid for the Atlantic 10 title?
Shaka Smart's defensive principles could fuel a VCU run to the Atlantic 10 title in the Rams' first year in the conference. Losing
Mo Alie-Cox
and
Jordan Burgess
-- two freshmen who are ineligible to compete this season –- will impact VCU's overall depth. But it won't disrupt the Rams' title hopes because they're still one of the deepest teams in the league (seven players scored eight or more points in VCU's season-opening win over Florida Gulf Coast), and they'll probably defend as well as any team in the conference.
16. How far will Wichita State fall?
The Rams' opponent in the Tip-Off Marathon, Wichita State, is in a much different position. The Shockers won the Missouri Valley Conference last season, but the five seniors who anchored that team are gone. So Gregg Marshall's squad is filled with youth this season. And the Rams' in-your-face-defensive style could be a baptism by fire experience for the Shockers.
[+] Enlarge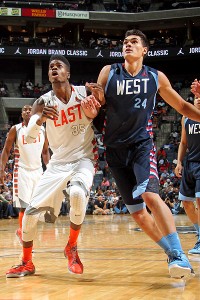 Ned Dishman/Getty ImagesNerlens Noel (left) and Steven Adams are two of the young top talents in the 2012 class.
17. Is Steven Adams the catalyst Pitt needs to return to the NCAA tournament?
Nerlens Noel
is not the only high-profile big man in the 2012 class. Arizona's
Kaleb Tarczewski
, Baylor's
Isaiah Austin
and Texas'
Cameron Ridley
were top-10 prospects, too. Like any young center, Adams will need time to adjust to the physicality among post players at the Division I level. But he's equipped with the potential to fortify the paint for Jamie Dixon and help the Panthers get back to the NCAA tournament.
18. Is Kansas ready for Michigan State?
The Jayhawks certainly weren't unblemished in their first game of the year, a 74-55 win over Southeast Missouri State. They went 2-for-21 from the 3-point line and committed 13 turnovers in the win. It's early. And it's safe to assume that Bill Self will address those mishaps in preparation for MSU. But similar shooting struggles could lead to a loss for the Jayhawks.
19. Can Khalif Wyatt lead Temple to an A-10 title?
Temple is one of a handful of squads in contention for the Atlantic 10 title. And the Owls' aspirations are largely based on the return of senior Khalif Wyatt (17.1 ppg last year). He's a difference-maker for a squad that will join the Big East next season. It's important for Wyatt to extend the momentum he established last season, especially with the departures of Juan Fernandez and Ramone Moore. That mission continues with Kent State.
20. Is Kyle Wiltjer Kentucky's best player?
The sophomore dominated in a contentious matchup against Maryland. Although Calipari's freshmen attracted the most preseason attention, Wiltjer (19 points, six rebounds and three blocks) looked like a star against the Terrapins. He'll have a chance to duplicate those numbers against Duke and remind observers that Kentucky, much like last season's squad, won't reach Atlanta without its veterans.
21. Will Trey Burke back up his tweet?
Last week, the Michigan point guard tweeted this declaration: "All the haters will be silenced! Trust Me!" Translation: We'll prove Michigan's doubters wrong. Some questioned Michigan's slot as the No. 5 team in The Associated Press preseason poll. And a sloppy effort against Cleveland State or Bowling Green would only feed those "haters."
22. Will the recent shakeup affect Detroit?
With
Ray McCallum
Jr. running the show, the Titans should be ready for St. John's. But they've endured a tumultuous stretch since late October, when the school's athletic director, Keri Gaither, and men's basketball assistant Derek Thomas both abruptly resigned on the same day. Thomas had been with head coach Ray McCallum Sr. for five years. The drama could impact Detroit's season.
23. What will be the Marathon's best game?
I like the first game, West Virginia at No. 21 Gonzaga. So much on the line for both teams. West Virginia has multiple transfers who could make an immediate impact. Gonzaga returns most of last season's team, but the Bulldogs have been inconsistent under Mark Few in high-profile matchups. This game doesn't feature the best teams in the Marathon, but I think it will be its best game.
24. Who will win the Marathon's biggest matchups (Michigan State versus Kansas, Duke versus Kentucky)?
I'll go with Kansas over the Spartans. Michigan State couldn't handle a UConn team that did little damage inside. So I think it will have its hands full against a balanced and aggressive Kansas team. And I'll pick Duke over Kentucky. I think the Blue Devils will pressure the young Wildcats all night and force them to make a lot of mistakes that will ultimately cost them the game.
June, 28, 2012
6/28/12
2:15
PM ET
Earlier this week, Kentucky coach John Calipari fired off one of the best, funniest and most thinly veiled recruiting pitches ever delivered via Twitter. It went a little something like this:
I want to apologize to all the recruits this week. I'm spending the majority of my time answering questions from NBA teams about my six guys

— John Calipari (@UKCoachCalipari) June 26, 2012
Perfect, right? It's just perfect. No other coach has so blatantly and wisely used the quick path to the NBA draft lottery as a recruiting tool, but instead of a bold proclamation like the one he made two years ago -- when he riled even Kentucky fans by calling the 2010 NBA draft the "greatest day" in UK hoops history -- he chose a winking tweet to do his bidding. With six guys likely to go in the NBA draft, and four likely to go in the first round, what else really needs to be said? Game, set, match Coach Cal.
Newly minted South Carolina coach Frank Martin wasn't going to let this brilliance stand. So in a joking manner, it seems, (at least in so far as the
man capable of doing this
is also capable of joking) Martin fired back at Calipari on Twitter:
@UKCoachCalipari I love u & u r the best but while u talk 2 the NBA I will talk 2 the future NBA players

— Frank Martin (@FrankMartin_SC) June 27, 2012
Oh, it's on! Though you'll notice Martin didn't lay a friendly wager on the line. Calipari has turned Kentucky into an NBA draft mill (and I don't mean that as a pejorative); Martin is just beginning one of the great long-term rebuilding projects in the country at South Carolina, a place with little to no basketball history. Martin isn't catching up to Cal in the draft pick counter anytime soon. But you have to love the fighting spirit.
June, 27, 2012
6/27/12
4:10
PM ET
One of the benefits of writing about college basketball pretty much every day for three years (and change) is that you get to see players develop, and careers blossom or implode, on both macro and micro levels.
One of the drawbacks is that it's easy to jump to conclusions. It was especially easy with
Royce White
.
[+] Enlarge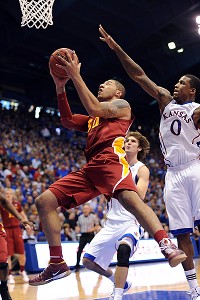 Peter G. Aiken/US PresswireIn ESPN.com's latest experts mock draft, Royce White was selected within the top 10 of the first round.
Just two years ago, White became a poster child for the immaturity of collegiate freshmen. During his freshman season at Minnesota, he pled guilty to theft and disorderly conduct after he was accused of shoplifting and pushing a security guard at the Mall of America in 2009. A few weeks later, university officials extended a previous suspension when he was linked to a laptop theft case on campus. (White denied that allegation.) Then, in the coup de grace, he released an infamous YouTube "retirement" video. He made his way back to Minnesota's program team eventually, but
soon after announced his withdrawal again
, citing his distrust of Minnesota campus police as the reason.
The entire saga was baffling, sure, but more than anything it looked like a troubled young kid without the good sense to recognize an opportunity when he had it. Nothing less, but nothing more.
But then things began to turn around. White transferred to Iowa State; when Cyclones fans watched him play summer ball,
they could barely keep from squealing
. They were right. This season, White burst onto the college hoops scene, flashing a rare blend of athleticism, size and skill. All of a sudden, the strange kid with colorful tattoos and the retirement video
was the leader of an emerging team
. How did that happen?
In January,
our own Myron Medcalf got White to detail the reasons for his erratic behavior
: Since he was a kid, White admitted, he had suffered from anxiety disorder and a fear of flying, which grew so bad he cancelled a plane trip to visit Kentucky and John Calipari (and really, what prospect does
that?).
It was a brave revelation: White surely knew he would be facing the NBA draft questions sooner rather than later, and rather than hide his problem -- one that could give NBA teams a reason not to draft him -- he came clean and encouraged other anxiety disorder sufferers to do the same.
From that point forward, White was an easy player to root for. He was a nigh-superhuman basketball star -- one who gave the
Kentucky Wildcats
everything they could handle (on the offensive end, at least) in the second round of the NCAA tournament -- suffering from a very quotidian human problem. Nothing is easier to cheer on in our sports figures than endearment.
Now, White is arguably the most intriguing player in the NBA draft. He's also been the subject of two excellent recent profiles. The first came
from Sports Illustrated's excellent Pablo S. Torre
; the
second came from Grantland's excellent Jonathan Abrams
. In both, White opened up -- about music and John Lennon, about his disorder and his past, about honesty and what it means to be truly alive. In a world full of bad quotes and boring people, White is decidedly neither.
This is his story. In the matter of two years, Royce White has gone from an 18-year-old waste of talent to one of the most interesting and human figures set to join the NBA. He has come full circle, and college basketball fans have been there every step of the way.
There's something thrilling about seeing a player like White make this journey. And, as always, there's the reminder that first impressions are only that -- impressions.
June, 26, 2012
6/26/12
5:45
PM ET
By
Micah Adams & Mark Malzewski, ESPN Stats & Information
| ESPN.com
Kevin C. Cox/Getty ImagesAnthony Davis and his Kentucky teammates have a chance to make history at the 2012 NBA Draft.
Trivia question
:
Anthony Davis
will become the second player in the common draft era (since 1966) to be drafted first overall the same season as winning a national championship and being the AP Player of the Year. Name the other.
Here are a 10 more facts to impress your friends with as we get ready for draft night.
Did you know that…
• Davis averaged 14.2 points per game at
Kentucky
. In the common draft era, the fewest points per game by any No. 1 pick who played in college the previous season was 14.5 by Georgetown's Patrick Ewing in 1984-85.
• Kentucky will be the ninth school to have more than one former player taken first overall. The two years between top overall picks (also in 2010) is the fewest among those nine schools.
• Kentucky and
North Carolina
could have a combined 10 players drafted. There has never been a draft in the common draft era in which two schools each had at least four picks in the first two rounds, according to the Elias Sports Bureau.
• Since Derrick Rose went No. 1 in 2008, John Calipari has coached seven first-round picks. Bill Self and Rick Barnes are tied for the second-most over that span with six.
• Speaking of lottery picks, UNC could have four of them. The earliest in the common draft era a school has had four players selected is 14th (Duke in 1999, UNC in 2005).
• With the lack of elite international prospects this year, it could mark the first time since 1994 that every first-round pick came from the college ranks.
• If Davis, Kidd-Gilchrist and
Bradley Beal
are selected in the Top 3, it will be the second time a conference has had the top 3 picks. In 1986, the ACC pulled it off with the selection of UNC's Brad Daugherty, Maryland's Len Bias and NC State's Chris Washburn.
• If
Thomas Robinson
goes second, it would be the first draft in NBA history in which each of the top two picks played against each other in the preceding national championship game, according to Elias.
•
Weber State
's
Damian Lillard
is projected to go in the Top 10 of many mock drafts. The only Big Sky player ever chosen in the top 10? Montana's Michael Ray Richardson in 1978.
• There's not a heavy senior presence with
Tyler Zeller
seemingly the only lock for the top 20. There's a chance this draft could set an all-time record for fewest seniors taken in the first round. In 2004 Jameer Nelson, Luke Jackson, Rafael Araujo and Tony Allen were the only four seniors taken in the first round.
Trivia answer
: Lew Alcindor in 1969.
Get the information you need to be ready for the draft and follow the action Thursday night on Twitter @ESPNStatsInfo.