December, 19, 2014
Dec 19
10:00
AM ET
Most North Carolina players could give a brief rundown on what they know about Ohio State guard
Shannon Scott
heading into Saturday's game with the Buckeyes in Chicago.
The significance of his father? That was a bit harder for the young Tar Heels to remember, even though Charles Scott's journey is extremely significant.
Willie Cooper was the first to integrate the Tar Heels freshman team in 1964. Scott was the first black scholarship basketball player at North Carolina in 1966. He paved the way for them all: Phil Ford, Michael Jordan,
Antawn Jamison
, Sean May,
Ty Lawson
.
[+] Enlarge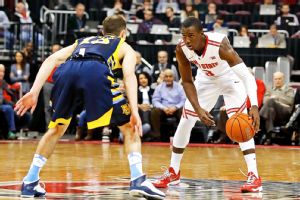 Kirk Irwin/Getty ImagesShannon Scott might be an Ohio State Buckeye now, but his father Charles was one of the most influential players in North Carolina history.
Scott is the school's sixth all-time leading scorer and has his No. 33 jersey among those honored -- not retired -- in the Dean E. Smith Center rafters. He helped lead the Tar Heels to Final Four appearances in 1968 and 1969.
"Did I go with the idea of being a pioneer? It was the '60s and at that time you do things because they needed to be done, not with the concept of being a pioneer," said Scott, who lettered from 1967-70. "It was the era of integration in many circumstances and I just happened to be one of instruments of integration for the University of North Carolina."
His love for his alma mater and his former coach is unquestioned. Scott's other two children, Simone and Shaun, both graduated from UNC. He returns to Chapel Hill at least once each year and visits coach Dean Smith.
Scott might not wear scarlet and gray at the United Center, but this is the one time he won't exactly be "shouting N.C.U." as the fight song suggests.
"Luckily it has only come up once in four years and I hope it comes up once again, maybe in the NCAA championship," Charles Scott said. "It's going to be tough rooting against North Carolina, but that's my son out there. Make no mistake about it, I will be rooting for my son and his team."
Scott once envisioned seeing his son follow in his footsteps to Chapel Hill. Many summers he would bring Shannon Scott back for basketball camps.
Shannon Scott, a 6-foot-1 senior point guard, also dreamed of playing in Carolina blue when he got serious about basketball in middle school. Things changed as he got older and he thought about forming his own legacy in a program.
Carolina made the decision easier for him, with a roster that included
Larry Drew II
and
Kendall Marshall
. Scott, who was rated No. 34 in the class of 2011 by Recruiting Nation, didn't want to be the third point guard.
"I had to decide did I want to go and be my own person or the son of somebody," said Shannon Scott, who currently leads the Buckeyes and is second nationally with 7.8 assists per game. "I felt like trying to have my own name, I had to go somewhere else rather than become 'Charlie Scott's son' had I gone there."
Truth is, being the son of Charles Scott would carry weight wherever he attended school. Shannon Scott could never really just stay in the background on any team. His dad shared stories here and there, but mostly he heard from other Tar Heels fans of the sacrifices his dad made to play.
Shannon Scott heard about his father being passed over for the ACC Player of the Year award as a junior and senior. He heard the stories of isolation and how his father didn't really form lasting and deep bonds with his teammates because he could not hang with them socially outside of basketball. And he heard about his father playing in front of crowds that threw objects at him on the court and stopping at restaurants that wouldn't serve the team.
"The server would just never come over, the whole team would be waiting to get their food and they would never have anything just because he was there with them," Shannon Scott said. "Stuff like that is crazy, but I understand that it happened."
As inconceivable as segregation is to players who saw Barack Obama elected president in their teenage years, they all respect what Charles Scott went through in order for them to play.
North Carolina freshman forward
Justin Jackson
met Charles Scott, whom he called "one of the great Tar Heels," when Shannon Scott came to Houston to work out at a John Lucas' camp.
"Playing college basketball isn't easy, let alone having to keep up with your academics, and we don't even have to deal with the whole race issue and everything like that," Jackson said. "He definitely made a huge mark on college basketball as a whole and the University of North Carolina."
Scott joked that when he's recognized by current players for being the first, it just makes him feel old.
Such was the case when Carolina's sophomore forward
Isaiah Hicks
sought out Scott for a project in a history class last semester. Hicks said he got a B on the paper, but talking to Scott about his experience was the real lesson.
"Nowadays you can't imagine going through that stuff, you can't picture it because it's not happening to you," Hicks said. "Of course, I had to thank him."