College Basketball Nation:

Seton Hall
April, 18, 2014
4/18/14
10:00
AM ET
Conference realignment played tricks with time.
We saw dozens of changes to collegiate basketball's conference structure in the past five years. As they happened, it felt too fast to catalog -- too cluttered among the theories and contingencies and rumors of the periphery. But
after
deals were finalized and publicly announced, it took years for schools to leave their former leagues -- for this chaotic mess slowly to morph into some recognizable form. The process became tectonic.
Conference realignment was fast and slow at the same time. It was
super
weird.
Take the old Big East. In September of 2011, Syracuse, Pitt and Notre Dame announced they would leave the old Big East for the ACC. Between then and now, the "old" Big East has seen 14 schools announce departures for other conferences and 15 new schools join. It saw seven of its founding members leave and take the name, $10 million from league coffers, and rights to Madison Square Garden with it. It rebranded itself as the American. It had a pretty stellar first season. One of its flagship schools (UConn) won the national title in its conference's first year of existence. And it still isn't done realigning: This summer, Louisville leaves for the ACC.
The
new
Big East skipped this process. In December of 2012, the Catholic schools decided to break off from the now-American. On March 5, 2013, they learned they controlled the Big East marks and records grab-bag. On March 15, ESPN reported that Butler, Xavier and Creighton would join the new conference. On March 20, the new conference, with its new TV deal, was announced. In June, it became official.
Unlike nearly every other entity in college basketball, realignment's creation of the "reconfigured" Big East felt fast because it actually was fast.
Just 13 months after it was announced, the Big East already has one season in the books. How did that go?
[+] Enlarge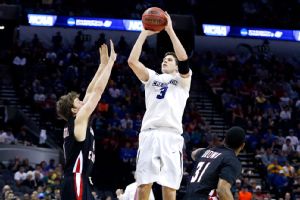 Kevin Jairaj/USA TODAY SportsCreighton's Doug McDermott was the best player in the new Big East this year, but who will be the face of the league next year?
What we saw this season:
Doug McDermott
. That ring any bells?
There's no official count here, but it's safe to say we've never written as many words about any player as we've written about McDermott. That is by far the least impressive of his statistics. The most impressive: McDermott finished his career fifth all-time in scoring, with 3,150 points. One could go further here -- could rattle off the list of mind-bending statistics McDermott accomplished this season. But we did that so much this season we have very little left to say. It's probably better if you
just go to his Basketball-Reference page and see for yourself
. It's the same feeling you get when you look at Barry Bonds' numbers, minus a mental image of a gigantic head.
Anyway: After two seasons of genius in the Missouri Valley, McDermott's brilliance got a full and proper airing in the Big East this season. From the numbers to the moments -- including two demolitions of Villanova that rank among the greatest 80 minutes of offensive basketball we've ever seen -- he didn't disappoint.
What we expect next season:
Of course, there were other noteworthy stories in the Big East last season. Not least of which was the return of Villanova to the ranks of the elite.
Save for those two free Creighton clinics, Jay Wright's team was among the nation's best defensive groups for most of the season. The Wildcats finished the regular season 29-3, with losses to the Bluejays and Syracuse. Their third-round defeat to UConn was disappointing, though less so in hindsight, but either way the immediate future is very bright. The Wildcats return four starters from last season's team (
Ryan Arcidiacono
,
Darrun Hilliard II
,
JayVaughn Pinkston
and
Daniel Ochefu
) and promising rising sophomore
Josh Hart
, who posted a 126.8 offensive rating this season, looks primed to take a bigger role. Oh, and there are two top-100 players (forward
Mikal Bridges
and guard
Phil Booth
) arriving, arguably giving Wright even more depth and versatility to play with even without star senior
James Bell
.
For these reasons, Villanova could not look like a more surefire Big East favorite. There are others. McDermott is gone; Creighton will take an obvious step back.
Bryce Cotton
, who averaged nearly 40 minutes a game (almost all of them thrilling, too) has graduated from Providence and left a big spiritual hole in Ed Cooley's lineup. Georgetown has a top-10 recruiting class on the way -- and, man, did it need one -- but John Thompson III may still be a year away from title contention. Xavier is intriguing,
but Semaj Christon needs more help
. (
Update
: Christon declared for the NBA draft, so nevermind that.) St. John's is intriguing, but also probably super frustrating. And Marquette lost Buzz Williams to Virginia Tech. It hired Duke associate head coach Steve Wojciechowski to replace him.
It was that last move that caused some to wonder about the fate of the reconfigured Big East. Did Williams decide that a league without football wasn't the place to be? Maybe, maybe not; his move probably had just as much to do with personal and individual reasons as anything else. But the question is nonetheless in the air: Can the new Big East survive? How good will this conference be? Its first season was dominated by one of the game's greatest-ever offensive players. Next season it'll have its work cut out.
March, 17, 2014
3/17/14
2:00
PM ET
By
ESPN.com staff
| ESPN.com
While the 68 teams that made the NCAA tournament prepare for the madness, fans of teams on the outside must turn the page to next year. Thanks to a core of returning players and strong incoming recruits, here are five programs that could be dancing at this time next year.
Quick references:
Georgetown's 2013-14 roster
Georgetown's 2014 recruiting class
Possible 2014-15 starting five:

G: D'Vauntes Smith-Rivera

G: Jabril Trawick

F: Paul White

F: Mikael Hopkins

C: Josh Smith
Who it loses: Four players will be gone for coach John Thompson III. Markel Starks and Nate Lubick have been starters since they were sophomores and were instrumental to last season's Big East championship team. Starks was first team All-Big East this season, scoring 17 points per game. Aaron Bowen played a big role as the sixth man and gave the team a spark off the bench. At times, he played starter's minutes. Moses Ayegba was a front-court presence off the bench and was a strong presence in the paint.
Who it adds: This four-man class is the nation's seventh best and it includes three ESPN 100 players. This class is loaded with versatility and scoring talent as the Hoyas will continue to cause matchup problems for opponents. Isaac Copeland's growth continues to impresses us, as he combines size and athletic ability with a very fluid set of skills. He won a championship at Brewster Academy in the New England Prep school league, which is some of the best competition in the country. Paul White is the consummate forward in the Georgetown system as he showed he could be a facilitator, bucket-getter or defender. L.J. Peak is a battle-tested and tough small forward who can score in different ways and someone who can play right away because he competes so hard. Tre Campbell was a first-team all-league performer as a point guard in the prestigious WCAC, an ultra-competitive Washington, D,C.-area high school conference. Georgetown predicates its system of having a high level of skill on the floor at all times and this class gives them that edge plus a whole lot more.
What it means for next season: Next season's team could be more gifted and athletic as the freshman class gives them a big boost. The one freshman who needs to be good early is Campbell, because of the departure of Starks. With Smith-Rivera returning as the team's leading scorer and best 3-point shooter, and Smith back controlling the inside, this team could be a contender for a Big East title. Georgetown has always played the game with many interchangeable parts and next season it will have plenty of pieces to choose from.
Trending: Up. The Hoyas return the strength of their roster and add a lot of talent. Under the guidance of JT3, that means more postseason appearances. - Paul Biancardi
For breakdowns of Indiana, Maryland, Seton Hall and USC,
click here

.
March, 13, 2014
3/13/14
2:53
PM ET

NEW YORK -- Some quick thoughts on Seton Hall's 64-63 win Thursday over Villanova at Madison Square Garden:

What it means: Villanova probably blew its chance to be a No. 1 seed in the NCAA tournament. Seton Hall is in the Big East tournament semifinals, two wins away from stealing an NCAA bid.

The Wildcats -- the top seed in the Big East, and the No. 3-ranked team in the country -- were stunned by the Pirates, thanks to Sterling Gibbs' jumper as time expired.

Seton Hall (17-16, 6-12), the No. 8 seed, is in the Big East semis for the first time since 2001. Villanova (28-4, 16-2) will likely get a No. 2 seed, at best, on Selection Sunday.

The turning point: Seton Hall shocked the early-afternoon Garden crowd by taking a 28-13 lead with a little more than eight minutes remaining in the first half. Villanova scored the final six points of the half to cut its deficit to eight for a 34-26 score. The Wildcats shot just 7-for-26 (26.9 percent) from the field, and missed seven free throws.

Villanova erupted on a 16-0 run, sparked by several open-court steals and scores, to make it 47-44 with eight minutes left, its first lead of the game. But Seton Hall did not wilt. The game came down to the final minute.

A Villanova steal followed by a Josh Hart layup broke a 59-59 tie with 41 seconds remaining. Then Seton Hall's Jaren Sina buried a 3-pointer from the corner with 21 seconds left to put the Pirates back up 62-61. Darrun Hilliard got a jumper in the lane to roll in with 11 seconds left, giving the lead back to the Wildcats 63-62. And then Gibbs pulled up and nailed a jumper from the foul line area at the buzzer, setting off a wild celebration.

Star watch: Senior forward Gene Teague had 19 points and 12 rebounds for Seton Hall. Patrik Auda scored 13 points, all in the first half. Gibbs finished with 10 points and six assists.

Hart led Villanova with 18 points off the bench.

Number crunch: Villanova shot just 22-for-58 from the field (37.9 percent), 4-for-19 from beyond the arc (21.1 percent), and 15-for-25 from the foul line (60 percent).

What's next: Seton Hall will play either No. 4 seed Providence or No. 5 seed St. John's at 7 p.m. ET Friday. Villanova heads home to Philadelphia and awaits Selection Sunday.


February, 14, 2014
2/14/14
1:18
AM ET
Bubbles can burst well before Selection Sunday.
And it's that part of the schedule when it's time for teams to make their closing arguments. Some will be haunted by wins they couldn't claim or by taking losses they couldn't afford. Others will be thankful for their NCAA tournament bids because of wins during their final regular-season push.
Minnesota's 64-57 loss at Wisconsin
certainly wasn't a make-or-break game for the Gophers. Their body of work thus far should have them in the tournament. But they can't afford to rest solely on what they've done to this point.
Since beating then-No. 9 Wisconsin at home on Jan. 22, the Gophers have lost four of their past five. With six games left, including consecutive games at Ohio State, Iowa at home and at Michigan, there's still work to be done.
For starters, the Gophers could use a little more consistency. They had eight first-half turnovers, which helped the Badgers erase an early seven-point deficit and instead made Minnesota play catchup the rest of the game.
[+] Enlarge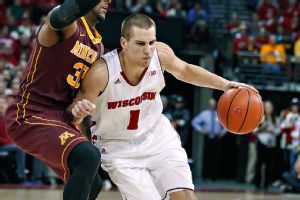 AP Photo/Andy ManisBen Brust had 20 points to lead Wisconsin.
They nearly did it thanks to late 3s that helped cut a 15-point deficit down to five. But the Badgers, led by 20 points from guard
Ben Brust
and 15 from reserve forward
Nigel Hayes
, held on by making late free throws.
Colorado will get credit for how well it played earlier in the season including its marquee win over Kansas. But the Buffaloes' record since senior guard Spencer Dinwiddie suffered a season-ending knee injury against Washington will also be considered.
They missed a chance to bolster their post-Dinwiddie resume by
losing at UCLA 92-74.
It seems the rash of injuries has caught up to Colorado. In addition to Dinwiddie, guard
Tre'Shaun Fletcher
is still out with a knee injury and forward
Wesley Gordon
missed a second game with a sprained ankle.
The Buffaloes had shown signs of improvement with
Askia Booker
,
Josh Scott
and
Xavier Johnson
each picking up the slack scoring. But they couldn't keep up with UCLA, which made eight of its first 12 3-point attempts en route to a 56-point outburst in the second half.
The loss to the Bruins snapped a three-game win streak, which all came at home. The Buffs close with four of their last six games on the road, including at Stanford and at California. But their home finale -- and last regular-season chance to make a splash -- is against No. 2 Arizona.
Missouri and Arkansas entered Thursday in similar positions. The Tigers squeezed by with
an 86-85 win
over the Razorbacks thanks to 25 points from
Jabari Brown
, including the game-winning jump hook.
The irony was Brown was trying to give the ball to
Jordan Clarkson
, who had a game-high 27 points, in the backcourt. Clarkson was heavily guarded by
Mardracus Wade
so Brown advanced the ball while Clarkson stayed behind. It was essentially a game of four-on-four when Brown took
Rashad Madden
one-on-one and scored in the paint.
Madden led five Arkansas scorers in double figures with a team-high 17 points but had a rough final 30 seconds. He had a turnover with a chance to put the Razorbacks up three with 23.9 seconds left. He had the final attempt, a running bank shot, that was too strong as time expired with both teams scrambling for a loose ball and Madden injured from a collision.
Arkansas is just 1-5 on the road this season, but will get LSU at home before the rematch at Kentucky to try and strengthen its case for a bid. Missouri, listed by ESPN's Joe Lunardi as one of the first four out of the tournament, simply survives to Saturday when it will be tested all over again against Tennessee.
St. John's could have been the biggest winner of the night simply by avoiding a bad loss. The Red Storm are trying to make a late charge into the NCAA tournament. They've won seven of their past eight games with the only loss a 63-60 heartbreaker to Creighton.
Their 68-67 win at Seton Hall
came down to a 40.7 percent free throw shooter giving them the lead with 2.1 seconds left.
Center
Chris Obekpa
not only delivered the game-winning point in the clutch, he then swatted the ensuing inbounds pass that ran the clock down to 0.1 seconds, ensuring the Pirates would not have enough time to get a shot off.
St. John's first win at Seton Hall since Feb. 15, 1998 came with great timing. It allowed the Red Storm to pull to .500 in the Big East and, more important, keeps their tournament hopes alive.
February, 14, 2014
2/14/14
1:05
AM ET
NEWARK, N.J. -- If St. John's wins in The Rock and no one is around to hear it, does it make a sound?
The answer is yes. It wasn't particularly impressive, but the buzz about the Red Storm will only increase after their 68-67 win at Seton Hall on Thursday -- even if just a couple hundred fans were in the building to witness it due to a nasty nor'easter.
St. John's (16-9) has climbed from 0-5 in the Big East to 6-6 in the span of just three weeks, and now practically anything seems possible.
"This team is a special bunch," guard
D'Angelo Harrison
said, "and we're finding ways to win."
They found a way Thursday despite a brutal first half in which the team eclipsed its turnover average (10.2) with 11 in just 20 minutes. Seton Hall had a 9-3 advantage on the offensive glass, a 14-5 edge in second-chance points, and led 38-33 at the break -- despite being without two starters, swingman
Brian Oliver
and power forward
Gene Teague
, who were suspended by coach Kevin Willard for attitude problems.
St. John's coach Steve Lavin said it was the worst his team had looked since their first half at Georgetown on Jan. 4, when the Red Storm trailed 42-16 at intermission.
"It was a group of zombies that I didn't recognize," Lavin said, "because for over a month now we've been in a really good way and on a good path of progress and playing together as a team."
St. John's played better in the second half, but the game was still tied at 67 in the final minute. Seton Hall guard
Fuquan Edwin
, who scored a game-high 25 points, missed a decent look from the top of the key with 27 seconds remaining.
"I'll live and die with Fu taking shots," Willard said. "He's a heck of a player, he's giving all his effort. He's been shooting 42 percent from the 3. It was good defense by them."
The winning point came at the foul line -- from
Chris Obekpa
, of all people. A fitting end to a strange night.
St. John's ran the clock down, with the chance to take the last shot in regulation. Harrison, the team's leading scorer, was the primary option, naturally. But Obekpa was open in the lane after setting a screen for Harrison, and freshman point guard
Rysheed Jordan
hit Obekpa with a pinpoint pass. A 40.7 percent free throw shooter, Obekpa made one of two from the foul line, and then St. John's intercepted a long baseball pass to seal the victory.
"He's as exceptional a passer as any player I've coached, for this stage of a career," Lavin said, of Jordan. "The judgments, the precision is first-rate."
It was fitting that Jordan and Obekpa teamed up for the game-winning play, because the improved performance of those two players has been the key to the Red Storm's resurgence. Each scored 10 points in the game, two of four St. John's players in double figures. Harrison led the way with 12, and
Sir'Dominic Pointer
also scored 10 off the bench.
It was yet another balanced effort, from a team clicking on all cylinders right now -- Thursday's first half notwithstanding.
St. John's notched its first road win versus Seton Hall in 16 years, and is now firmly in the NCAA tournament at-large bid conversation, despite a hellish start to conference play.
"I'd put this group up there with as special as any that I've worked with," Lavin said, "because of their resiliency, their pluck, their spirit, their fight-back, their gumption."
Next up is a rematch with Georgetown on Sunday -- a chance for redemption, against a team that handed St. John's its worst loss of the season six weeks ago.
"[Getting to] .500 is still not good enough for us," Harrison said. "We gotta get past this game and get ready for Georgetown [on] Sunday. That's a big game."
They're all big now, thanks to this remarkable three-week run -- capped off by a gutty victory in a nearly empty Prudential Center.
March, 7, 2012
3/07/12
9:29
PM ET
Overview:
Seton Hall will have to sweat it out until Selection Sunday.
The Pirates had a chance to put themselves on much firmer ground with their second win in two nights here at the Big East tournament. Instead, the
No. 10 seed fell to No. 7-seeded Louisville, 61-55,
and will be on pins and needles for the next four days, with a record of 20-12, 8-10 in the conference.
Louisville (23-9, 10-8 Big East) can already rest assured that it will be in the NCAA tournament field of 68. But now the Cardinals will play in the Big East quarterfinals, and snap their two-game losing streak to end the regular season.


Turning point:
Both teams were inept on offense in the first half. Louisville shot 27.6 percent from the field, Seton Hall 25 percent, and the Cardinals led 23-22 at intermission.
Seton Hall remained cold in the second half, but Louisville started to knock down shots. The Cardinals opened up on a 16-4 run to make it 39-26, and the key sequence of the game came at the end of that stretch. With the score 34-26,
Peyton Siva
intercepted a
Herb Pope
inbounds pass and went in for a slam on the other end. On the very next possession, Seton Hall turned it over again, and Siva made them pay again with a 3-pointer. Suddenly the Cardinals were up 13.
The Pirates rallied late, and cut the deficit to five on three different occasions -- but the Cardinals answered each and every time with a bucket. Then in the final minute,
Jordan Theodore
hit a trey to cut the lead to 59-55 -- and then at 60-55 he had a pair of decent looks from downtown to cut it to two, but both were off the mark.
Key player:
Siva was all over the floor, and in the middle of the key sequences mentioned above -- he also led the Cardinals with 14 points. But the man with the biggest presence in this game was
Gorgui Dieng
. Louisville's 6-foot-11 center scored just six points, but had 10 rebounds and six blocked shots -- plus many more intimidations. He was the biggest force in the game.
Pope had 11 points and 15 rebounds for Seton Hall. Theodore had 17 points.
Miscellaneous:
The shooting numbers tell the story. Seton Hall was 17-for-52 from the field (32.7 percent) and 3-for-19 (15.8 percent) from 3-point range. Louisville wasn't a whole lot better, but the Pirates had to shoot better, particularly from beyond the arc, to win this game. ... Turnovers also really hurt the Hall. The Pirates had 17, to just nine for the Cardinals. ... Louisville is a poor free throw shooting team, and it could cost them in a big spot in March. The Cardinals were just 17-for-30 (56.7 percent) from the charity stripe tonight.
What's next:
Louisville will face No. 2 seed Marquette in a Big East quarterfinal on Thursday at 7 p.m. ET.
Seton Hall's fate is the hands of the selection committee. And its fans will spend the next 93 hours or so monitoring every media bracket projection they can find.