College Basketball Nation:

Southern Methodist Mustangs
July, 9, 2014
Jul 9
10:00
AM ET
Control the boards, control the outcome.
It's not always that simple, but it's that simple.
Connecticut was barely in the positive in rebounding margin (plus-0.4) for the overall season, but outrebounded both Florida and Kentucky in the Final Four en route to its fourth national championship.
As we look ahead to the 2014-15 season, here are a few potential chairmen of the boards:
Teams to watch
Texas
The Longhorns ranked 10th last season in rebounding margin, averaging seven more boards per game than their opponents. Not only do they return their entire roster, including leading rebounders
Cameron Ridley
(8.2 RPG) and
Jonathan Holmes
(7.2 RPG), but they add 7-footer
Myles Turner
to the mix. Turner was ranked No. 2 in the 2014 class by RecruitingNation.
Rebounding should easily be the strength of the team because seemingly everyone in the rotation contributes. Reserve forward
Connor Lammert
averaged 5.2 rebounds. Even 6-foot-2 guard
Demarcus Holland
averaged 4.7 boards.
Nearly 45 percent of reserve center
Prince Ibeh
's rebounds were on the offensive end; he helped Texas rank third nationally in offensive rebounds (15.0 per game).
North Carolina
Rebounding is an unspoken barometer in Chapel Hill. In the four seasons Carolina averaged fewer than 40 rebounds per game under coach Roy Williams, it has been bounced from the NCAA tournament in the first weekend, including last season. Conversely, in six of the seven seasons the Tar Heels averaged more than 40 boards, they advanced at least to the Elite Eight and claimed national titles in 2005 and 2009.
Neither forward
Brice Johnson
nor center
Kennedy Meeks
averaged 20 minutes of playing time last season, yet each averaged 6.1 rebounds. Both are likely starters this season and should see their rebound totals expand with their added playing time.
Small forward
J.P. Tokoto
, who averaged 5.8 boards last season, leads a group of talented wings that includes freshmen
Theo Pinson
and
Justin Jackson
, who should help the Heels get back above 40.
Kentucky
Add the Wildcats to the short list of teams that lost their top rebounder from last season yet should be better at rebounding. Julius Randle's 10.4 rebounds per game accounted for a quarter of the Cats' per-game total. Now that Randle is rebounding for Kobe Bryant and the Los Angeles Lakers, two freshmen -- forward
Trey Lyles
and center
Karl Towns Jr.
-- should more than account for his absence. Lyles and Towns were both ranked in the top 10 by RecruitingNation.
Coach John Calipari will again have a frontcourt imposing in both its size and depth. UK won't lose much going from starter to reserve with 7-foot center
Willie Cauley-Stein
(the leading returning rebounder at 6.1 boards last season), 6-10
Dakari Johnson
, 6-9
Marcus Lee
and 6-8
Alex Poythress
.
Throw in their oversized backcourt of 6-6 guards
Andrew Harrison
and
Aaron Harrison
, and it's hard to imagine UK not getting every meaningful rebound.
SMU
Forward
Markus Kennedy
is clearly the best rebounder on the team, leading the Mustangs with 7.1 per game last season. Kennedy had 16 games with eight or more boards, and
Yanick Moreira
was the only other player who registered double-digit rebounds in a game. That, however, doesn't mean SMU is lacking. Because coach Larry Brown uses up to 11 players in his rotation, only Kennedy stood out. But the Mustangs are good as a team on the boards because they have so many contributors. They enjoyed a plus-4.8 advantage on the boards last season and return 81 percent of their rebounding.
Arizona
The Wildcats ranked in the top 20 in rebounding margin the past two seasons. They outrebounded opponents by 7.1 per game last season -- the largest margin of Sean Miller's tenure -- despite using a smaller lineup for virtually the entire second half of the season. Yes, Arizona lost leading rebounder Aaron Gordon (8.1 RPG) and guard Nick Johnson (4.0 RPG). But the Cats will regain forward
Brandon Ashley
, who suffered a foot injury and missed the final 16 games of last season. Sophomore
Rondae Hollis-Jefferson
, who averaged 5.7 rebounds last season, appears ready to assume a larger role now that Gordon is gone. And freshman forward
Stanley Johnson
aims to have an immediate impact.
Teams that might struggle
Nebraska
Expectations have risen for the Cornhuskers, and rightfully so after their first NCAA tournament appearance since 1998. In order to live up to their potential, though, they have to improve in the rebounding category. The Huskers ranked 256th nationally last season with a minus-1.9 rebounding margin.
Their tendency to go with a three-guard lineup often left them undersized, especially against opponents with girth. The one player bulky enough to throw his weight around, reserve forward
Leslee Smith
(6-8, 255 pounds), suffered a torn anterior cruciate ligament in his left knee last week and is out indefinitely.
Wisconsin
The Badgers were an average rebounding team -- just a plus-1.4 rebounding edge overall -- except for the games when their backcourt made it a priority. In their NCAA tournament win against the Baylor Bears, who ranked 12th nationally in rebounding margin, Wisconsin guards
Traevon Jackson
and
Josh Gasser
chipped in eight rebounds apiece as Wisconsin won the battle of the boards 39-33. The Badgers will need a more consistent effort next season. Increased playing time for sophomore forward
Nigel Hayes
should help, as will the ever-expanding game of center
Frank Kaminsky
, who led the team with an average of 6.3 rebounds last season.
June, 6, 2014
Jun 6
11:35
AM ET
Editor's note: Over the next five weeks, we will reveal the top 50 coaches in college basketball as decided by our ESPN Forecast panel. Today we unveil No. 21: SMU's Larry Brown. On Monday, we release No. 20.
On Tuesday, ESPN's Mark Stein and Ramona Shelburne offered an update on the NBA's two richest franchises and the respective coaching searches therein. Phil Jackson wanted to talk to Derek Fisher about the New York Knicks job, drawing from his rather limited "former role players on Phil Jackson-coached title teams" candidate pool after Steve Kerr went to the Warriors instead.
But the Lakers were interested in Fisher too and were getting down to business in their own quest. They had interviewed a handful of usual suspects already (Alvin Gentry, Byron Scott, Mike Dunleavy), had pleasant chats with others (Kurt Rambis, George Karl) and, according to the report, were maybe, kind of, sort of thinking about reaching out to two others.
The Lakers, sources add, have also internally discussed reaching out to Scott Skiles and former NBA championship-winning coach Larry Brown, who has spent the past two seasons in the college game at SMU.
And so there it was, the first NBA rumor of Brown's tenure at Southern Methodist. It's a wonder it took this long.
To continue reading,
click here
.
June, 6, 2014
Jun 6
11:00
AM ET
Editor's note: During the next five weeks, we will reveal the top 50 coaches in college basketball, as decided by our ESPN Forecast panel. Today we unveil No. 21: SMU's Larry Brown. On Monday, we release No. 20.
At the time, many thought former SMU athletic director Steve Orsini "botched" SMU's coaching search. Orsini, who was dismissed shortly after he hired Larry Brown in 2012, didn't chase Brown as much as Brown was just one of the few quality candidates who seemed interested in latching onto a program that hadn't reached the NCAA tournament in nearly 20 years.
[+] Enlarge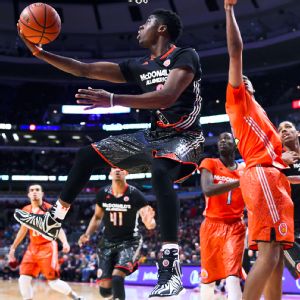 Mike DiNovo/USA TODAY SportsEmmanuel Mudiay's athleticism will allow SMU to use him in a variety of ways.
Brown hadn't coached college basketball since 1988. And who knew how long he planned to stay. Brown quickly added Tim Jankovich, who left his head-coaching position at Illinois State to accept an assistant's role with SMU as the coach-in-waiting.
SMU won 15 games in Brown's first season. Last season, the Mustangs earned 27 victories, contended for their first trip to the NCAA tournament since 1993, and lost to Minnesota in the NIT championship.
And now,
Emmanuel Mudiay
is coming.
Emmanuel Mudiay is coming!
The five-star prospect's arrival (No. 5 in the 2014 class per RecruitingNation) is significant.
"For his size, he has an elite athleticism," said Marland Lowe, Mudiay's AAU coach. "He's got a great feel for the game. He gets anywhere he wants to go with the ball. He's a great teammate, a great individual. … He's smart and intelligent, understands X's and O's."
Most figured Kentucky had the edge over the other blue-chip programs that recruited the Dallas prep star, but Brown convinced the 6-foot-5 hybrid guard to stay home. The Mustangs had the infrastructure (Moody Coliseum is a great venue when it's full) and a strong returning cast to attract him.
Nic Moore
,
Markus Kennedy
and six of the team's top seven scorers from last season are back. Plus, former Xavier standout
Justin Martin
(11.7 PPG, 5.2 RPG and 37.3 percent from the 3-point line) will be eligible next season, too.
The pieces are there.
They just needed Batman. And Mudiay might be what SMU needs. The same program that won just 13 games three seasons ago will enter 2014-15 as the American Athletic Conference favorite and a national title contender. Mudiay means that much.
"One of the best things that he's not given credit for is his defense," Lowe said. "He is willing to guard the best player on the team. And if he's guarding somebody else and another player is guarding him, he has no problem saying, 'Let me get him.'"
Mudiay is technically a point guard. But that's not the proper tag for a player with his skill set, especially with Moore returning and likely playing next to him. Mudiay is just simply a playmaker.
[+] Enlarge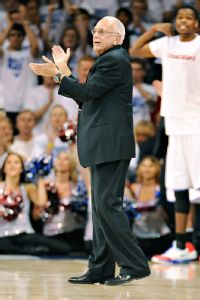 AP PhotoWith incoming talent, and several big-time returnees, Brown could have SMU in the NCAA tournament for the first time since 1993.
Brown could make Mudiay the team's primary ball handler, but he will also be effective in space as a matchup quagmire for every team the Mustangs face. He's explosive and balanced. He has a strong midrange attack, and he's dangerous in traffic. Expect a multitude of ball screens that lead to "SportsCenter" moments for the young talent.
And he'll shake up defenses. Not many teams can match up with a combo guard who has that kind of size without employing a small forward or a big wing. Mudiay could see a lot of zone, traps and imbalanced schemes to account for his abilities.
"He can elevate over people," Lowe said. "He's an excellent passer and he's a good finisher."
SMU ended the 2013-14 season ranked 17th in adjusted defensive efficiency per Ken Pomeroy. The Mustangs will continue to lock down opponents due to a lineup that features the speed, length and versatility to adapt against various offensive attacks. But they averaged 71.4 PPG (166th nationally) and were 68th in adjusted offensive efficiency.
They need scorers. Martin will help. Mudiay, too.
An elite athlete like Mudiay could elevate SMU into the nation's top tier and boost an offense that could use a spark.
"He is very good," said Tyus Jones, a McDonald's All-American point guard who will play for Duke next season. "[He] can really get to the rim, extremely athletic."
In two wins over SMU last year, Louisville's
Russ Smith
combined for 49 points, 11 rebounds, 12 assists and six steals. Smith won many games for Louisville during his four years. When the Cardinals needed something, he could give it to them.
That's the fabric that links America's best programs each year. They all have one or more players who are capable of rising above the rest.
The Mustangs had a capable program last year. With Mudiay, however, they have a squad that's equipped to compete with the best in the country.
"He can change a team just because of his skill level, talent and awareness," Lowe said.
Botched hire? Nah. Brown was the perfect hire. Mudiay proves that.
May, 12, 2014
May 12
10:00
AM ET
Some of the best 1-on-1 matchups will take place before the 2014-15 season tips off. They will come in the form of position battles within a team to determine a starter, which will in some cases shape an entire lineup.
Starting with point guard, ESPN.com will examine those quiet battles on a
position-by-position basis
this week while also promising we will never use the phrase "iron sharpens iron" to describe the competition.
In places such as Michigan State, the chance to replace a graduating senior was anticipated and planned. In places such as Oklahoma State, the vacancy opened up unexpectedly. The job was likely going to Stevie Clark, but his February dismissal means the Cowboys will rely on freshman Tyree Griffin or junior college transfer Jeff Newberry. And in many cases, the position comes down to choosing between a returnee or a talented newcomer.
Unlike other sports, even the players who lose their respective battles will still have a chance to shine. But winning could be the difference between a starring role and being a footnote.
Here are point guard battles to keep an eye on:

Duke: Quinn Cook vs. Tyus Jones
Cook too often allowed his overall game to be shaped by his makes and misses and was replaced in the starting lineup the final 10 games of the season by
Rasheed Sulaimon
. Jones' arrival in the Blue Devils heralded recruiting class means Sulaimon can move back to his natural position off the ball and sets up this showdown. Jones was rated No. 4 overall and the top point guard in the 2014 class by ESPN.com. Praised for his court vision and ability to run a team, Jones is arguably the better facilitator. Cook is a much better defender who has the added advantage of knowing the system.

SMU: Nic Moore vs. Emmanuel Mudiay
Moore had a solid year for the Mustangs leading the team in scoring, assists and 3-point shooting while starting every game. He was first team all-conference in the American. Yet here comes Mudiay, who might be the most important recruit -- he's certainly the highest ranked -- in SMU history. The 6-foot-5 Mudiay was ranked fifth overall by ESPN.com, and his time in Dallas could be limited to one season before he's in the NBA. Point guard is the toughest position to play under coach
Larry Brown
, and Moore has had the luxury of learning his expectations for two years. Mudiay's talent is so undeniable that the Mustangs might find a way to play both in the lineup.

Kansas: Frank Mason vs. Conner Frankamp vs. Devonte Graham
Naadir Tharpe's decision to transfer opened up what was already a position begging to be solidified. The Jayhawks haven't had stability at point guard in two seasons and it threatens what could again be a top-10 team. Mason was third on the team in assists as a freshman and briefly supplanted Tharpe in the starting lineup. Frankamp, also a rising sophomore, played in enough games as a freshman to season him for extended time this season. Graham just signed this month out of prep school, but is considered a true playmaker.

Michigan State: Travis Trice vs. Lourawls Nairn
Trice proved his value at point guard running the Spartans when
Keith Appling
was sidelined by injury this past season. If Nairn shows the ability to play right away, the two could likely be used in the same lineup with
Denzel Valentine
at small forward and
Branden Dawson
at power forward. Should coach Tom Izzo opt for Valentine at shooting guard, Trice would probably be the starter at point. Nairn, a 5-foot-10 freshman, will have to develop his perimeter shooting, but his toughness and leadership skills already mesh into the Izzo mold.

Wisconsin: Traevon Jackson vs. Bronson Koenig
It seems absurd that Jackson, a rising senior who started every game on a Final Four team, could see his minutes diminished by a reserve, but it speaks to Koenig's great potential. Jackson showed a penchant for making the big shot. Koenig is arguably the better scorer with his ability to get to the rim. The rising sophomore proved he's ready for a bigger role during the Badgers' loss to Kentucky in the national semifinals. Entrusted to run the team with Jackson in foul trouble, Koenig scored 11 points in 16 minutes during the first half.

Syracuse: Kaleb Joseph vs. Michael Gbinije
Coach Jim Boeheim has proven the past two seasons that he's unafraid to play an untested point guard. As he did with Michael Carter-Williams two seasons ago and
Tyler Ennis
this past season, Boeheim could again put the ball in the hands of a player with little point guard experience in his system. Gbinije, a 6-foot-7 junior, filled in at times for Ennis, although he's more of a combo guard than a point. Joseph, a true freshman, will be a part of the guard rotation that includes shooting guard
Trevor Cooney
. Don't be surprised if Joseph ends up like Ennis in the starting lineup early.

Memphis: Rashawn Powell vs. Dominic Magee
It's been a while since Memphis didn't have an heir awaiting the starting duties at point guard. Coach Josh Pastner looks to replace five senior guards with a three freshmen who can all play point. Powell and Magee are the likely front-runners as pure point guards. Powell is as much of a wild card as the true freshman Magee. He didn't qualify last season and was not allowed to practice, but was enrolled in school. Pastner will have a third option in Markell Crawford, who redshirted last season, who has the leadership skills to step in and run the team.

North Carolina: Nate Britt vs. Joel Berry
Thank Kendall Marshall for this battle. Marshall's injury in the 2012 NCAA tournament sabotaged a team built for a national title run, and coach Roy Williams vowed he'd never be in that position again. In past years, Williams probably would not have added a point guard in this class considering
Marcus Paige
will ultimately run the show. This battle won't be as detrimental to team success as others, but is intriguing nonetheless. Berry, the freshman, will challenge Britt, the sophomore, and the time-old notion in Chapel Hill that seniority wins out.
May, 5, 2014
May 5
10:30
AM ET
Members of the Class of 2014 have (mostly) made their decisions. Which incoming freshmen should you get to know? Here is a look at the best passers -- and one name to know in 2015:
1. Tyus Jones, Duke
He is the consummate point guard. His passes are always away from the defense and he has that snap on the ball that you just can't coach. On the fast break, he will come to complete stop and let the trailer fill the lanes and make a precise pass for a layup or 3-point shot. In tight quarters he can penetrate and pitch effectively by making a soft pass or a bounce pass and he demonstrates the outstanding vision, poise and patience to be a great set-up man. Some players pass to get rid of the ball, but when Jones passes, it usually leads to an assist.