College Basketball Nation:

St. John's
April, 18, 2014
Apr 18
10:00
AM ET
Conference realignment played tricks with time.
We saw dozens of changes to collegiate basketball's conference structure in the past five years. As they happened, it felt too fast to catalog -- too cluttered among the theories and contingencies and rumors of the periphery. But
after
deals were finalized and publicly announced, it took years for schools to leave their former leagues -- for this chaotic mess slowly to morph into some recognizable form. The process became tectonic.
Conference realignment was fast and slow at the same time. It was
super
weird.
Take the old Big East. In September of 2011, Syracuse, Pitt and Notre Dame announced they would leave the old Big East for the ACC. Between then and now, the "old" Big East has seen 14 schools announce departures for other conferences and 15 new schools join. It saw seven of its founding members leave and take the name, $10 million from league coffers, and rights to Madison Square Garden with it. It rebranded itself as the American. It had a pretty stellar first season. One of its flagship schools (UConn) won the national title in its conference's first year of existence. And it still isn't done realigning: This summer, Louisville leaves for the ACC.
The
new
Big East skipped this process. In December of 2012, the Catholic schools decided to break off from the now-American. On March 5, 2013, they learned they controlled the Big East marks and records grab-bag. On March 15, ESPN reported that Butler, Xavier and Creighton would join the new conference. On March 20, the new conference, with its new TV deal, was announced. In June, it became official.
Unlike nearly every other entity in college basketball, realignment's creation of the "reconfigured" Big East felt fast because it actually was fast.
Just 13 months after it was announced, the Big East already has one season in the books. How did that go?
[+] Enlarge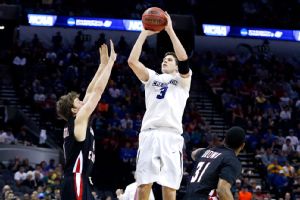 Kevin Jairaj/USA TODAY SportsCreighton's Doug McDermott was the best player in the new Big East this year, but who will be the face of the league next year?
What we saw this season:
Doug McDermott
. That ring any bells?
There's no official count here, but it's safe to say we've never written as many words about any player as we've written about McDermott. That is by far the least impressive of his statistics. The most impressive: McDermott finished his career fifth all-time in scoring, with 3,150 points. One could go further here -- could rattle off the list of mind-bending statistics McDermott accomplished this season. But we did that so much this season we have very little left to say. It's probably better if you
just go to his Basketball-Reference page and see for yourself
. It's the same feeling you get when you look at Barry Bonds' numbers, minus a mental image of a gigantic head.
Anyway: After two seasons of genius in the Missouri Valley, McDermott's brilliance got a full and proper airing in the Big East this season. From the numbers to the moments -- including two demolitions of Villanova that rank among the greatest 80 minutes of offensive basketball we've ever seen -- he didn't disappoint.
What we expect next season:
Of course, there were other noteworthy stories in the Big East last season. Not least of which was the return of Villanova to the ranks of the elite.
Save for those two free Creighton clinics, Jay Wright's team was among the nation's best defensive groups for most of the season. The Wildcats finished the regular season 29-3, with losses to the Bluejays and Syracuse. Their third-round defeat to UConn was disappointing, though less so in hindsight, but either way the immediate future is very bright. The Wildcats return four starters from last season's team (
Ryan Arcidiacono
,
Darrun Hilliard II
,
JayVaughn Pinkston
and
Daniel Ochefu
) and promising rising sophomore
Josh Hart
, who posted a 126.8 offensive rating this season, looks primed to take a bigger role. Oh, and there are two top-100 players (forward
Mikal Bridges
and guard
Phil Booth
) arriving, arguably giving Wright even more depth and versatility to play with even without star senior
James Bell
.
For these reasons, Villanova could not look like a more surefire Big East favorite. There are others. McDermott is gone; Creighton will take an obvious step back.
Bryce Cotton
, who averaged nearly 40 minutes a game (almost all of them thrilling, too) has graduated from Providence and left a big spiritual hole in Ed Cooley's lineup. Georgetown has a top-10 recruiting class on the way -- and, man, did it need one -- but John Thompson III may still be a year away from title contention. Xavier is intriguing,
but Semaj Christon needs more help
. (
Update
: Christon declared for the NBA draft, so nevermind that.) St. John's is intriguing, but also probably super frustrating. And Marquette lost Buzz Williams to Virginia Tech. It hired Duke associate head coach Steve Wojciechowski to replace him.
It was that last move that caused some to wonder about the fate of the reconfigured Big East. Did Williams decide that a league without football wasn't the place to be? Maybe, maybe not; his move probably had just as much to do with personal and individual reasons as anything else. But the question is nonetheless in the air: Can the new Big East survive? How good will this conference be? Its first season was dominated by one of the game's greatest-ever offensive players. Next season it'll have its work cut out.
March, 16, 2014
Mar 16
10:45
AM ET
Andy Katz leads a panel of our college hoops experts in a discussion of the biggest issues, trends and themes happening in and around college basketball.
In the latest edition, Dana O'Neil, C.L. Brown and Katz discuss which team may get the fourth No. 1 seed, who will be disappointed on Selection Sunday and the teams that made the biggest moves during Championship Week.
Read the full story
here
.
February, 14, 2014
Feb 14
1:18
AM ET
Bubbles can burst well before Selection Sunday.
And it's that part of the schedule when it's time for teams to make their closing arguments. Some will be haunted by wins they couldn't claim or by taking losses they couldn't afford. Others will be thankful for their NCAA tournament bids because of wins during their final regular-season push.
Minnesota's 64-57 loss at Wisconsin
certainly wasn't a make-or-break game for the Gophers. Their body of work thus far should have them in the tournament. But they can't afford to rest solely on what they've done to this point.
Since beating then-No. 9 Wisconsin at home on Jan. 22, the Gophers have lost four of their past five. With six games left, including consecutive games at Ohio State, Iowa at home and at Michigan, there's still work to be done.
For starters, the Gophers could use a little more consistency. They had eight first-half turnovers, which helped the Badgers erase an early seven-point deficit and instead made Minnesota play catchup the rest of the game.
[+] Enlarge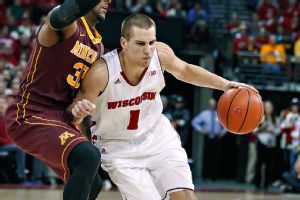 AP Photo/Andy ManisBen Brust had 20 points to lead Wisconsin.
They nearly did it thanks to late 3s that helped cut a 15-point deficit down to five. But the Badgers, led by 20 points from guard
Ben Brust
and 15 from reserve forward
Nigel Hayes
, held on by making late free throws.
Colorado will get credit for how well it played earlier in the season including its marquee win over Kansas. But the Buffaloes' record since senior guard Spencer Dinwiddie suffered a season-ending knee injury against Washington will also be considered.
They missed a chance to bolster their post-Dinwiddie resume by
losing at UCLA 92-74.
It seems the rash of injuries has caught up to Colorado. In addition to Dinwiddie, guard
Tre'Shaun Fletcher
is still out with a knee injury and forward
Wesley Gordon
missed a second game with a sprained ankle.
The Buffaloes had shown signs of improvement with
Askia Booker
,
Josh Scott
and
Xavier Johnson
each picking up the slack scoring. But they couldn't keep up with UCLA, which made eight of its first 12 3-point attempts en route to a 56-point outburst in the second half.
The loss to the Bruins snapped a three-game win streak, which all came at home. The Buffs close with four of their last six games on the road, including at Stanford and at California. But their home finale -- and last regular-season chance to make a splash -- is against No. 2 Arizona.
Missouri and Arkansas entered Thursday in similar positions. The Tigers squeezed by with
an 86-85 win
over the Razorbacks thanks to 25 points from
Jabari Brown
, including the game-winning jump hook.
The irony was Brown was trying to give the ball to
Jordan Clarkson
, who had a game-high 27 points, in the backcourt. Clarkson was heavily guarded by
Mardracus Wade
so Brown advanced the ball while Clarkson stayed behind. It was essentially a game of four-on-four when Brown took
Rashad Madden
one-on-one and scored in the paint.
Madden led five Arkansas scorers in double figures with a team-high 17 points but had a rough final 30 seconds. He had a turnover with a chance to put the Razorbacks up three with 23.9 seconds left. He had the final attempt, a running bank shot, that was too strong as time expired with both teams scrambling for a loose ball and Madden injured from a collision.
Arkansas is just 1-5 on the road this season, but will get LSU at home before the rematch at Kentucky to try and strengthen its case for a bid. Missouri, listed by ESPN's Joe Lunardi as one of the first four out of the tournament, simply survives to Saturday when it will be tested all over again against Tennessee.
St. John's could have been the biggest winner of the night simply by avoiding a bad loss. The Red Storm are trying to make a late charge into the NCAA tournament. They've won seven of their past eight games with the only loss a 63-60 heartbreaker to Creighton.
Their 68-67 win at Seton Hall
came down to a 40.7 percent free throw shooter giving them the lead with 2.1 seconds left.
Center
Chris Obekpa
not only delivered the game-winning point in the clutch, he then swatted the ensuing inbounds pass that ran the clock down to 0.1 seconds, ensuring the Pirates would not have enough time to get a shot off.
St. John's first win at Seton Hall since Feb. 15, 1998 came with great timing. It allowed the Red Storm to pull to .500 in the Big East and, more important, keeps their tournament hopes alive.
February, 14, 2014
Feb 14
1:05
AM ET
NEWARK, N.J. -- If St. John's wins in The Rock and no one is around to hear it, does it make a sound?
The answer is yes. It wasn't particularly impressive, but the buzz about the Red Storm will only increase after their 68-67 win at Seton Hall on Thursday -- even if just a couple hundred fans were in the building to witness it due to a nasty nor'easter.
St. John's (16-9) has climbed from 0-5 in the Big East to 6-6 in the span of just three weeks, and now practically anything seems possible.
"This team is a special bunch," guard
D'Angelo Harrison
said, "and we're finding ways to win."
They found a way Thursday despite a brutal first half in which the team eclipsed its turnover average (10.2) with 11 in just 20 minutes. Seton Hall had a 9-3 advantage on the offensive glass, a 14-5 edge in second-chance points, and led 38-33 at the break -- despite being without two starters, swingman
Brian Oliver
and power forward
Gene Teague
, who were suspended by coach Kevin Willard for attitude problems.
St. John's coach Steve Lavin said it was the worst his team had looked since their first half at Georgetown on Jan. 4, when the Red Storm trailed 42-16 at intermission.
"It was a group of zombies that I didn't recognize," Lavin said, "because for over a month now we've been in a really good way and on a good path of progress and playing together as a team."
St. John's played better in the second half, but the game was still tied at 67 in the final minute. Seton Hall guard
Fuquan Edwin
, who scored a game-high 25 points, missed a decent look from the top of the key with 27 seconds remaining.
"I'll live and die with Fu taking shots," Willard said. "He's a heck of a player, he's giving all his effort. He's been shooting 42 percent from the 3. It was good defense by them."
The winning point came at the foul line -- from
Chris Obekpa
, of all people. A fitting end to a strange night.
St. John's ran the clock down, with the chance to take the last shot in regulation. Harrison, the team's leading scorer, was the primary option, naturally. But Obekpa was open in the lane after setting a screen for Harrison, and freshman point guard
Rysheed Jordan
hit Obekpa with a pinpoint pass. A 40.7 percent free throw shooter, Obekpa made one of two from the foul line, and then St. John's intercepted a long baseball pass to seal the victory.
"He's as exceptional a passer as any player I've coached, for this stage of a career," Lavin said, of Jordan. "The judgments, the precision is first-rate."
It was fitting that Jordan and Obekpa teamed up for the game-winning play, because the improved performance of those two players has been the key to the Red Storm's resurgence. Each scored 10 points in the game, two of four St. John's players in double figures. Harrison led the way with 12, and
Sir'Dominic Pointer
also scored 10 off the bench.
It was yet another balanced effort, from a team clicking on all cylinders right now -- Thursday's first half notwithstanding.
St. John's notched its first road win versus Seton Hall in 16 years, and is now firmly in the NCAA tournament at-large bid conversation, despite a hellish start to conference play.
"I'd put this group up there with as special as any that I've worked with," Lavin said, "because of their resiliency, their pluck, their spirit, their fight-back, their gumption."
Next up is a rematch with Georgetown on Sunday -- a chance for redemption, against a team that handed St. John's its worst loss of the season six weeks ago.
"[Getting to] .500 is still not good enough for us," Harrison said. "We gotta get past this game and get ready for Georgetown [on] Sunday. That's a big game."
They're all big now, thanks to this remarkable three-week run -- capped off by a gutty victory in a nearly empty Prudential Center.
January, 11, 2014
Jan 11
6:44
PM ET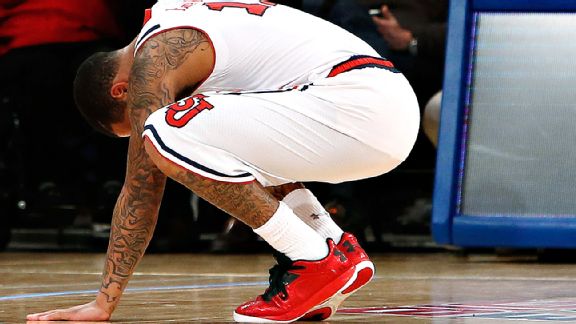 AP Photo/Jason DeCrowThings aren't looking up for D'Angelo Harrison and the Johnnies.
NEW YORK -- This was supposed to be Steve Lavin's breakthrough season at St. John's.
So far, it's been anything but.
The Red Storm fell to 9-6 overall Saturday, and 0-3 in the Big East, thanks to a
74-67 loss
to Villanova at Madison Square Garden.
St. John's did play much better than it did last Saturday at Georgetown, when it trailed by 26 at the half. Then again, it would have been difficult to play any worse.

The Red Storm led the No. 8-ranked Wildcats 33-31 at the half and went toe-to-toe with them for 33 minutes and change but wilted down the stretch.
Trailing 56-55, Villanova freshman
Kris Jenkins
drained a 3-pointer with 6:15 remaining, putting the Wildcats back in front. That was the beginning of an 8-0 spurt, capped off by a
Darrun Hilliard II
trey, that made it 63-56 with 5:12 left. St. John's never got closer than four points the rest of the way.
Villanova (15-1, 4-0) shot 54.1 percent from the field in its first three Big East games but just 35.2 percent (19-for-54) on Saturday. Coach Jay Wright credited the Red Storm after the game.
"I thought St. John's played really well, their defense was outstanding," Wright said. "They did a great job of just getting up in all of our people one-on-one and just challenging them. In the first half they won the battle. We adjusted to it and when they do that you have to have guys make plays."
The Wildcats won the game at the foul line, with 16 more attempts (40-24) and 12 more makes (31-19). Brooklyn native
JayVaughn Pinkston
led five Villanova players in double figures, with 15 points (and 10 rebounds).
St. John's did play well defensively. But the Red Storm shot the ball even more poorly than the Wildcats did, 34.3 percent (23-for-67).
D'Angelo Harrison
scored 22 points, but was 4-for-13 from the field.
Rysheed Jordan
chipped in 12 points, and
Jakarr Sampson
added 10 points and nine boards.
"I thought we competed well today, and the numbers bear that out," Lavin said. "To hold Villanova to 35 percent from the field, we did some good things defensively. We defended and we competed, but we didn't finish the task which allows you to win the game. But we made progress this week in practice, and I think it carried over into the game, so we'll build from there as we get ready for DePaul."
It was a better performance, but it's hard to view it as progress. St. John's is now 0-3 in the Big East for the first time in Lavin's four-year tenure -- and the Big East is much weaker than it has been in years past.
Sampson, one of the two St. John's players made available to the media after the game, echoed his coach's optimistic outlook.
"No, we're not worried," the sophomore said. "I feel like we played a really good game today. We're gonna get better. I feel like we're gonna get better."
But Sampson also said something else of note earlier in the news conference: "We're trying to find our identity."
Lavin took a step in the right direction Saturday in that regard, paring down his rotation and reinserting Sampson, Jordan and
Phil Greene IV
into the starting lineup after shaking things up at Georgetown. But players' roles still feel somewhat undefined as we enter mid-January.
The time for tinkering should be nearly over. Selection Sunday is only nine weeks away.
St. John's has now had close calls against No. 2 Syracuse and No. 8 Villanova, plus a competitive effort against No. 4 Wisconsin. But close calls won't get you into the NCAA tournament.
The Red Storm are 0-3 against ranked opponents, with only one more on their schedule -- this same Villanova squad, Feb. 22 in Philadelphia.
The Big Dance was the bare-minimum goal at the start of the season. But right now, March Madness talk should be placed on the back-burner.
St. John's needs to get out of the Big East cellar first.
October, 9, 2013
10/09/13
9:00
AM ET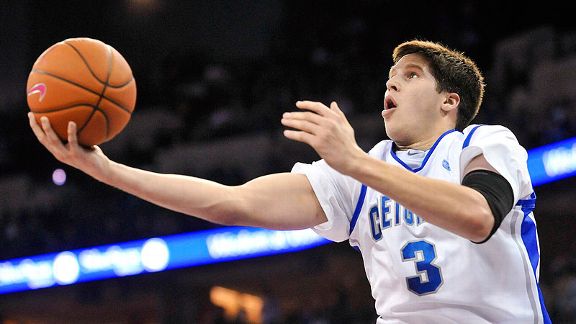 Dave Weaver/USA TODAY SportsDoug McDermott and Creighton are shooting for a big debut year in the Big East.
It's college basketball preview season, and you know what that means: tons of preseason info to get you primed for 2013-14. But what do you really need to know? Each day for the next month, we'll highlight the most important, interesting or just plain amusing thing each conference has to offer this season -- from great teams to thrilling players to wild fans and anything in between. Up next: The new Big East contains multitudes.
In March, at the Verizon Center in Washington, D.C., on Day 3 of my Regional Road Trip, which still makes me tired every time I think about it, I ran into Bradley Kalscheur. It was the middle of the Marquette-Syracuse East Regional Final, and I was looking for interesting fans to talk to -- I wanted to take their temperature on the fresh drama that would carve out a new Big East from the old, realignment-ravaged (and renamed) American.
Kalscheur, a Milwaukee attorney, was one of the first people I noticed -- mostly because he was wearing an amazing sweatshirt. During a timeout, we got to talking, and I asked him for his thoughts on the new league. I assumed he would be sad. I assumed wrong.
"[Founder] Dave Gavitt would smile on the new league," Kalscheur said. "It isn't going away. It's carrying on with the original intent."
In 2013-14, we get to officially test that theory.
To me, that's the most interesting thing about the new 2013-14 Big East. Yes, there are loads of individual storylines. There's Creighton making the leap from the Missouri Valley. There's Creighton star Doug McDermott — who has a chance to become the first three-time All-American since Patrick Ewing and Wayman Tisdale — testing his limits every single night. There's Butler, which was a Horizon League member just two seasons ago. There's its new coach, Brandon Miller, replacing the new head coach of the Boston Celtics, charged with turning all the success and goodwill of his predecessor's tenure into a lasting spot among college basketball's elite.
There's Xavier, recovering from the rare "down" year, hoping guard Semaj Christon blossoms into a star. There's Georgetown without Otto Porter (and Greg Whittington) and St. John's still-talented-and-still-frustrating group and Jay Wright pushing Villanova back into the light and the impressive ongoing success Buzz Williams is having at Marquette. There are many more, too; this post can't be 3,000 words.
But the biggest -- certainly the unifying -- story is what all of those disparate parts create in unison. What is the Big East, exactly? It's nothing like a mid-major, obviously. Is it a power league? Can you even have a "power" league without football? Has the landscape simply changed too much? In a year's time, how will we regard the first season of the new Big East?
When the "Catholic 7" staged its insurrection, walked away with the Big East name, and snapped up Butler, Creighton and Xavier, college basketball fans roundly applauded, and why not? We agree with Kalscheur: This is what the Big East should be. But Dave Gavitt's Big East was created in a different time. Is the great-basketball, no-football model still viable anymore? Can you really thread that needle? What if, in a year, all of these questions are silly?
That's precisely the point. We're about to find out.
March, 9, 2013
3/09/13
7:50
PM ET
One man's observations from another eventful Saturday afternoon of college basketball …

1. I don't trust Florida anymore.
Sometimes, the numbers lie. Sometimes, a team with dazzling stats fails to justify the analytic mechanisms that elevate it. That could be the case with Florida. The BPI, the RPI, Ken Pomeroy and Sagarin all love the Gators. Per the film, however, I see problems. The same Florida team that amassed a plus-18.8-points-per-game scoring margin in SEC play entering Saturday's
61-57 loss
at Kentucky (more on that soon) and crushed Marquette and Wisconsin in November has suffered four road losses in February alone. The Gators were outplayed by Arizona and Kansas State off campus in the nonconference portion of their schedule. Sure, they've spent of a chunk of the season punching teams in the mouth, but they're 0-5 in games decided by six points or fewer and haven't beaten a single top-50 RPI team in a road game. And we really haven't seen that dominant version of Florida, which began SEC play with historic margins of victory, in a month. Who are the Gators now? Well, the final minutes of the Kentucky loss told their story. They're balanced and talented, but they fumbled in the last stretch of that loss because they couldn't find that catalyst, that
Ben McLemore
/
Marcus Smart
/
Doug McDermott
/
Trey Burke
, to lead them beyond the funk that ruined the moment. They did not score in the last seven-plus minutes of the second half. They were the veterans, but they played like freshmen. It's tough to believe in this program's postseason potential when it continues to suffer road losses against hungry SEC opponents that don't match them on paper. Guess what they'll have to do to advance in the NCAA tournament? Beat hungry underdogs outside Gainesville. Yes, Kentucky re-entered the bubble convo with this win, but Florida did little to prove that it's worthy of its statistical hype. Again.

2. Marcus Smart and the national/Big 12 POY conversation.
Listen, I think Trey Burke deserves national player of the year, but I might change my mind if
Victor Oladipo
outplays him tomorrow. Here's the general Burke argument -- and it's a convincing one -- that circulates within college basketball media circles: "If you take him off that team, there's no way they're top 10 and competing for a Big Ten title." And that's accurate. I can't argue against that. Here's another one to consider: "If you take Marcus Smart off Oklahoma State's roster, you probably have the team that finished 7-11 in league play last season and not the 13-5 team that's competed for the Big 12 title in 2012-13." Smart is the Big 12 player of the year. I like McLemore,
Jeff Withey
and
Rodney McGruder
, but Smart deserves the honor following his performance (21 points, 6 rebounds, 6 assists and 2 steals) in Saturday's
76-70 win
over Kansas State, a victory that jeopardized the Wildcats' hopes of winning a Big 12 title. He should be a legit candidate for national POY, too.


3. The sad conclusion to Georgetown-Syracuse.
Following his team's
61-39 loss
at Georgetown on Saturday, Jim Boeheim told reporters, "I'm pretty much ready to go play golf someplace. If I was 40 years old, I would be real upset. I'm not 40 years old. That should be obvious." That comment and his team's lackluster finish to the regular season (1-4 in its last five) will continue to fuel the retirement speculation that's surrounded Boeheim for years. John Thompson III might have won national coach of the year honors with his team's Big East title-sealing win. But the lopsided effort -- the Hoyas' largest margin of victory against Syracuse since 1985 -- offered a melancholy ending to this classic rivalry. Georgetown will join the Catholic 7, and Syracuse will move to the ACC next season. The two may reconnect in the future, but their battles won't be regulated by league affiliation. So this could be the end, and as a college basketball fan, I wanted to see drama, overtime, controversy in the final seconds, a buzzer-beater, a comeback … something. This rivalry deserved that. Instead, we were treated to the sight of one impressive squad smashing an opponent that failed to show up for the conclusion of this storied series.

4. Marquette wins its most crucial bizarre game of the year.
The Golden Eagles love the theatrics that tend to define college basketball in March. Their
69-67 win
at St. John's was their fourth overtime game of the season in Big East competition. It was their third conference win by three points or less. Marquette hasn't forged the prettiest path to the Big East title, but it earned a share of the crown with another gritty victory Saturday. St. John's launched an impressive comeback in the final minutes that sent the game into overtime. Buzz Williams just smiled as his team prepared for the extra period; he'd been in that position multiple times this season, so his squad didn't panic. With the game on the line,
Vander Blue
drove into the lane and beat the buzzer with the layup. I guess I shouldn't have been surprised. This is what Marquette does. A team that was picked to finish in the middle of the standings earned a share of the Big East title. Wow. The Golden Eagles are clearly tough enough to make noise in the NCAA tourney, too.
[+] Enlarge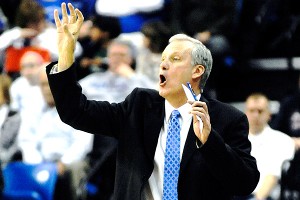 AP Photo/Bill BoyceJim Crews guided a hurting Saint Louis squad to a share of the Atlantic 10 regular-season title.
5. Jim Crews for national coach of the year.
Last season, I covered Saint Louis' NCAA tournament appearance in Columbus, Ohio. Once Rick Majerus left the podium for a pregame media session, it took him 30 minutes to re-join his team. Fans wanted to talk to him. Other coaches wanted to talk to him. Friends wanted to talk to him. Reporters wanted to talk to him. He was an icon for that program and the entire sport. So when he took an indefinite leave of absence from the team in the months prior to his death in December, the Billikens had lost so much more than a coach. Sure, they had promise, but Crews didn't have an easy task on his plate. He had to gain the trust of this talented group (he was an assistant in 2011-12) as it prepared for a battle in an Atlantic 10 beefed up by the additions of Virginia Commonwealth and Butler. He didn't have one of his key players (
Kwamain Mitchell
injured his foot last fall) for the first two months of the season. But Crews overcame those obstacles. On Saturday, the Billikens secured a share of the conference crown with a
78-54 victory
over La Salle. They've won 12 of their past 13. Their balance, defense (22nd in adjusted defensive efficiency per Ken Pomeroy) and experience could lead to a deep run in March. Sounds like a national coach of the year effort to me.

6. Meet Derrick Marks.
In the final seconds of a
69-65 win
that might have pushed his Boise State squad into the field of 68, Marks made a split-second decision to contest
Xavier Thames
' layup with 21 seconds to go. If Thames had made that shot, the Aztecs would have cut Boise State's lead to one point. But Marks made plays like that all afternoon. The sophomore guard is just one of the reasons that the Broncos could win a game or two in the NCAA tourney -- I'm putting them in the field, although I'm not so sure about San Diego State anymore. Leon Rice's program is healthy now (eight guys earned minutes against the Aztecs). The Broncos possess an offense that's ranked 24th in adjusted offensive efficiency per Pomeroy, and they've won five of their past six games. Watch out for the Broncos in the coming weeks. Huge victory for that team.
7. Get ready for drama in Nashville.
Next week, the SEC tournament will take place in Nashville. This league is packed with bubble squads, and I think that will add to the drama in what could be the most exciting conference tournament of them all. Proof? On Saturday, Alabama beat Georgia on a half-court buzzer-beater, Tennessee overcame a late deficit to secure a key win over Missouri and Kentucky kept its NCAA tournament dreams alive with a victory over Florida. The chaos will continue in Nashville.

8. Florida Gulf Coast becomes first team to dance.
The Eagles earned the field's first automatic NCAA tournament berth with an
88-75 victory
over Mercer in the Atlantic Sun tourney championship. This is an Eagles squad that finished 8-10 (tied for sixth) in the conference last season, but their first victory of the 2012-13 season came against a top-10-bound Miami team. Kudos to Andy Enfield's program.


9. Creighton-Wichita State III.
The two Missouri Valley Conference power players split their season series this season. Despite their respective struggles, they were still the league's top two programs. Their most recent matchup, which the Bluejays won, determined the regular-season champion. Creighton's
64-43 victory
over Indiana State and Wichita State's
66-51 win
over Illinois State in Saturday's semifinals of the MVC tournament guaranteed a third matchup between the league's top two teams in Sunday afternoon's final.

10. Louisville makes statement without five overtimes.
So the rematch between Louisville and Notre Dame didn't match the hoopla of the first game. We didn't get five overtimes. We didn't even see one. But the Cardinals continued to support the notion that they're going to be a very dangerous program in the NCAA tournament with a
73-57 victory
over Notre Dame. It was the seventh consecutive victory for a team that's ranked first in adjusted defensive efficiency, per Pomeroy. As a team, the Cardinals shot 51 percent from the floor against the Fighting Irish, and
Gorgui Dieng
registered 20 points (8-11 FG) and 11 rebounds. The Cards are playing like a Final Four team.
February, 22, 2013
2/22/13
11:15
AM ET
One man's predictions for an always unpredictable weekend of college basketball. I'm sure one or two of you might disagree with these:
Friday


Saint Louis at No. 15 Butler, 7 p.m. ET, ESPNU:
If the season ended today, Miami's Jim Larranaga probably would win national coach of the year honors. But Jim Crews might be the runner-up. The Billikens' interim head coach followed legendary leader Rick Majerus, who died in December. And that wasn't his only challenge. He began the season without standout
Kwamain Mitchell
, who suffered a foot injury in the first practice of the season. Look at the Billikens now. They're the best team in the Atlantic 10. They're second in the league in scoring defense (61.6 ppg allowed) and first in scoring margin (plus-10.9). Sure, there's still doubt. Butler, which has won five of six, is in the hunt for the conference crown, as is VCU. But St. Louis has earned convincing wins against both teams in recent weeks. The Bulldogs have held opponents to a 39.5 percent clip from the field, first in the league. They were stomped 75-58 in the first meeting. Will there be a different outcome Friday?
Prediction: Saint Louis 67, Butler 66
Saturday


Arkansas at No. 5 Florida, 7 p.m. ET, ESPNU:
This month, Arkansas shocked the college basketball world when it stopped a Florida team that had toyed with its previous SEC foes. The 80-69 victory on Feb. 5 -- no squad had scored more than 67 points against the Gators at that point -- fueled questions about the Gators and created a buzz around the Razorbacks. Both were premature then. Arkansas has won three of four since that matchup, but Mike Anderson's team tends to pull a 180 once it leaves campus (1-5 in SEC road games this season). Meanwhile, the Gators are coming off their second conference "L" of the season, a 63-60 loss at Missouri on Tuesday. Billy Donovan's depth has taken a hit, as
Will Yeguete
continues to miss time with a knee injury. But the Gators are still the best team in the SEC, and they haven't lost at home.
Prediction: Florida 78, Arkansas 62


No. 11 Georgetown at No. 8 Syracuse, 4 p.m. ET, CBS:
Syracuse's current position at the top of the Big East is unsurprising. But based on what Marquette and Georgetown lost after last season, they were not expected to join the Orange at the top of the conference. The three squads share 10-3 records in a tie for first place. But this is the first of two meetings between the Hoyas and the Orange. Both Georgetown (eighth) and Syracuse (ninth) are ranked in the top 10 of Ken Pomeroy's adjusted defensive efficiency ratings. The Hoyas have held Big East opponents to just 57.2 ppg, the top scoring defense in the conference.
Otto Porter
(15.1 ppg, 7.7 rpg) has led the Hoyas to eight consecutive wins. But they haven't met a program with Syracuse's versatility and offensive diversity. The effectiveness of a Cuse attack that's responsible for four wins in five games is largely based on
Michael Carter-Williams
(13-for-42, 12 combined turnovers in three Big East losses) and his effectiveness. In this game, Syracuse will need MCW to demonstrate the skill set that makes NBA scouts drool. A plus for Jim Boeheim's program is that the Orange haven't lost at the Carrier Dome this season.
Prediction: Syracuse 60, Georgetown 55


No. 16 New Mexico at No. 22 Colorado State, 4 p.m. ET, NBC Sports Network:
This is a matchup between the top offense (Colorado State) and defense (New Mexico) in the Mountain West. The Rams suffered a heartbreaking loss to UNLV on Wednesday, when
Anthony Marshall
hit a jump shot in the final seconds. But they're still better than the team that was bullied by New Mexico in a 66-61 loss on Jan. 23. The Lobos led by as much as 22 in that one. Colorado State possesses the Mountain West's top scoring offense (71.0 ppg), but the Rams were hindered by a 6-for-21 clip from beyond the arc and 16 turnovers in the first game. To beat New Mexico (57.8 ppg allowed, No. 1 in the conference), even at home, they'll have to avoid the latter and attack inside. (
Colton Iverson
is averaging 13.7 ppg and 9.6 rpg.) New Mexico is the most complete team in the conference, but the Lobos have displayed most of their flaws in road losses (see 34 points against San Diego State on Jan. 26). Plus, they're facing a Rams team that's wants to feel more comfortable about its at-large status. A win over the Lobos would certainly help.
Prediction: Colorado State 78, New Mexico 74 (overtime)


No. 17 Marquette at Villanova, 6 p.m. ET, ESPN/ESPN2:
Think back to October. If someone had told you Buzz Williams' program would be locked in a three-way tie for first place in the Big East in late February, how would you have responded? I would have said, "No way." But it's real. The Golden Eagles (45.5 percent from the field, second in the Big East) enter their last five games battling Syracuse, Georgetown and multiple five-loss Big East teams for the top slot. There's just one problem. Three of Marquette's last five games are on the road, where it has struggled ... like most teams in America. The Golden Eagles will face a perplexing Villanova squad that could be one of the selection committee's greatest headaches. The Wildcats have a top-60 RPI with wins over Louisville and Syracuse, but they've also been swept by Providence and suffered a nonconference loss to Columbia. Villanova is right there, though. A win over Marquette would be a positive step for its NCAA tourney hopes.
Prediction: Villanova 71, Marquette 65


Southern Miss at No. 17 Memphis, 1 p.m. ET, Fox Sports National:
Memphis has won 17 consecutive games and is tied with Akron for the nation's longest winning streak. Josh Pastner's program has been difficult to gauge, however, because Conference USA is not a very deep league right now. Southern Miss (top-40 RPI) is the closest thing to a quality opponent that Conference USA can offer. So a win wouldn't hurt the résumé of a Tigers squad that has made strides during the past month. No one has ever questioned the athleticism and potential of Pastner's teams, but the Tigers are finally living up to it. Maybe. We won't really know until the Tigers are competing in the postseason. Another win against Southern Miss (the Tigers won the first matchup 89-76 on Feb. 9) would help Pastner's program build more momentum as March approaches.
Prediction: Memphis 85, Southern Miss 70


No. 24 Virginia Commonwealth at Xavier, 2 p.m. ET, CBS Sports Network:
"HAVOC" describes Virginia Commonwealth's defensive approach (44
th
in adjusted defensive efficiency per Ken Pomeroy) as much as it describes the current battle for the Atlantic 10 title. The Rams are a half-game behind Saint Louis after a 14-point road loss to the Billikens on Tuesday. They'll travel again Saturday to face the league's top scoring defense. Xavier (61.2 ppg allowed), however, has not played Saint Louis, VCU or Butler yet, so those numbers are probably an inaccurate representation of its defensive presence. But this critical stretch could lead Xavier to the bubble. Possibly. The Rams should be safe, but their final stretch could create problems for their at-large hopes if they stumble. First task? Don't lose to a Xavier team with a 90 RPI.
Prediction: VCU 68, Xavier 58
Sunday


No. 4 Michigan State at No. 18 Ohio State, 4 p.m. ET, CBS:
The conclusion of the first game was not fitting. Michigan State and Ohio State had tussled -- well,
Deshaun Thomas
(28 points, while no other Ohio State player scored more than six) tussled with Michigan State -- for 39-plus minutes. Then sophomore
Shannon Scott
missed a potential game-tying 3-pointer at the buzzer. The Buckeyes can play great basketball when Thomas is on. The Buckeyes also can play bad basketball when he's the only one who is on. The latter is a scenario that they must avoid against a Michigan State team that is barely second place in the Big Ten after Tuesday's 72-68 loss to No. 1 Indiana in East Lansing. But the Buckeyes are a different group in Columbus. Just ask the Minnesota team the Buckeyes beat by nearly 30 points there on Wednesday night. The Buckeyes don't have answers for
Adreian Payne
and
Derrick Nix
, who combined to score 22 in the first game. However, they won't need one if Thomas gets some help on Sunday.
Prediction: Ohio State 64, Michigan State 62


No. 20 Pitt at St. John's, noon ET, ESPN3/WatchESPNApp:
The Panthers have lost consecutive games to Marquette and Notre Dame. In Monday's 51-42 loss to the Fighting Irish, Mike Brey drew a first-half technical and the Panthers suddenly lost their momentum. From a 19-3 lead to a nine-point loss. Huh? Now they're in the Big East's six-loss group. You don't want to be in that group in late February. The Big East title is unlikely, so Pitt is playing for a seed. A road loss to a St. John's squad with slim, if any, NCAA tourney at-large potential would not help anyone involved with Pitt basketball. Steve Lavin's program is an athletic marvel that has dismissed the midlevel Big East teams but failed against the top-tier programs. Pitt didn't look like a squad that belonged in the latter group against the Fighting Irish, but Jamie Dixon's team (11
th
in adjusted offensive efficiency per Ken Pomeroy) has never been hungrier. The Big East, however, is packed with hungry teams that still believe they're at-large worthy. St. John's is certainly on that list, and that is a problem for Pitt.
Prediction: St. John's 73, Pitt 70


Cincinnati at No. 25 Notre Dame, 2 p.m. ET, CBS:
How do you explain what happened to the Fighting Irish in Monday's 51-42 win over Pitt? Mike Brey's team played some of its worst basketball of 2012-13, and then he picked up a technical and everything changed. Isn't that the story of Notre Dame's entire season? Flashes of brilliance followed by bouts of mediocrity or vice versa? Well, the 9-5 Fighting Irish are still in the mix. They need a lot to happen with the top three teams (Syracuse, Georgetown and Marquette) to get serious about sharing a slice of the title. A loss to Cincy, however, probably would end that idea. Notre Dame shot 9-for-16 from the 3-point line when it defeated Cincy 66-60 in the first matchup way back on Jan. 7. That Cincy squad had the makings of a Big East contender. This Cincy squad is running on fumes following four losses in its past five games. The Bearcats' dilemma? They can guard anyone (17
th
in adjusted defensive efficiency per Ken Pomeroy), but they can't score (62.1 ppg, 12
th
in the Big East). That matters.
Prediction: Notre Dame 68, Cincinnati 64