December, 2, 2014
12/02/14
11:33
PM ET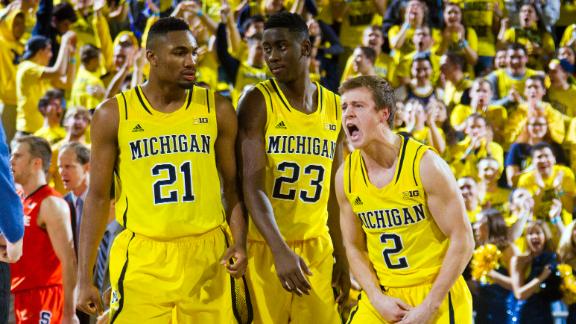 ANN ARBOR, Mich. -- Maybe Spike can be the dagger.
No. 17 Michigan (6-1) was far from a finished product Tuesday night in its
68-65
victory over visiting Syracuse (5-2). The two young and still-figuring-it-out programs have yet to fully develop their killer instinct. But when the Wolverines needed a big play against the Orange, it was junior guard
Spike Albrecht
who delivered.
Albrecht finished one assist shy of a double-double (11 points, nine assists). His biggest bucket of the night broke a 63-63 tie with 30 seconds remaining. He stepped into a deep 3-point shot that would circle the rim a few times before dropping in and flushing any hopes of a Syracuse comeback down with it.
"That's a really big shot for him," Michigan coach John Beilein said following the game. "It is something we believe he can do."
[+] Enlarge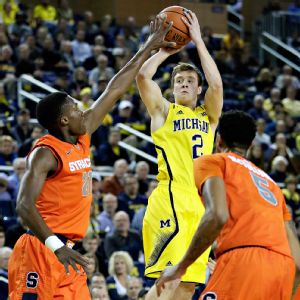 Duane Burleson/Getty ImagesSpike Albrecht's late 3-pointer provided the dagger in No. 17 Michigan's 68-65 victory over Syracuse.
It's something that he is going to have to do, for at least the time being. Beilein challenged his undersized, fan-favorite guard to become more of a shooter this season. With a roster depleted by early exits to the NBA and graduation, Michigan is finding new ways to score and close out wins.
"We had Nik Stauskas, and the Tim Hardaways and the Trey Burkes that could do that," Beilein said. "[I told Spike] this team cannot score like last year if you are just setting people up."
A week ago in Brooklyn, Michigan staggered while trying to hang on to a lead. The Wolverines had Villanova, its first blue-blood opponent of the year, on the ropes with an eight-point lead and less than six minutes to play. Nova responded with an 18-4 run punctuated by
JayVaughn Pinkston
's posterizing block of
Zak Irvin
with four seconds remaining.
On Tuesday, Michigan found a way to hang on. The Wolverines allowed a 10-point lead in the second half to evaporate into a nail-biting final 30 seconds. Weathering a late run from Syracuse should provide a boost in confidence for this young team.
"It's huge," said Albrecht, who has 16 assists and zero turnovers in his last two games. "The Villanova loss was a heartbreaker. We did not want to go through that again. To be able to fight through that adversity ... it's a big step for our team."
Albrecht adds another body for opposing teams to concern themselves with late in the game, along with Irvin and
Caris LeVert
.
Michigan's freshmen also added another layer of depth in crucial moments on Tuesday.
Kameron Chatman
knocked down a big three-pointer in the closing minutes to pump the brakes on an Orange run.
Ricky Doyle
held his own against Syracuse's strength in the front court. He had 12 points, including a momentum-building dunk set up by Albrecht's behind-the-back pass.
"Ricky is really getting a lot more confident out there. Defensively, he's getting a lot more vocal. And offensively, he's becoming a man down there," LeVert said. "When they play good, we win."
Syracuse played its part in helping Michigan find some of that confidence. The Orange had chances to pull ahead or send the game to overtime in the final minutes but twice turned the ball over in the final 20 seconds. They committed 19 turnovers in the game. Every player that spent more than five minutes on the floor was guilty of at least one.
Opportunities like the ones Syracuse blew late in the game are more likely to bite Michigan against future opponents, such as No. 3 Arizona, which is coming up in less than two weeks, and the Big Ten schedule that looms shortly thereafter.
Beilein compared Tuesday's win to a good checkpoint at the five-mile mark of a marathon. Tougher challenges lie ahead, but Michigan is starting to pick up the pace.