College Basketball Nation:

University of Massachusetts
February, 22, 2014
Feb 22
1:56
AM ET
AMHERST, Mass. -- The sellout crowd pouring into the Mullins Center was treated to some nice gifts on Friday night: 8,000 rally towels and 3,000 shirts.
But, given the fact that this was a University of Massachusetts game, the more appropriate freebie would have been boxes of Whitman's Samplers. Fans could then reach in and pull out a caramel, an almond nougat, a pecan cluster.
Of late, the Minutemen have been the college basketball equivalent of Forrest Gump's box of chocolates: You never know what you're going to get.
[+] Enlarge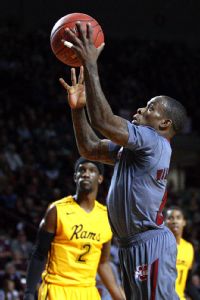 Anthony Nesmith/AP ImagesChaz Williams scored 20 points and came up big down the stretch to lead the Minutemen past VCU.
Last week, for instance, they lost their first home game of the season and did so to last-place George Mason. At that point, the Minutemen, once 16-1 and ranked No. 12 in the country, had lost four of their past seven games and appeared to be tailspinning toward a possible flameout of a once-promising season.
Then they went on the road and pinned the first home loss of the season on George Washington.
So, who knew what to expect in last night's much-anticipated matchup with the powerful Rams of Virginia Commonwealth University? What would UMass pull out of the box, a molasses chew? A toffee chip? A cherry cordial?
Something very sweet indeed.
Riding a relentless wave of energy before a pulsing home crowd, UMass roared from behind to post an 80-75 win. It was a savagely entertaining game, college basketball at its very best: two teams with unyielding energy, clawing for every loose ball, battling for rebounds as if they were the last piece of food in town.
And when it was over, the Minutemen had improved to 21-5, 8-4 in the Atlantic 10, the long-awaited NCAA tournament now so close they could taste it. No, UMass is not home free -- there is still some winning to do -- but coach Derek Kellogg could sense the quest within the team's grasp.
"I let the guys know we have something special going on here, and take advantage of it, each and every day," said Kellogg, now in his sixth season as head coach at a school that hasn't been to the NCAA tourney since 1998. "Take advantage of the crowd being the way it was, that we have a national television audience [on ESPN2]. You have to enjoy it, because it really only happens once. You don't want to look back on your career and say, 'What if? What if I would have played a little harder that particular day or that instance or practiced a little harder?' Let's try to leave everything on the floor and see where this magical ride can lead us."
Kellogg, of course, knows this from experience. He played at UMass from 1991-95 on teams that made it to four straight NCAA tournaments (at a school that had not been to the NCAA tourney in 30 years before he arrived).
"For me, I do look back on it because I played here when we were going to the NCAA tournament quite frequently, and the gym was sold out," Kellogg said. "What's special for me is I kind of sold these guys on a vision of what UMass could become, or what it was. To see it come to fruition for me, that's special."
The vision was brought to life last night as UMass out-toughed VCU, winning the turnover battle, proving just a little fiercer on 50-50 balls, exerting its will just a little bit more. Led by their three-guard set of
Chaz Williams
(a game-high 20 points),
Derrick Gordon
(16) and
Trey Davis
(13), the Minutemen managed to play both fast and in control. They won despite not hitting a single 3-pointer all game.
[+] Enlarge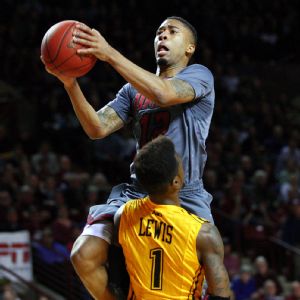 Anthony Nesmith/AP ImagesTrey Davis is coming on strong right when UMass needs him most.
The Rams (20-7, 8-4) are known for their renowned "Havoc" -- end-to-end pressing and trapping. UMass has adopted "P.A.I.N." as its badge of courage, standing for "pressure, agitate, interrupt, neutralize." In essence, it's two sides of the same coin, though you'd never know it listening to Williams.
"We bring P.A.I.N.," Williams insisted. "We don't bring no Havoc. That's their slogan; that's what they do. We're all about P.A.I.N over here."
The hurt was inflicted most dramatically in the closing seconds when Williams hit two colossal free throws with 17 seconds left (part of an 8-for-8 effort) to extend UMass' precarious lead to 78-75. With VCU then steaming downcourt, Williams blazed from behind to swipe the ball from
Briante Weber
, the head honcho of Havoc, who leads the nation in steals. Williams was fouled and sealed the game with two free throws with eight seconds remaining.
Williams said that he was inspired by a message of support from former UMass football player and star
New York Giants
receiver
Victor Cruz
: "Head down, keep grinding forward."
Cruz was on hand on this festive evening, addressing the sellout crowd during a timeout, imploring it to be loud, posing for seemingly hundreds of photos.
For most of the first half and the early part of the second, VCU had the best of the battle. The Rams built a nine-point lead a couple of times before intermission and went to the break up 39-34. They were led by
Treveon Graham
, who scored nine of his team-high 19 points in the first half.
UMass scrapped back after intermission, taking the lead 50-49 on a Williams layup with 13:47 left. From there, the game swung back and forth with unceasing intensity. Gordon's barreling drives and deft floaters -- and Davis' pull-ups and penetrating moves -- kept the UMass offense spread and attacking, opening things up for Williams. It was a three-pronged approach VCU couldn't quite handle.
Davis has been a revelation of late for UMass, and he had his finest hour at this critical moment in the season. He had four steals, two assists and, significantly, zero turnovers in 30 minutes of play. He showed coming-of-age toughness and composure down the stretch. With four minutes left, he came up with a key steal and a pull-up jumper to put UMass ahead to stay 70-68. Later, out of a timeout, he attacked the lane and pulled up for an icy 12-footer with 1:30 left for a 74-71 lead.
VCU coach Shaka Smart was duly impressed.
"He's a different player," Smart said. "He's one of the most improved players in our league. That's not the same guy we played against last year. He's a high-level A-10 player now. That's what you want."
Davis said that last week's loss to George Mason became a critical test of UMass' character.
"We definitely came together," he said. "It's a brotherhood. After that game, we talked to each other. We didn't really get down on ourselves. We became closer as a team."
Kellogg admitted he was basking a bit in the atmosphere at the Mullins Center, even before tipoff.
"To start the game, I had a little touch of it," he said. "It was unbelievable. I was enjoying the moment."
Mostly, he said, he reveled in seeing the happiness of friends and family: "I love that other people are enjoying our success … For me, that's euphoria. It's just unbelievable."
But he emphasized he won't be basking for long, and he won't accept it in his players, either. "We just can't settle and rest on our laurels," he said. "It's good that we've had a good run to this point, but how far can this team go? I think we can do something special this year."
January, 9, 2014
Jan 9
12:27
AM ET
AMHERST, Mass. -- He is the X factor.
Right in the middle of his name, X marks the spot.
Maxie Esho
.
[+] Enlarge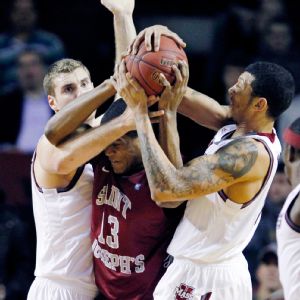 AP Photo/Charles KrupaMaxie Esho, right, was a pest for St. Joseph's all night, including on the signature play of the game.
The 6-foot, 8-inch redshirt junior came up with the play of the game Wednesday night -- a stunning steal and dunk with one minute to go that sparked the 19th-ranked University of Massachusetts to a 66-62 victory over Saint Joseph's in the Atlantic 10 opener for both teams. It was a game that, for the longest time, the Minutemen appeared to have no business winning.
Trailing 62-61 with 1:16 left, UMass turned to
Derrick Gordon
for a jump shot that was blocked by St. Joe's
DeAndre Bembry
. The Hawks grappled for possession of the ball, and Bembry, a 6-6 freshman who had played a sparkling game, worked it toward the frontcourt. The gangly Esho saw an opening, poked the ball away with a long arm and galloped toward the hoop. He drew the ball back over his right shoulder in midflight and thundered it home for a two-handed dunk and a 63-62 lead with 1:01 remaining.
Esho said that Bembry was just "rocking with it, playing with the ball, trying to go by me."
UMass then closed the game in fine fashion in the final minute. A swarming defense that forced 17 turnovers pressured the Hawks into a tough 3-point bid by
Langston Galloway
that caromed off the front rim.
Trey Davis
smothered the rebound and got fouled with 37 seconds left. The sophomore guard calmly drained both free throws for a 65-62 lead.
The Minutemen maintained great defensive pressure on the ensuing possession, forcing two timeouts by St. Joe's coach Phil Martelli.
Chaz Williams
absolutely hounded the Hawks' best shooter, Galloway, denying him anything close to a good look. The ball finally went out to
Papa Ndao
, a 6-8 forward who forced up a wayward 3 with five seconds left.
Davis again corralled the rebound, got fouled and hit 1 of 2 free throws to ice the contest.
UMass (13-1) closed on an 18-5 run over the final six minutes that had coach Derek Kellogg breathing a sigh of relief.
"We're fortunate to come away with a win," he said. "The will to win at the end was nice. When you're going to try to do something special, you've got to win some games where things don't go perfect."
UMass was outrebounded 35-28. The Minutemen got very little from their frontcourt starters. They sent up some air balls from 3-point land that didn't appear to wind up much closer to the rim than at the point of launch. And with six minutes to go, they seemed to be cooked, down 57-48.
The Hawks had dominated to that point. Galloway (18 points) was silky smooth.
Halil Kanacevic
, a one-time teammate of Williams at Hofstra before both players transferred, confounded UMass with a series of inside moves, good enough for 19 points and 13 rebounds. (Kellogg said, "He gets under your skin because he's very good and he's got the tricks. He's got all the up-and-unders, your shoe's untied, grab your shorts. He's an old-school, very good player.") And Bembry was superb, with 16 points on 7-for-11 shooting.
[+] Enlarge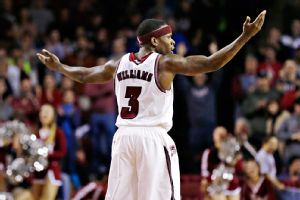 AP Photo/Charles KrupaChaz Williams (game-high 22 points) helped get UMass and its home crowd going.
When things looked bleak, Davis and Esho -- both players who come off the bench -- turned to each other.
"I told him, 'We've got six minutes,'" Davis reported. "He said, 'Let's turn it up.' That's what we did."
They did so with some huge help, of course, from Williams, who led all scorers with 22 points. He hit a couple of big 3s during that stretch.
"Those are the plays we've grown accustomed to from a guy who is, I think, the best player in our conference," Kellogg said. "At times, he puts our team on his back and makes huge plays. He did that again tonight."
Williams, though, particularly delighted in the play of Esho (12 points on 6-of-7 shooting).
"Last year, it was hard for him to accept the role," Williams said. "He was so anxious to be a starter. We had long talks, him being my roommate. [Ultimately,] he accepted the role of being the energy guy, coming into the game and giving us huge minutes. That's what he did tonight. He knows that when the game is down and the team is lacking energy, it's up to him to bring it."
The steal, Williams said, was no surprise, admitting that Esho had recently picked his pocket in practice. Before the game, Williams told Esho, "If you can check me, you can check anybody on the floor."
For St. Joe's, the loss was a galling one. The 9-5 Hawks had won five in a row coming in. And even with an injury that confined starting forward Ronald Roberts to just 22 minutes, the Hawks seemed poised for the upset.
"It was a big-boy game," Martelli said, "and we weren't big enough."
December, 27, 2013
12/27/13
12:00
PM ET
Well,
I went 3-2 again last weekend.
I missed Michigan State-Texas, obviously. I thought the Longhorns would thrive on the comforts of its home floor and their growing confidence following a win over North Carolina the previous week. But sometimes, it's as simple as talent. And
Adreian Payne
and
Gary Harris
were just too much for a young Texas team.
I also had no idea that UMass standouts
Sampson Carter
and
Chaz Williams
would go 6-for-26 combined in the Minutemen's loss to Florida State.
Let's see what happens with this post-Christmas slate.
Last week: 3-2
Overall: 10-5
Saturday


No. 8 Villanova at No. 2 Syracuse, 2 p.m. ET, CBS:
Get your popcorn ready for this one. Two of the best teams in the country. A pair of former (old) Big East contenders. Both undefeated. Even though Kentucky and Louisville will face off on Saturday, this is the day's must-see matchup.
JayVaughn Pinkston
and Co. have already knocked off Iowa and Kansas at neutral sites. But this will be Villanova's first true road game of the year outside the city of Philadelphia (the Wildcats secured a 98-68 win at Saint Joseph's on Dec. 7). The Carrier Dome won't be its biggest issue. Syracuse's ability to force turnovers (third in defensive turnover percentage according to Ken Pomeroy) could stall Villanova's potent offense (82.5 ppg).
Prediction: Villanova 76, Syracuse 75


No. 6 Louisville at No. 18 Kentucky, 4 p.m. ET, CBS:
Well, Kentucky isn't the Kentucky we thought it would be before the season began. John Calipari doesn't have as many NBA-ready players on his roster as the early hype suggested. But the Wildcats are still one of the most talented teams in America. Louisville, however, is another complete and thorough opponent for the young program. The emergence of
Montrezl Harrell
on Rick Pitino's roster has allowed the Cardinals to implement various lineups and showcase their depth. They're top-five in adjusted offensive and defensive efficiency. But they've accrued those numbers with a schedule that has featured squads that lack a fraction of Kentucky's talent. The Wildcats couldn't top Baylor or North Carolina or Michigan State. But they've played some of the best in the country. Will that help on Saturday?
Prediction: Louisville 72, Kentucky 68


No. 25 Missouri at North Carolina State, 8 p.m. ET, ESPN2:
North Carolina State lost every significant player from a 2012-13 squad that failed to meet its potential except
T.J. Warren
. Expectations are much lower this year with a young Wolfpack squad. Warren (23.6 ppg) has led his team to seven consecutive wins. North Carolina State has been solid in recent weeks. And this is a home game. But
Jabari Brown
,
Jordan Clarkson
and
Earnest Ross
comprise one of the top backcourts in the country. The Tigers average 14.0 turnovers per game. But ballhandling issues won't stop them from earning a win in their first road game of the season.
Prediction: Missouri 82, North Carolina State 74


Alabama at UCLA, 10 p.m. ET, ESPN2:
Alabama lost some of its best players as the result of offseason turmoil. A potential NCAA tourney squad before the drama is now 5-6 entering the final stretch of the nonconference season. But
Trevor Releford
(17.0 ppg) has kept Bama alive in multiple games throughout his career. He's carrying as much weight as any player in the country. The Bruins are nearly top-25 good. They have NBA-level talent in
Zach LaVine
and
Kyle Anderson
. But this might be interesting. Although Alabama has lost more games than it has won this season, four of its losses were by five or less. Bama has pushed multiple opponents to the brink. Will it finally finish a game against UCLA?
Prediction: UCLA 78, Alabama 75


Providence at No. 23 Massachusetts, 6 p.m. ET, ESPNU:
Last week, UMass suffered its first loss of the year when it was outplayed in a sloppy outing against Florida State. The Minutemen were ultimately doomed by their 17 turnovers. The latter have been an issue all year for the speedy group. They're averaging 15.0 a game. Providence has endured injuries, suspensions and drama all year. The Friars have won 10 games against a fairly weak schedule, excluding Kentucky. They have to slow Derek Kellogg's offense and not only force turnovers but capitalize on them. And if this is a close game, Providence will rely on its 81.6 percent clip from the free throw line. That could be a factor. But UMass has been humbled. And it really can't play much worse than it did last week in a game that it still had a chance to win.
Prediction: UMass 77, Providence 70
November, 13, 2012
11/13/12
5:15
PM ET
By
Steve Richards
| ESPN.com
AMHERST, Mass. -- The Harvard men's basketball team, coming off its first NCAA tournament appearance since 1946, was dealt a serious blow before the season even started when a pair of would-be seniors, forward Kyle Casey and point guard Brandyn Curry, left the school in the wake of a cheating scandal.
That left the keys to the Crimson offense to freshman
Siyani Chambers
, and while there surely will be some growing pains, Chambers impressed with his poise in Harvard's near-upset of UMass,
67-64
, Tuesday morning at the Mullins Center.
The Minutemen like to press on defense as much as any team in the country, normally a recipe for disaster with such an inexperienced point guard, but Chambers more than held his own, committing just one turnover, to go with seven assists and 14 points, while playing all 40 minutes.
"For him to play as well as he did the whole game and go against an outstanding guard and the kind of pressure that UMass brings to have just one turnover, I thought that was a magnificent performance," Harvard coach Tommy Amaker said, referencing Chambers.
"In his first road game as a college player, to play the way he did with his energy and his spirit, I think he's shown he's going to be an outstanding player. It's just too bad we couldn't cap it off with a victory to make it that much sweeter for him.
"We knew for us to have a chance against their pressure and how they would normally play, we knew how critical our ball-handling would be. Siyani and Wesley [Saunders] were going to do the bulk of the ball-handling and I thought they did as well as you could possibly ask."
UMass guard
Chaz Williams
said of Chambers: "He played really good, he was solid. The kid has a lot of heart."
Although Amaker cited UMass' 29 points off turnovers as the difference in the game, particularly two critical miscues in the last minute and a half, UMass coach Derek Kellogg thought the Crimson did a good job dealing with the Minutemen's pressure and backed off somewhat in the second half.
"We talked a lot about maintaining composure," Amaker said. "The keys for us were concentration, composure and confidence coming in here. I thought we did that as best as we possibly could. That's what makes it tough, when you do those things and come up on the short end."
LALANNE BACK IN THE LANE:
UMass got a significant boost with the return of sophomore forward/center
Cady Lalanne
, who was limited to just 14 games last season because of a foot injury. Lalanne's presence was felt from the get-go, as he was active on the boards (eight of his 13 rebounds came in his first half) and under the hoop (four blocks).
Lalanne slowed down some in the second half, but showed enough to get his coach excited and not worry about easing him back.
"He'll play as many minutes as he can," Kellogg said. "If he's still playing hard and competing, I think he gives us a weapon that you just saw a little bit of. I think he's got a chance to be a really, really good player. If you see him get in little bit better shape, I think he's going to become a big-time player.
WILD START TO THE SEASON:
The Minutemen as a team certainly aren't easing in. After a 10 a.m. start Tuesday, the team was scheduled to catch a 2:30 p.m. bus for a 5:10 flight for the Puerto Rico Tip-Off tournament. UMass opens against Providence on Thursday night.
Kellogg said he doesn't mind the whirlwind start.
"I'm not one for sitting around much, so I think it's pretty good for the kids. There's no more easing into the season. Everybody's playing, teams are ready to play. With the summer and the longer preseason, I think you see teams that are a little further along. Harvard looked like they were in midseason form. I thought they played really well."