College Basketball Nation:

USC Trojans
April, 25, 2014
Apr 25
10:00
AM ET
Sean Miller seemed to have every tool necessary for the
Arizona Wildcats
to make a push for the national title as the 2013-14 season approached. His talent pool was so rich that
Rondae Hollis-Jefferson
, a former McDonald's All-American, was a reserve most of the season.
But Arizona, a team so well-rounded that it reached the Elite Eight without NBA prospect Brandon Ashley's services in the final two months of the season, wasn't the best measurement of the conference.
[+] Enlarge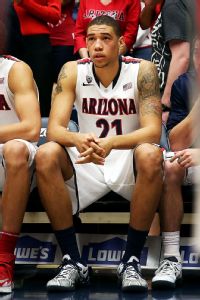 Christian Petersen/Getty ImagesBrandon Ashley's return from a foot injury should keep Arizona in contention in the Pac-12.
For that, go to Salt Lake City, where Larry Krystkowiak began the season as a
campus crime-fighter
and continued his heroics by enhancing Utah's program. This past season, the Utes finished 9-9 in conference play a year after going 5-13 in the Pac-12. They also added six wins compared to last season.
The Utes were one of nine Pac-12 squads that finished .500 or better in league play. Oregon State, 10th in the league, finished 16-16 overall. Only two teams in the Pac-12 finished with sub-.500 overall records.
Arizona and UCLA were the only two squads that separated themselves from the rest of the league, and that can be viewed in two ways: The Pac-12 was packed with a bunch of solid programs, or it was plagued by mediocrity.
The league's postseason finish -- six NCAA tourney teams, three in the Sweet 16 and one in the Elite Eight -- suggests the former.
What we saw this season
: On Feb. 1, the national title race changed. That night, Ashley suffered a season-ending foot injury in a loss to Cal, Arizona's first loss of the season. How important was Ashley?
Well, the Wildcats were still a powerhouse that maintained its position as the top-rated team in Ken Pomeroy's adjusted efficiency rankings. And they maintained enough mojo to win the Pac-12's regular-season crown and reach the Elite Eight, but they really needed Ashley's versatility and length in their loss to
Frank Kaminsky
and Wisconsin in the NCAA tourney.
At UCLA, in Steve Alford's first season, he found the best position for
Kyle Anderson
-- playmaker -- and shaped the Bruins into a top-50 defensive unit. After some early bumps, the Bruins finished 11-4 in the final weeks of the season after suffering a four-point loss at Oregon State on Feb. 2. That run included a Pac-12 tourney title and a Sweet 16 appearance.
Both Johnny Dawkins at Stanford and Herb Sendek at Arizona State were on the hot seat entering the season. That wasn't a secret. Both Dawkins and Sendek bought more time with NCAA tourney appearances. Dawkins reached the Big Dance with the help of a few ambitious and hungry upperclassmen (
Chasson Randle
,
Dwight Powell
), and the Cardinal's rally to the Sweet 16 was a stunning development in the NCAA tournament. It was a big win for Dawkins, whose athletic director had demanded improvement before the season. Sendek, meanwhile, signed Penn State transfer
Jermaine Marshall
, a reputable Robin to
Jahii Carson
's Batman, but the Sun Devils lost six of their final eight games.
Oregon's 2-8 stretch midseason didn't define its season. Transfers
Joseph Young
and
Mike Moser
led Dana Altman's program to 24 wins. The Ducks were ahead by 12 at halftime against Wisconsin before losing in the third round of the tournament.
Colorado's dreams were deferred when
Spencer Dinwiddie
suffered a season-ending injury in January. The Buffaloes were never the same without him, and a 29-point loss to Pitt in the opening round of the tourney was the final blow in a rough season for Tad Boyle's crew. Washington finished 9-9 in league play, but that record features more highs and lows. The Huskies, much like the rest of the conference, couldn't win on the road.
California failed to maintain the swagger it had in that upset win over Arizona in February and ended up in the NIT. Oregon State, Washington State and USC all finished at the bottom of the conference, which wasn't surprising.
The story of the Pac-12 in 2013-14? The limited separation within the league.
What we expect to see next season
: The future is uncertain for a league that could have had an unprecedented seven tournament bids in 2014-15.
Eleven ESPN 100 prospects will enter the league in 2014-15. And the rich will get richer, so the landscape shouldn't change much.
[+] Enlarge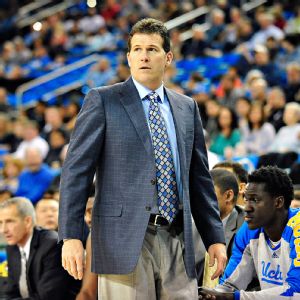 Gary A. Vasquez/USA TODAY SportsSteve Alford will bring a top-10 recruiting class to UCLA.
Miller lost
Aaron Gordon
and
Nick Johnson
, but McDonald's All-American forward
Stanley Johnson
is a versatile beast who leads the league's top recruiting class. Plus, Ashley will return from his foot injury along with
T.J. McConnell
,
Kaleb Tarczewski
and Hollis-Jefferson. The Wildcats will contend for the national championship next season, although that would be an easier argument to make if Johnson had decided to return.
Anderson and
Zach LaVine
left Los Angeles, but Alford adds elite big man
Kevon Looney
(No. 12 recruit in 2014 class, per RecruitingNation) and 6-foot-11 Californian
Thomas Welsh
(36th). They're more talented and athletic than the Wear twins, but Anderson's departure and the fact that Alford doesn't have a clear point guard right now makes it difficult to assess UCLA's potential. A strong nucleus returns, however.
There are questions in Eugene, too. The Ducks return one of the most talented backcourt trios (Young,
Damyean Dotson
and
Dominic Artis
) in America. Without
Mike Moser
, what will they do inside, though?
Stanford is in a position to rise in the league after its Sweet 16 run.
Reid Travis
(27th overall prospect) leads Dawkins' most fruitful recruiting class, and three of his top five scorers from last season, including Randle, will return. Utah could surge, too. Krystkowiak had only one senior on the Utes' roster last season.
Things looked brighter for Colorado before Dinwiddie entered the NBA draft. But Boyle will still have a strong group returning, and point guard prospect
Dominique Collier
could evolve into the young floor leader his program needs.
Cuonzo Martin replaces Mike Montgomery at Cal. The good news? A strong group of players are back. The bad news? He won't have
Justin Cobbs
and top rebounder
Richard Solomon
.
Andy Enfield signed a top-25 recruiting class, but his USC squad, which finished last in the Pac-12 last season, also lost its top two scorers (
Byron Wesley
will transfer and
Pe'Shon Howard
graduated). Former Oregon coach Ernie Kent will attempt to change the culture of a Washington State squad that finished 3-15 in Pac-12 play.
Nigel Williams-Goss
made the right decision to return to Washington for his sophomore season, but that alone won't be enough to make Washington a contender in the league. Arizona State could also struggle next season without Carson, Marshall and
Jordan Bachynski
.
There's talent coming, but more is leaving.
Although the Pac-12 will boast a handful of teams that will warrant NCAA tourney consideration, it won't be as deep as it was this past season.
March, 17, 2014
Mar 17
2:00
PM ET
By
ESPN.com staff
| ESPN.com
While the 68 teams that made the NCAA tournament prepare for the madness, fans of teams on the outside must turn the page to next year. Thanks to a core of returning players and strong incoming recruits, here are five programs that could be dancing at this time next year.
Quick references:
Georgetown's 2013-14 roster
Georgetown's 2014 recruiting class
Possible 2014-15 starting five:

G: D'Vauntes Smith-Rivera

G: Jabril Trawick

F: Paul White

F: Mikael Hopkins

C: Josh Smith
Who it loses: Four players will be gone for coach John Thompson III. Markel Starks and Nate Lubick have been starters since they were sophomores and were instrumental to last season's Big East championship team. Starks was first team All-Big East this season, scoring 17 points per game. Aaron Bowen played a big role as the sixth man and gave the team a spark off the bench. At times, he played starter's minutes. Moses Ayegba was a front-court presence off the bench and was a strong presence in the paint.
Who it adds: This four-man class is the nation's seventh best and it includes three ESPN 100 players. This class is loaded with versatility and scoring talent as the Hoyas will continue to cause matchup problems for opponents. Isaac Copeland's growth continues to impresses us, as he combines size and athletic ability with a very fluid set of skills. He won a championship at Brewster Academy in the New England Prep school league, which is some of the best competition in the country. Paul White is the consummate forward in the Georgetown system as he showed he could be a facilitator, bucket-getter or defender. L.J. Peak is a battle-tested and tough small forward who can score in different ways and someone who can play right away because he competes so hard. Tre Campbell was a first-team all-league performer as a point guard in the prestigious WCAC, an ultra-competitive Washington, D,C.-area high school conference. Georgetown predicates its system of having a high level of skill on the floor at all times and this class gives them that edge plus a whole lot more.
What it means for next season: Next season's team could be more gifted and athletic as the freshman class gives them a big boost. The one freshman who needs to be good early is Campbell, because of the departure of Starks. With Smith-Rivera returning as the team's leading scorer and best 3-point shooter, and Smith back controlling the inside, this team could be a contender for a Big East title. Georgetown has always played the game with many interchangeable parts and next season it will have plenty of pieces to choose from.
Trending: Up. The Hoyas return the strength of their roster and add a lot of talent. Under the guidance of JT3, that means more postseason appearances. - Paul Biancardi
For breakdowns of Indiana, Maryland, Seton Hall and USC,
click here

.
January, 28, 2014
Jan 28
5:45
PM ET
January, 5, 2014
Jan 5
5:33
PM ET
By
ESPN.com staff
| ESPN.com
Kyle Anderson
tallied 23 points and 12 rebounds to help UCLA beat USC 107-73 on Sunday.
October, 29, 2013
10/29/13
11:00
AM ET
By
RecruitingNation
| ESPN.com
Duke vs. North Carolina. Kentucky vs. Louisville. Connecticut vs. Syracuse.

Some of the greatest rivalries in sports play out on the college basketball court, but this season marks a changing of the guard in many of those rivalries as conference realignment has done away with annual matchups like UConn vs. Syracuse while carving out the potential for new ones.

Rivalries also exist in recruiting, and while they're often an extension of natural rivalries on the court, that isn't always the case.

Jim Calhoun and John Calipari had a huge recruiting rivalry when they were the head coaches at UConn and UMass, respectively -- despite the fact their teams never played -- stemming from the recruitment of Marcus Camby.

So whether it's an extension of a conference rivalry, a personality clash between high-profile coaches or even the consequence of a particularly contentious recruitment process, recruiting rivalries can take shape in a number of ways.

Here's a look at some of the most notable recruiting rivalries, whether historic or up-and-coming based on the implications of realignment, as chosen by our RecruitingNation experts:

October, 17, 2013
10/17/13
7:30
PM ET
SAN FRANCISCO -- The fireworks fizzled here before they really even had a chance to light up the sky.
Bummer. It might have been fun.
USC and UCLA have a terrific rivalry when it comes to the football teams. Which team is better? Which campus is prettier? Which cheerleaders are prettier?
But a rivalry in basketball?
[+] Enlarge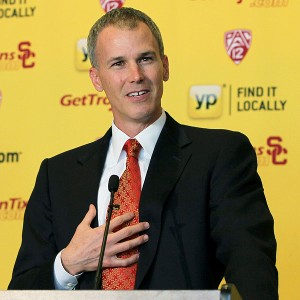 Victor Decolongon/Getty ImagesAndy Enfield appeared to spark a rivalry with UCLA, but he and Bruins coach Steve Alford brushed it off.
Yeah, not so much.
How could they?
Here's the short conversation.
UCLA fan:
We have 11 national championships. What you got?
USC fan, meekly shuffling away:
Um, 11 NCAA tournament wins?
So when new USC coach Andy Enfield appeared to take a shot across the bow and aimed it directly at Westwood, well, finally there was something to talk about.
"We play up-tempo basketball here," Enfield was quoted as saying in the San Jose Mercury News. "If you want to play slow, go to UCLA."
Alrighty then, game on.
And then in the span of two hours on a lounge-lit stage at Pac 12 media day, Enfield and Steve Alford doused the fire with a bucketful of cold water.
Enfield didn't say he didn't say it -- he did -- but he said it in the middle of a practice, meant it for his players' ears only and laced the comment with a heavy dose of sarcasm, all of which got lost in translation from practice court to newsprint.
"I have a sarcastic personality," Enfield said. "I don't use a lot of profanity to motivate my players, but I do use sarcasm. I was very upset with my team in that particular moment in practice. I blew my whistle and that came out of my mouth. It was meant to make a point of how we want to play and to use some sarcasm. It certainly was not meant to disrespect Steve or what he's doing."
If Alford was ticked, he surely wasn't saying.
The disciple of Bob Knight did not go Bob Knight when asked about Enfield's comments.
Instead, he went Gandhi.
"I've got great respect for Andy," Alford said. "He had a very good season last year, and I respect what he's done. I wish him all the best. It's UCLA. We're concerned about building a model program."
The truth is, this is fun fodder but really much ado about nothing.
Coaches say all sorts of things in practice -- some even unprintable -- and usually the comments float and dissipate in the rafters, where they belong.
Still, it would be fun if somehow the blood could get boiling between the two basketball programs.
It also would be good for the Pac-12.
Here at media day, the theme of the day was how much better the league is. And it is.
Once derided for having little meat on the bone, the Pac-12 finally is getting its mojo back. Five teams earned NCAA Tournament bids a year ago, and of those five, two -- Oregon and Arizona -- went to the Sweet 16.
It's not going to be compared to the ACC or the Big Ten anytime soon, but it is no longer the game's punching bag, either.
Arizona is firmly back among the nation's best; Oregon and Colorado are on a steady rise; Lorenzo Romar has a potential sleeper at Washington; and
Jahii Carson
could help Arizona State turn heads.
"Maybe we deserved to take a little bit of a beating [as a league] a few years ago," Washington State coach Ken Bone said. "But those years are gone. Those are definitely behind us."
But nothing stokes the fires for a conference like a good crosstown rivalry, and nothing adds oomph like good basketball in a league's epicenter.
For the Pac-12, that's Los Angeles. If Enfield and Alford can get things going, preferably on the court as opposed to over the airwaves, the entire conference would benefit.
Other notes:
• Like everyone else in the country, coaches here were concerned and curious about how the new hand-checking rules will impact the game. "The way it was presented this morning, it could really have a revolutionary effect on the game, if they take it to the extreme as it was described today," Arizona State coach Herb Sendek said. Romar admitted he's concerned how his team, which likes to pressure defensively, will adjust. "We have to be smart in how we pressure," he said.
• Asked to name the top new players in the conference, virtually every coach got to one name --
Aaron Gordon
-- and stopped. The Arizona freshman is drawing high praise across the league. "Aaron is a special player," Romar said. "He's one of the rare young kids that come into college that is extremely talented but yet has a motor, and he has his goals, but at the same time he's very unselfish. I just don't know if that combination is out there much these days."
• Some player notes: Arizona State transfer
Jermaine Marshall
(from Penn State), who is expected to be a nice sidekick for Jahii Carson, is not practicing, sidelined with pneumonia-like symptoms. He should be back next week. ... Cal's
Justin Cobbs
, who had surgery on his foot in August, said he is about "80 percent" and expects to be ready to play when the Bears travel to Maui. ... Oregon is still awaiting word on Joseph Young's hardship appeal to the NCAA. The former Houston product transferred to the Ducks after his father, Michael Young, was reassigned by Houston coach James Dickey.
September, 13, 2013
9/13/13
5:30
PM ET
Something has always stood in the way. For decades, it was John Wooden's unapproachable dominance. For just as long, it was USC's inability to care about basketball. In recent years, even the Trojans' most engaged hoops moments -- a
flashy new arena
, the inspired hiring of Rick Majerus, apparent recruiting momentum under Tim Floyd -- have almost always fallen flat.


Majerus, who passed away in 2012, withdrew from the job after five days, citing his already flagging health (and, later,
his mother's disapproval of the distance
). Floyd's greatest recruiting success,
landing star O.J. Mayo out of the ether
, was
subsumed by accusations that he hand-delivered an envelope of money to a Mayo handler
; he resigned while under NCAA investigation in 2009. (Eventually, the NCAA ruling forced USC to vacate the 2007-08 season … during which USC won all of 21 games. If you have to vacate a season in which you won fewer than 30 games,
you are doing it wrong
.) Then came the Kevin O'Neill era, about which the less said the better.
Of course, it has not been the most enjoyable era of UCLA basketball, either. Sure, while USC was hiring and then not-hiring Majerus (and how different this story could have been had he taken the job) the Bruins went to three straight Final Fours under Ben Howland. But Howland lost control of his program soon after. George Dohrmann's famous Sports Illustrated piece (
"Special Report: Not the UCLA Way,"
which is now every sports information director's go-to cold sweat nightmare) spelled impending doom, and one last-ditch recruiting class couldn't save the day.
This spring, UCLA fired Howland and hired New Mexico coach Steve Alford. That
didn't go so well
,
either
. It did, however, coincide nicely with USC's hiring of Florida Gulf Coast coach Andy Enfield.
A UCLA program brought low. A USC program with an aggressive, exciting young coach with nothing to lose. A great modern leveling has put both programs in places they aren't particularly accustomed to: recruiting against each other.
This competitive dynamic has been playing out in gyms and over text messages all summer, but it took until September for the first public salvos to be fired. On Sept. 2, Indianapolis native and top-50 2014 wing
Trevon Bluitt committed to UCLA
, the first proof of Alford's concept that his Indiana connections would give the Bruins a pipeline in the midwest. (Alford hired Bluiett's former high school coach, Ed Schilling, as an assistant.) Bluiett committed after a visit he shared with Louisville decommit and the No. 7-ranked 2014 point guard,
Quentin Snider
, whom analysts predicted would sign with UCLA.
Recruiting is a constantly shifting mass of causes and effects, actions and reactions. On Wednesday,
Jordan McLaughlin
, the No. 18 player in the ESPN 100,
committed to USC
. McLaughlin, who attended Etiwanda High in San Bernandino, Calif., was long considered a favorite to select UCLA. But the firing of Howland at UCLA and hiring of Enfield at USC -- and Enfield's ability to sell McLaughlin on a roll as his flashy uptempo distributor and, yes, UCLA's increased focus on Snider -- convinced the highly-touted point guard to choose the Trojans instead.
[+] Enlarge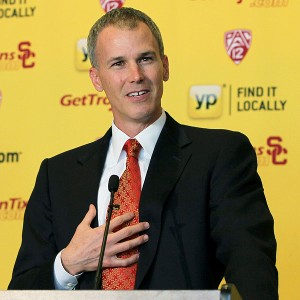 Victor Decolongon/Getty ImagesNew USC coach Andy Enfield and the Trojans added point guard Jordan McLaughlin, the No. 18 player in the ESPN 100, this week.
Then, on Thursday,
Snider surprised almost everyone by choosing Illinois
. (John Groce reportedly worked hard to get Snider on campus one last time before he made his decision. It paid off. Don't look now, but Groce is going to get Illinois good again in a hurry.) More cause, more effect: On Friday, Jeff Goodman reported that
Isaac Hamilton
, who initially signed with UTEP, had
chosen his Southern California destination
after all.
This is where things get especially confusing. Hamilton, you see, was the prize of UTEP's 2013 class. UTEP, as you may know, is coached by Tim Floyd. This summer, Hamilton had second thoughts about his letter of intent -- his family said he wanted to stay closer to home, wanted his ailing grandmother to be able to see him play. They were also "triggered," Hamilton's father said, by rumors that Floyd could return to USC. (For some reason, USC AD Pat Haden had called Floyd about the USC job. Your guess is as good as mine.)
In July,
Floyd out-and-out accused USC of tampering
:
Floyd is suspicious. He said he was called by two Pac-12 coaches and one WCC head coach saying Isaac was going to get out of his NLI. He called new USC coach Andy Enfield and told him to back off of Hamilton and said on June 4 he got a text from the Hamiltons saying that Isaac wasn't going to go to the first summer session and was concerned about what that would mean. […]
"I called Andy Enfield and he told me he's not taking Isaac Hamilton, that 'we're out of that.' But I told him the damage had already been done," Floyd said.
As recently as last week, Floyd was sticking to his guns.
"I'm sorry his grandmother is having health problems," Floyd said in July. "But what I'm doing, I'm doing for UTEP and for everyone else. The NLI is in place so you can field a team. Young people don't have to sign a national letter of intent. You can sign a scholarship paper. The policy is in place to protect the institutions after they've spent all this money in recruiting and built their schedule around and turned down other players."
Floyd's refusal to let Hamilton out of his NLI doesn't mean he can't play somewhere else. But it does mean he has to wait a season to play, and pay tuition while doing so. Which meant that a former USC coach was preventing a would-be USC player from playing at the school because he, the old USC coach, thought a new USC coach had been tampering. See? Confusing.
Even more confusing? After all that,
Hamilton didn't even choose USC
. He chose UCLA.
From Jeff Goodman's report
:
Hamilton, who is from Los Angeles, said he wanted to play closer to his ailing grandmother. He was thought to be headed to Southern California, but the Trojans backed off and UCLA wound up admitting him just one day after new Bruins coach Steve Alford lost out on guard Quentin Snider to Illinois.
Causes and effects, actions and reactions. Elite recruits from California choosing between USC and UCLA; allegations of tampering leveled at a school that didn't even get the player they allegedly tampered with.
I think this means it's official. Begun, the SoCal recruiting war has. It's about time.