College Basketball Nation:

Utah Utes
August, 22, 2014
8/22/14
9:00
AM ET
By
ESPN.com staff
| ESPN.com
In today's 3-point shot, Andy Katz reports on Utah's
Jordan Loveridge
and the Pac-12 all-stars' trip to China, Davidson's big conference move and a possible intriguing matchup of Heartland powers in Hawaii.
June, 12, 2014
6/12/14
11:40
AM ET
By
ESPN.com staff
| ESPN.com

Andy Katz discusses what Bruce Pearl is selling at Auburn, Utah's strong nonconference schedule and Jim Boeheim's thoughts on graduation rates in the latest edition of the 3-point shot.
April, 25, 2014
4/25/14
10:00
AM ET
Sean Miller seemed to have every tool necessary for the
Arizona Wildcats
to make a push for the national title as the 2013-14 season approached. His talent pool was so rich that
Rondae Hollis-Jefferson
, a former McDonald's All-American, was a reserve most of the season.
But Arizona, a team so well-rounded that it reached the Elite Eight without NBA prospect Brandon Ashley's services in the final two months of the season, wasn't the best measurement of the conference.
[+] Enlarge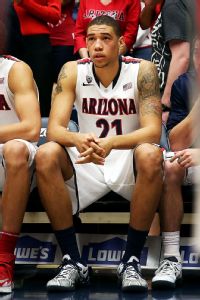 Christian Petersen/Getty ImagesBrandon Ashley's return from a foot injury should keep Arizona in contention in the Pac-12.
For that, go to Salt Lake City, where Larry Krystkowiak began the season as a
campus crime-fighter
and continued his heroics by enhancing Utah's program. This past season, the Utes finished 9-9 in conference play a year after going 5-13 in the Pac-12. They also added six wins compared to last season.
The Utes were one of nine Pac-12 squads that finished .500 or better in league play. Oregon State, 10th in the league, finished 16-16 overall. Only two teams in the Pac-12 finished with sub-.500 overall records.
Arizona and UCLA were the only two squads that separated themselves from the rest of the league, and that can be viewed in two ways: The Pac-12 was packed with a bunch of solid programs, or it was plagued by mediocrity.
The league's postseason finish -- six NCAA tourney teams, three in the Sweet 16 and one in the Elite Eight -- suggests the former.
What we saw this season
: On Feb. 1, the national title race changed. That night, Ashley suffered a season-ending foot injury in a loss to Cal, Arizona's first loss of the season. How important was Ashley?
Well, the Wildcats were still a powerhouse that maintained its position as the top-rated team in Ken Pomeroy's adjusted efficiency rankings. And they maintained enough mojo to win the Pac-12's regular-season crown and reach the Elite Eight, but they really needed Ashley's versatility and length in their loss to
Frank Kaminsky
and Wisconsin in the NCAA tourney.
At UCLA, in Steve Alford's first season, he found the best position for
Kyle Anderson
-- playmaker -- and shaped the Bruins into a top-50 defensive unit. After some early bumps, the Bruins finished 11-4 in the final weeks of the season after suffering a four-point loss at Oregon State on Feb. 2. That run included a Pac-12 tourney title and a Sweet 16 appearance.
Both Johnny Dawkins at Stanford and Herb Sendek at Arizona State were on the hot seat entering the season. That wasn't a secret. Both Dawkins and Sendek bought more time with NCAA tourney appearances. Dawkins reached the Big Dance with the help of a few ambitious and hungry upperclassmen (
Chasson Randle
,
Dwight Powell
), and the Cardinal's rally to the Sweet 16 was a stunning development in the NCAA tournament. It was a big win for Dawkins, whose athletic director had demanded improvement before the season. Sendek, meanwhile, signed Penn State transfer
Jermaine Marshall
, a reputable Robin to
Jahii Carson
's Batman, but the Sun Devils lost six of their final eight games.
Oregon's 2-8 stretch midseason didn't define its season. Transfers
Joseph Young
and
Mike Moser
led Dana Altman's program to 24 wins. The Ducks were ahead by 12 at halftime against Wisconsin before losing in the third round of the tournament.
Colorado's dreams were deferred when
Spencer Dinwiddie
suffered a season-ending injury in January. The Buffaloes were never the same without him, and a 29-point loss to Pitt in the opening round of the tourney was the final blow in a rough season for Tad Boyle's crew. Washington finished 9-9 in league play, but that record features more highs and lows. The Huskies, much like the rest of the conference, couldn't win on the road.
California failed to maintain the swagger it had in that upset win over Arizona in February and ended up in the NIT. Oregon State, Washington State and USC all finished at the bottom of the conference, which wasn't surprising.
The story of the Pac-12 in 2013-14? The limited separation within the league.
What we expect to see next season
: The future is uncertain for a league that could have had an unprecedented seven tournament bids in 2014-15.
Eleven ESPN 100 prospects will enter the league in 2014-15. And the rich will get richer, so the landscape shouldn't change much.
[+] Enlarge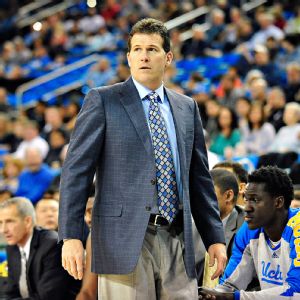 Gary A. Vasquez/USA TODAY SportsSteve Alford will bring a top-10 recruiting class to UCLA.
Miller lost
Aaron Gordon
and
Nick Johnson
, but McDonald's All-American forward
Stanley Johnson
is a versatile beast who leads the league's top recruiting class. Plus, Ashley will return from his foot injury along with
T.J. McConnell
,
Kaleb Tarczewski
and Hollis-Jefferson. The Wildcats will contend for the national championship next season, although that would be an easier argument to make if Johnson had decided to return.
Anderson and
Zach LaVine
left Los Angeles, but Alford adds elite big man
Kevon Looney
(No. 12 recruit in 2014 class, per RecruitingNation) and 6-foot-11 Californian
Thomas Welsh
(36th). They're more talented and athletic than the Wear twins, but Anderson's departure and the fact that Alford doesn't have a clear point guard right now makes it difficult to assess UCLA's potential. A strong nucleus returns, however.
There are questions in Eugene, too. The Ducks return one of the most talented backcourt trios (Young,
Damyean Dotson
and
Dominic Artis
) in America. Without
Mike Moser
, what will they do inside, though?
Stanford is in a position to rise in the league after its Sweet 16 run.
Reid Travis
(27th overall prospect) leads Dawkins' most fruitful recruiting class, and three of his top five scorers from last season, including Randle, will return. Utah could surge, too. Krystkowiak had only one senior on the Utes' roster last season.
Things looked brighter for Colorado before Dinwiddie entered the NBA draft. But Boyle will still have a strong group returning, and point guard prospect
Dominique Collier
could evolve into the young floor leader his program needs.
Cuonzo Martin replaces Mike Montgomery at Cal. The good news? A strong group of players are back. The bad news? He won't have
Justin Cobbs
and top rebounder
Richard Solomon
.
Andy Enfield signed a top-25 recruiting class, but his USC squad, which finished last in the Pac-12 last season, also lost its top two scorers (
Byron Wesley
will transfer and
Pe'Shon Howard
graduated). Former Oregon coach Ernie Kent will attempt to change the culture of a Washington State squad that finished 3-15 in Pac-12 play.
Nigel Williams-Goss
made the right decision to return to Washington for his sophomore season, but that alone won't be enough to make Washington a contender in the league. Arizona State could also struggle next season without Carson, Marshall and
Jordan Bachynski
.
There's talent coming, but more is leaving.
Although the Pac-12 will boast a handful of teams that will warrant NCAA tourney consideration, it won't be as deep as it was this past season.
January, 3, 2014
1/03/14
12:39
AM ET
So here's the scenario: You're pushing an unbeaten top-25 conference opponent to the brink on your home floor. It's deep in overtime. You're trading buckets, getting good shots, going toe to proverbial toe, and before long you come to the final possession. The game is tied. The ball is yours. The crowd is wired.
On the vast situational hoops spectrum, this is what counts as good news. Because maybe you make, and maybe you miss, but really: What's the worst that could happen?
On Thursday night, Utah found out.
[+] Enlarge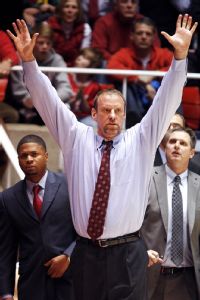 AP photo/George FreyStrange as it sounds, the loss to Oregon shows Larry Krystkowiak has the Utes heading in the right direction.
No exaggeration: It's hard to conceive of a more disappointing way to lose a basketball game. Tied at 68-68 with just seconds to play in overtime, Utah managed to turn the ball over to Oregon sophomore
Damyean Dotson
in exactly the manner Dotson required -- with exactly enough time, and not a second more -- to deflect Dillan Bachysnki's near-side elbow pass to
Jordan Loveridge
, to launch himself downcourt, to glide out in front of an overcommitted Utah backcourt, and to crank the game-winning fast-break dunk home.
It all happened in about two seconds. Maybe less.
The play-by-play
says Dotson accomplished all of the above in one second, which isn't exactly right -- though it was close enough to round down. Either way: For the Utes, it was the longest buzzer-beater in basketball history.
In fact, it was so bad, Utah coach Larry Krystkowiak was … downright
upbeat at his postgame news conference
.
He has every reason to be. Because here's the real takeaway from Utah's absolutely brutal, crushing, insert-your-favorite-sports-cliché-here 70-68 loss to Oregon Thursday night: More than anything else, it was a 45-minute sign that the Utes, after just two years under Krystkowiak, truly are headed in the right direction.
Besides, one dunk -- one loss -- is nothing compared to what came before it. Consider where Utah was in Krystkowiak's first year, 2011-12. Krystkowiak inherited a dreary, leaky attic of a basketball program from his predecessor, Jim Boylen -- not only bad but aggressively boring to boot.
In January of that season, Krystkowiak dismissed guard Josh Watkins -- who was taking 38.9 percent of Utah's shots at the time -- for disciplinary reasons. This didn't spark a sudden offensive renaissance: Utah finished the season shooting 31.0 percent on 3-pointers and 45.7 percent on 2-pointers. They scored .91 points per possession, which placed them 314th in the country in points per possession. Overall, they barely cracked the top 300 in Pomeroy's adjusted efficiency rankings; they went 6-25 overall, and 3-15 in the Pac-12, in their inaugural season in the conference. They appeared to have more in common with the SWAC.
And yet, almost immediately, Krystkowiak has gotten his team competitive. The 2012-13 campaign wasn't one for the ages, but the year-over-year improvement was stark: The Utes were vastly more capable on both sides of the ball, finished 15-18, and saw freshman forward Jordan Loveridge emerge as a possibly promising go-to scorer.
And now look: Including Thursday night's unfortunate result, the Utes are 11-2 on the season, including a blowout win over in-state rival BYU. Yes, the schedule is soft, BYU the only notable nonconference opponent, but so what? Utah was 6-25 two years ago. Six-and-25! If Loveridge had made a (relatively) open 3-pointer in the final moments of regulation Thursday night, or if Utah had made more than three of their 19 3s, the Utes would already have doubled that total. Meanwhile, they entered Thursday night shooting 60.7 percent from inside the arc, the highest tally in the country. They're so,
so
much better.
You can see this vast developmental gulf in more than box scores and results pages. You can see it in the way Krystkowiak works his team's advantages on the court, in the Utes' smart situational use of timeouts and stoppages. You can see it in the way junior college transfer
Delon Wright
-- whose 77.4 percent 2-point FG percentage is the chief reason the Utes are so effective around the rim -- eventually forced Oregon into double-teams and added rotations. You can see it in the way Utah forced a very good Oregon team to the point that it needed a pair of defining plays from Dotson to escape Salt Lake City with a win.
Oregon
is
awfully good, by the way, though it had an uncharacteristically rough night shooting the basketball.
Joseph Young
was unusually quiet;
Mike Moser
finished 1-of-8 from the field. Even Dotson was only a sporadic influence on the game throughout. It wasn't until the final minutes of overtime -- when he answered a Wright jumper with a beautiful drive and reverse layup, and singlehandedly made the game-winning play -- that he became the story.
That he and Oregon were able to do so is a testament, because this isn't the Utah of two years ago anymore. The Utes are better, and getting better, and no matter how hard it must have been to lose a game like that, it must have been a lot of fun to be in one like it, too.
It has been too long since Utah made opponents breathe sighs of relief. It's a start.