Stakes higher this time for Florida, BYU
March, 24, 2011
3/24/11
12:30
AM ET
NEW ORLEANS -- During last year's NCAA tournament, the Northern Iowa upset of Kansas dominated the first weekend. Butler's dramatic wins in Salt Lake City upstaged that effort in the second weekend.
And then Butler did it again by nearly pulling off the improbable against Duke in the national title game with Gordon Hayward's final two shots just off line in a 61-59 loss.
But there was one game during the NCAA tournament last year that gets lost. Its significance does not.
BYU beat Florida in double overtime in Oklahoma City in the first round.
The Gators were back in the NCAA tournament following a two-year hiatus in the wake of consecutive national championships in 2006 and 2007, when they became the first school to accomplish the feat since Duke did it in 1991 and '92.
[+] Enlarge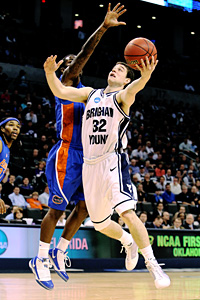 Ronald Martinez/Getty ImagesAs he did last March against BYU's Jimmer Fredette, Kenny Boynton always checks the opponent's most dangerous scorer.
It was also a chance for the mainstream sporting public to grasp onto
Jimmer Fredette
's overall talent as he scored 37 points.
Florida used that game as a springboard into this season. The Gators were preseason picks to win the SEC East and the overall conference title, which they did on the way to a No. 2 seed in the NCAA tournament.
BYU used the momentum of that win, even though it lost to Kansas State in the next round, to build for this season. Fredette was a first-team All-American in the preseason, and then ended the regular season as one of three favorites to win national player of the year. He has already been tabbed player of the year by one publication -- the Sporting News on Tuesday. The Cougars were a top-three team prior to Brandon Davies violating the school's honor code, and ended up still grabbing a No. 3 seed in the Southeast.
So here they are again, this time meeting in the Sweet 16 with Houston and the Final Four within their sights. The region is wide open since the other game in the bracket is Butler-Wisconsin, both quality clubs but neither unbeatable for the Gators or Cougars.
"We had so many careless turnovers that led to easy baskets in that game,'' said SEC Player of the Year
Chandler Parsons
of Florida. "We've got a good understanding from playing them last year. It's not just Jimmer Fredette. The other guys are really good and understand their roles. We're not just focused on Jimmer."
"Yeah, I think a lot of people lose sight of just how good the other guys are playing off Jimmer,'' Parsons' fellow senior
Alex Tyus
said. "I feel like the key to doing a good job on them is to stop the other guys, too.''
Parsons said the Gators aren't focusing on last year at all. He referenced the new personnel on both teams.
Florida coach Billy Donovan raved about Fredette, especially his work ethic, and sees a bit of himself in Fredette's attention to detail. He also complimented the undervalued role players like
Jackson Emery
,
Noah Hartsock
and
Charles Abouo
.
Donovan stressed that they weren't playing the same team as a year ago and told his team that the Cougars are a better squad this season.
"We realize going into this game that we're going to have to play a lot better than we did a year ago in a game that we didn't win,'' he said. "Coming out of that game, we can probably at least have a feel of size and athleticism. There is familiarity.''
BYU coach Dave Rose echoed that sentiment.
"The familiarity in terms of playing them last year allows our guys to understand that it will take a great game for us to come out with a win,'' Rose said. "We played one of our better games of the year last year and we were able to win by one point in overtime, in double overtime, so we understand the challenge.''
The Gators were desperate to make the NCAAs last season and did so by the slimmest of margins. The quality showing gave Florida something to build on this season. But as Donovan said in the preseason, this collection of players still hadn't won an NCAA tournament game so it was still motivation for this season.
Falling short to the Cougars in the NCAAs was a huge chip for Donovan to play. For BYU, the win somewhat legitimized the Cougars and Fredette more on the national stage after losing to Texas A&M in two consecutive NCAA tournament first-round games. It was the school's first NCAA tourney win in 17 years.
And now the stakes are even higher. The winner will play for a spot in Houston on Saturday. With two more wins, BYU can make program history with its first appearance in the Final Four and Fredette can elevate himself to iconic status in the Beehive State. Florida's seniors, Parsons and Tyus, can create their own legacy in Gainesville after coming in under the shadows of back-to-back titles.
The BYU-Florida game a year ago did wonders for both programs.
This rematch can do even more for the winner.