Coaches survey: Best arenas, bucket lists
September, 7, 2011
9/07/11
12:38
PM ET
By
ESPN.com staff
| ESPN.com
In July, Dana O'Neil surveyed 15 college head coaches at the EYBL Peach Jam on the subject of recruiting -- more specifically,
classic tales from the road
and memories of the
recruiting steals and the ones that got away
. While there, she also asked those coaches about the shrines of college basketball: the toughest place they've ever coached and the one arena that's at the top of their bucket list.
The toughest place I've ever coached:
Rick Barnes (Texas):
Oklahoma State. "Before they raised the roof at Gallagher-Iba, you could not hear yourself talk.''
Mark Fox (Georgia):
Oklahoma State. "The old Gallagher-Iba was just crazy loud.''
Darrin Horn (South Carolina):
Wichita State. "They started coming for our NIT game about an hour and a half before the game began. Not students. Grown-ups. It was loud and obnoxious. Really tough.''
[+] Enlarge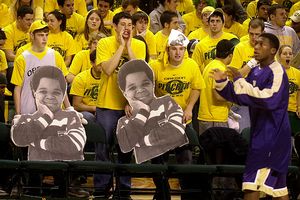 AP PHOTO/Chris PietschOregon students, seen here greeting former Washington guard Nate Robinson, played a large part in the McArthur Court aura.
Ben Howland (UCLA):
Oregon. "At the old Pit there was no room on the baseline and you were all crowded in. Plus the ceiling was so low. It was just deafening.''
Bob Huggins (West Virginia):
Kansas. "They're right on top of you. They've got these old wooden bleachers and they're usually pretty good.''
Tom Izzo (Michigan State):
Kansas and Duke. "They're always the toughest places to play.''
Kerry Keating (Santa Clara):
Kansas. "When I was at Tulsa, we went there. Had a pretty good team. Had been to the Elite Eight the year before. We got blasted.''
Phil Martelli (St. Joseph's):
Duke. "During a timeout, freshman Yah Davis said to me, 'Coach, it's way too loud in here for me to concentrate.'''
Fran McCaffery (Iowa):
Campbell. "The old gym there, the capacity I think was like 857. You'd have to turn your head sideways to get in the locker room.''
Josh Pastner (Memphis):
Oregon. "The old Pit crowd was on top of you and it was just tremendous fun. Coach [Lute] Olson, who never took off his jacket, always took his jacket off there.''
Rick Pitino (Louisville):
Barnhill Arena, Arkansas. "When Nolan Richardson was there, that was a tough, tough place to play. Just crazy.''
Mark Turgeon (Maryland):
Kansas. "The crowd and the players. That's a pretty good combination.''
Bruce Weber (Illinois):
Murray State. "We played there in the OVC championship game and I think the place was supposed to hold 5,000. There were probably 8,000 in there.''
Roy Williams (North Carolina):
Oklahoma State. "I'll never forget the first time we played there. They had that Pistol Pete and he fired that gun. I'd about like to die.''
Jay Wright (Villanova):
New Mexico State. "When I was at UNLV, the rivalry was especially heated. Those games were nasty.''
The one arena I've never coached in but would like to:
Barnes:
The Palestra, Philadelphia
Fox:
Cameron Indoor Stadium, Duke
Horn:
Cameron Indoor Stadium, Duke
Howland:
Assembly Hall, Indiana
Huggins:
Pauley Pavilion, UCLA
Izzo:
The Palestra, Philadelphia
Keating:
Assembly Hall, Indiana
Martelli:
Pauley Pavilion, UCLA
McCaffery:
I think I've coached in them all
Pastner:
Cameron Indoor Stadium, Duke
Pitino:
Cameron Indoor Stadium, Duke
Turgeon:
Dean E. Smith Center, North Carolina
Weber:
Pauley Pavilion, UCLA
Williams:
WVU Coliseum, West Virginia
Wright:
Cameron Indoor Stadium, Duke