How did the ACC get to its current state?
September, 15, 2011
9/15/11
12:43
PM ET
This season, when the Atlantic Coast Conference kicks off its 58th year of college hoops existence, two teams will be locks to compete for the conference title. Those teams are -- hold on to your laptops -- Duke and North Carolina.
This is nothing new, of course. The Tar Heels and Blue Devils have been dominant ACC forces for decades. What
is
fairly new is how wide the gap between those teams and the rest of the league seems to be. Any sane basketball fan would predict the coming ACC season in the following way:
North Carolina

Duke

Florida State

Um ... everybody else?
Don't get me wrong -- there are
a few midlevel ACC teams with potential
. But there's no way around the fact that this league is weaker than it's been in decades -- if not ever.
This isn't just a gut feeling, either. One obvious canary in the coal mine is the ACC/Big Ten Challenge. The ACC won the first 10 -- the first 10! -- challenges. It has lost the last two.
A deeper dive also reveals a gradual decline. To make sure these notions weren't totally off base, I dug into the ESPN College Basketball Encyclopedia and looked at the final regular-season ESPN/USA Today polls.
In 2004, the ACC had
seven
of its current members enter the tournament in the Top 25, and Georgia Tech made it all the way to the title game. In 2005, the league had five (including three of the top five) and UNC won the national championship.
Since then, the ACC has ended the season with more than
three
teams ranked just once. In three seasons, including the past two, just two ACC teams finished the regular season in the Top 25.
[+] Enlarge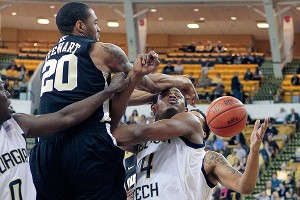 AP Photo/John BazemoreBad basketball has turned some normally raucous ACC fan bases to feelings of apathy.
It's important to mention that the ACC
has
won two of the past three national titles. That's a fairly big deal. But what about the rest of the league outside of the eight-mile stretch between Durham and Chapel Hill? What exactly is going on
there
? If there's a phrase to sum it up, I think that phrase would be collective poor timing. In the early- to mid-2000s, Maryland, Georgia Tech, NC State, Boston College and Wake Forest all considered NCAA tournament appearances a given.
For a time, Gary Williams built Maryland into a national program (and won a national title), and the Terps' heated bouts with rival Duke became must-see television. Georgia Tech went all the way to the national championship game in '04. Under Herb Sendek, NC State advanced to five straight NCAA tournaments. Boston College danced seven times from 2001 to '09.
Wake Forest is the school of Tim Duncan and Chris Paul, and as recently as 2009, former coach Dino Gaudio had the Demon Deacons ranked No. 1 in the country. Virginia struggled for the most part under Dave Leitao, but even the Cavs were co-ACC champs and a 4-seed in the NCAA tournament as recently as four years ago.
All of those schools have taken slight or dramatic steps backward in recent years, and they've all done it at exactly the same time. There's no major systemic force at work here; everyone got mediocre or bad at the same time.
Some of these wounds were self-inflicted. In its drive for ascension, NC State lost its perfectly solid coach. It hired fan favorite and school legend Sidney Lowe, who promptly went 25-55 in the ACC in five years. After three seasons and two NCAA tournament appearances, Wake Forest fired Gaudio and hired Jeff Bzdelik, who never posted a winning season in his three years at Colorado. The Demon Deacons went 8-24 last season.
Others saw their programs gradually, if not wholly, decline. In the late 2000s, Williams' Maryland teams never reached their former heights. Hewitt always recruited well at Georgia Tech, but his recent squads consistently failed to turn that talent into wins.
This widespread lack of continuity doesn't help. Maryland, NC State, Georgia Tech and Miami have brand-new coaches. The coaches at Clemson, Boston College and Wake Forest have exactly one season under their belt. Tony Bennett is beginning his third year at Virginia, and he's already the league's fifth-longest tenured coach. Out of 12.
That means the league has a long road ahead of it. You can't build a program overnight, and the ACC comprises a
lot
of programs that need a good carpenter. There's good reason to assume the ACC can come back. The conference's bear cycle is just that -- a cycle -- and the coincidence of bad timing is largely to blame. The conference has been too good for too long to not experience an upswing, and if even half of the conference's new coaches fulfill their own expectations, the ACC will regain the depth that made it the country's premier conference for so many years.
In the meantime, the league will continue to be imbalanced. North Carolina and Duke will compete for the conference title. Florida State will try to pose an outside threat. And everybody else will be building toward the future, toward reclaiming the ACC/Big Ten Challenge, toward a day when this league isn't so drastically top-heavy.
For the sake of entertaining basketball, let's hope that day comes soon.