A Broncs Tale: UTPA coach begins blog
October, 25, 2011
10/25/11
7:46
PM ET
By
Ryan Marks, Special to ESPN.com
| ESPN.com
Editor's Note: This story appears in the Oct. 31 issue of ESPN The Magazine
.
For the college sports junkie, the past few months of fandom have been particularly unpalatable. If you strung together all the headlines culled from Twitter feeds, they would sound like a remake of Billy Joel's "We Didn't Start the Fire":
"Realignment, tattoos, even Bill Russell sues / Shapiro taking down the U / Aggies' Longhorn Network blues / Double reverse by TCU / What is Emmert gonna do?"
So to mask the distaste on your collective palates, I'm here to provide the minty freshness of an off-the-beaten-path college hoops season.
[+] Enlarge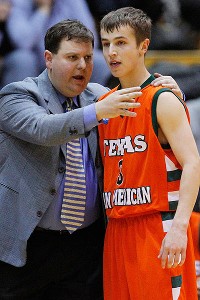 AP Photo/Nam Y. HuhRyan Marks will chronicle his third season at UTPA on ESPN.com.
For those who don't know me -- and that's pretty much all of you except my family and our dog, Lionel -- I'm Ryan Marks, the third-year coach of the
Texas-Pan American Broncs
, and I'm a rebuildaholic.
Similar to my stints at D3 Southern Vermont and D2 St. Edward's (Austin, Texas), UTPA is a D1 program not without its challenges. The team I inherited in June 2009 was on probation with only half its scholarships filled. To boot, we compete in the Great West -- the only D1 conference without an automatic bid to the Big Dance (why do we pay NCAA dues again?) and the only league in which the HQ is run out of the commissioner's basement. (Foosball, anyone?)
But we've made progress over the past 28 months -- mostly off the court. The team has reflected great academic performance and community involvement, and our recent Midnight Madness introduced a squad superior to the ones that amassed just six wins in each of the past two seasons. Success will hinge largely on depth and the savvy play of our perimeter vets --
Nick Weiermiller
,
Aaron Urbanus
,
Jared Maree
and
Brandon Provost
-- whom I've collectively nicknamed W.U.M.P., as in "The WUMPty dance is the Broncs' chance to get over the hump."
When the season starts, you'll recognize me as the pudgy guy pacing the sideline next to a stuffed penguin named P-Diddy. I adopted him as an unofficial mascot for my 2005-06 St. Edward's team as part of my preseason theme. That year, the lesson was teamwork, and I showed my players March of the Penguins. P-Diddy has been with me ever since.
This season, he'll wear a T-shirt that reads "Live Big, Act Small." That's a reference to the documentary A Small Act, which is the source of our new motivational theme: You never know which small act will begin the domino effect toward more voluminous accomplishments, and you're increasing your odds of making a difference with each additional small task performed.
I'm looking forward to introducing you to the Broncs this season. Up next, I'll recap early practices and look ahead to our much-ballyhooed Nov. 5 exhibition with the mysterious Mexican outfit from Universidad Autonoma de Nuevo Leon. Go Broncs!
Coach Ryan Marks is our behind-the-scenes guide through the trials and tribulations of a small D1 program. This is his first piece.